Today's the day for the official bathroom reveal and I'm so excited to share this project with you! It feels particularly cathartic because it's the final space that we renovated in our home, which we've been working on for over 7 years. It's also one of the most ambitious designs that Dave and I have executed. We set forth to make the absolute most of the space we had to work with (which wasn't a ton) and to create an atmosphere of both invigoration and respite.
If you didn't have a chance to catch Part 1 – Inspiration & Mood Board, feel free to give that a peek first, as it will offer more context for our decisions.
Let's jump right into the photo-tour of what we've called our "retro revival" bathroom update! I'm keeping this post pretty light on copy with just a few notes as we go around the room. You'll find all the sources at the end of the post.
Now, come on in!
---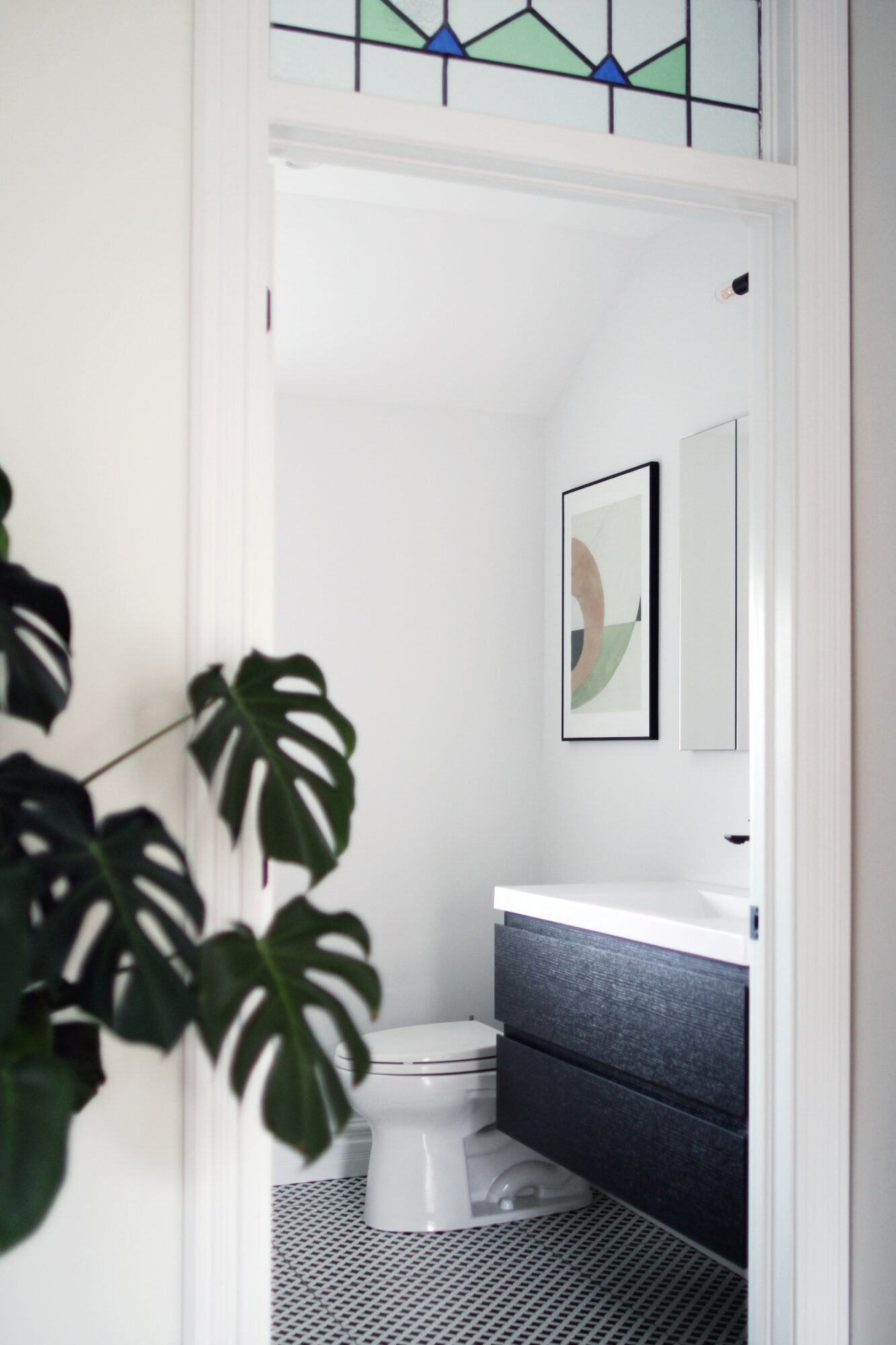 ---
You're welcomed into the bathroom by a massive monstera and a flood of natural light from the window.
We added a stained glass transom above the door to give a nod to the era of the home (it was built in 1890) and allow light to come in and out from the landing.
---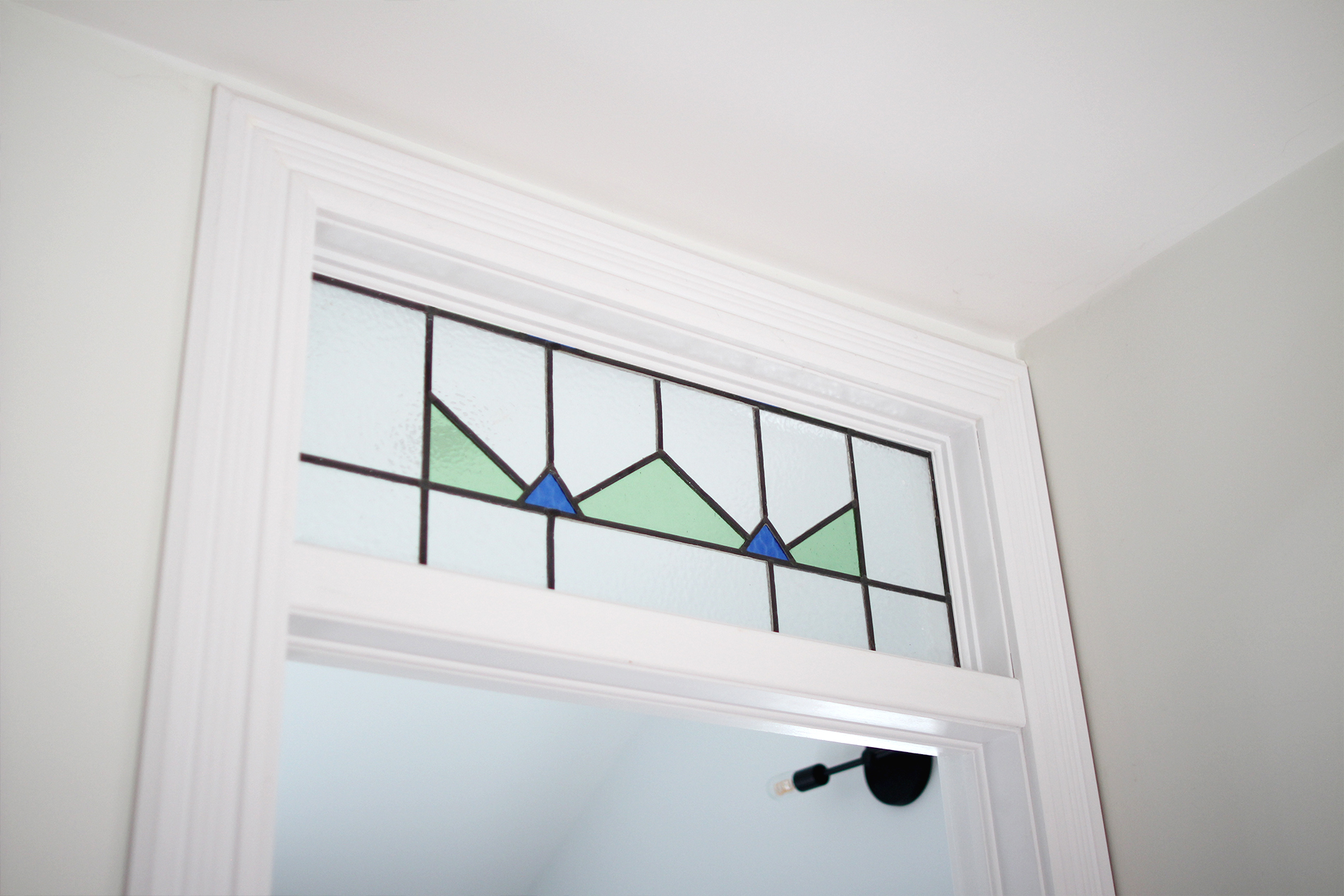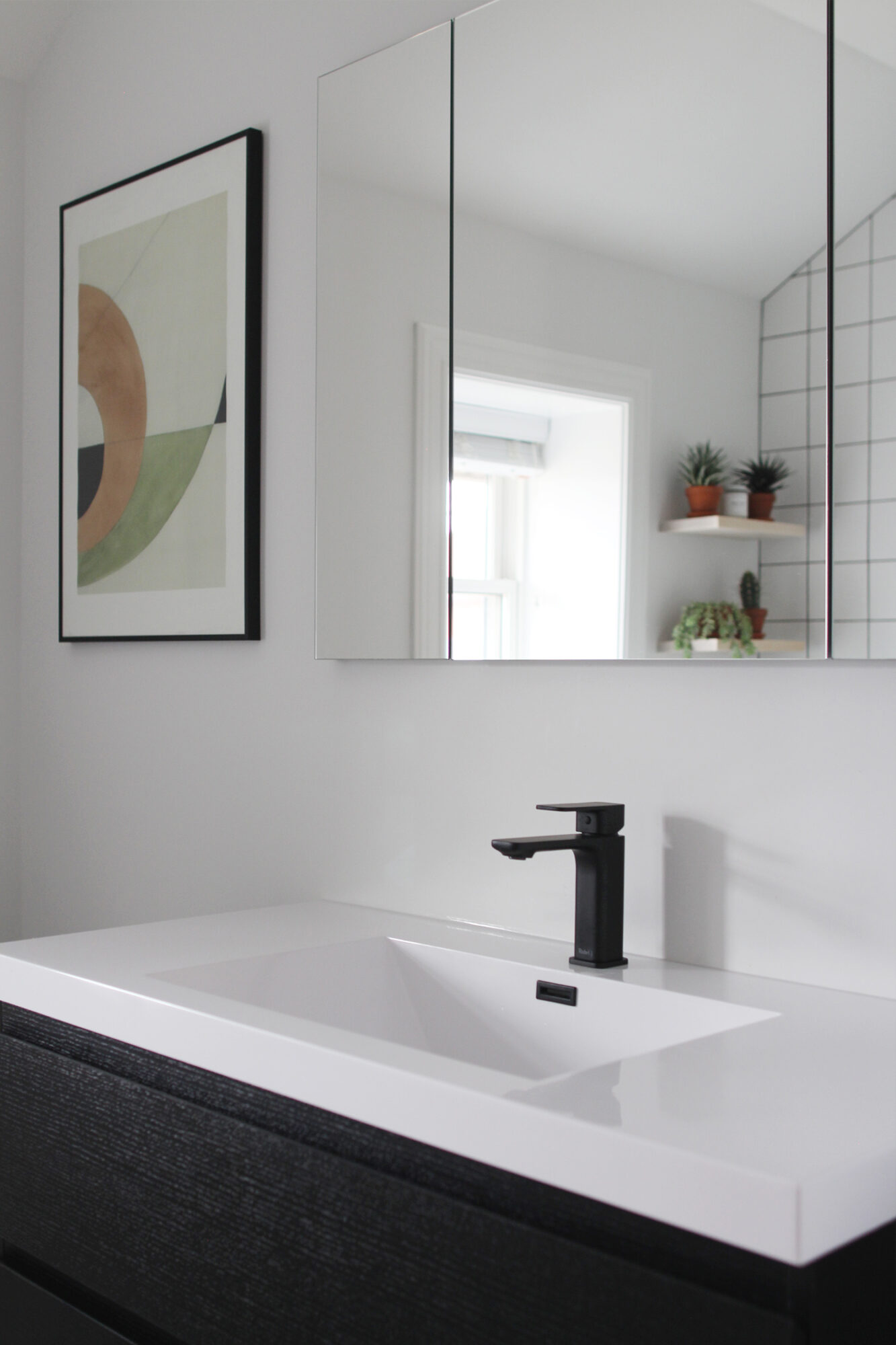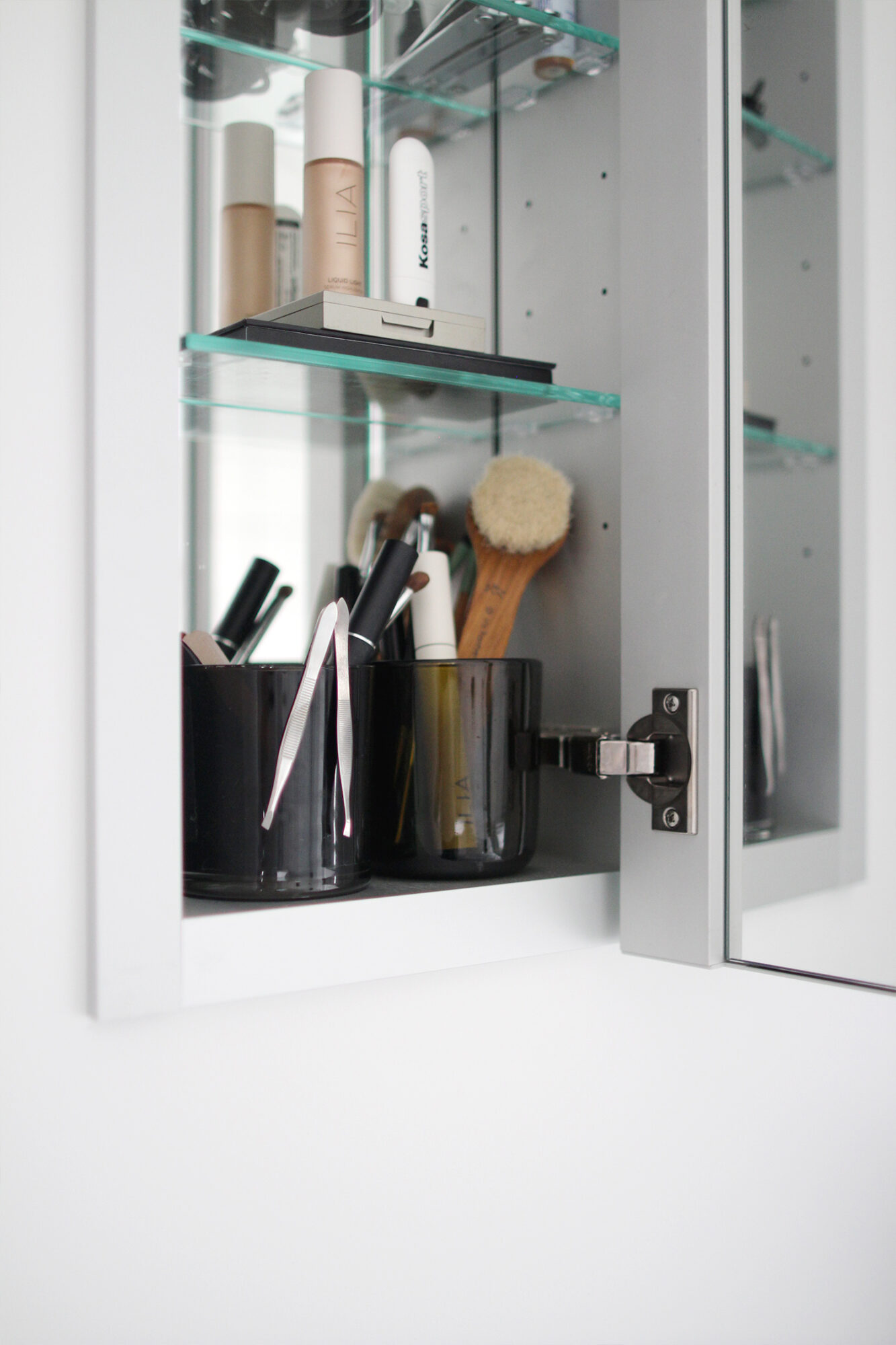 ---
It took some extra planning and time to install a recessed medicine cabinet but it makes a huge difference to how the space feels. Instead of the mirror protruding into the room it lays against the wall with all the storage concealed.
---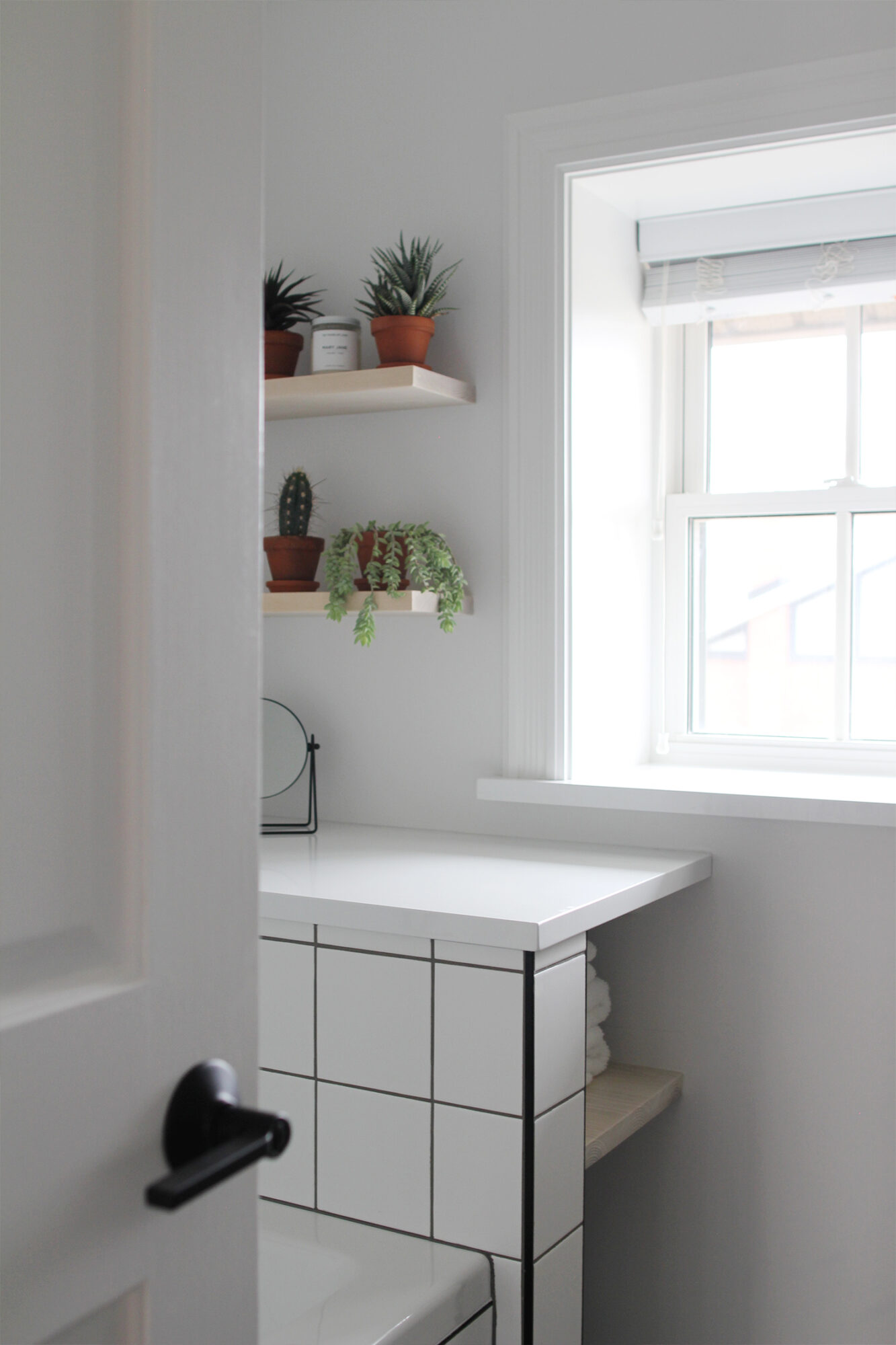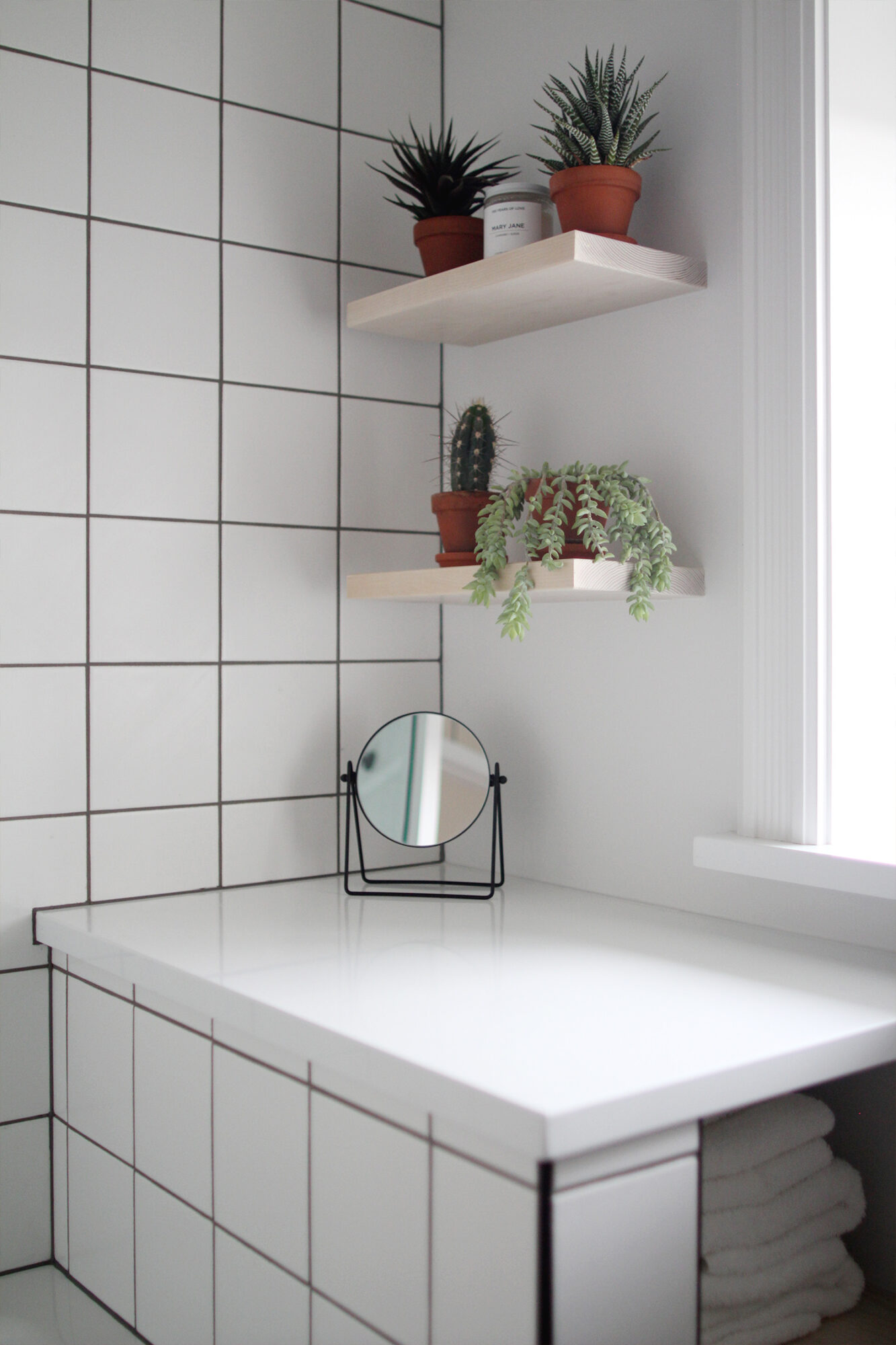 ---
This corner was a conundrum for sure so we did our best to make the most of an awkward space. We added a half wall at the end of the tub to allow for extra storage of towels, cleaning supplies and a waste bin. We also invested in bright white quarts countertops for above the storage area and windowsill to give the zone a luxury touch and keep it easy to clean. It also matches the white counter on the sink cabinet.
Floating reclaimed ash shelves became the perfect vignette for some succulents and a candle. This corner is my personal favourite in the space.
---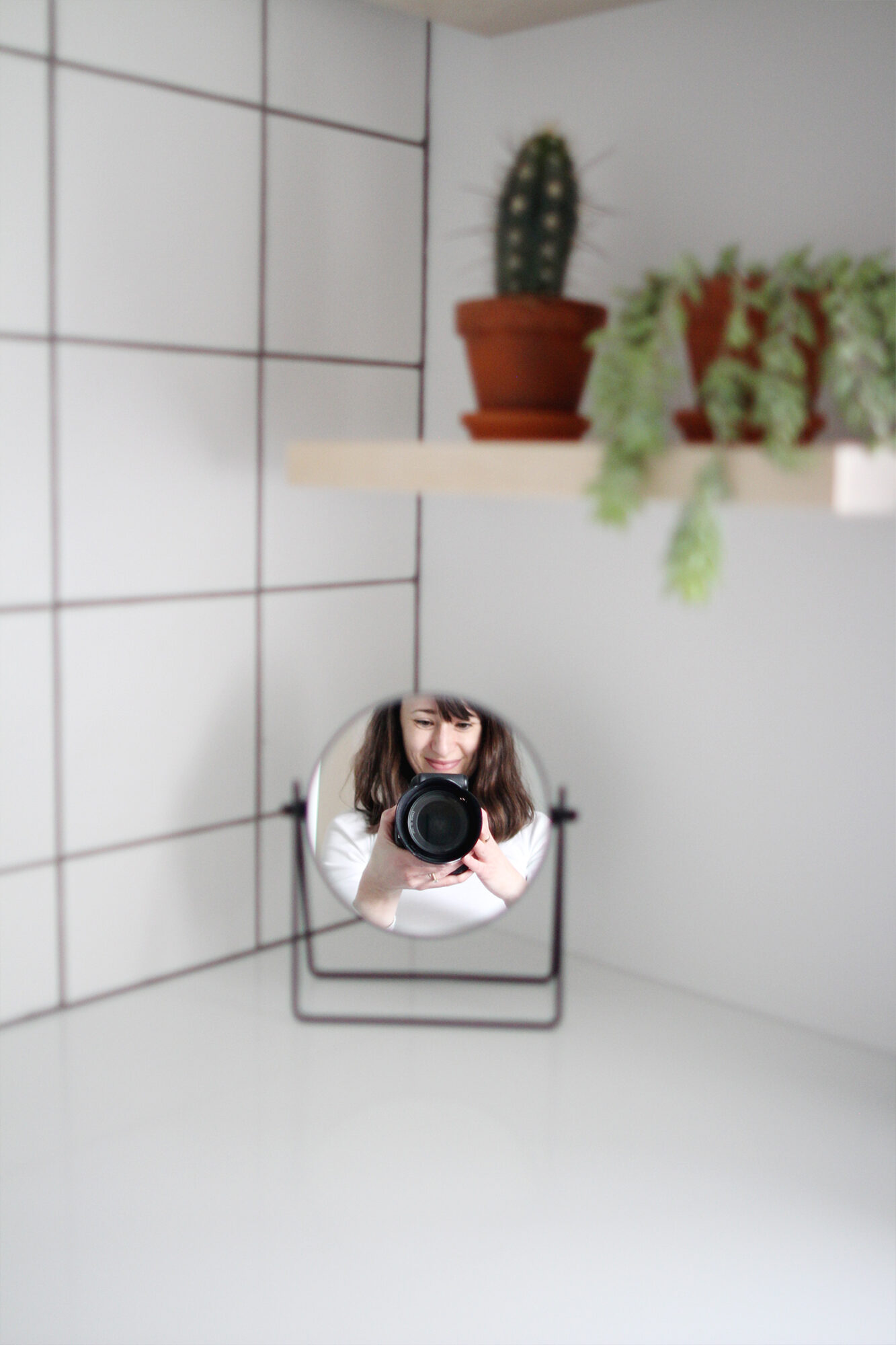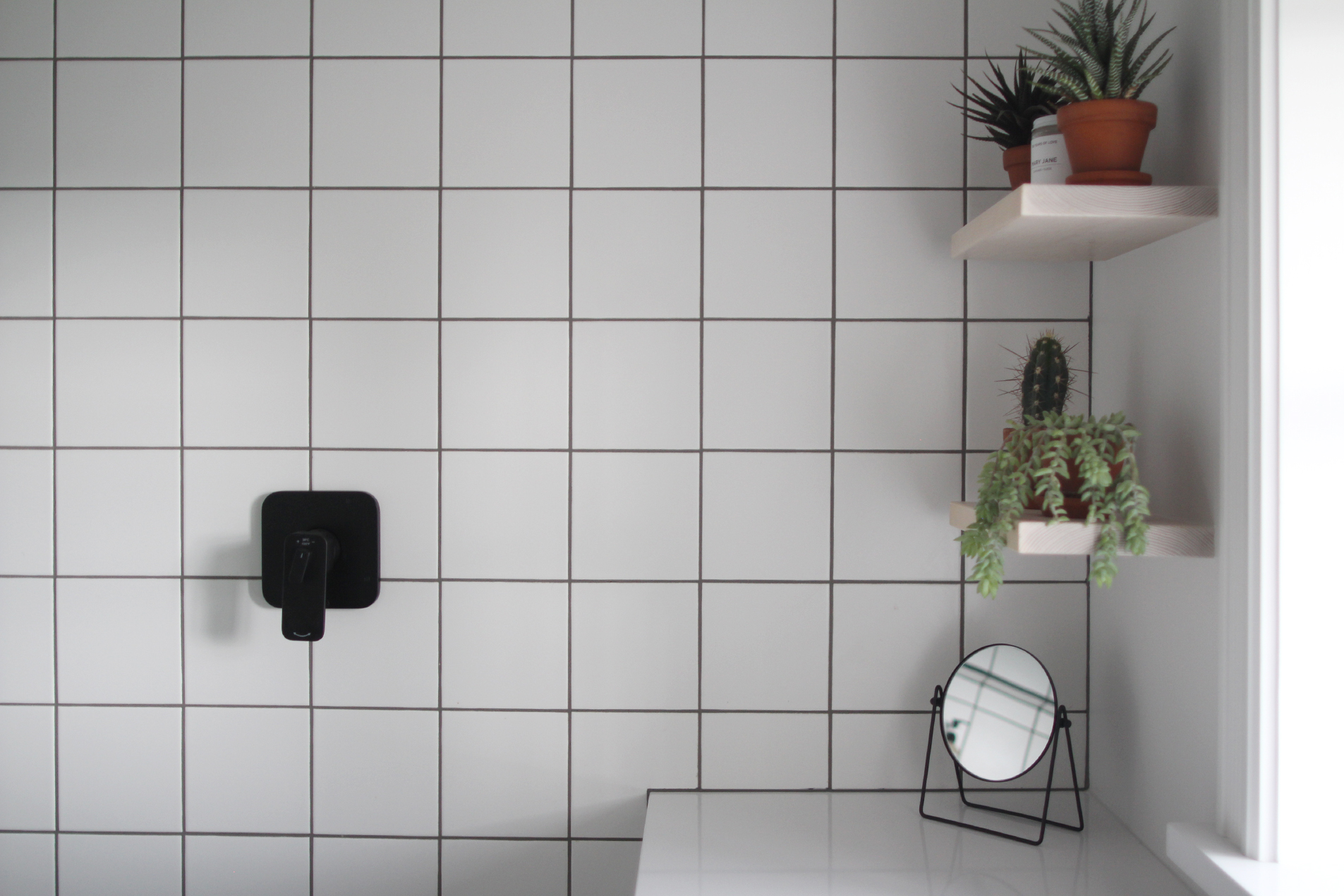 ---
Shower controller placement was important since we knew we'd be installing a glass door and wanted to make it easy to turn the shower or tub spout on without having to reach in too far or dodge drips.
---
---
To give the tub an inconspicuous feel we opted for a apron-less model, which allowed us to run the tile from the shower walls down the front. I love the built-in look and how it integrates the largest element without making it feel huge in the space.
---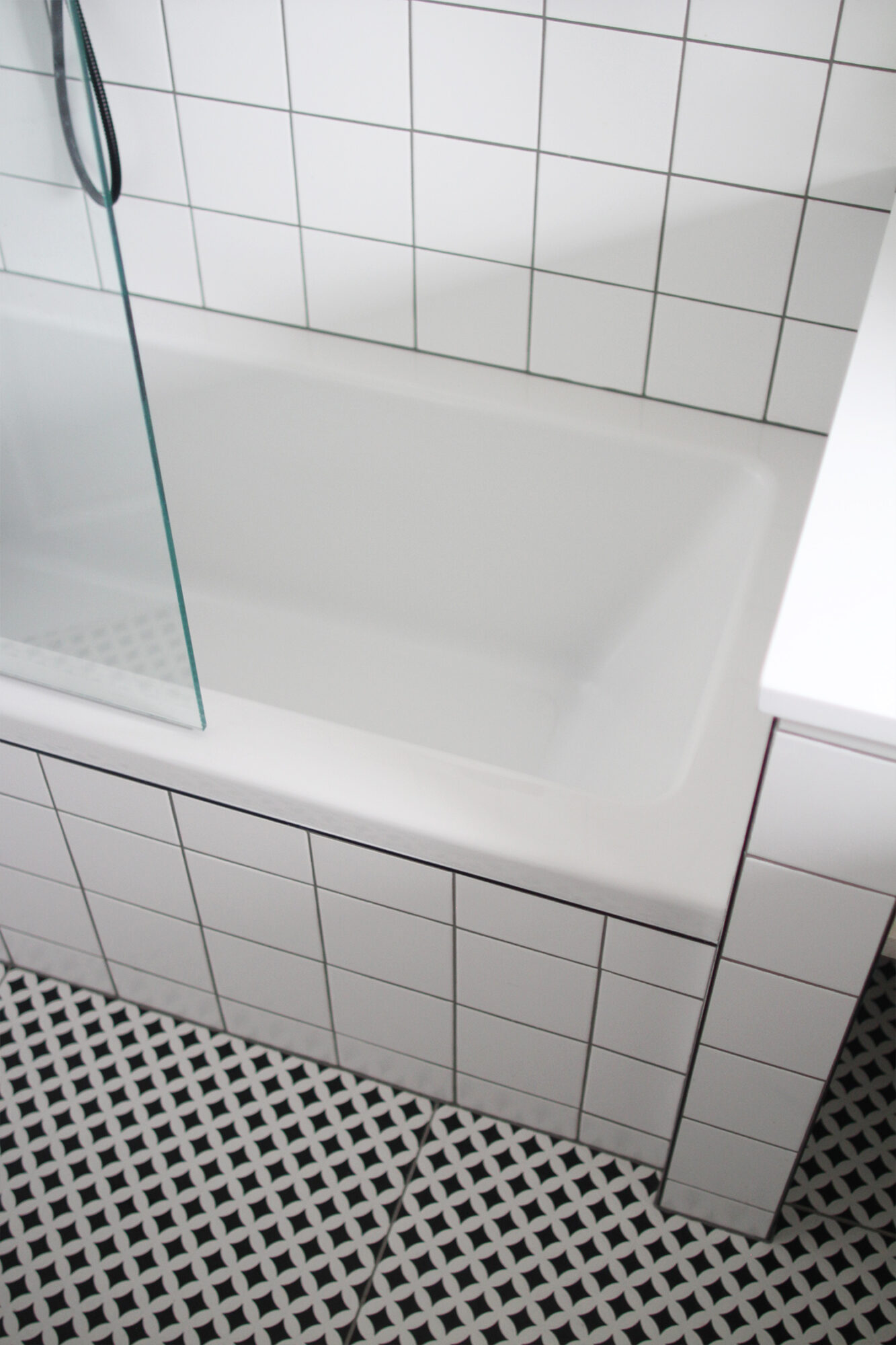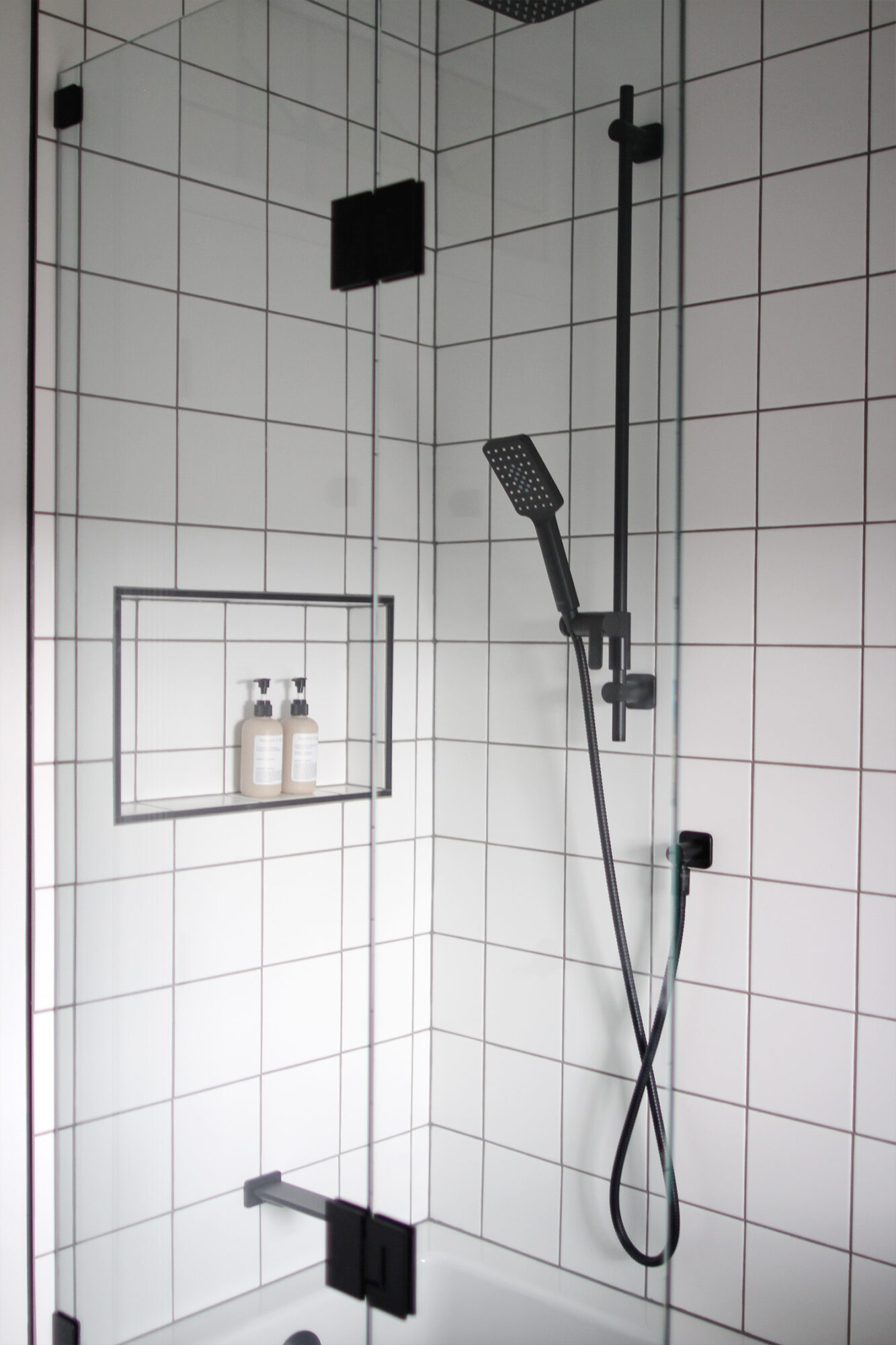 ---
Our shower glass and door panel was the final element to install and it worked out beautifully. It keeps water from spraying everywhere without making the space feel to enclosed.
---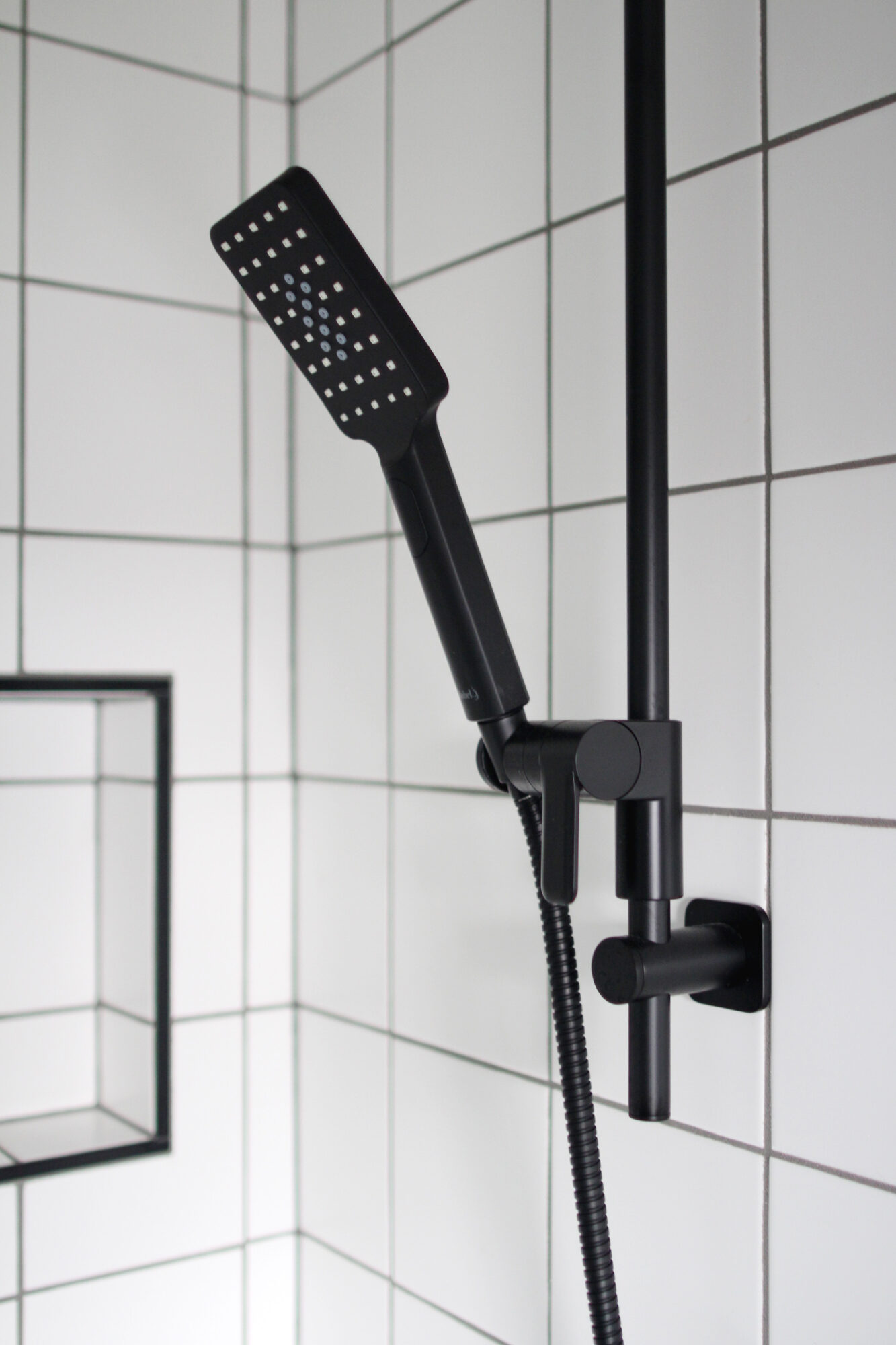 ---
The shower niche was a must-have element for me. Gone are the days of knocking bottles off the edge of the tub!
---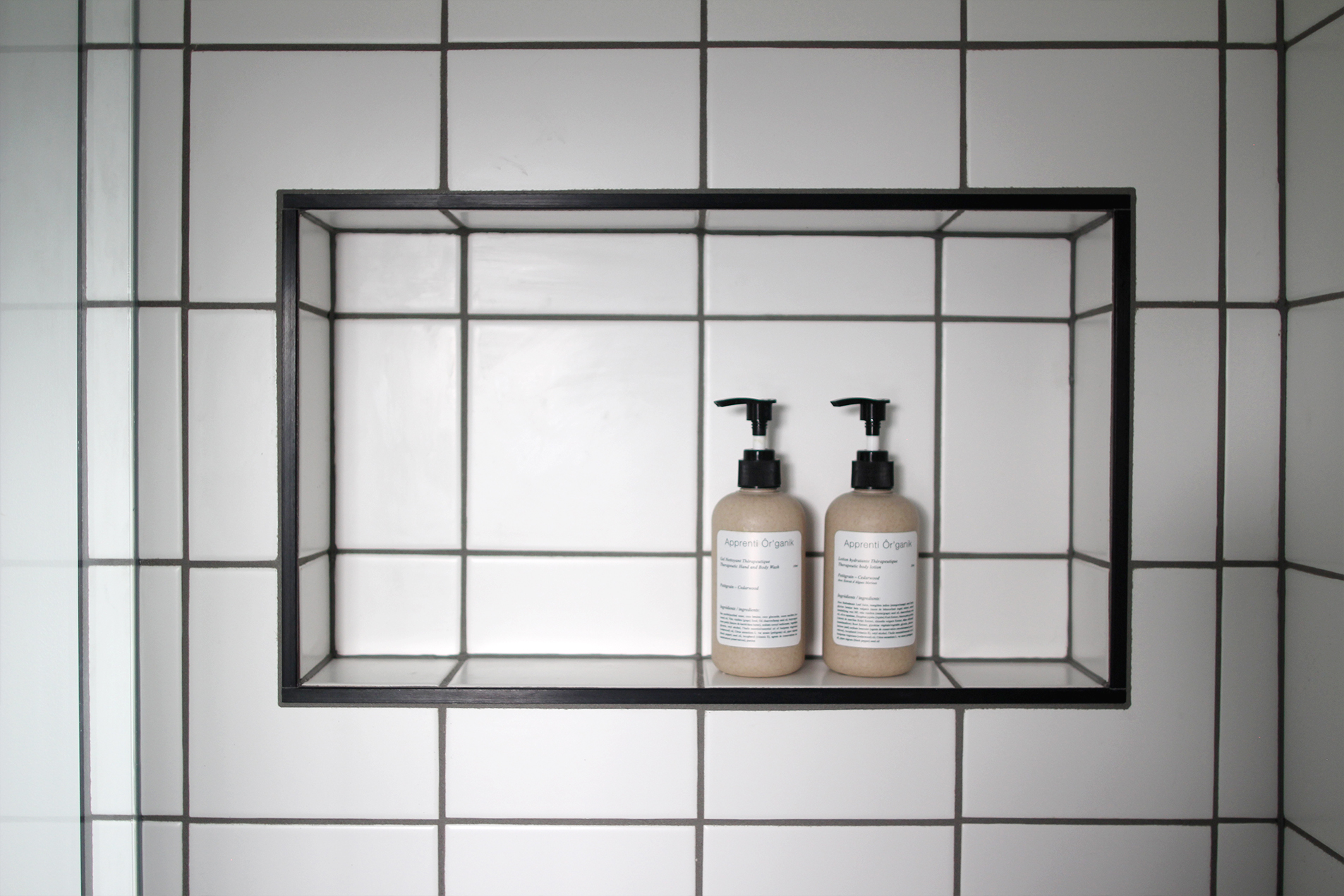 ---
The view from inside the shower is my favourite (shown below). Lots of little green friends and natural light. There's no way of seeing into the window from outside so it's bright but very private.
---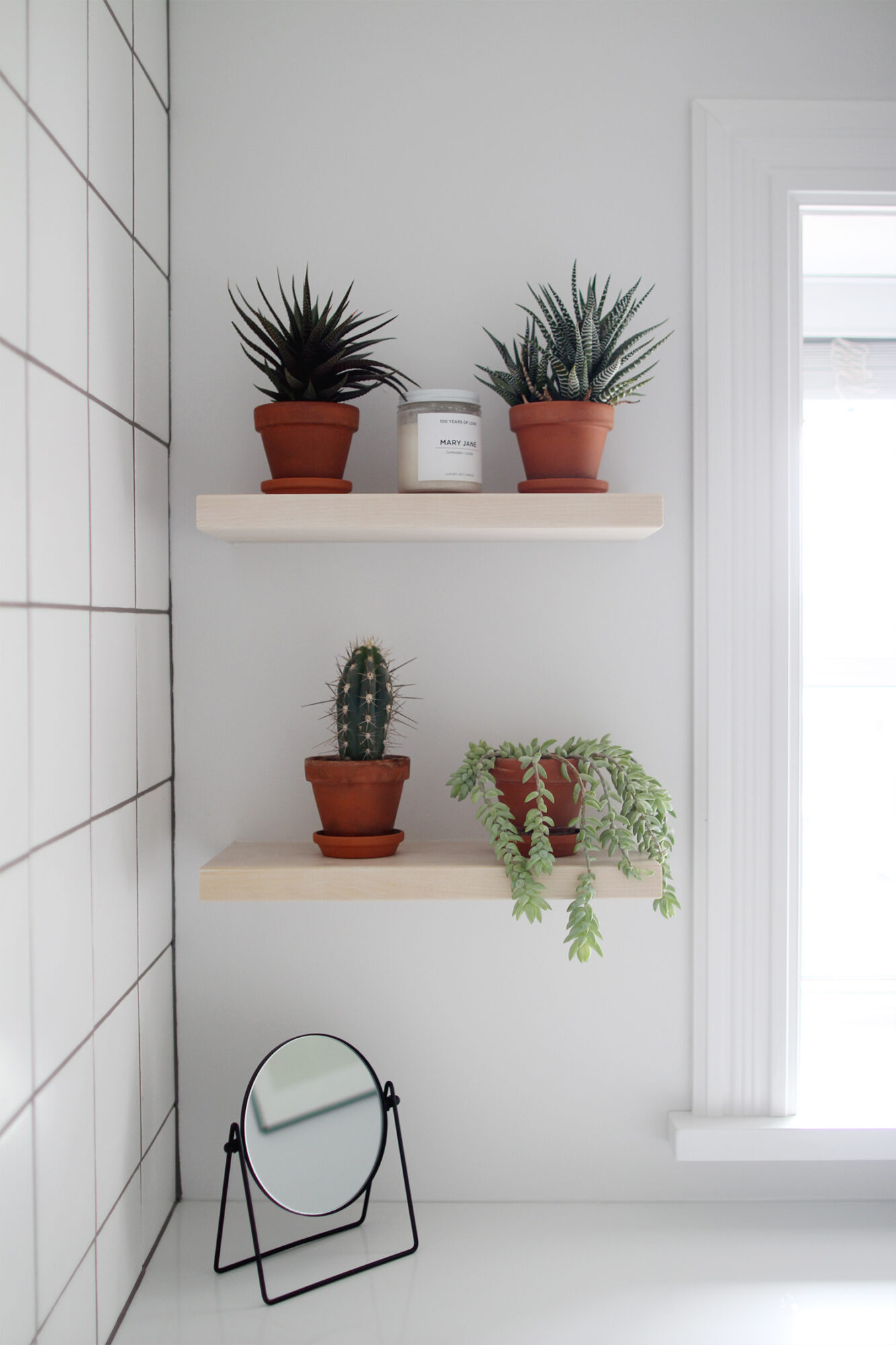 ---
DETAILS
---
We tried to think through every possible detail of the space to make it as functional and finished as possible. Here are many of those elements:
---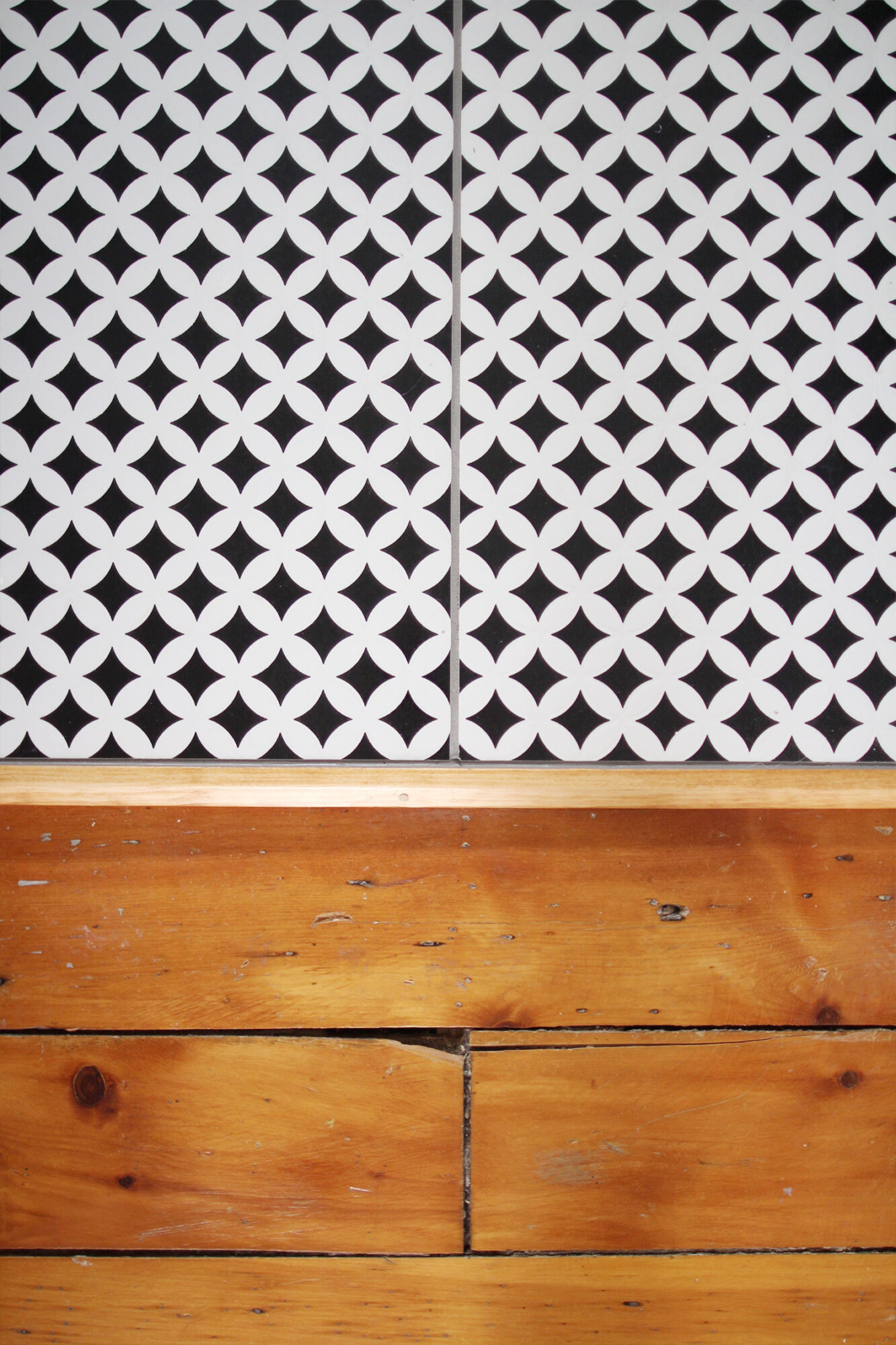 ---
A custom-made threshold elegantly transitions from the original pine floors to the new tiles, which are slightly raised, although Dave was able to get them much more level.
---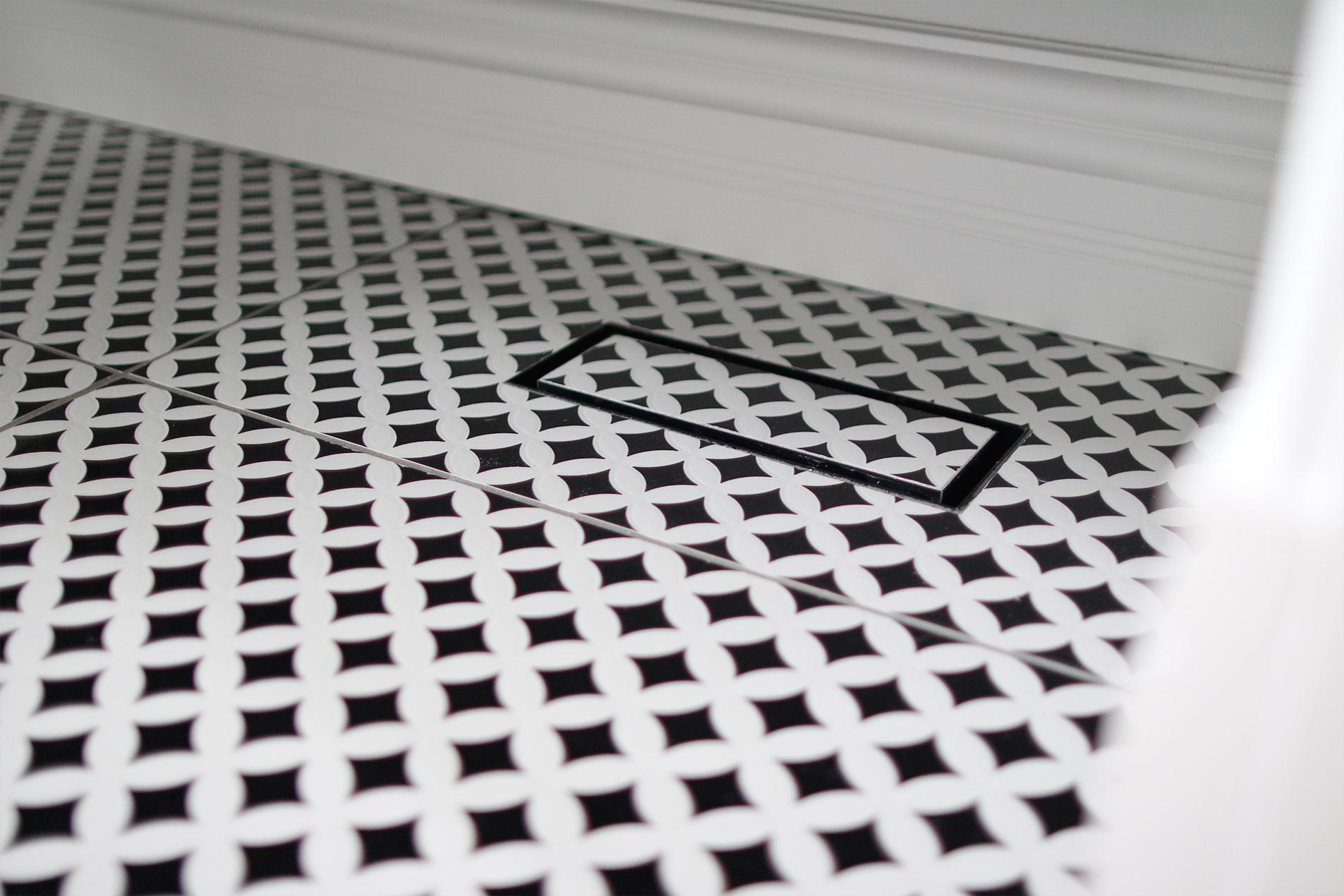 ---
A flush mount, customized floor vent keeps the tile pattern from being interrupted by a block of metal.
---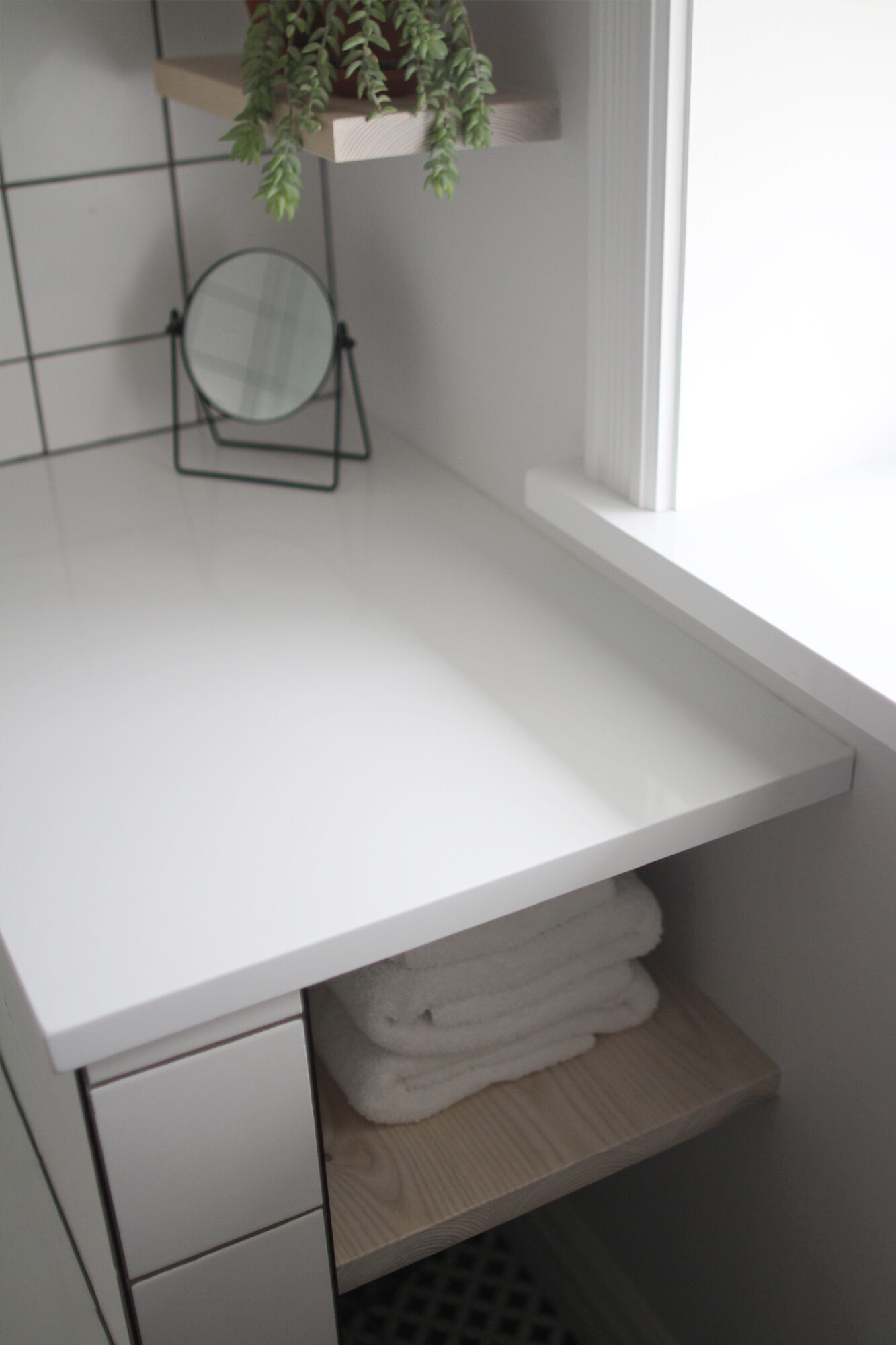 ---
High quality quartz adds countertop space and reflects lots of light, keeping the space airy and bright.
---
---
Dave tiled all the way into the alcove where we added a shelf for towels (in addition to the sink vanity drawers) plus a zone for cleaning supplies and a waste bin.
Minimal black towel hooks are on the back of the door and match all the other hardware including the toilet roll holder.
---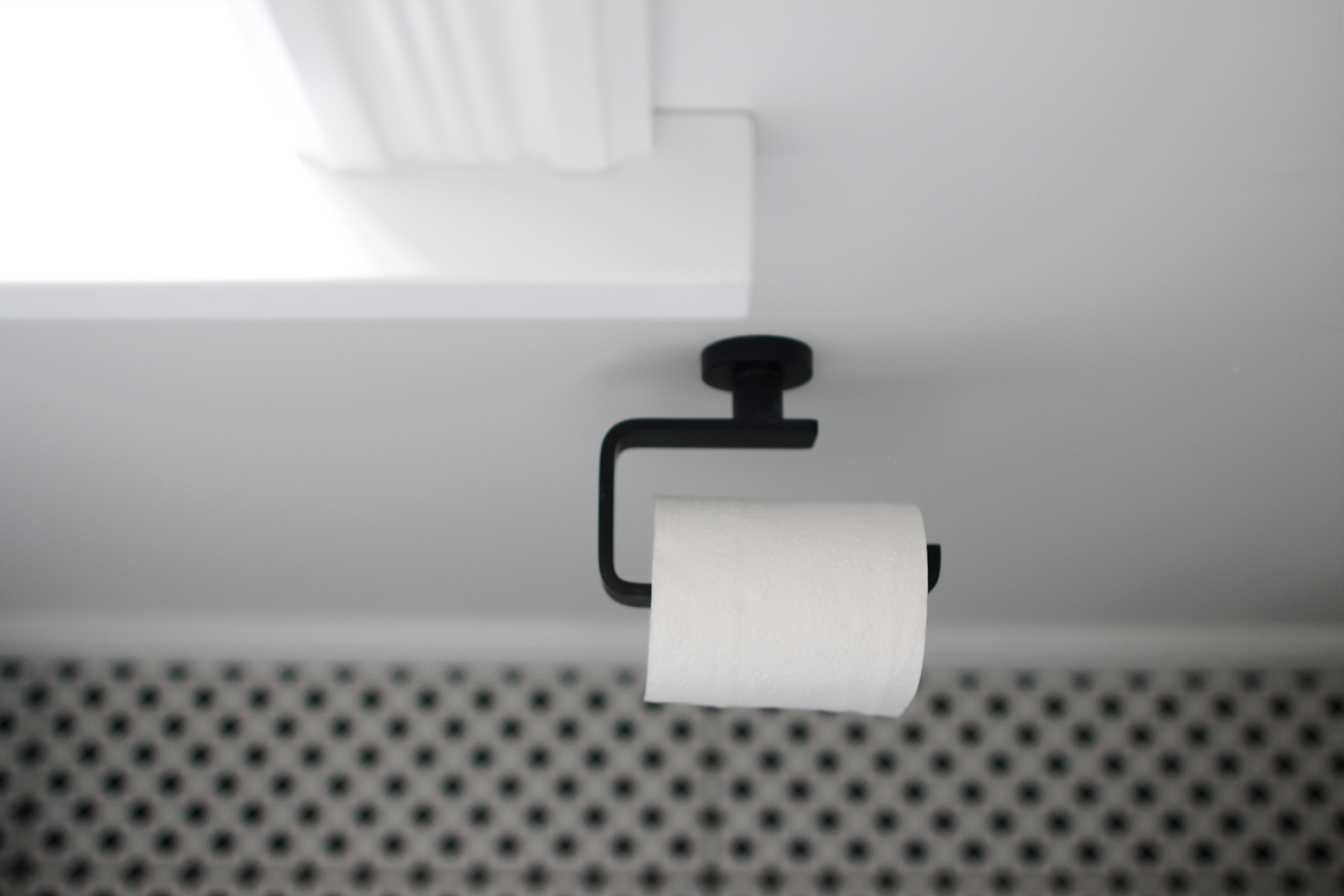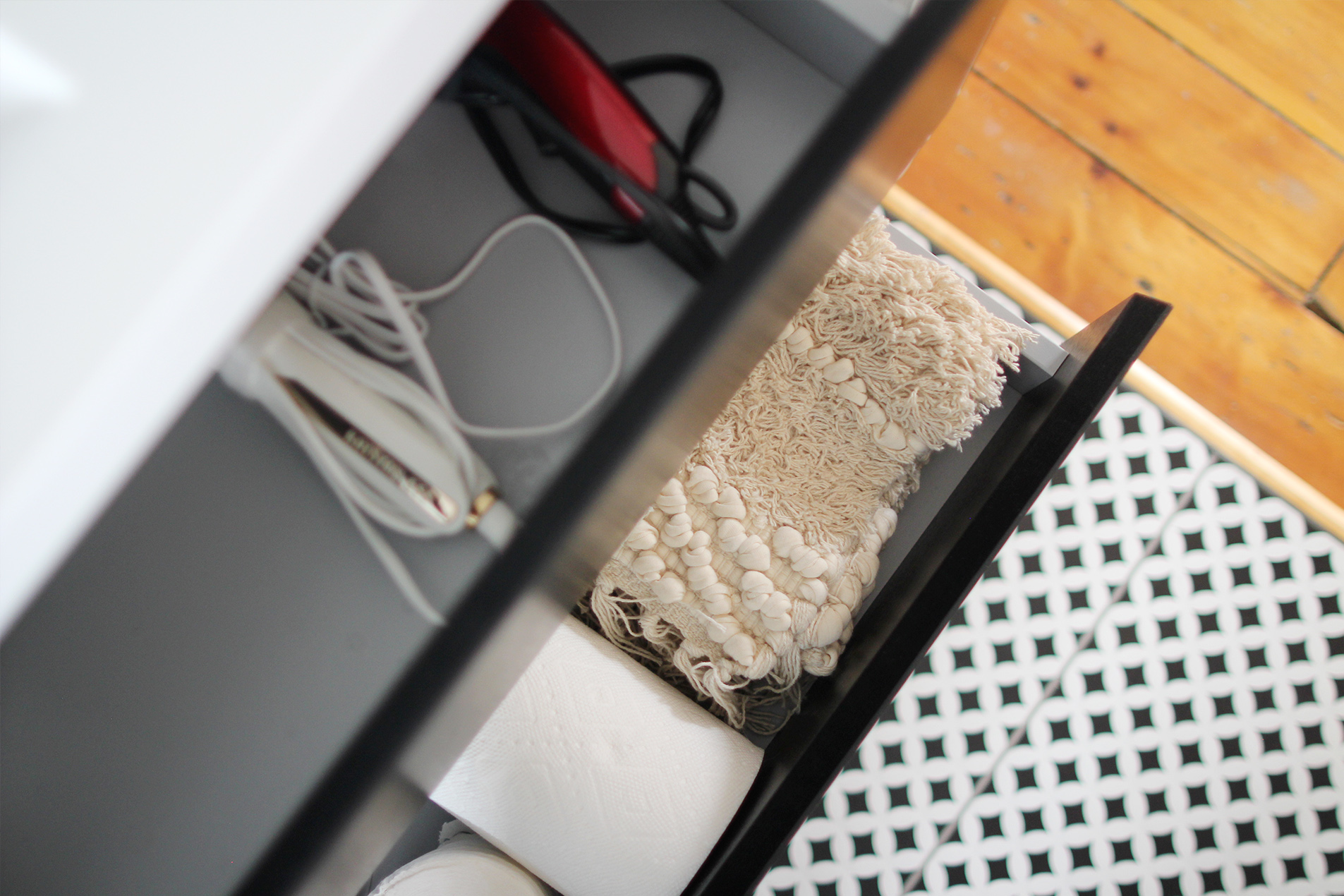 ---
SOURCES
Please note that some of the sources below are affiliate links, which means I may earn a commission on sales (at no additional cost to you!).
---
WALL TILE (SHOWER): MATTE WHITE 6×6 SQUARE
SHOWER FIXTURES: RIOBEL EQUINOX – KIT#1345EQ MATTE BLACK
TAP FAUCET: RIOBEL EQUINOX – EQS01
WALL ART: AURE via POSTER CLUB
PAINT: RAINDROPS BY DULUX
FLOOR TILE: DISCONTINUED PATTERN BY CIOT
CUSTOM VENT: ARIA FLUSHMOUNT PRO
LIGHT FIXTURE: MOBILE SCONCE via WEST ELM
RECESSED MEDICINE CABINET: KHOLER VERDERA 3 DOOR
SINK VANITY: NATHANIEL 41.8″ via ALL MODERN
BATH MAT: KNOT & WEAVE MAT via RUG & WEAVE (Use LEE15 for 15% OFF)
TERRA COTTA PLANTERS (old): DOVER PLANTER via EQ3 is similar
CLEANING SUPPLY STORAGE: METAL BASKET via HM HOME
WASTE BIN (old): SNÄPP BIN via IKEA is similar
ROUND MIRROR: METAL TABLE MIRROR via HM HOME
SOAP DISPENSERS: HAND & BODY WASH via APRENTI ÔR'GANIK
MATTE BLACK DOOR KNOB: SCHLAGE LATITUDE DOOR LEVER
---

---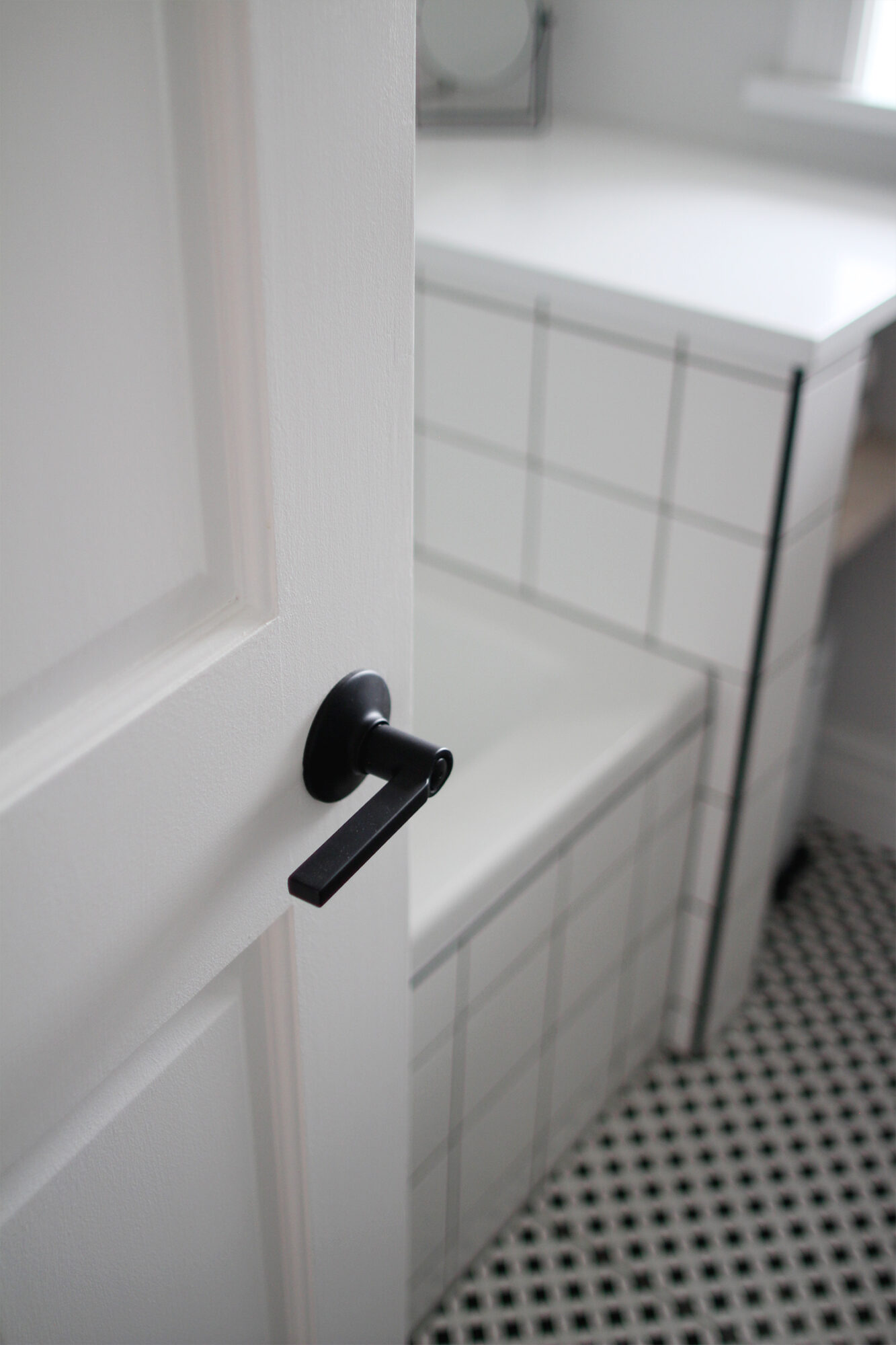 ---
Thanks for tuning in to see the bathroom reveal!
I hope you like what we did and that it helps you see some potential in your own space too! Happy to answer any questions about the project, just leave them in the comments below.