Today I'll be going over a comparison of the Jenni Kayne Mule in Saddle suede and the Oliver Cabell Dream Mule in Black leather. I've had several emails asking about this review and it's finally time! Thanks for your patience while I kept wear testing and had a chance to collect my thoughts.
I find that mules are a really great transitional footwear option because they span multiple seasons and styles. They have a way of visually elongating the leg and work with all sorts of inseam lengths and pant leg styles. Mules also add a touch of interest and sophistication to any casual outfit and I just love the versatility they offer.
Here's what this review will cover:
Quick facts about each one (cost, sizes, etc.)
Key differences I've noticed
Which one is better for wide feet vs narrow feet
If I think the Jenni Kayne Mules are worth it
The game-changing socks I wear with mules (no sweat, no slip!)
+ A bunch of ways I've styled both pairs!
Even if you're not in the market for this particular style, this post might highlight some things to keep in mind next time you're shoe shopping.
---
This post is not sponsored or produced in partnership with any brands mentioned but does contain affiliate links and some gifted items.The products highlighted were gifted, without obligation to review or share. If you see something you like and decide to shop through the links included, I may earn commission on a sale at no additional cost to you. All opinions are always my own and I only share items I love and think you might too. Thanks for supporting Style Bee!
---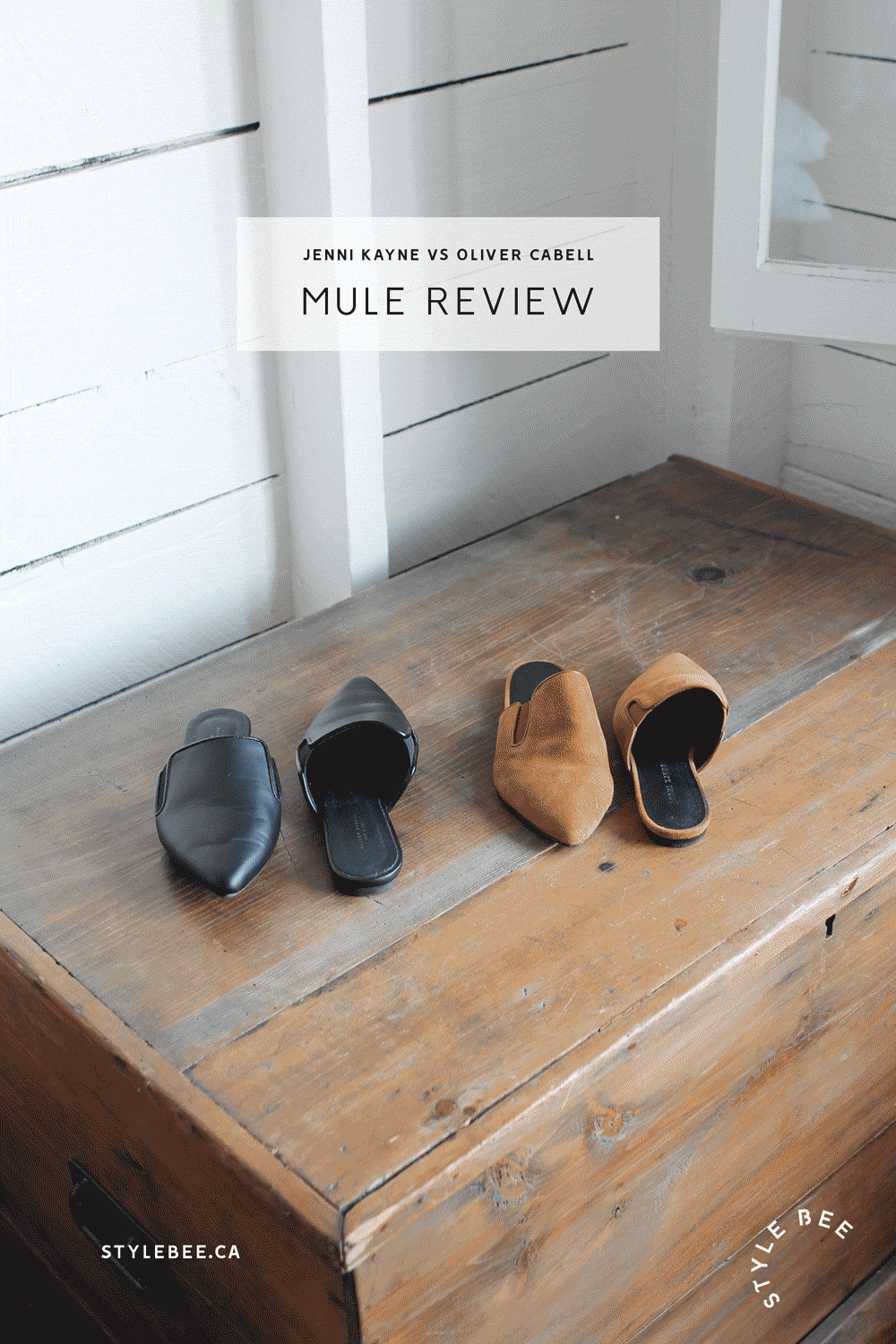 ---
QUICK FACTS
---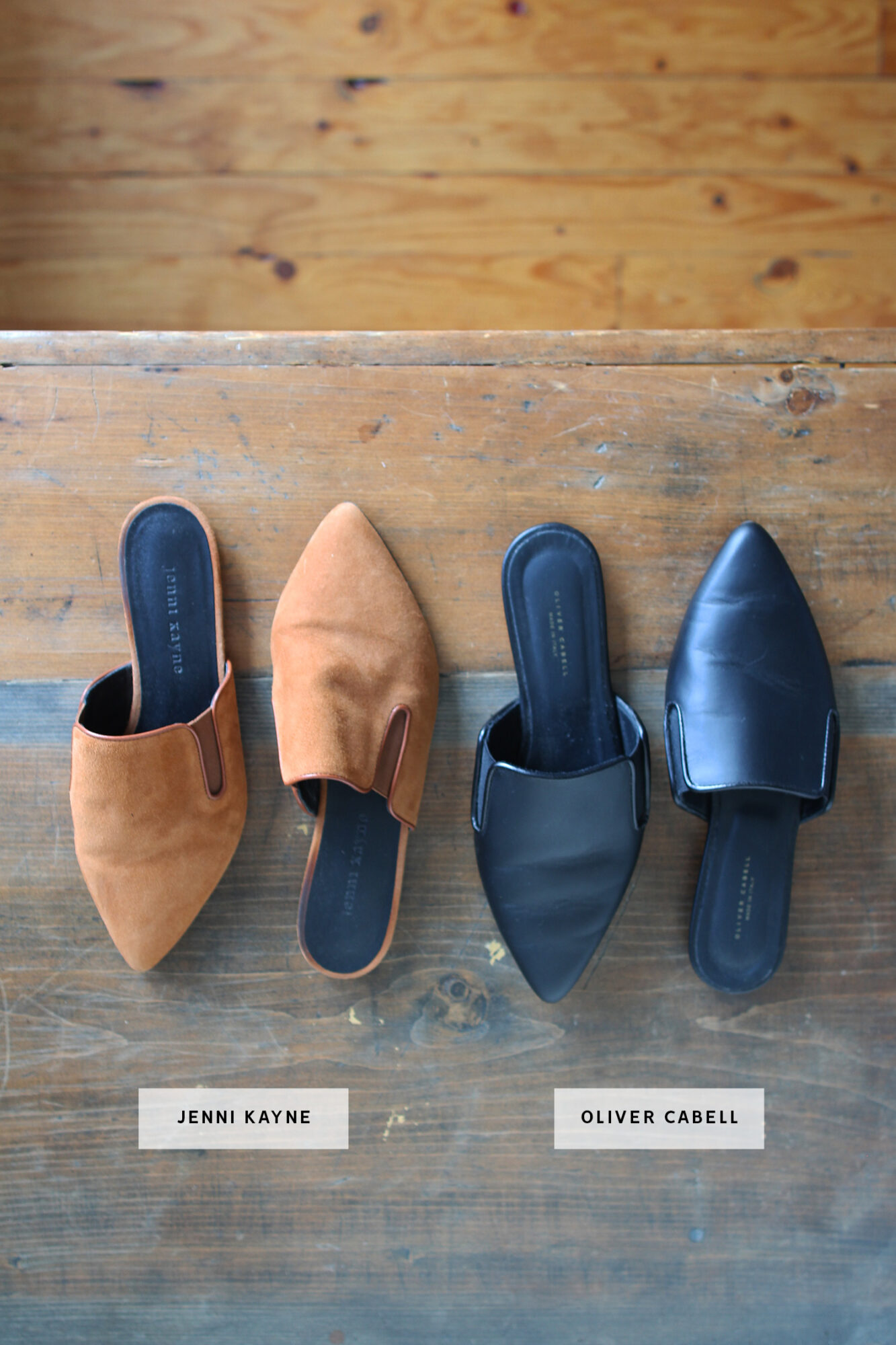 ---
---
---
PRICE: $395 USD $335.75 USD with 'LEE15' for 15% Off anytime.
FREE US shipping and returns with INTL shipping available.
MADE IN: Italy
FIT: TRUE TO SIZE – I usually wear a US 7 and I wear the equivalent IT 37 in these, as is recommended in the size chart.
CARE: Spray with a suede and nubuck protectant and spot as needed with a suede brush/eraser. More on how I care for my suede and nubuck footwear in this post.
These come with a dust bag and I store them in that to keep them in good shape.
COLOUR OPTIONS: NAVY SUEDE | LAUREL SUEDE | SADDLE SUEDE (shown) | CHEETAH PONY HAIR | SHEARLING (two colours) | OILED LEATHER (4 colours) | BLACK SMOOTH LEATHER | All shown below.
---

---
---
---
PRICE: $190 USD $149 USD for first time orders.
FREE SHIPPING WORLDWIDE
MADE IN: Italy
FIT: TRUE TO SIZE – I usually wear a US 7 and I wear the equivalent EU size 38 in these, as per the Oliver Cabell size chart.
CARE: Spray with a leather protectant and wide clean as needed with a damp cloth.
COLOUR OPTIONS: BLACK LEATHER (shown) | BROWN SUEDE | TRUFFLE SUEDE | LIGHT SUEDE | LEOPARD PONY HAIR | All shown below.
---

---
KEY DIFFERENCES
---
With such a difference in price point it's not unusual to expect some differences in the quality and feel of the shoes. See my notes below on the differences that stand out to me.
---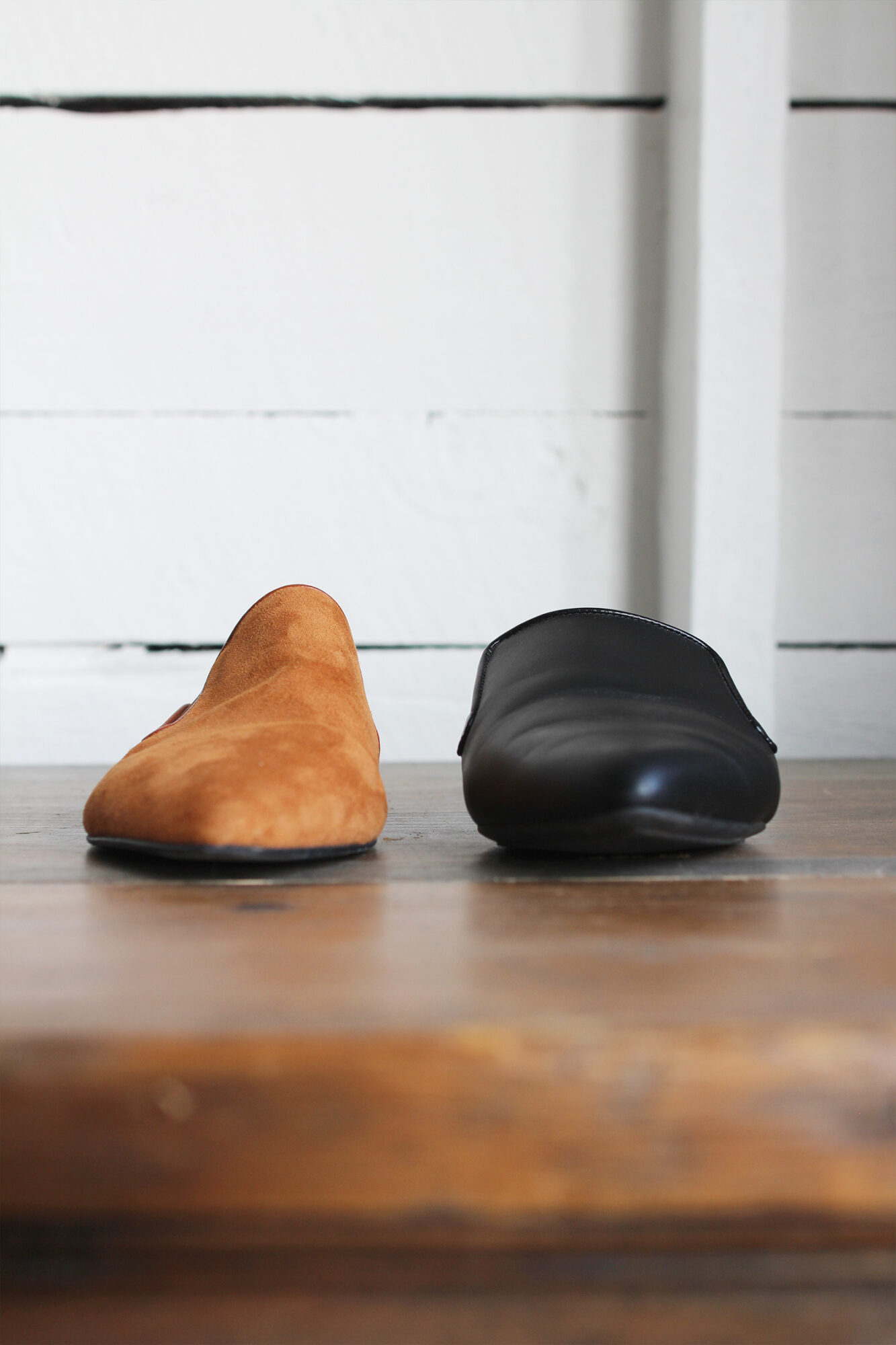 JENNI KAYNE SUEDE MULE (LEFT) | OLIVER CABELL LEATHER MULE (RIGHT)
---
As you can see from the image above, these mules differ significantly in shape.
JENNI KAYNE MULE – The JK mule has more of an 'A' shape, a flat sole and accommodates a higher instep/arch.
OLIVER CABELL – The OC mule is more of a square shape overall, with an upward curving sole and a lower, wider instep/arch zone.
It does appear that the toe box is essentially an identical width, which means it will likely come down to your instep and arch to determine which is better for you.
---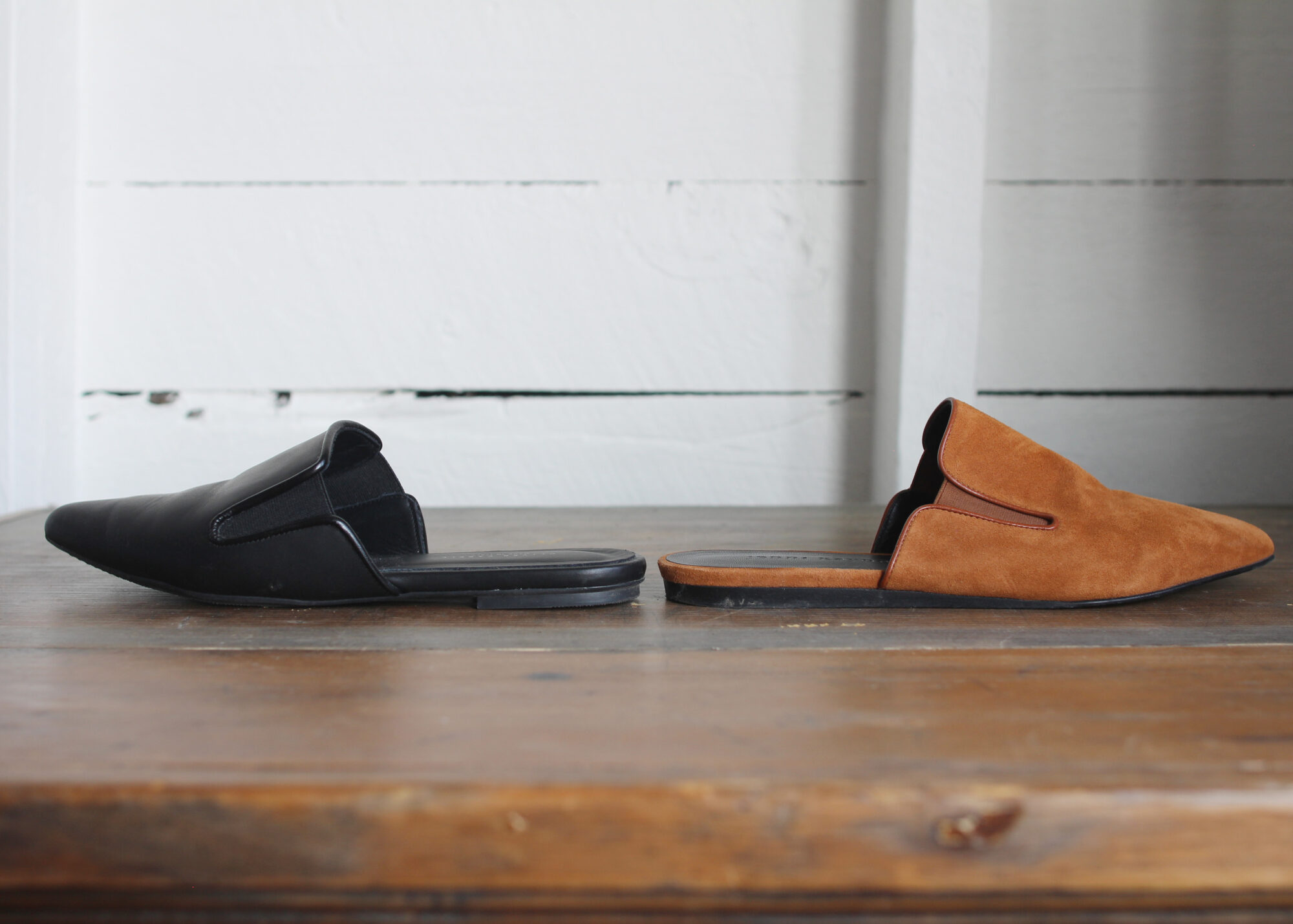 ---
OLIVER CABELL – The sole on the OC mule has a very slight heel. The elastic panel on either side of the shoe is slightly thicker.
JENNI KAYNE MULE – The sole on the JK mules is completely flat on the bottom, with a very slight incline from toe to heel. The elastic panel on either side of the shoe is a touch narrower, which I find helps to give the shoe flexibility, without too much stretch. The small, leather wrapped band around the edge of the shoe's opening is also a bit narrower.
Both shoes have a lightly padded leather insole, the one on the OC mules is a touch thicker. B
---
The photo below shoes the soles of both shoes.
JENNI KAYNE MULE – The JK sole is 100% genuine leather with rubber panels on high friction zones. To the best of my knowledge and experience with shoe maintenance, these sections can be replaced by a shoe specialist as needed, giving your shoes a potentially much longer life span.
OLIVER CABELL – The OC sole appears to be a man-made rubber. This gives it slightly better traction out of the box but does mean that once the sole wears down it cannot be replaced.
---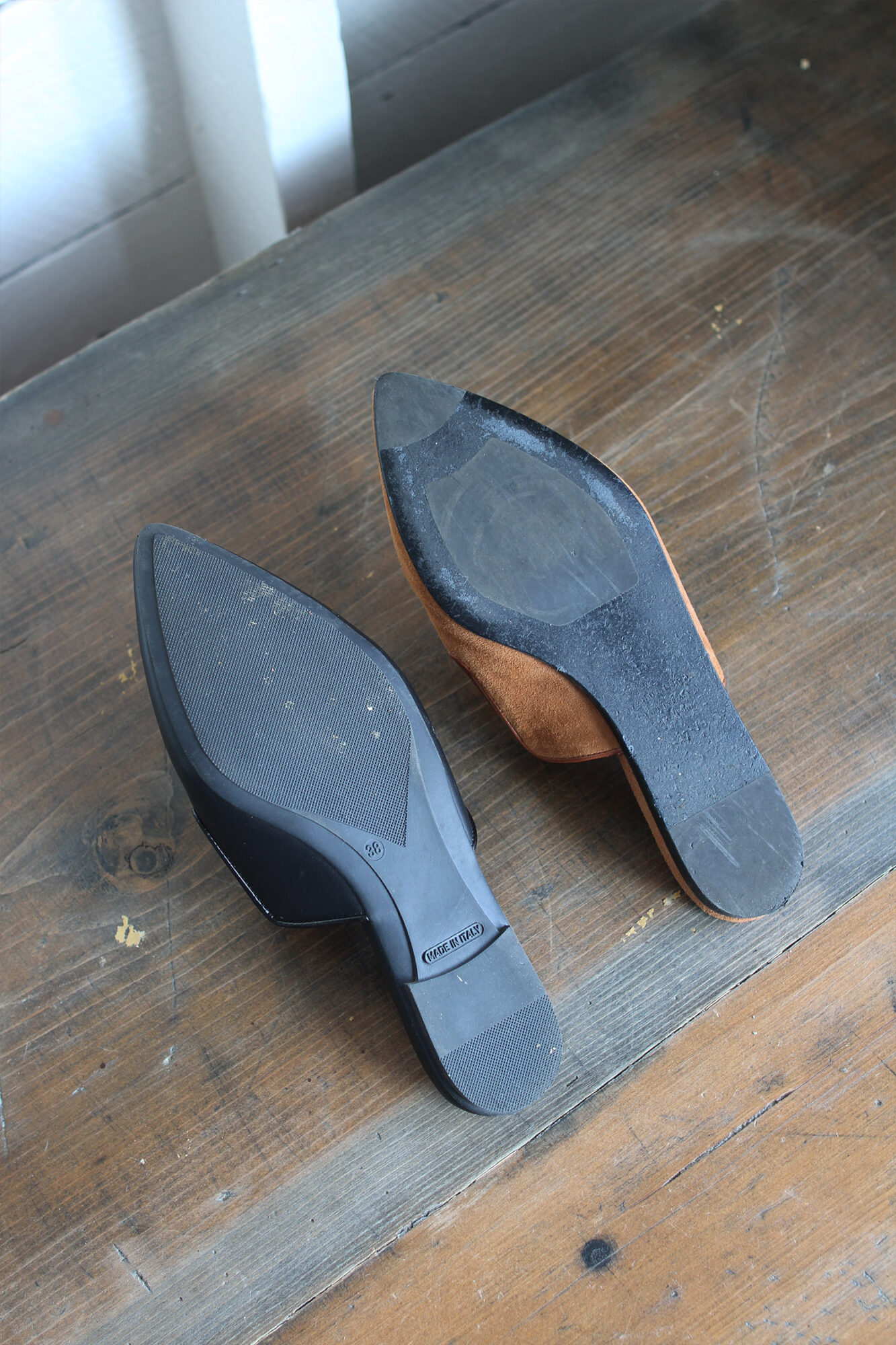 ---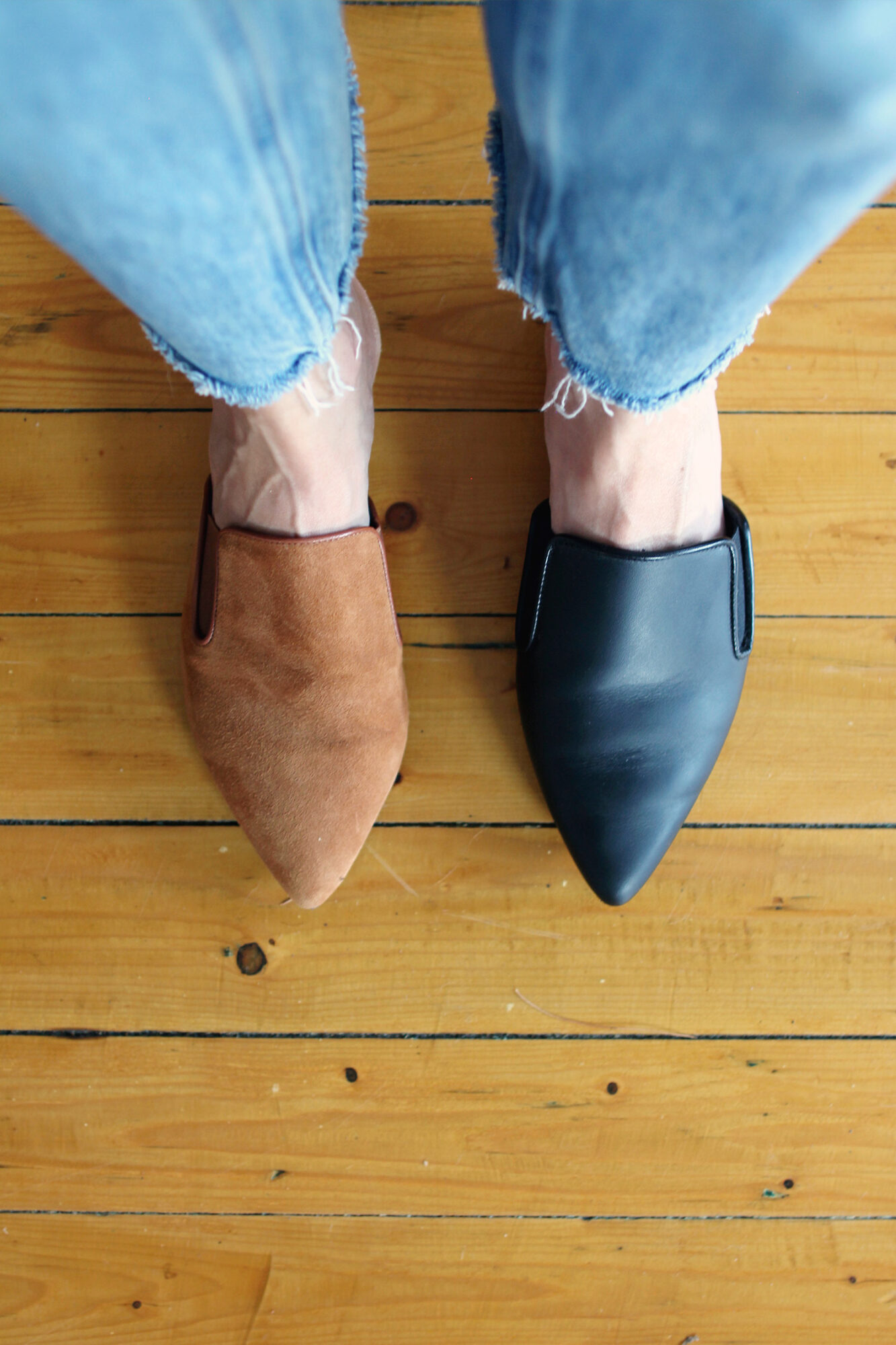 ---
WHICH IS BETTER FOR WIDE FEET OR NARROW FEET?
---
As you can see in the images above and below, the Jenni Kayne Mule fits the instep of my foot more snugly and comes up about 1/2 an inch higher on my foot.
For my narrow instep and high arch, I find the JK Mule MUCH more comfortable than the wider, shorter fit of the Oliver Cabell Mule. The JK mules stay on my feet very well and feel snug and move with my foot as I walk. The OC mules have slipped off when my feet are cold or if I'm walking at a particularly brisk clip, which has never happened with the JK Mules. On someone with a more regular – wide instep, I expect this would be less of an issue.
So the answer is:
JENNI KAYNE = Best for a regular to narrow instep with an average to high arch.
OLIVER CABELL = Best for a regular to regular to wide instep with an average to flat arch.
---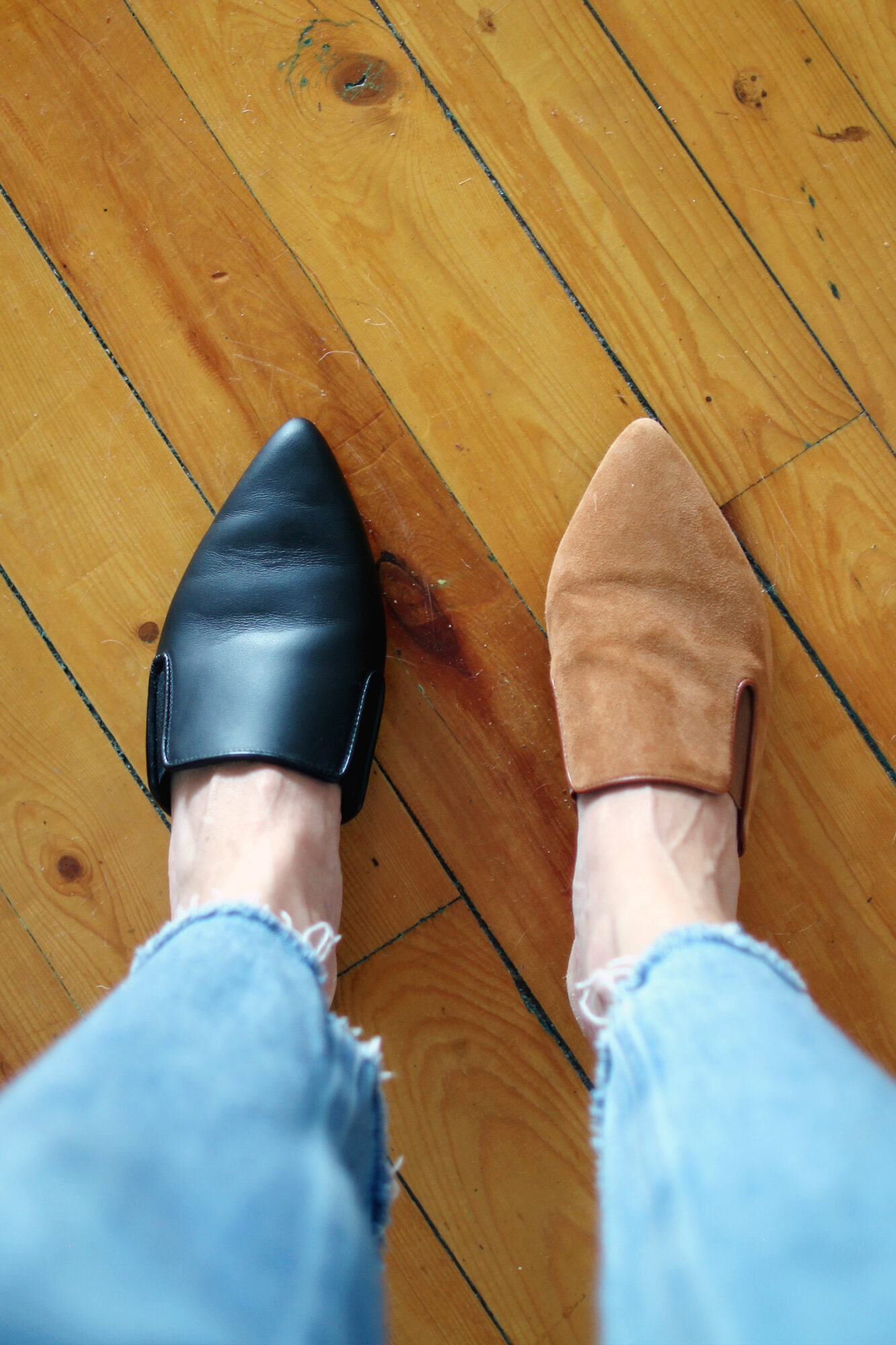 ---
ARE THE JENNI KAYNE MULES WORTH IT?
It's hard to translate how a shoe feels in words and photos (and even video) because it's such a visceral experience, however, it's fair to say that the Jenni Kayne mules do feel more refined and of higher quality. The Oliver Cabell mules are well-made but, as noted above, there are some key differences that stood out to me having had the opportunity to compare them both.
While neither one offers a significant amount of support, I do find the Jenni Kayne Mules more comfortable over a day of wear. Partly because I don't need to grip the insole with my toes to keep them from sliding or shifting.
I think the JK Mules are worth it if you LOVE the look of them, tend towards a more narrow/high arched instep, and want, essentially, a very chic slipper to wear out of the house. For instance, if I was ordering a new pair of mules, I would be opting for the Jenni Kayne's because they fit my foot so much better.
Both options are elegant, timeless and very versatile so I think it comes down to refinement, fit, material options and budget. If you've got a wider foot I think the Oliver Cabell Mules are a great option and you'd be quite happy with the quality for the price-point.
---
MULE SOCKS? YES, THEY EXIST.
---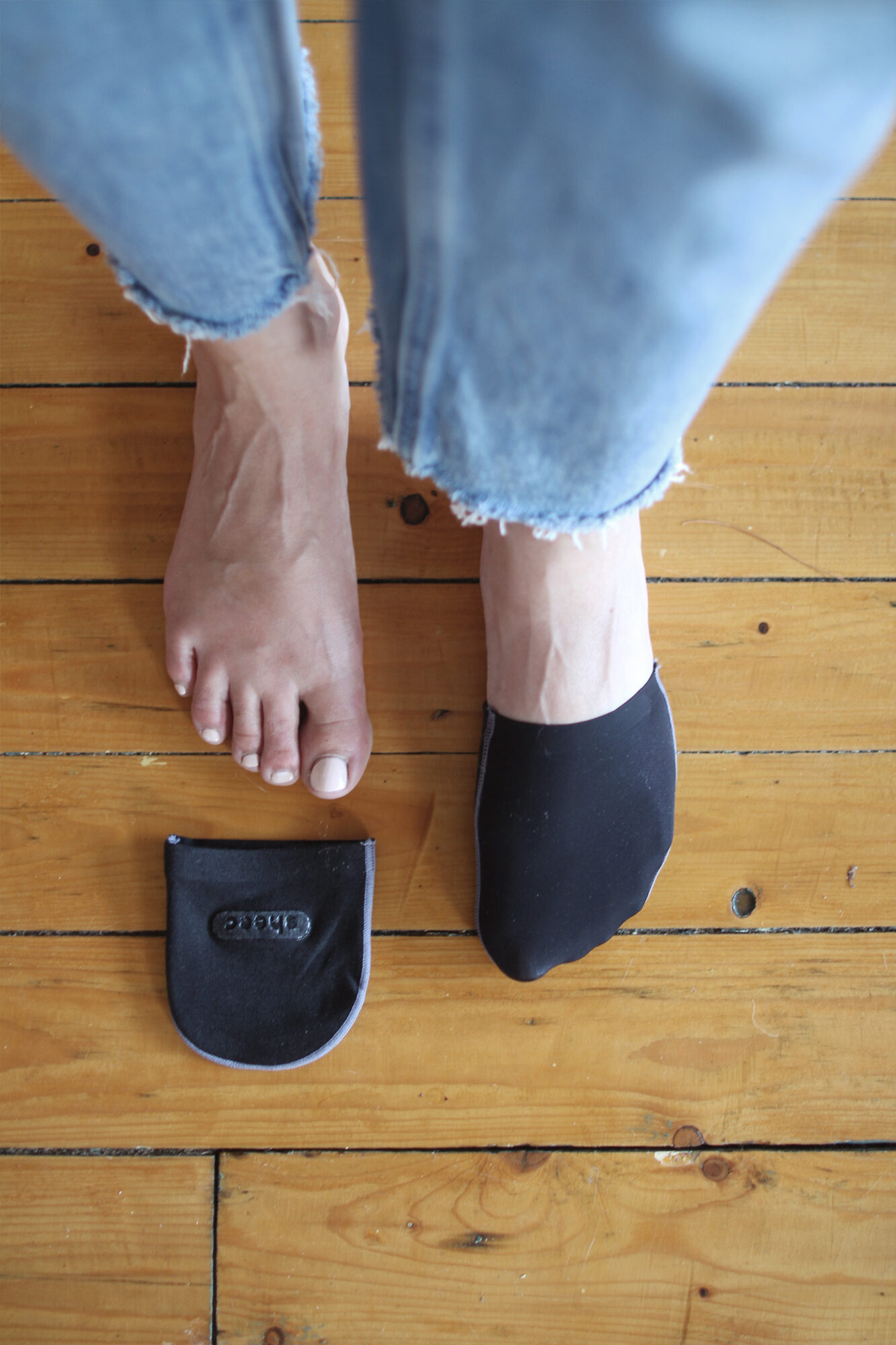 ---
I recently had the chance to try out some new styles from SHEEC, makers of the best no-show socks I've encountered. I didn't have much hope for the mule socks they sent but to my delight they are awesome!
There is a little no-slip strip on the bottom, under the ball of the foot, which sticks to the insole of the mule and keeps them from sliding (it's also good for hardwood and smooth floors). Then there is a slim, silicone strip along the top of the foot which keeps the sock in place.
These have totally changed my mule-wearing experience. My feet no longer sweat or get clammy inside the shoe and I don't have to worry about the shoes smelling or slipping off.
If you're interested in mule socks use code: stylebee15 for 15% Off any time!
---
A FEW WAYS I'VE STYLED BOTH PAIRS OF MULES
---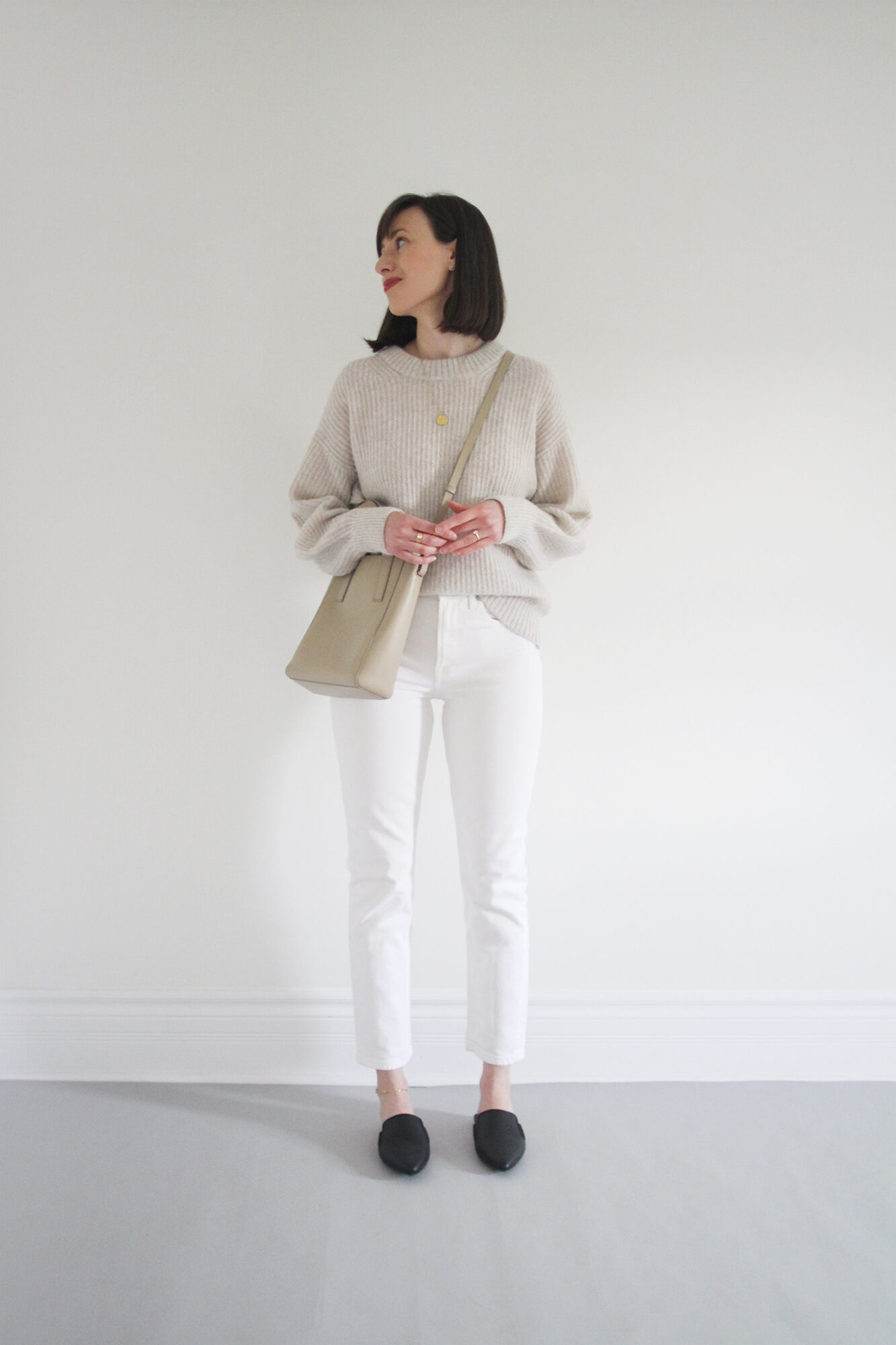 OVERSIZE ALPACA SWEATER | TAUPE MINI TOTE old (similar linked) | ORIGINAL CHEEKY JEANS WHITE | DREAM MULE BLACK | ANKLET

---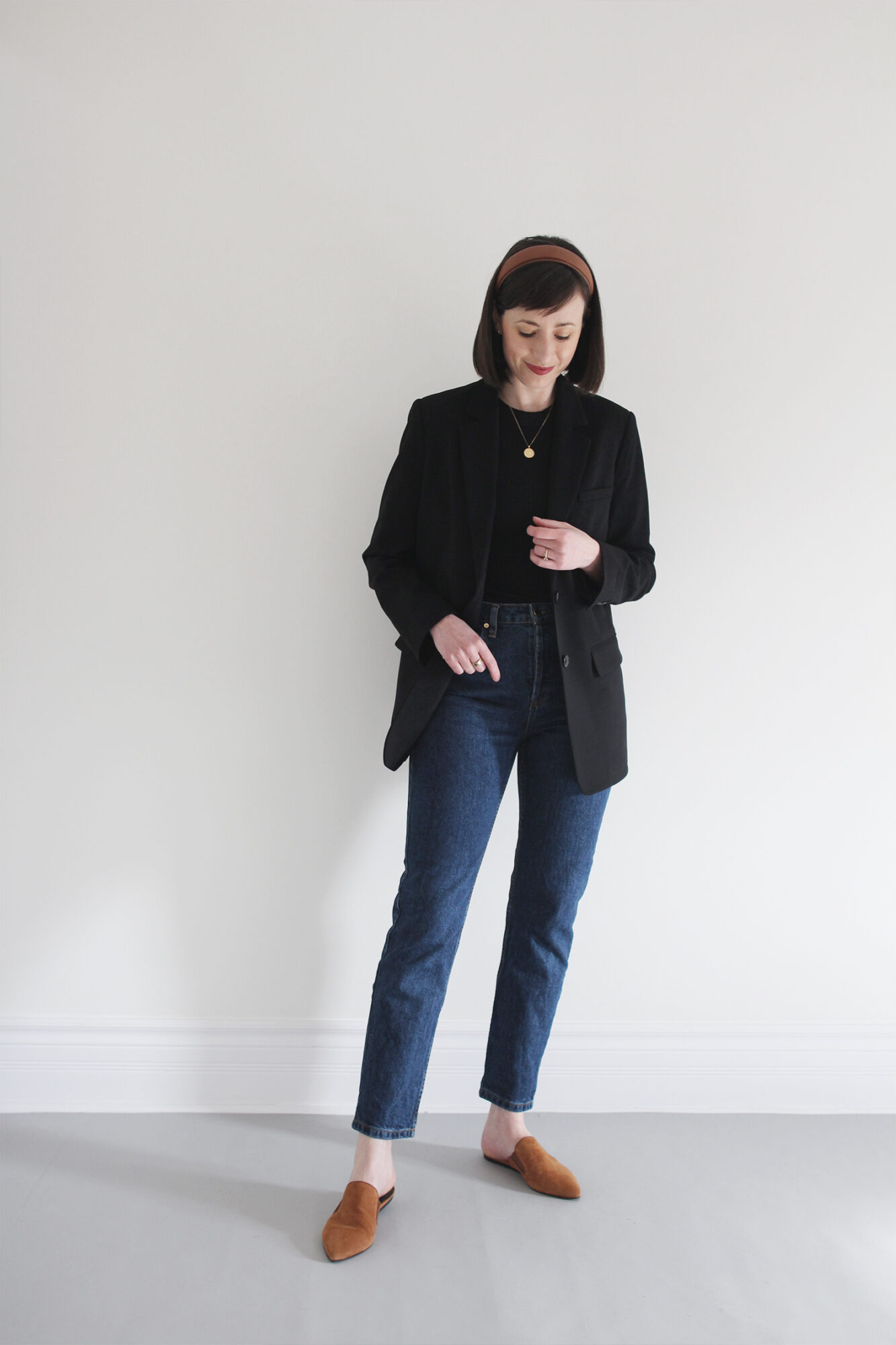 BLACK OVERSIZED BLAZER | RIBBED FITTED CREW (Use this link for 10% off any first order) | LE BRUT SEXY ECO DENIM | SADDLE SUEDE MULES (Use LEE15 for 15% Off anytime) | BROWN LEATHER HEADBAND

---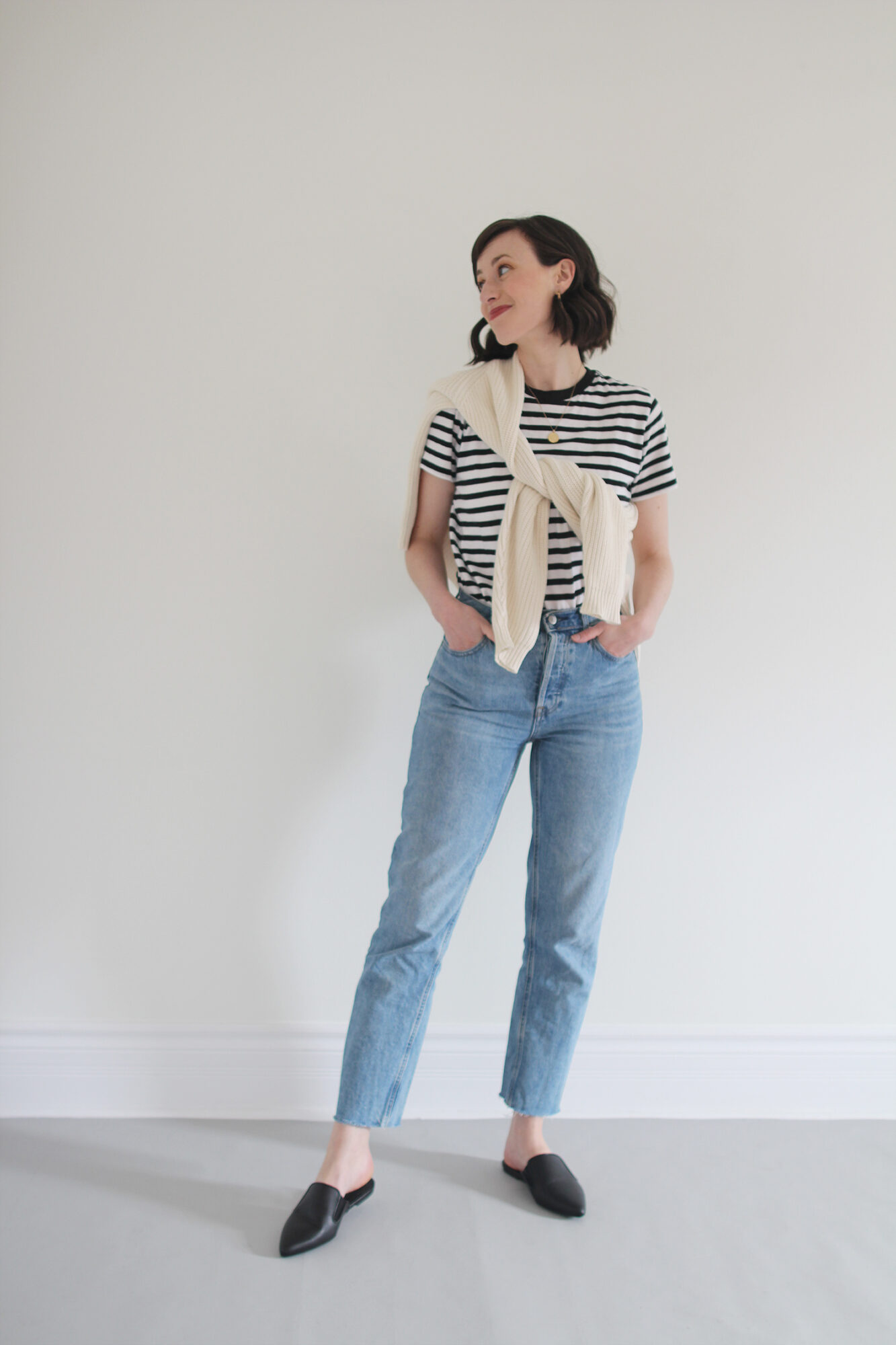 COTTON ANNA CARDIGAN | STRIPED SARA CREW T-SHIRT | 90'S CHEEKY STRAIGHT DENIM | DREAM MULE BLACK | LUMEN PENDANT

---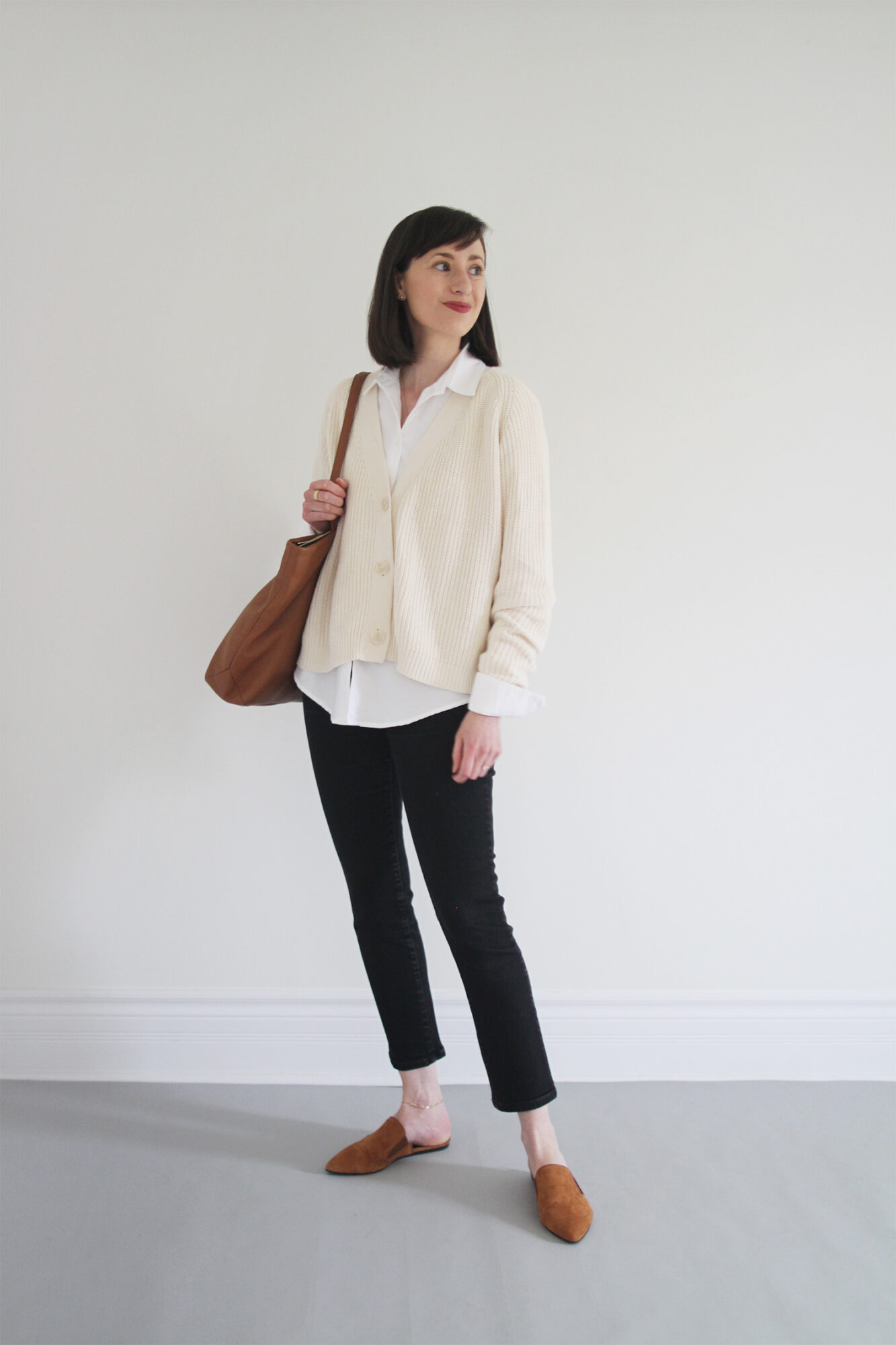 COTTON ANNA CARDIGAN | WHITE SHIRT (Save 10% via the link) | BLACK SKINNY ANKLE JEANS | SADDLE SUEDE MULES (Use LEE15 for 15% Off anytime) | TOBACCO BROWN LEATHER TOTE

---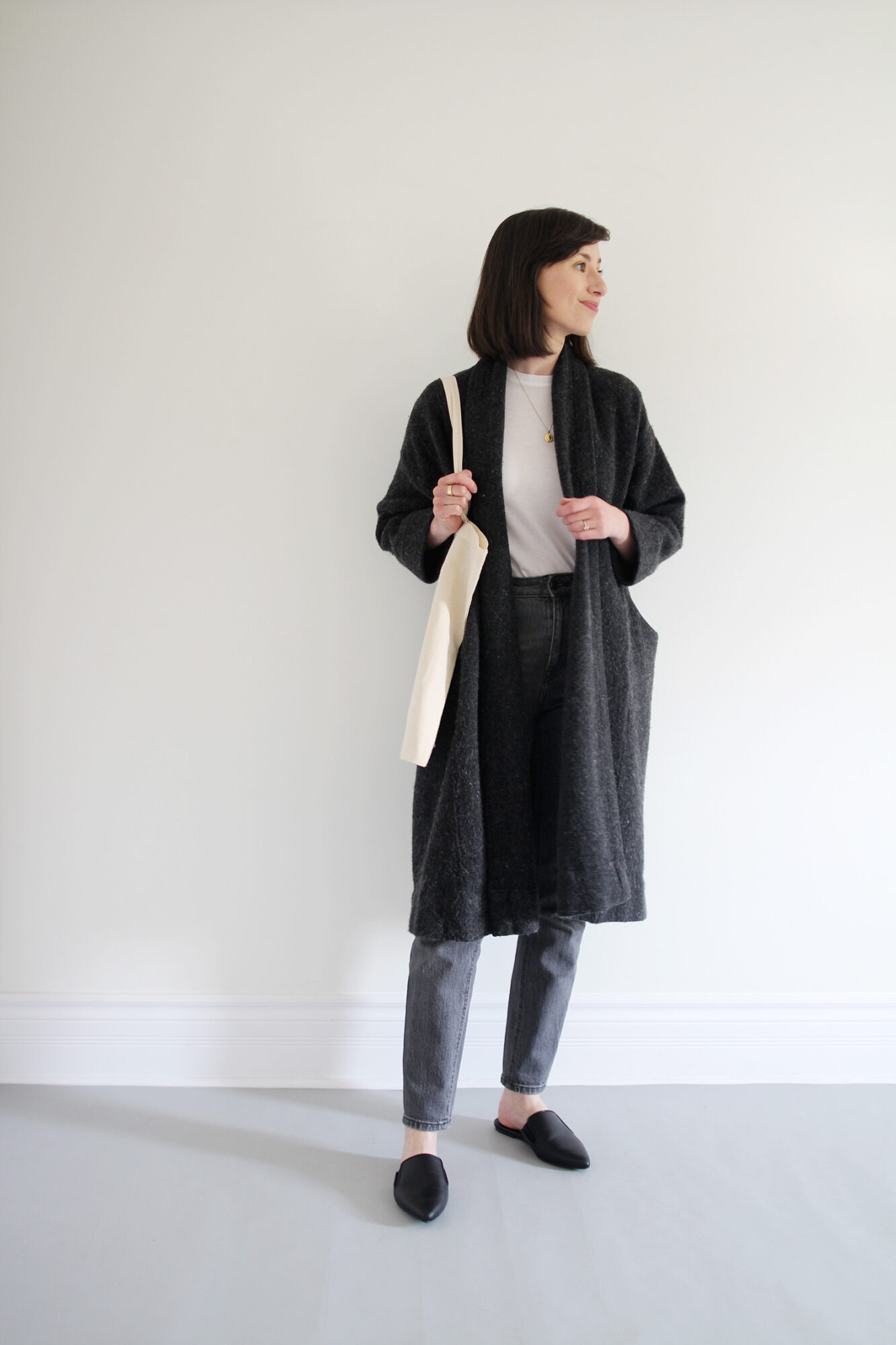 SWEATER COAT (linked to similar, 15% off with LEE15) | FITTED CREW IN VINTAGE WHITE (10% Off with LEE10) | KIM COMFORT JEANS | DREAM MULE BLACK | CANVAS TOTE

---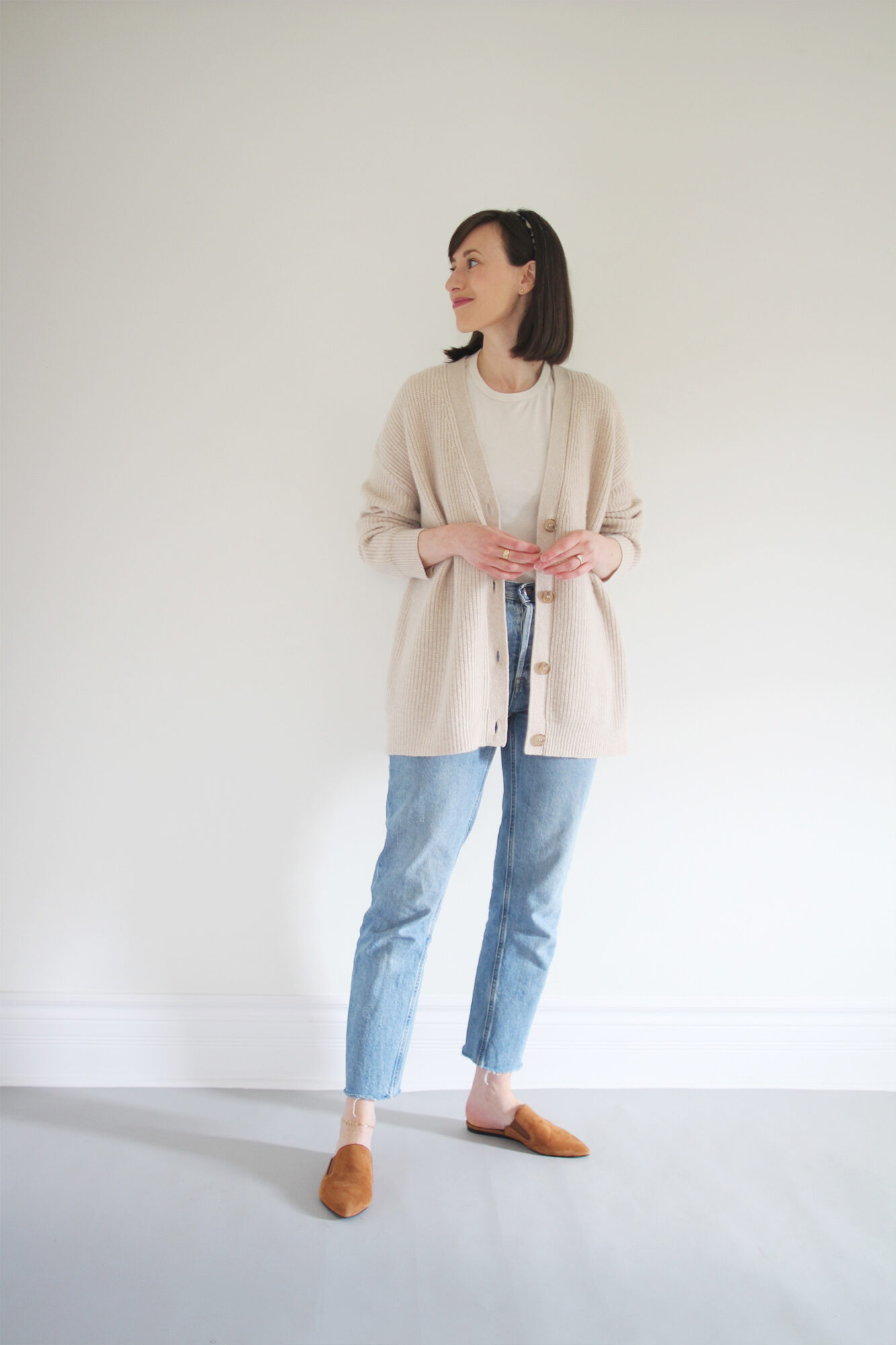 CASHMERE COCOON CARDIGAN (full review here) | COTTON SLIM TEE | 90'S CHEEKY STRAIGHT DENIM | SUEDE MULE IN SADDLE (Use LEE15 for 15% Off anytime)

---
SEE ALL SORTS OF OTHER WAYS I'VE STYLED THEM ON THE STYLE JOURNAL
---
THANKS FOR TUNING IN!
If you've got any additional questions, feel free to leave them in the comments and I'll reply asap!
---
IF YOU FOUND THIS REVIEW HELPFUL CHECK THESE OUT:
JENNI KAYNE CASHMERE COCOON CARDIGAN
THE GASPARD CARDIGAN BY SÉZANE
THE CURATED CLASSIC CAMEL COAT REVIEW