Well hello fellow lean closet and slow fashion enthusiasts! I dare say it's high time I checked in with you about my 2016 Closet Mission and shared how it's been going. Sorry it's been so long! I must warn that this post is going to be a big fella so grab another chai latte or top up that coffee and make yourself comfy. Here's what we'll be going over today:
How my 50 piece closet is looking.
My most worn summer items + what they've taught me about my style.
What I have bought since the last check-in.
What I wish I'd bought this Summer. Ergo, the ones that got away.
An update on shopping responsibly + what's in the pipeline!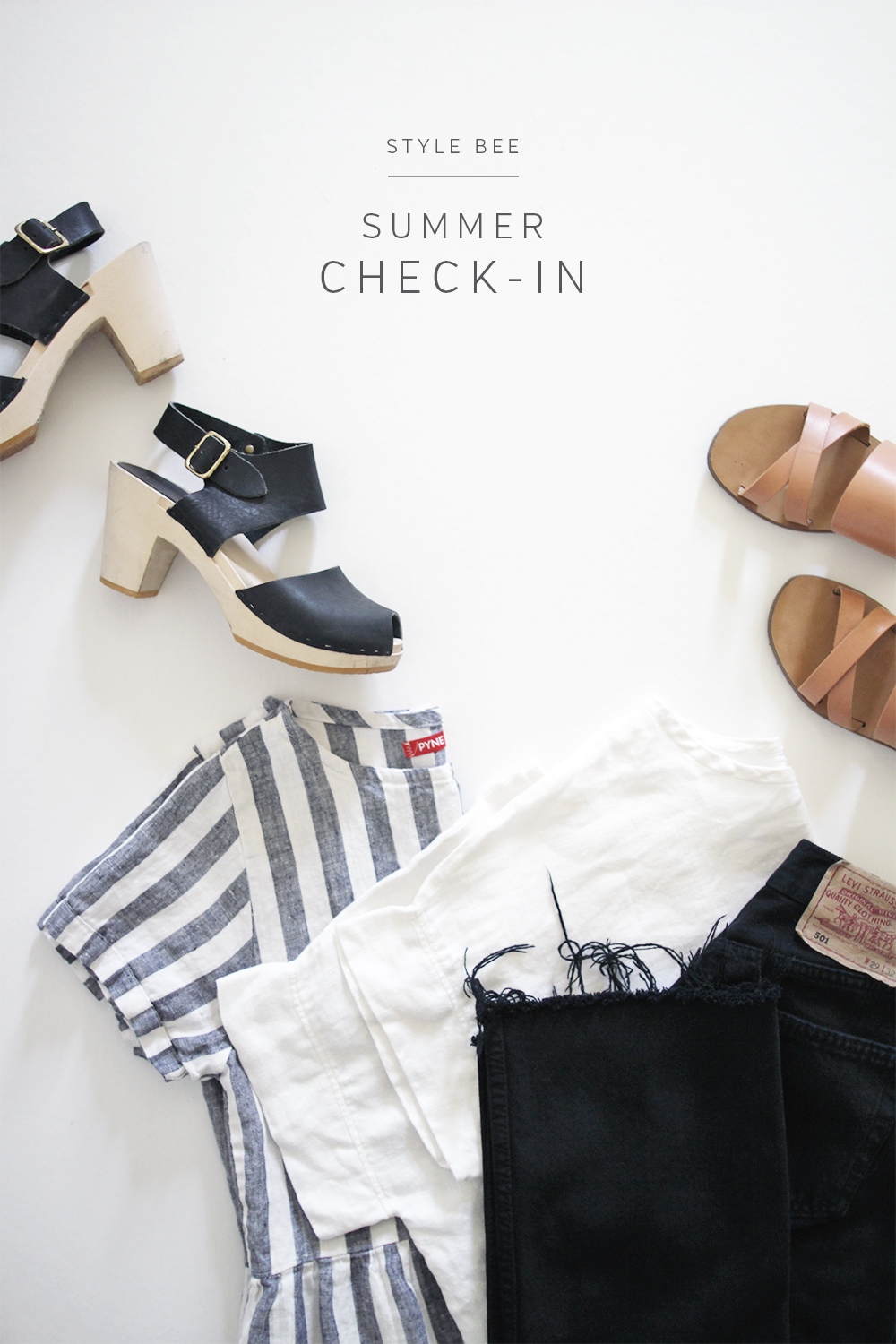 ---
50 PIECE CLOSET
I've received lots of inquiries about my 50 piece closet and how it's holding up. Truthfully, until just this past week it's been a bit out of control and lurking around the 75 piece mark. I know, not exactly 'lean'. This is mostly thanks to some awesome collaborations and the addition of a few vintage gems (my Levi's collection is starting to stack up) but I recently did a big clean out and have about 30 pieces ready to find new homes.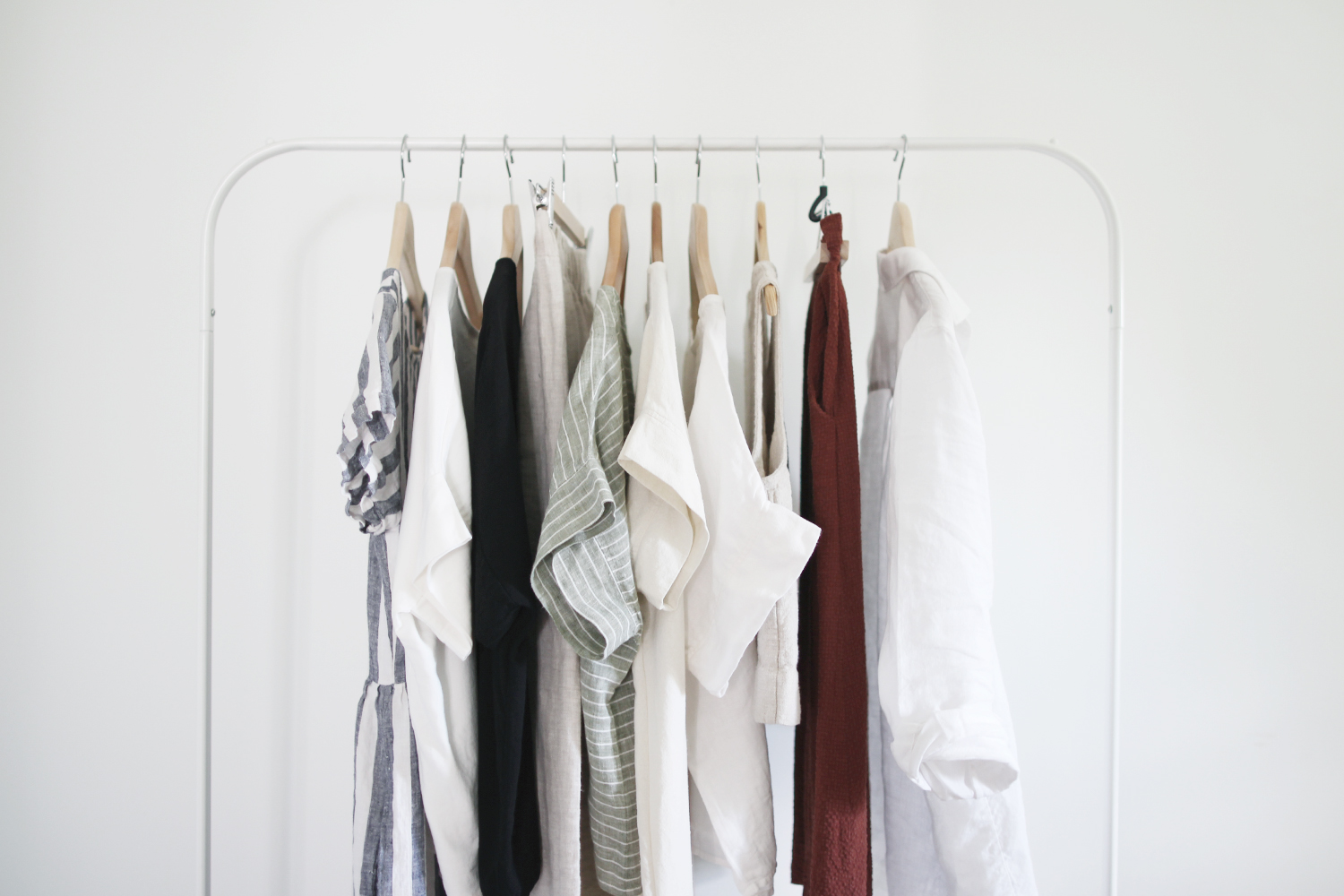 This brings me to my next topic, the Style Bee Closet Shop. Yay! After countless comments and emails asking to shop my closet, I've decided to give it a go. I'll be opening an Instagram account where you'll be able to shop (via Paypal) my gently worn, great condition closet pieces that just haven't seen enough daylight to warrant keeping. Stay tuned for an instagram announcement and a post on here when the shop is live later this month. The sale will only be active for 7 days and anything not sold will go to my local consignment store. There are some really great pieces (that pain me to let go) up for grabs and I'll be shipping to the US and Canada. Here's a taste of what'll be up for grabs: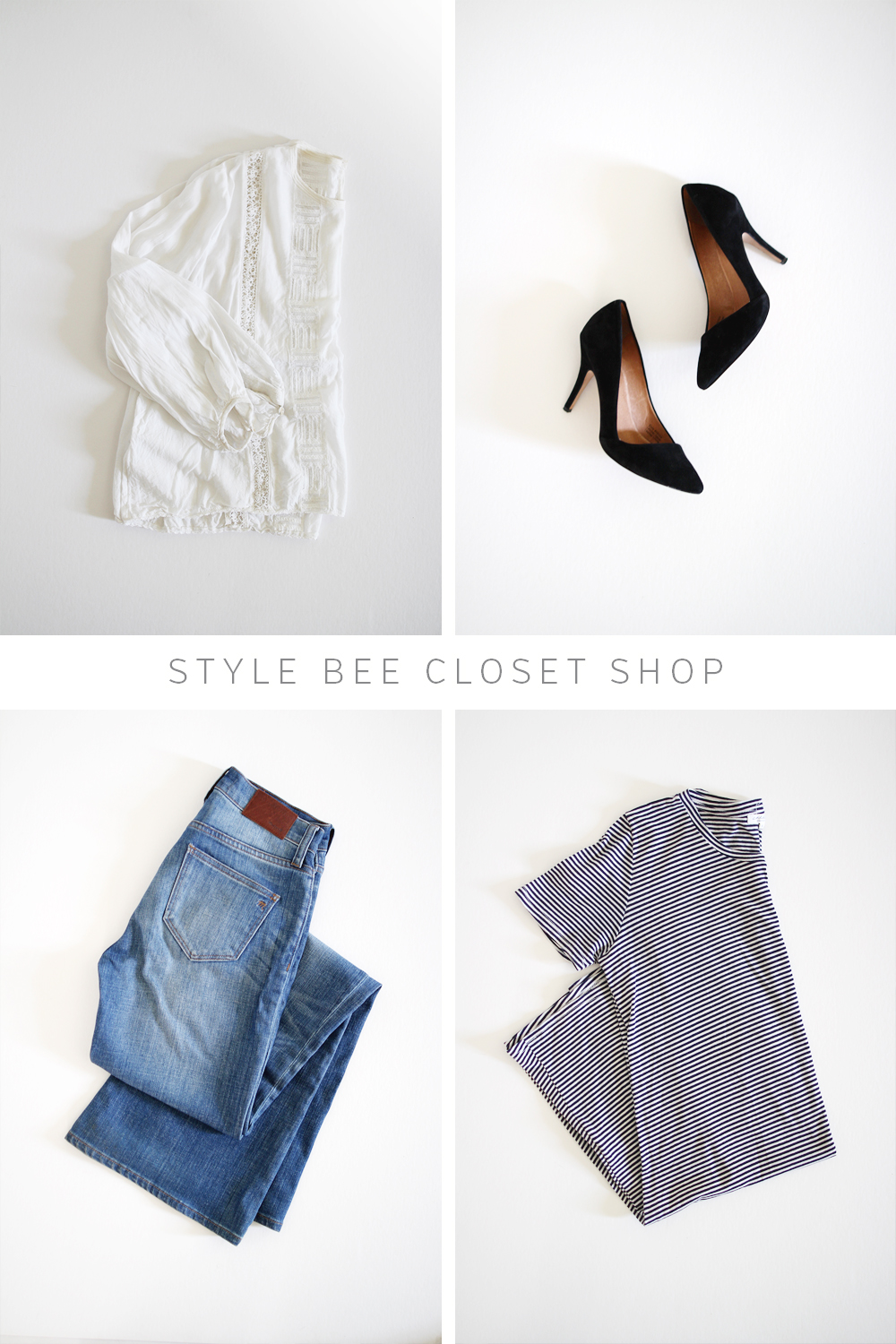 ---
MY MOST WORN SUMMER ITEMS 
In no particular order, these are the items I've reached for most over the last couple of months. It's been quite hot here in Ontario for the past many weeks so loose fits, lots of linen and vintage, super soft denim has been my go-to. More than anything I'm just thankful that our A/C is earning it's keep!

1 | Everlane Linen Shirt | This classic has been a staple all summer. I honestly wish I had two so I could wear it more than once or twice a week. Tempted to try the poplin version which is fully stocked. I wear a size 2.
2 | First Rite Split Skirt (s/o) | I bought this piece via Garmentory (sign up here for $20 off) and it's been one of my favourite purchases all year. I wear a size S.
3 | Vintage Levi's | The black pair I found in Amsterdam at Episodes and the other pair I found at OutPost Vintage here in Guelph. They are both high waisted and slightly cropped and have been softened up a ton. I've seriously tried on 100s of pairs over the last few years with no luck and then somehow found these within a month of each other. I guess good vintage finds you and not the other way around! Check out Re-Done, Denim Refinery and Urban Outfitters for some vintage gems online.
4 | Petra Crop Flax Twill | I can't say enough positive things about this top. The cut is so flattering, the fabric is incredible and it goes with everything I love. Tempted to pick up the Ivory colour just in case it doesn't return next summer! I wear a size S which was a bit but to start but shrunk slightly in the dryer.
5 | P&S Linen Day Dress | Ok, so I believe that every woman needs this dress. I wear it at least twice a week (including right now) and it never lets me down. I simply wash it on delicate and throw it into the dryer on low and it comes out perfectly ready for use. It's been getting softer and softer with time and I really just adore it. I wear a size S.
6 | Georgia Linen Tees | All three of my Georgia tees are from previous seasons and have held up beautifully. The boxy, slightly cropped tee shape is a personal favourite for sure. I would wear one of these with a pair of jeans or linen pants any day and feel great. They're perfect for a casual office or I'd opt for the crepe silk version if I was in a more corporate environment.
7 | Florence Pant in Linen | Oh these pants are a godsend. I wear a pair every other day and can't seem to get sick of them for a second. The high, wide elastic waist is both comfortable and slimming while the wide leg and cropped ankle is flattering and modern. I also love that I never have to worry about them dragging on the ground. I were a size S regular and I'm 5'7. For a more corporate setting I would opt for these or these.
8 | Black Slides (s/o) + Tan Slides | I alternate between these two pairs a lot. The black pair are by Sol Sana from last year (similar here and I also love these) and the tan pair were gifted to me by J.Crew (on sale). They're made in Italy and have broken in and held up really well.
9 | BRYR Miranda Peep Toe Clogs | I never got around to doing a proper post on these but I really like them. I wear a US 7 and have a slightly narrow foot. I bought these in a 37 with black leather, a 3″ high heel and after consideration I went for the regular width (you can choose narrow). I would say they're a fairly standard width, so a touch wide for me but nothing crazy, and the leather DOES stretch slightly with wear (which I was told it wouldn't) but that worked out OK for me. I had to wear a bandaid on my inner ankle for a while when I was breaking them in but they feel good now. My only wish is that the wooden part was sealed or coated (the way No.6 clogs are) to prevent stains, smudges and nicks. But overall I'm thrilled with these clogs and would definitely recommend them. Just don't order them if you're in a hurry, mine took 3 months! 
10 | Georgia Raw Silk Dress in Ivory | When I first chose this dress for a partnership with Elizabeth Suzann I wasn't sure how much I'd wear it but I LOVED it so I decided to try it out. Turns out it's become a true staple over the season. It washes up so easy on delicate then I simply hang it on a hanger to dry and it's ready to wear. If I want it to be super crisp I'll iron it once in a while. I always wear a nude bra and underwear so nothing shows through but it's been the perfect little white dress to wear with my clogs and a bandana or my Birks and a denim jacket.
11 | Only Child Sara Box Top (s/o) | After receiving the Black Box top as part of a collaboration for Spring I just had to order the white version. Only Child is easily one of my favourite indie brands and Haley find the most magical fabrics and has such a knack for the perfect oversize cut. These are both sold out but she's got some great options on deck for Fall and if you're desperate for something like the Sara Box top I'd recommend this one as it looks very close.
---

---
What pieces have you been wearing most this summer?
---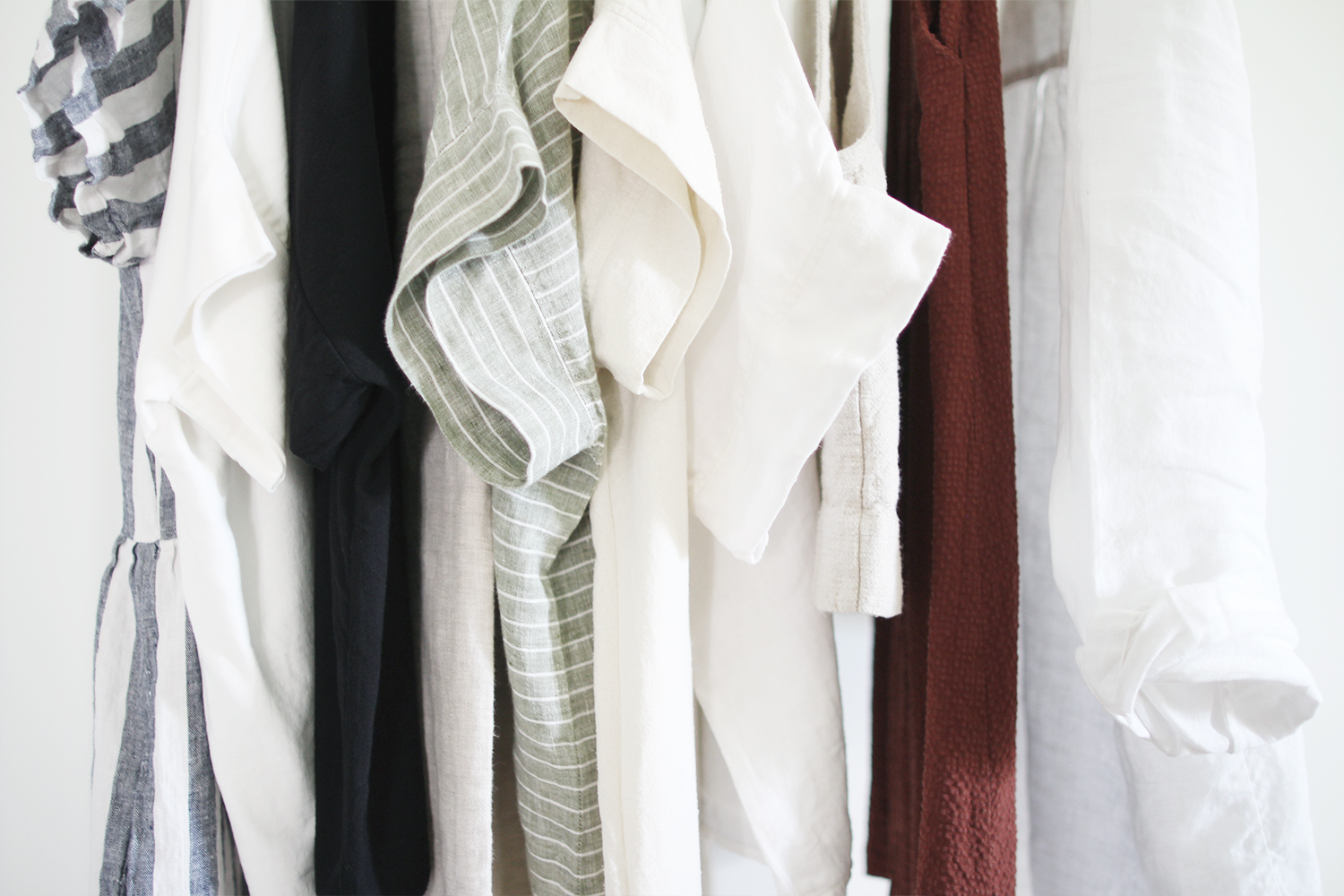 SUMMER STYLE NOTES + WHAT I'VE LEARNED
Linen, cotton and super soft denim is all I really want to wear.
Silk is glorious and wonderful until I sweat. Raw silk is better but a bit hotter.
I don't love wearing shorts (or shaving my legs). 
Pick up a flowy, feminine maxi dress next year.
Bodysuits are magic! Find some ethical options STAT!
Pick up a couple sleeveless tops (not cropped) next year.
A couple more T-Shirt friendly bralettes would make a world of difference.
Go easy on the oversized silhouette.
---
WHAT I'VE BOUGHT
I'm not going to lie, this is going to be extremely underwhelming as far as fashion blogger hauls go but I've been really good about shopping less. Spending your entire disposable budget on a trip to Europe also helps keep your shopping in check.
During my Spring Check-In I mentioned that I was looking for some 'running' shoes to work out in. I immediately returned the pair I'd bought from Nike (Free RN's just look so cool!) after you guys shared some awesome suggestions. I'm totally smitten with All Birds, but tragically they don't ship to Canada. So I decided to go for my second pair of Veja's and I'm so glad I did. They've been perfect for the light jogging, cycling and circuit training I sometimes convince myself to do. I also wear them all the time with my mom jeans and a white tee for a totally 90's vibe.
When I was in Europe I bought a raincoat in Amsterdam, which is apparently the most appropriate purchase you can make there. It was a bit of an emergency situation and while I wanted to find something made responsibly I didn't have time or 400 Euros to burn. So I bought a simple, classic one from Samsoe + Samsoe that I know I'll have for a really, really long time. As you may already know, I also bought a pair of vintage Levi's from Episodes and incredible vintage and thrift shop in the city.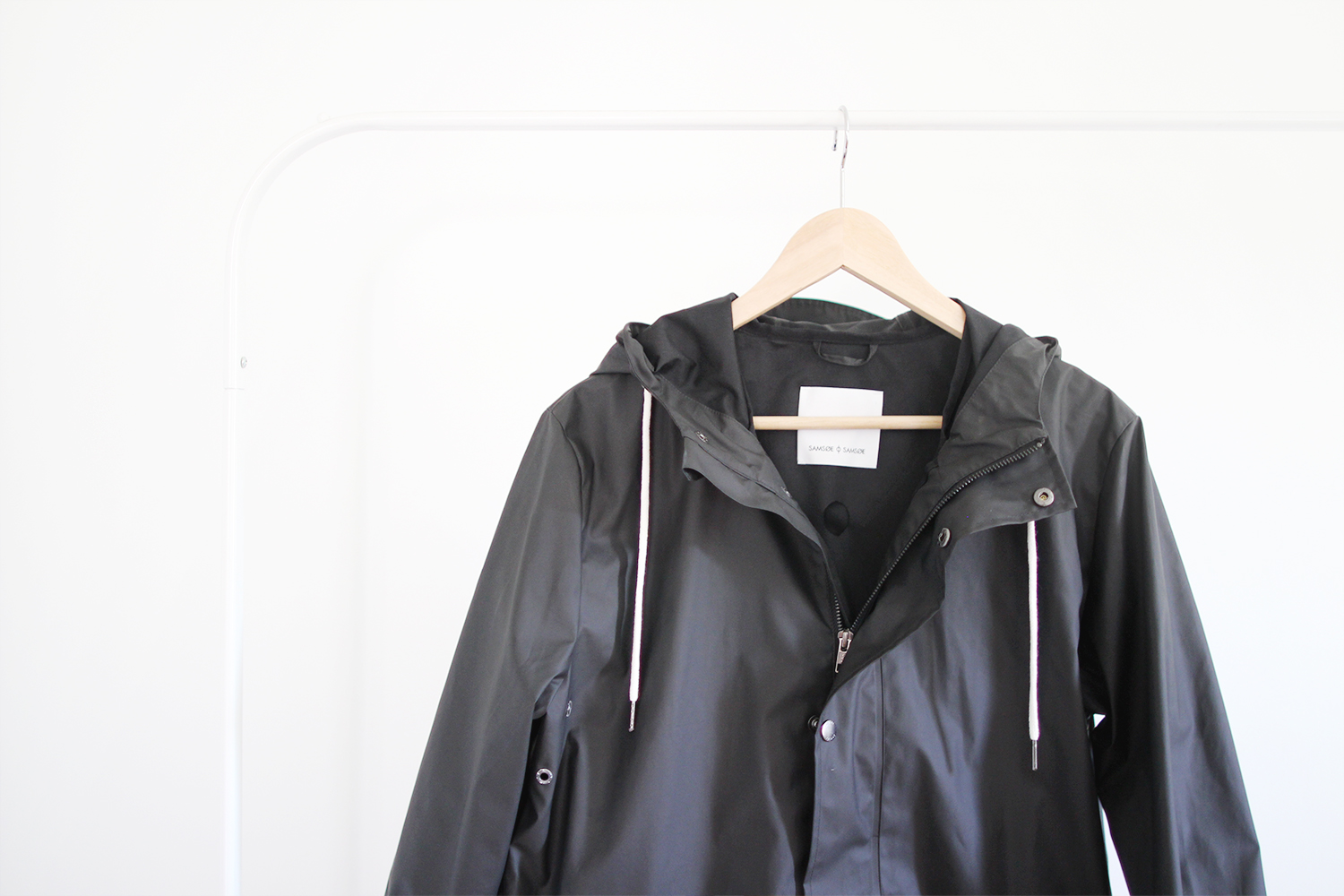 In Paris I picked up a super cute lingerie set from the loveliest Parisienne shop called YSÉ. At the time I took for granted that their line was made in France but I've since had no luck figuring out exactly where they are made. My bad! That said, the brand ethos to "Show off your femininity in a natural way" really resonates with me and their line is absolutely stunning and embodies that 'Je ne sais quoi.' of the quintessential Parisienne woman. While these purchases were not as 'responsible' as I'd like, I know I'll have and cherish them for years to come.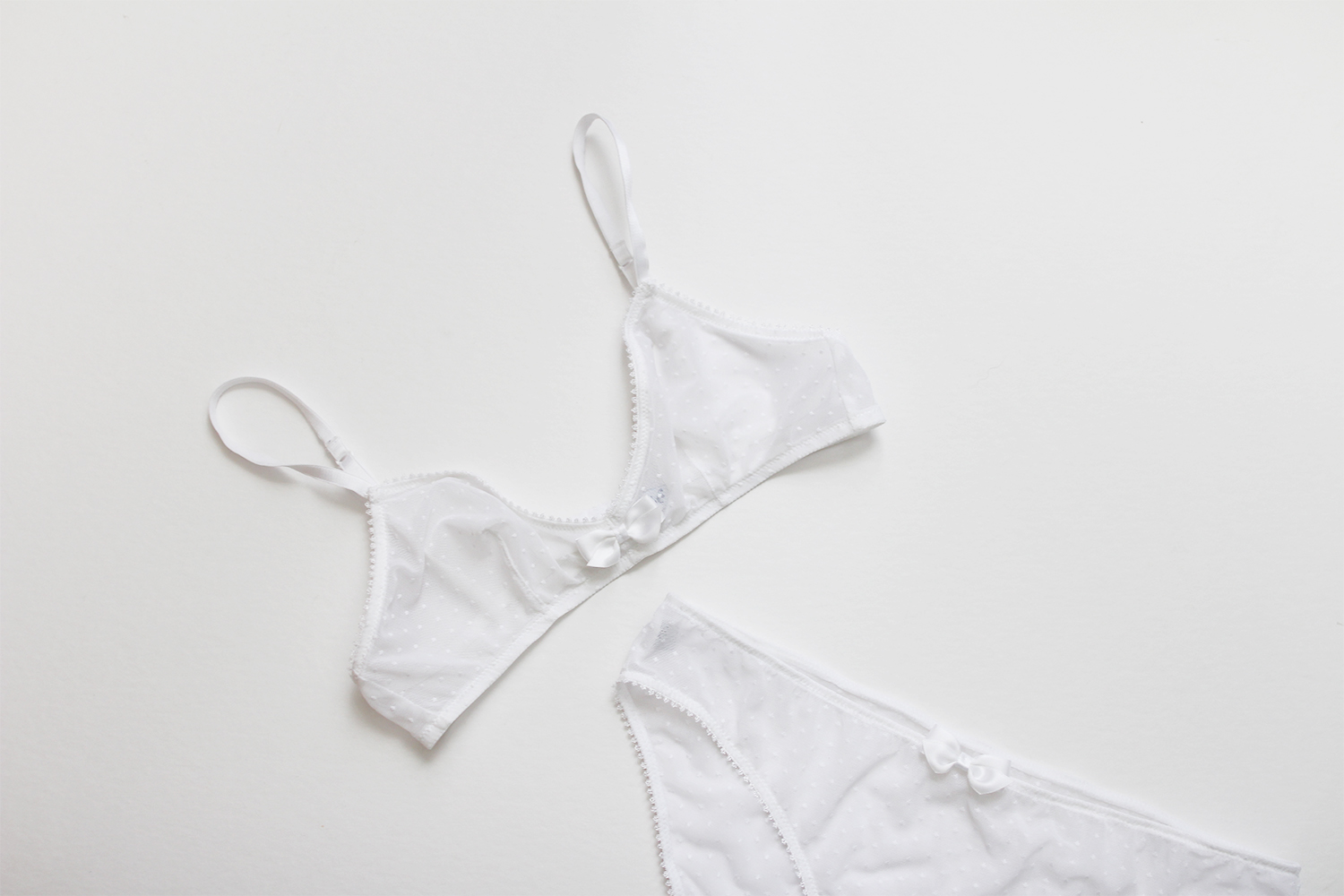 Since then I've added up a few more vintage gems from Outpost Vintage, my local go-to. I had a bit of store credit to use up and when I found the world's most perfectly fitting high-rise, tapered vintage jeans I totally caved. I also picked up a few soft as air vintage tees to bring camping while I was at it.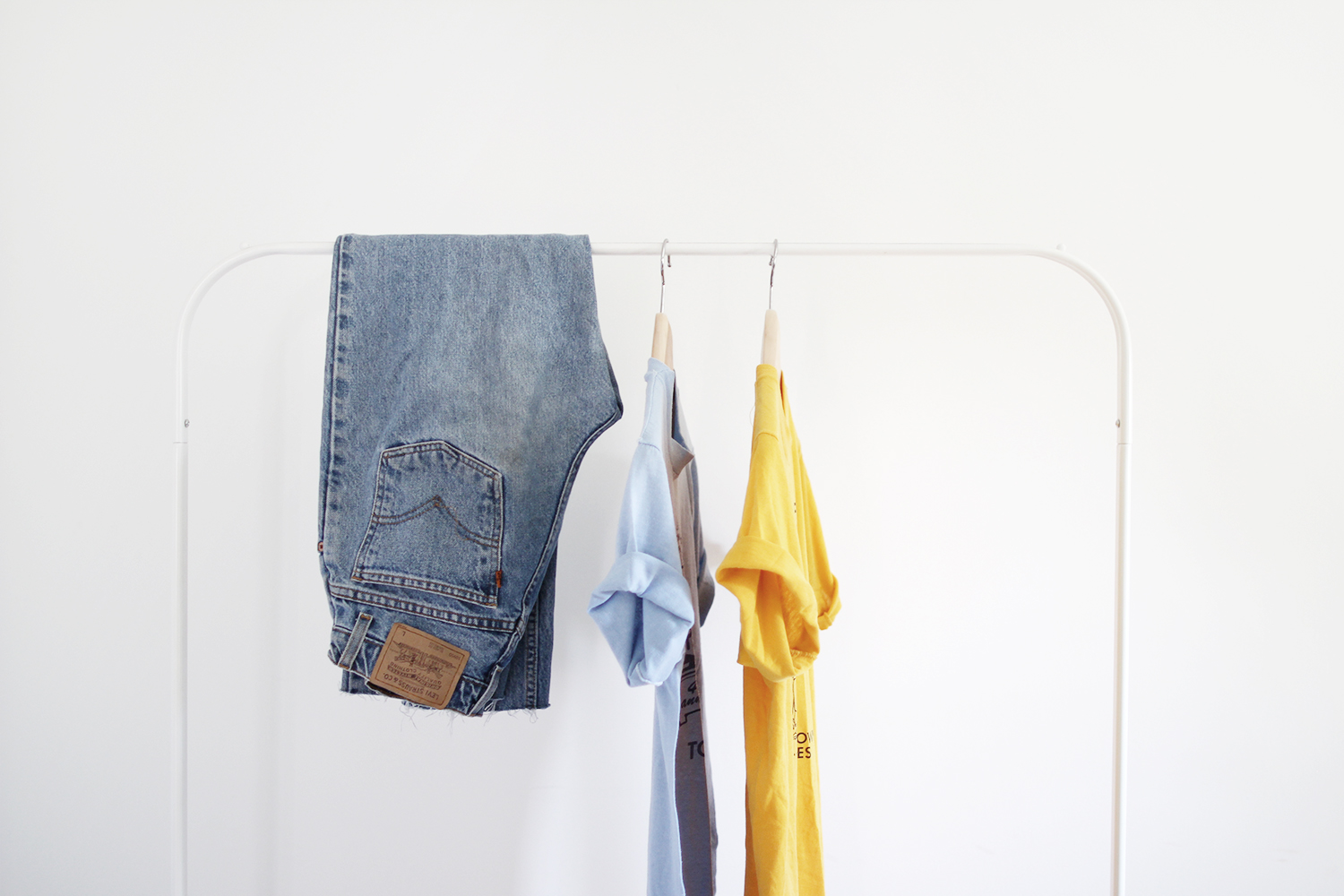 And that's it! Everything else you've seen come through has been part of a collaboration or sponsorship of some kind. I only accept pieces from brands that I would have otherwise wanted to purchase myself because believe it or not, the novelty of 'free stuff' has long worn off and I really do love running as lean a closet as I can!
---
THE ONES THAT GOT AWAY
Now just because I kept my shopping at bay does not mean I wasn't eyeballing a few gems along the way. It has just seemed that every time I'm ready to pull the trigger I'm just a little too late on the draw and my size is gone. Here's a few goodies that have been haunting me ever since they got away: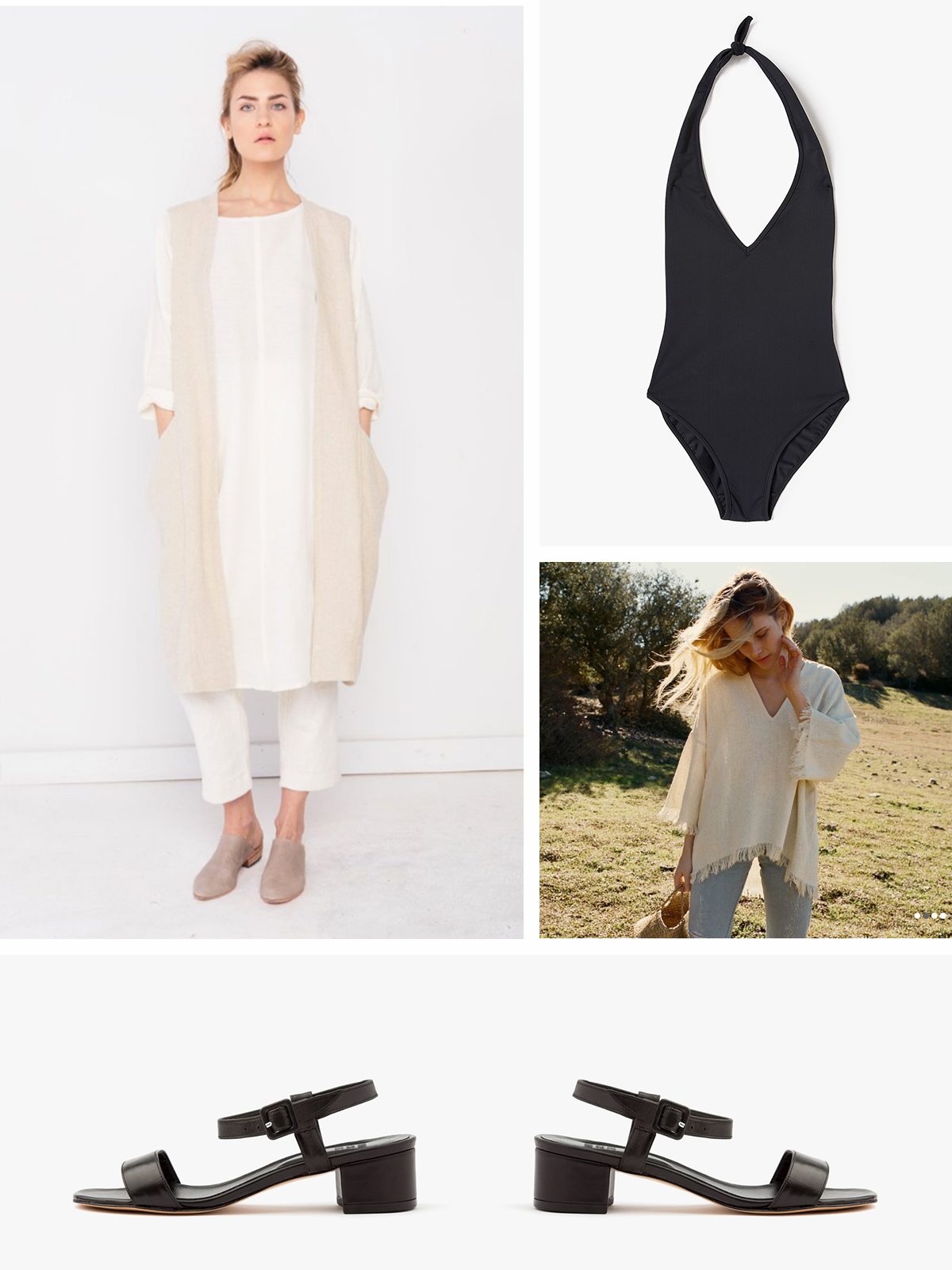 1 | Elizabeth Suzann Keaton Duster in Flax Twill | The perfect vest slipped through my fingers. I love it in Ivory too but I worry it will get dirty too easy. The black cotton version is gorgeous but I already know it'll be covered in corgi fur before I even make it out the door. *Le Sigh*
2 | Jesse Kamm One Piece | So classic, so chic, so sold out. *Sad face*
3 | DÔEN Tate Silk Noil Tunic | Have you heard of this new womenswear brand DÔEN? It's giving me all kinds of bohemian style dreams and I absolutely adore this tunic. On the wait list with fingers firmly crossed hoping for a re-stock.
4 | MNZ Sophie Sandal in Black | I am kicking myself so hard for not snagging these when I had the chance. Praying the to MNZ Gods that these come back next year. Also, should have grabbed these beauties!
---
I can't be the only one who missed out on a few gems! Care to share what slipped through your fingers this season? 
---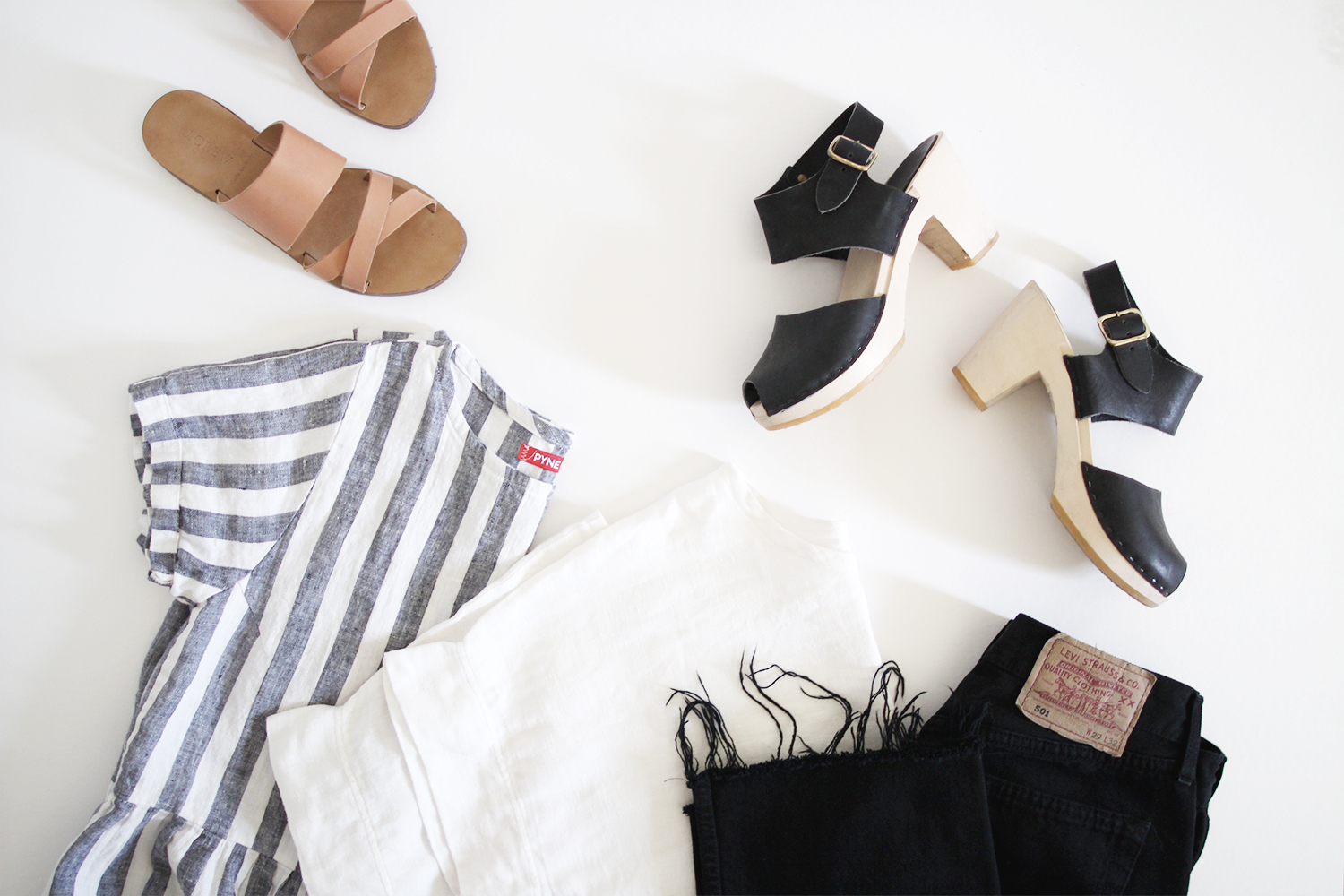 RESPONSIBLE SHOPPING UPDATE
Despite a few noted missteps, I've been really happy with my progress this year. I've genuinely felt a wonderful connection to (almost) all the garments that I've added to my closet and, in turn, the talented people behind their creation. I've also discovered so many new designers and brands that I can't wait to test out over time. Wearing something that feels amazing, looks beautiful and was made responsibly for reasons other than just the bottom-line, is so much more rewarding than I ever thought it would be. It absolutely requires more time, effort and often more money to make it work but I think it's an entirely worthwhile endeavour. All my Fall and Winter Shopping  will be done 100% responsibly so stay tuned for my Wish Lists and some great collabs that are currently in the works!
---
Have you been on a slow fashion or responsible style mission too? How's it going? What have you found most difficult? 
---
WHAT'S NEXT
Coming up on the blog I plan to focus much more on these closet mission posts. Don't worry though, they won't all be long and all over the place like this one! I'd like to do a better job of imparting the knowledge and experience I've gained this year so here's a few ideas I'm working on:
1 – How To Develop A Personal Style You Love
2 – Canadian Responsible Shopping Source Guide
3 – Pre-Fall 10 x 10 Challenge
4 – Where To Begin Shopping Responsibly
5 – How To Make Your Clothes Last Longer
6 – Where To Shop For Responsibly Made Underthings
---
If you've got any suggestions or post ideas I'm all ears! My main goal is to make Style Bee a wonderful resource for all things related to responsible shopping and personal style. Thanks so much for reading! 
---