I hope everyone had a great weekend! We had a fun time visiting with friends, enjoying great food and catching up on snuggles with our fur babes. It was one of those weekends that leaves you feeling a little zonked but full hearted in the best ways.
I'm so excited to be diving back into week #2 of the #WINTER10x10 Challenge, which I'm hosting with Caroline Rector of the blog Un-Fancy! It's one of my favourite points in the challenge because there are a few go-getters closing in on their final looks, lots of midway insights popping up and a some newcomers who've finally been convinced to give it a try. It's so interesting to see where everyone's at! If you're new to this series it's not too late to join in and you can learn everything you need to get started from this post and get lots of tips and info on this page as well. We'd love to have you!
I myself am currently smack dab in the middle of my personal 10×10 and loving it so far! I took the weekend off from wearing my 10 items to do a bit of laundry and get myself organized for the rest of the challenge (although I wore my white sweater lots!). Luckily, the weather this week is looking really relaxed for a Canadian January and we're all thanking Mother Nature for the break from heavy snowfall and blizzards, however brief it may be. If nothing else at least it means the outfits I have planned will be wearable! YAY!
So let's have a look at the first of 5 outfits hitting the blog this week! 
---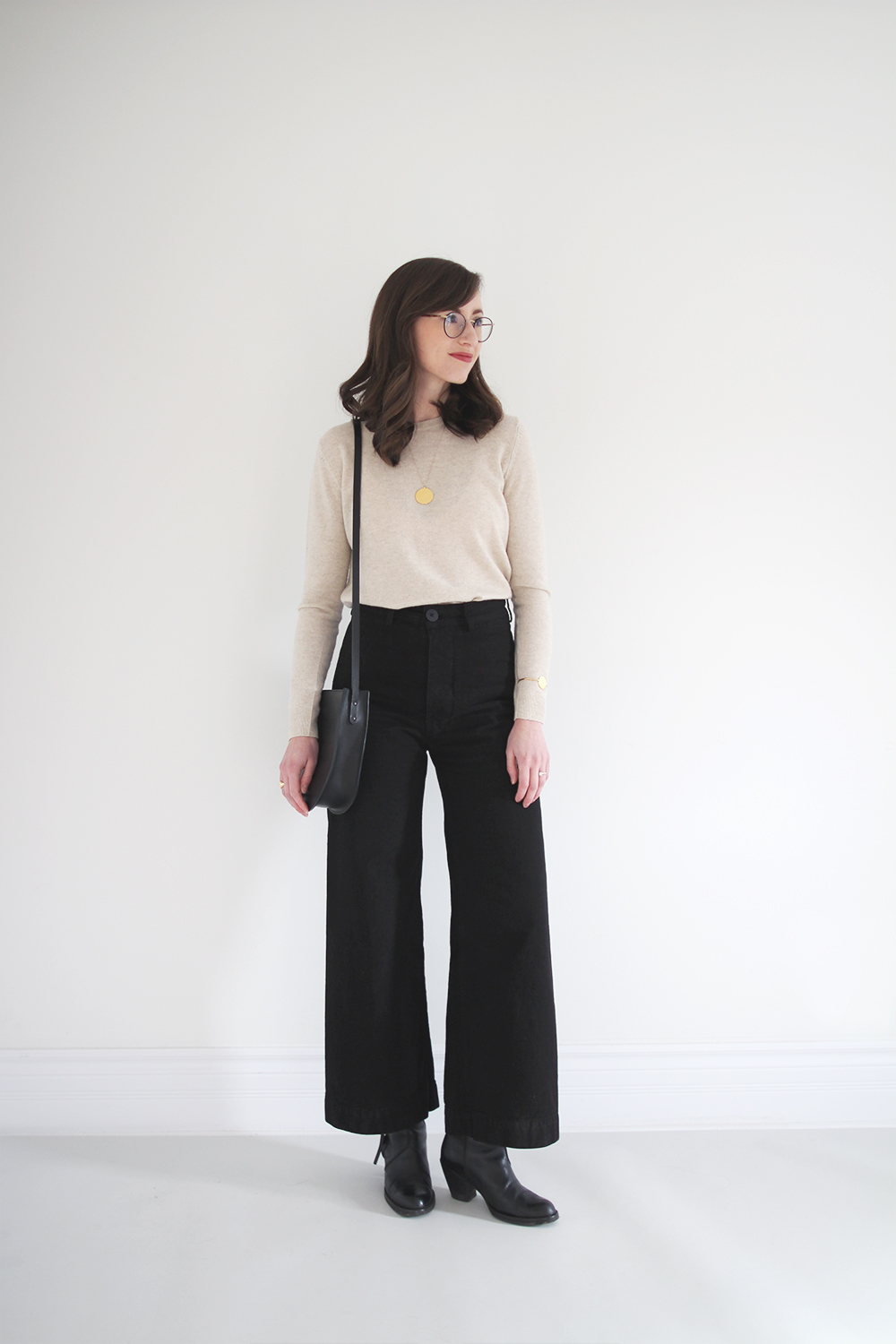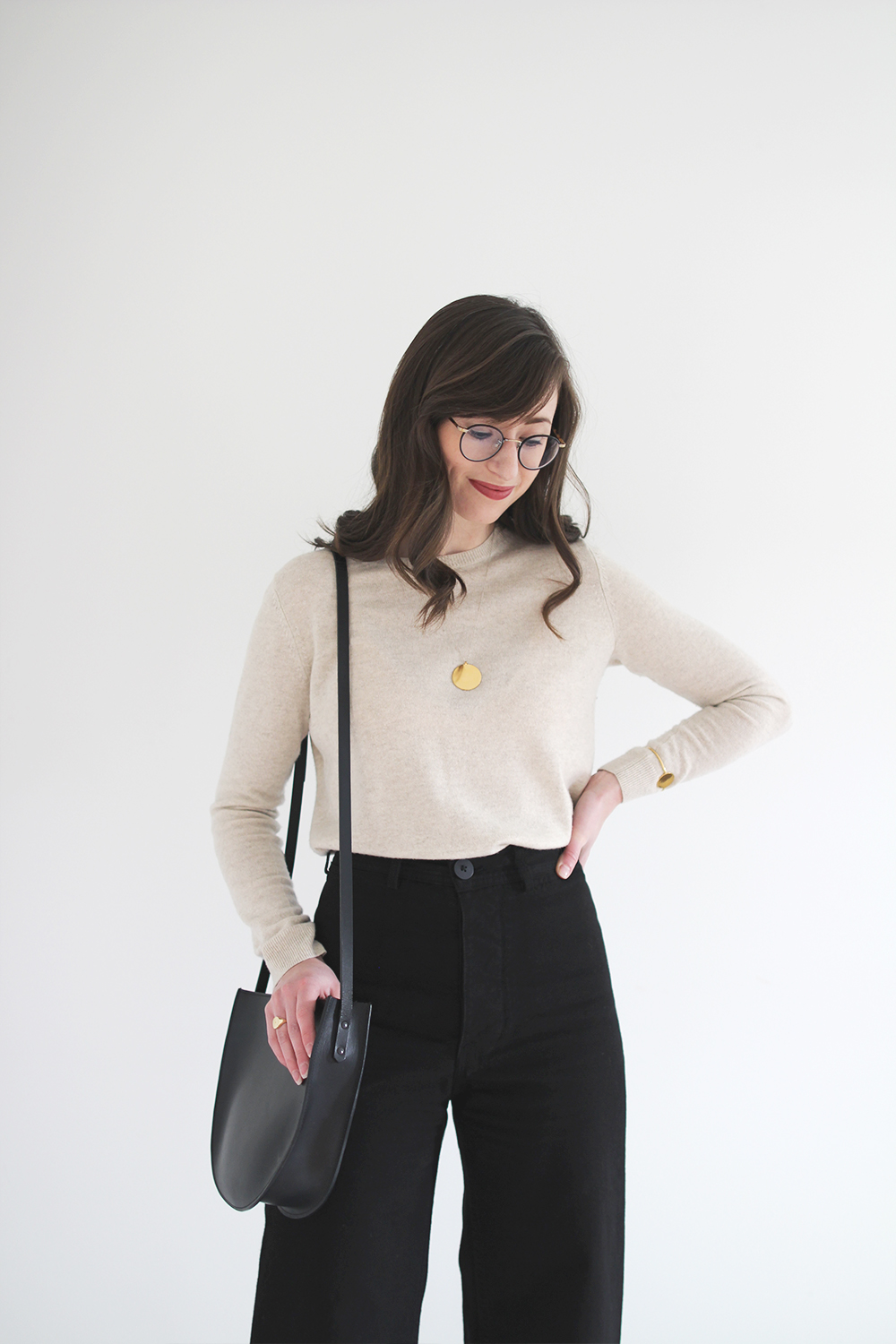 ---
INITIAL THOUGHTS
On Monday's I try to keep things as simple as possible, whether it's my outfit or my to-do list or my evening plans. The first day of the work week can easily get hectic and stressful so if I can feel like at least my outfit is under control that's already a good start.
I'm really letting my minimalist tendencies lead with this look and I'm super into it. From the shapes, to the palette to the accessories it all feels comfortable and relaxed but still sleek and put-together. It's nothing revolutionary but it's a timeless look that I'll be able to recreate with lots of different items in my closet. I feel elegant and totally at-ease in this one!
This is actually a new-ish silhouette for me too. A semi-fitted top, fully tucked with a pair of high-rise, wide leg pants and casual shoes. I've worn something similar earlier this season and last summer and I really like how it looks and feels. It's super easy to create and I'll definitely be working it into my go-to repertoire!
On deck today I've got a day in the office and a couple of meetings, then I'll be ditching these duds for my gym clothes and calling it a day.
---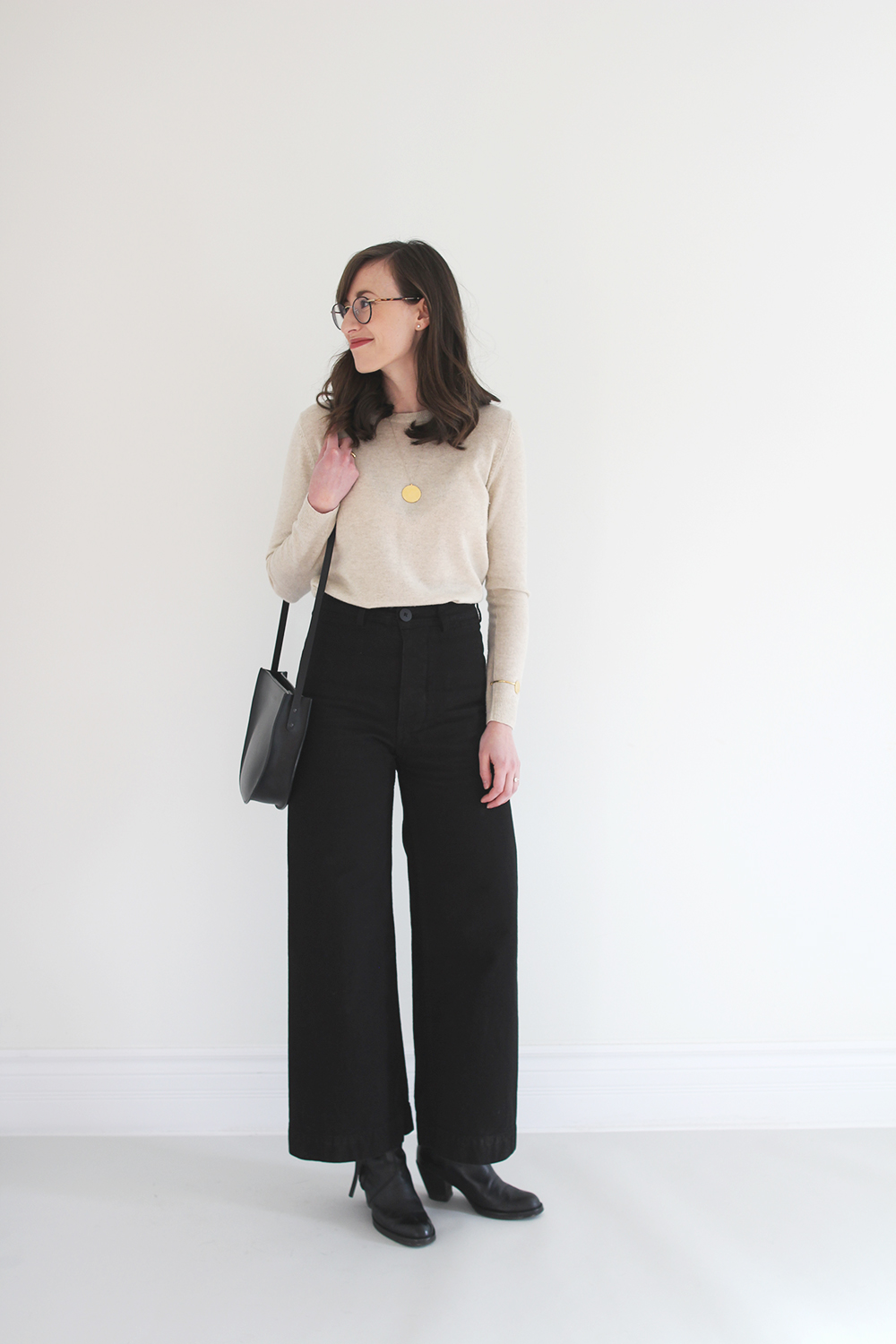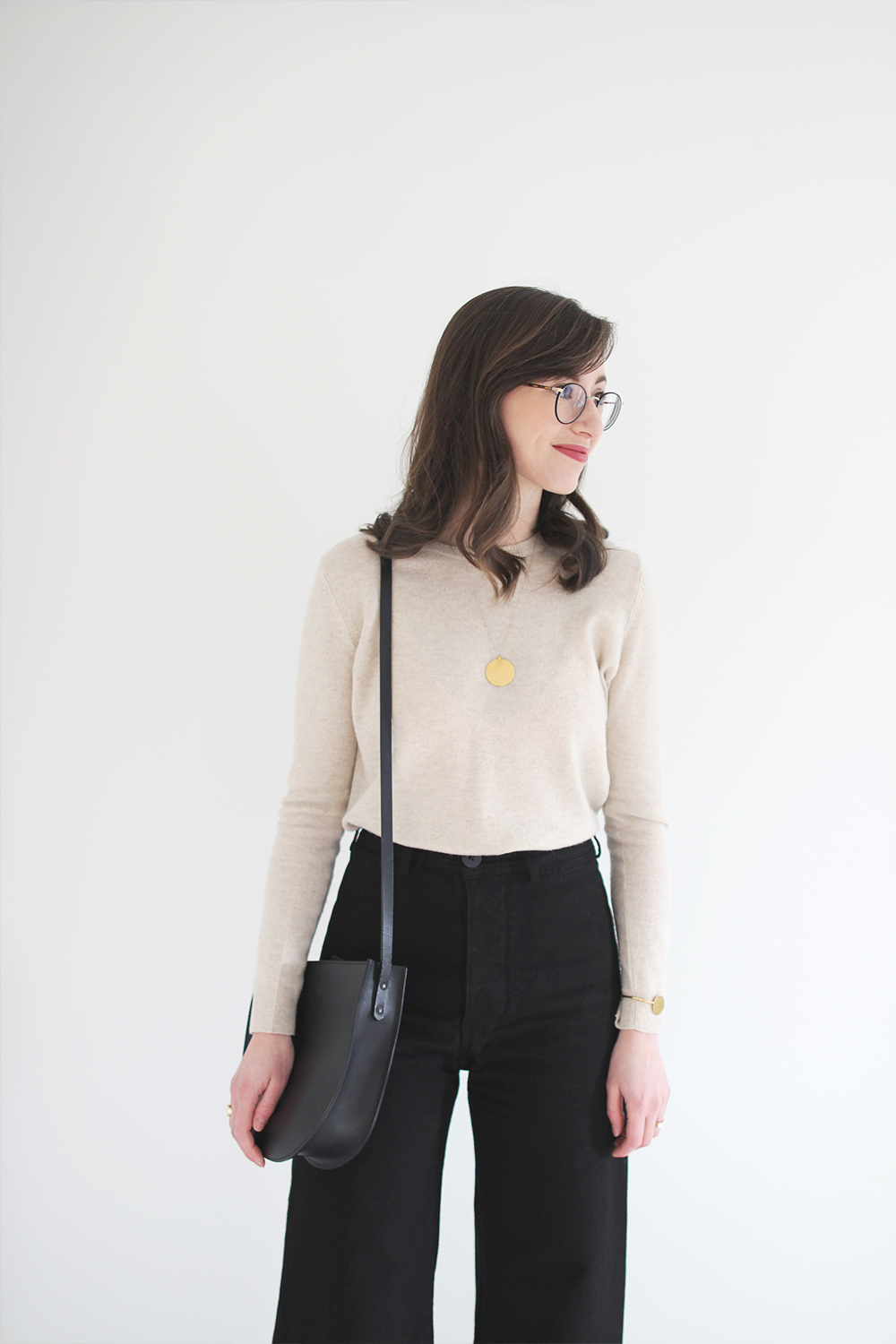 ---
STYLE + FIT DETAILS 
1 | CIRCLES | I don't know exactly what it is about circles but I'm really drawn to them as a shape. Curves in general are something you'll find a lot of in my accessories collection (I even designed a circular purse last spring!). They're simple but striking and can make a statement without being too much. I also love repeating them. In this case you'll see them in my necklace, cuff, bag, glasses and even the large top button on my pants. To me it doesn't feel too repetitive, instead, it's more of a subtle way to add continuity and interest throughout the look.
Next time you're stumped on how to accessorize, try repeating a shape in different elements of your look! 
2 | PALETTE PRUDENCE | It would have been really easy to let myself feel like this outfit 'needed' more colour and sure, it totally could have tolerated a pop of something. But what I think makes this feel chic and sophisticated is how refined the palette is. Just black, oatmeal and a couple flashes of gold. It allows the shape of the pants, the bag and my carefully chosen accessories really stand out and sometimes that's all you need!
Next time you're looking for a really simple look consider keeping your palette to just two neutrals with some interesting accessories.
3 | FULL TUCK | For a long time I've been on the half-tuck train but lately I've been inclined to fully tuck my tops in. It's an easy way to create a slimming waist and a simple approach to style high-waisted pants with regular length tops that might otherwise feel a bit awkward.
Next time you're having any trouble styling your top consider the full-tuck options. It's clean, classic and fuss-free!
---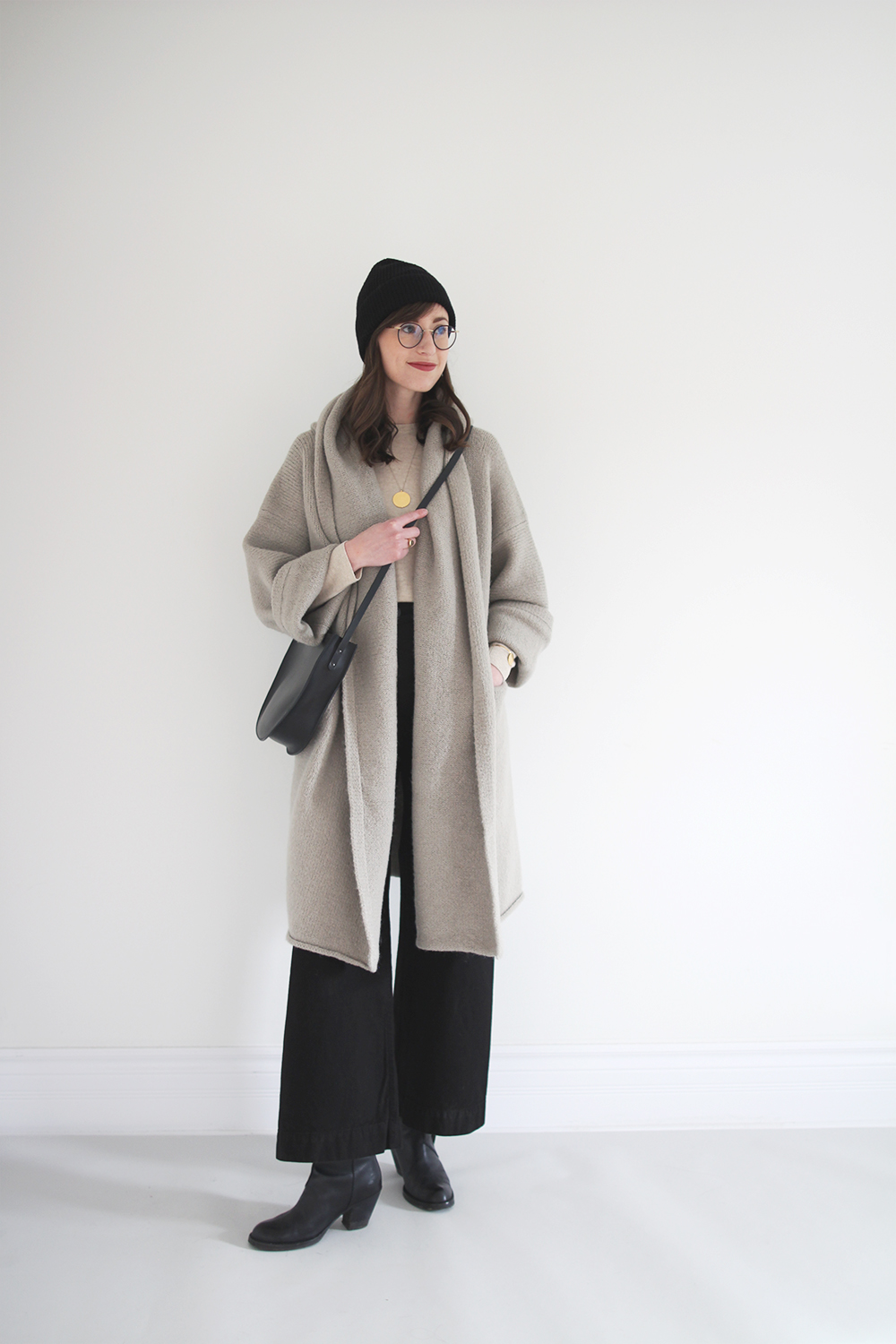 ---
OUTSIDE
This outfit was begging to be topped with a wool beanie and my super cozy alpaca capote coat. I love that the extra items don't deter from the minimal sophistication of this outfit but they add total functionality for a cold and unpredictable time of year.
It's pretty mild out today (2°C + sunny) so there's no need for a base layer beneath my sweater and I've got a nice medium weight pair of socks to keep my toes toasty in these boots. I'll add some wool gloves to walk to pup but to and from my car will be easy. If the breeze picks up I simply wear my bag across which helps to hold my coat in place.
I get lots of questions about how warm the capote coat is and it really depends on what's underneath. In this instance I have a warm base so it's more than enough for a calm winter day with an above average temperature. I would say this coat is great from anywhere between -2°C to 16°C depending on what's underneath.
---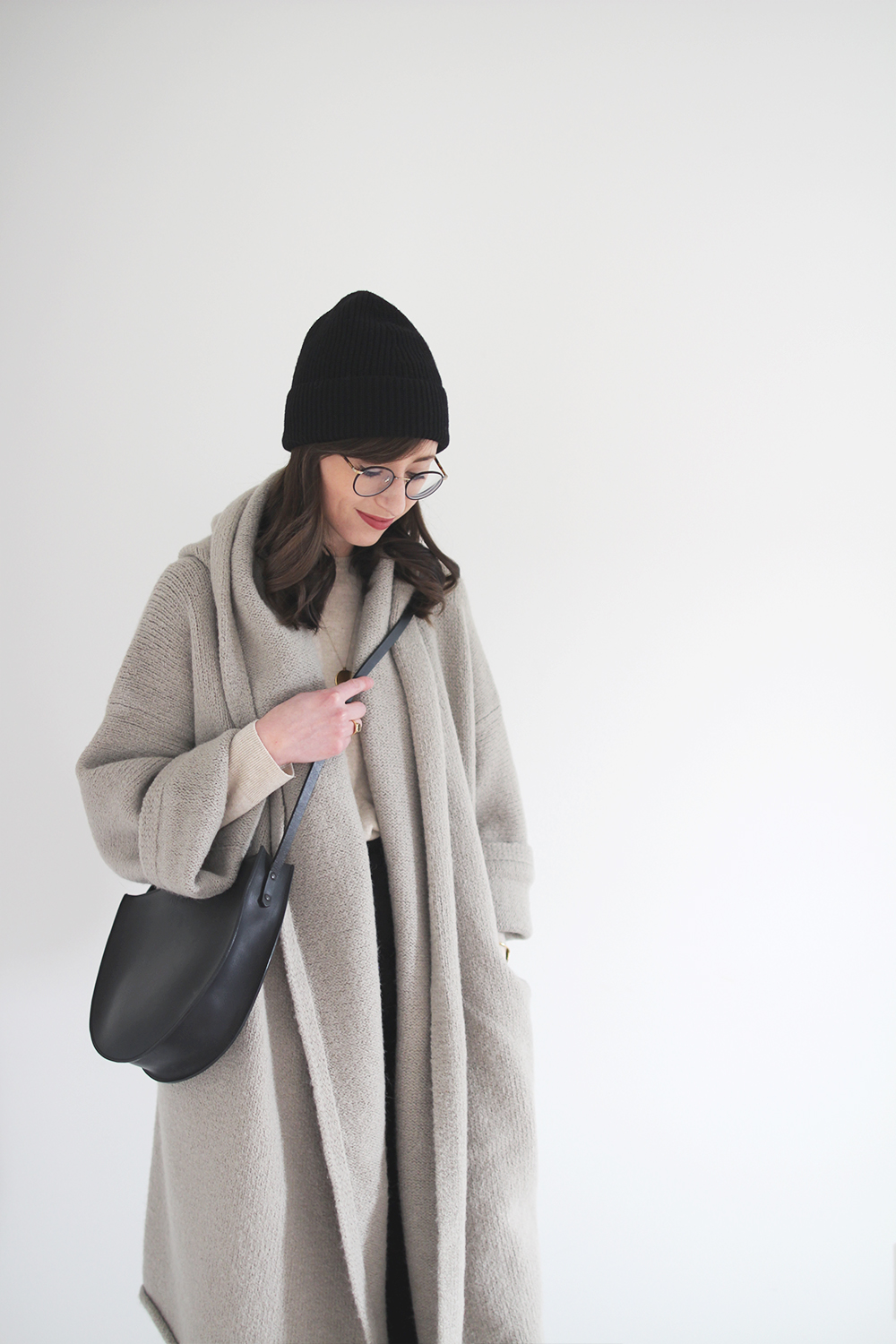 ---
SO THERE WE HAVE OUTFIT #5!
Be sure to pop over to UnFancy for Caroline's latest too!
+ Keep sharing your looks with #Winter10x10 and if you have a sec, check Instagram Stories today for a real-life look at our outfits in action (@caroline_joy + @leevosburgh).
HOPE YOUR WEEK IS OFF TO A GREAT START!
---
---

---
This post is not sponsored but contains affiliate links. When you shop via the links above I may make a small commission from a sale. Thanks for supporting Style Bee! All opinions are always my own.