Ready to really get this #Summer10x10 going? Wonderful, me too! In case you're just tuning in, I'm hosting another 10×10 Challenge with my blogger pal, the incredible Caroline of UnFancy. We're taking 10 items from our closet and styling them into 10 looks over the next 10 days! Intrigued? If so, we'd love to have you join us and hundreds of other style minded folks from around the globe! You can get all the info you need in Friday's post. Really though, it's all about having fun, playing around and not taking ourselves or our style too seriously. Plus, it's a great way to pack for a trip, taste test a capsule closet and engage with an awesome little community!
In fact, this challenge came along at the perfect time because I'd been feeling kinda low after the June 30×30. I was fending off some sort of illness, work was hectic, I was eating like crap, struggling to get back into my routine and just generally feeling bogged down. But after kicking off this round of the challenge on Friday and seeing the positive response and energy around it I felt refreshed and totally motivated to make the most of it. So thanks for that my friends!
Now here we are with outfit #1, which is about as simple as it gets but oh so summer ready. Let's have a closer look! 
---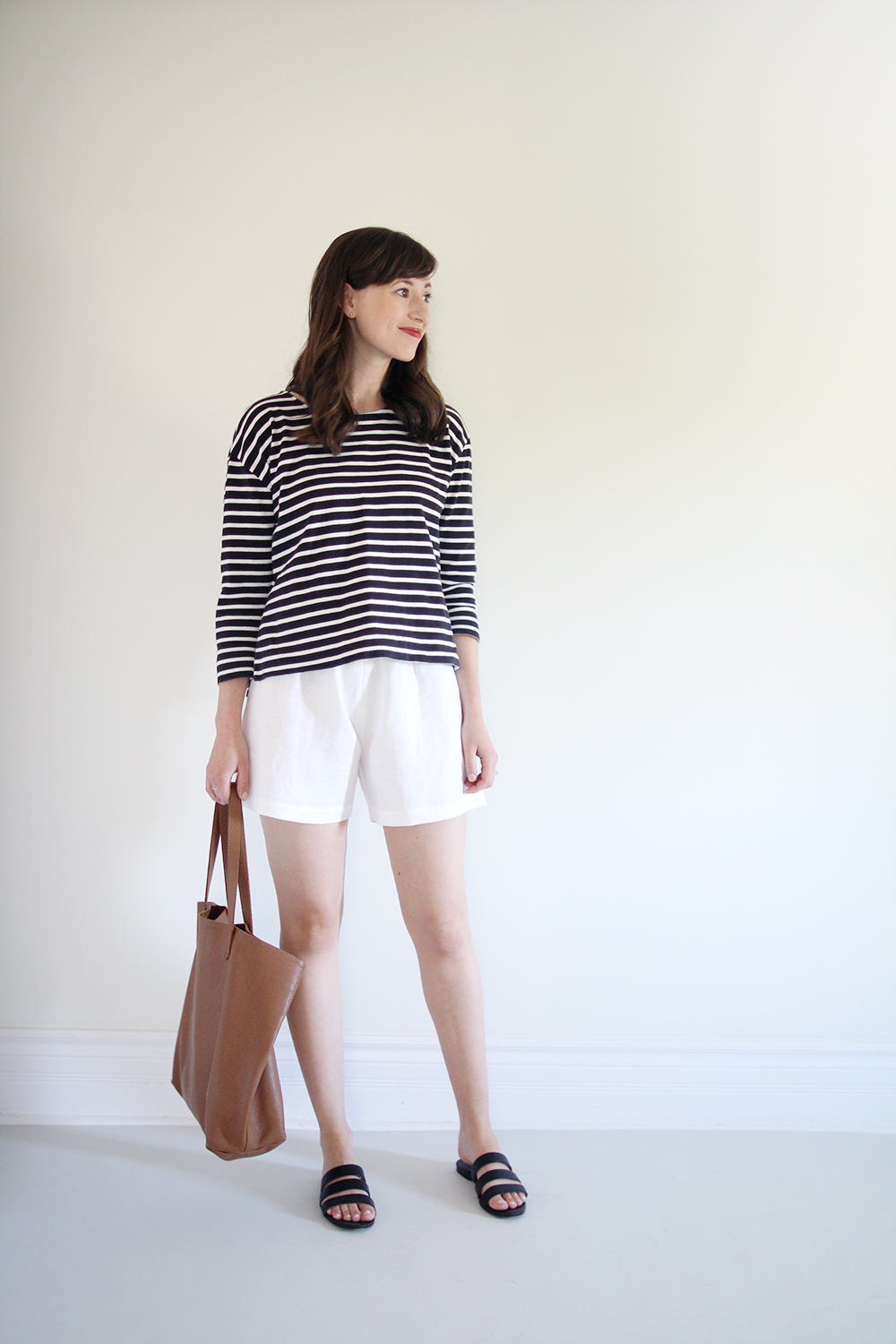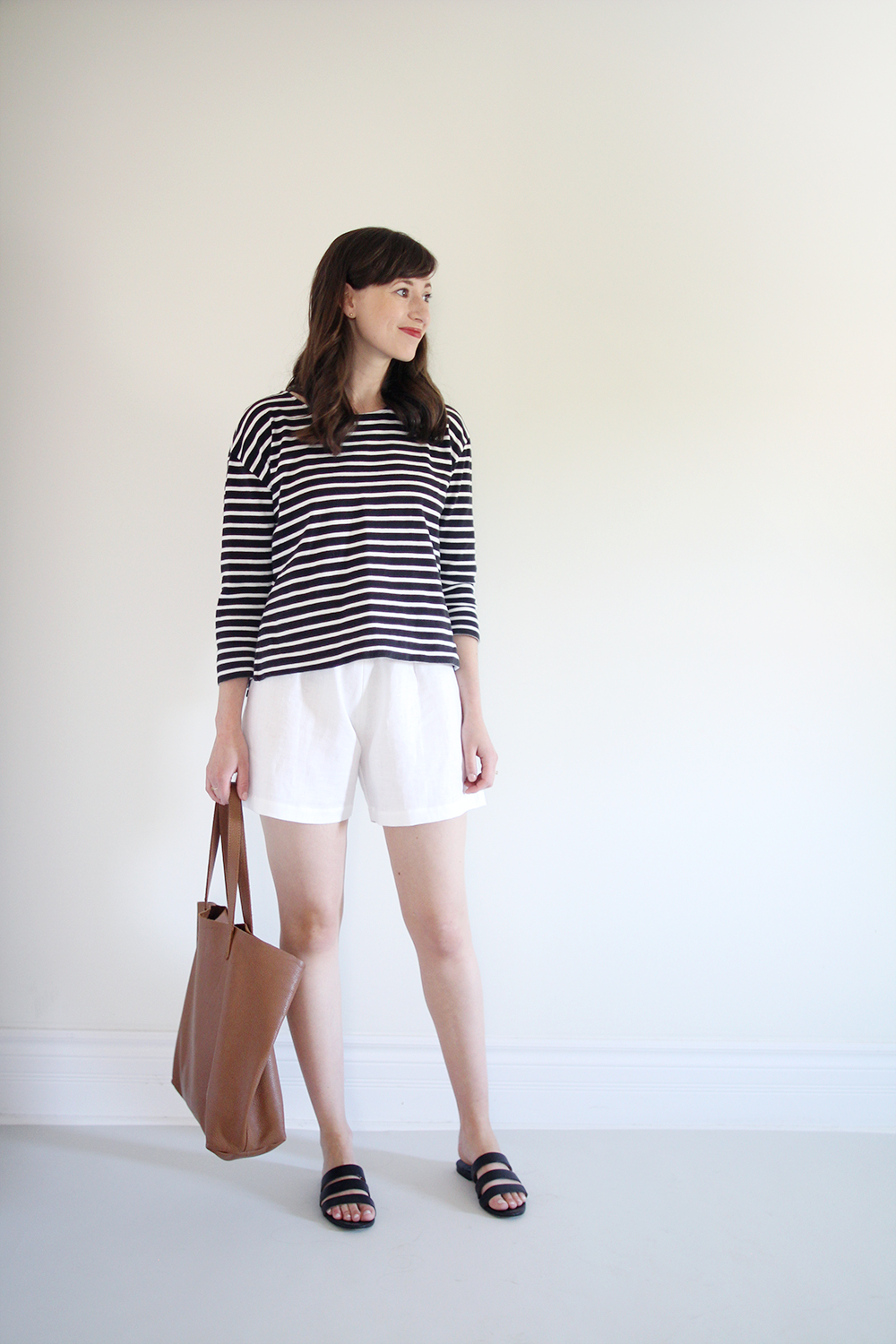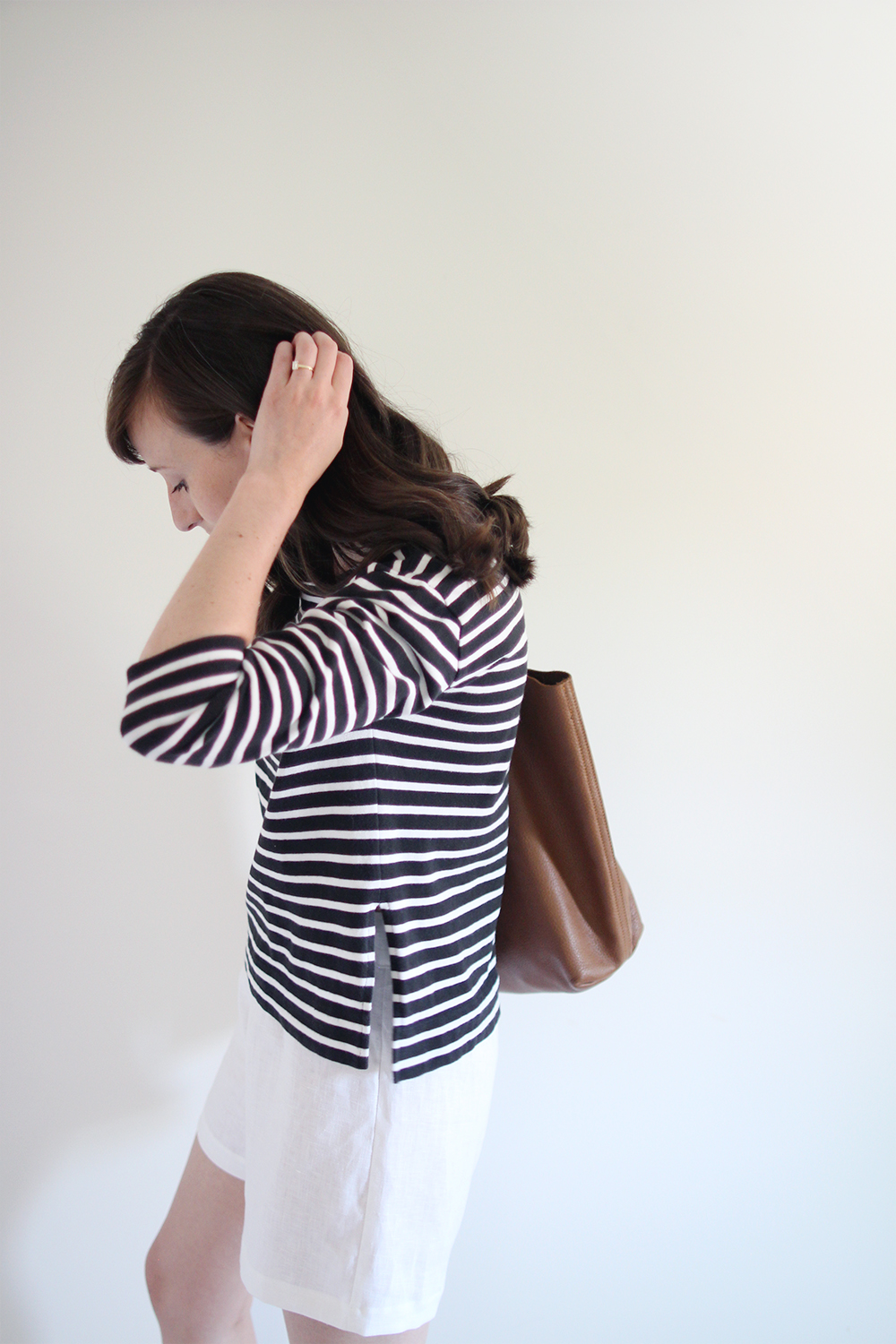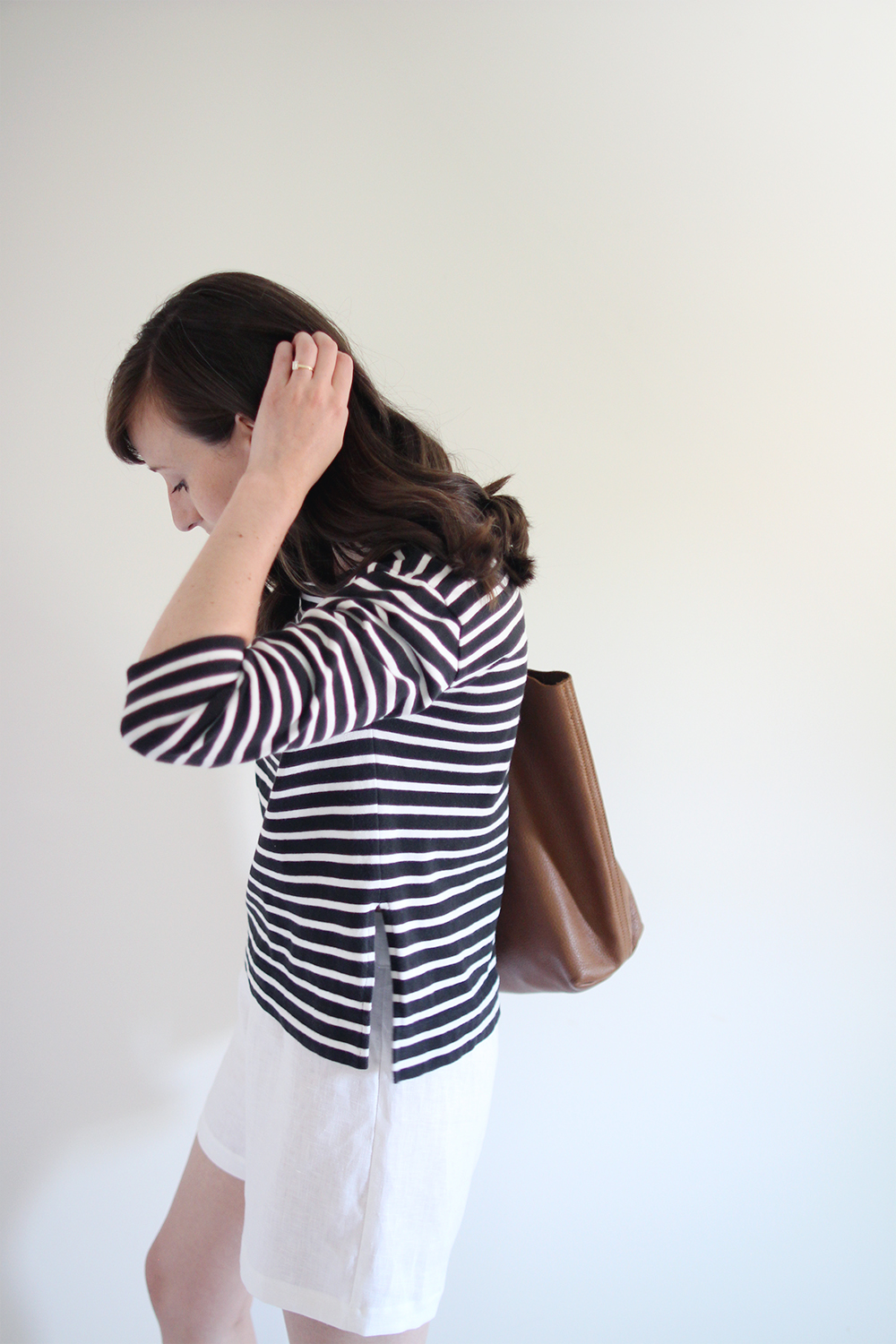 ---
INITIAL THOUGHTS
---
TEMPERATURE – High of 24º C with a mix of sun, thunder showers and humidity.
ACTIVITIES – Casual morning meeting and an afternoon in the studio. Then dinner with the fella.
INITIAL THOUGHTS – After a busy weekend full of activities and party prep I was ready for a really casual start to the work week (and an afternoon nap!). I was also really excited to wear these shorts (lots more on those below, plus a special reader treat!) and to pull on one of my all-time favourite tops for the first time in a while.
This look definitely hit the mark for comfort and yet I felt totally put together and presentable enough to be out and about. The crisp white shorts and bold stripe top make for a simple but striking combo, which I love. This boxy top works great over a high rise short thanks to the side slits, which also let the air in and keep it from feeling too thick.
All-in-all this was a great way to start the challenge. Super simple but a little unexpected too. 
---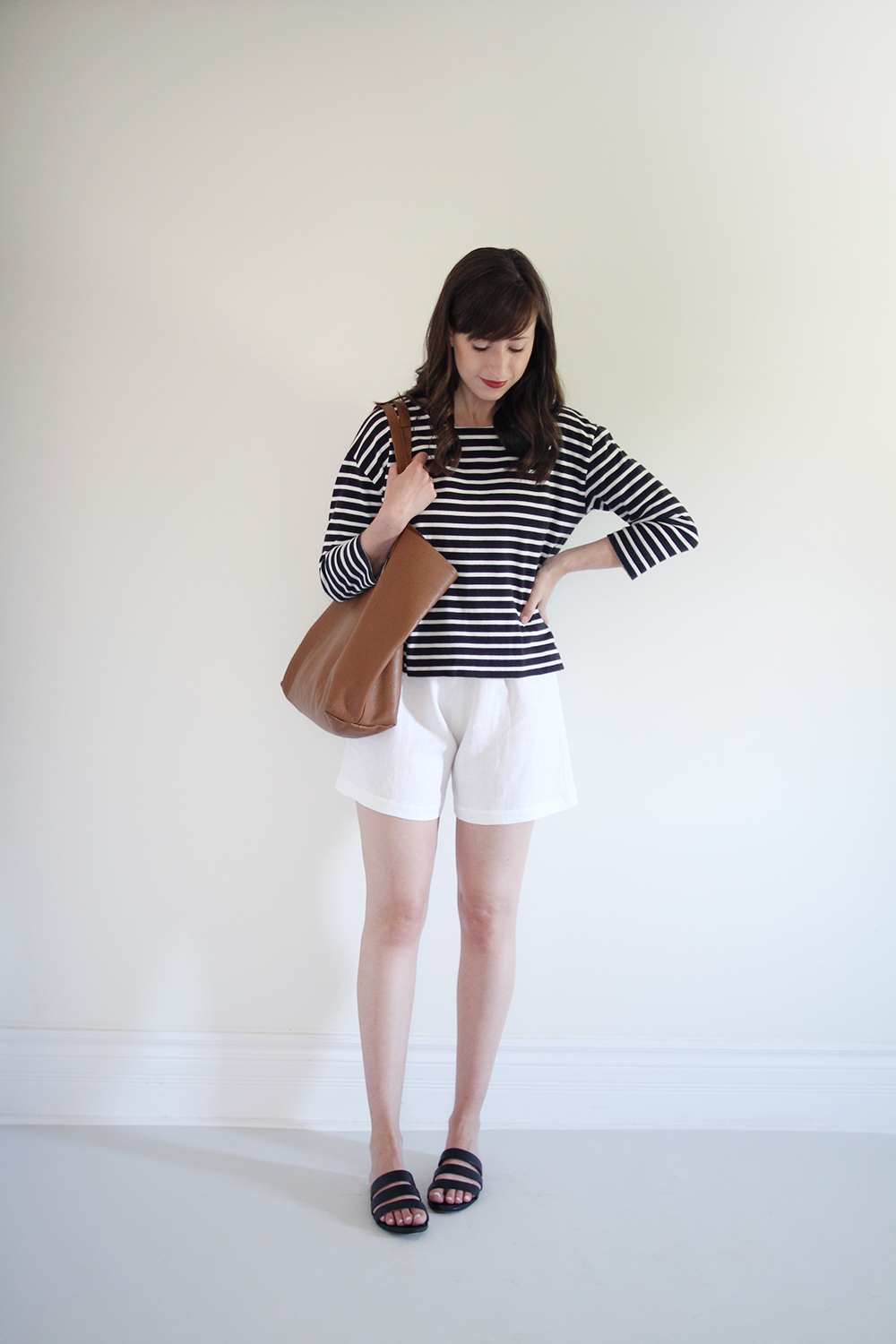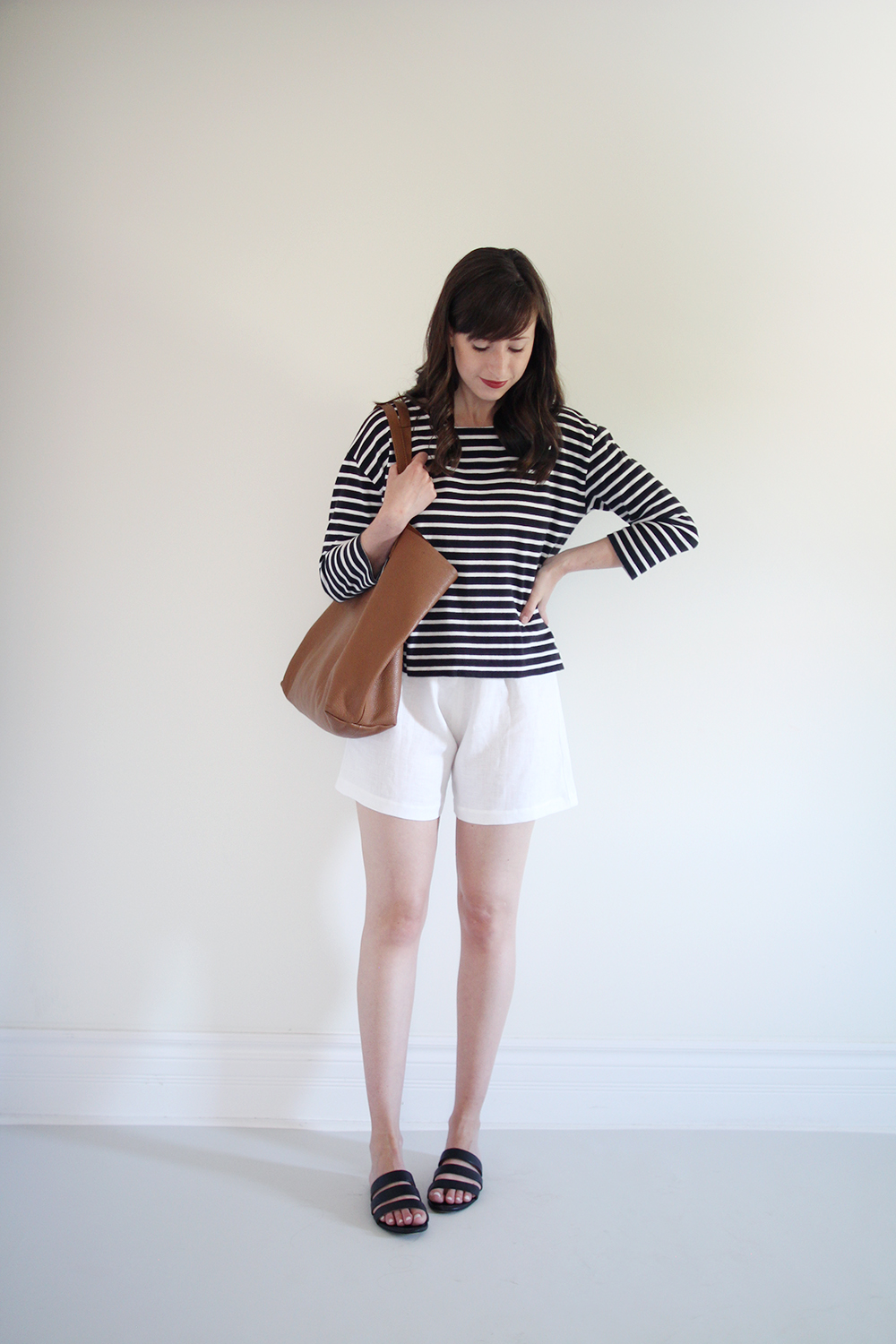 ---
STYLE TIPS
---
STRIPES TWICE: As soon as I got this striped tee and these sandals in the same vicinity I knew I had to wear them together. I love the bold stripe and graphic impact they each bring to the look, without being overpowering. They add an element of continuity (you know how much I love continuity) which helps this ultra simple look feel subtly intentional.
Look for ways to inject repetition in even the simplest look. It could be like this striped top and multi-strapped sandal. It could be through colour or shape but this trick will help any look feel and look more polished.
TIERED A-LINE: This top is boxy and usually I wear it with fitted bottoms but somehow, with these shorts it feels just right. I think the reason is that it has an a-line shape in how it falls away from the body and these shorts do the same thing. The result is a tiered effect that feels very comfortable and flattering. Not to mention cool for humid days!
Try pairing a boxy style top with an a-line bottom. Whether it's shorts or a skirt it will create a visually layered effect that's interesting and dynamic even if the two pieces themselves are ultra simple.
PALETTE SWITCH UP: Black, White and Cognac. Talk about a timeless palette. It's seasonless and effortless and I love it, but after wearing it A LOT, it can feel a bit stale. That is, until I switched it up a little and went for a white short, not something you see everyday, with a bold stripe in a long sleeve format and a big tote.
Try finding ways to put together your favourite colours with pieces that you wouldn't normally pair. You might find a new combo you love!
 LONG & SHORT OF IT: So yeah, annoying pun #sorrynotsorry, but I'm definitely feeling this style combo! Long(ish) sleeves with a pair of shorts rarely makes sense but in this case the weather will be just right and I'm taking advantage. I think there's something kind of chic about showing a lot of leg and then covering up on top.
If you can get away with the long sleeved + short combo definitely give it a whirl. You might just love it! 
---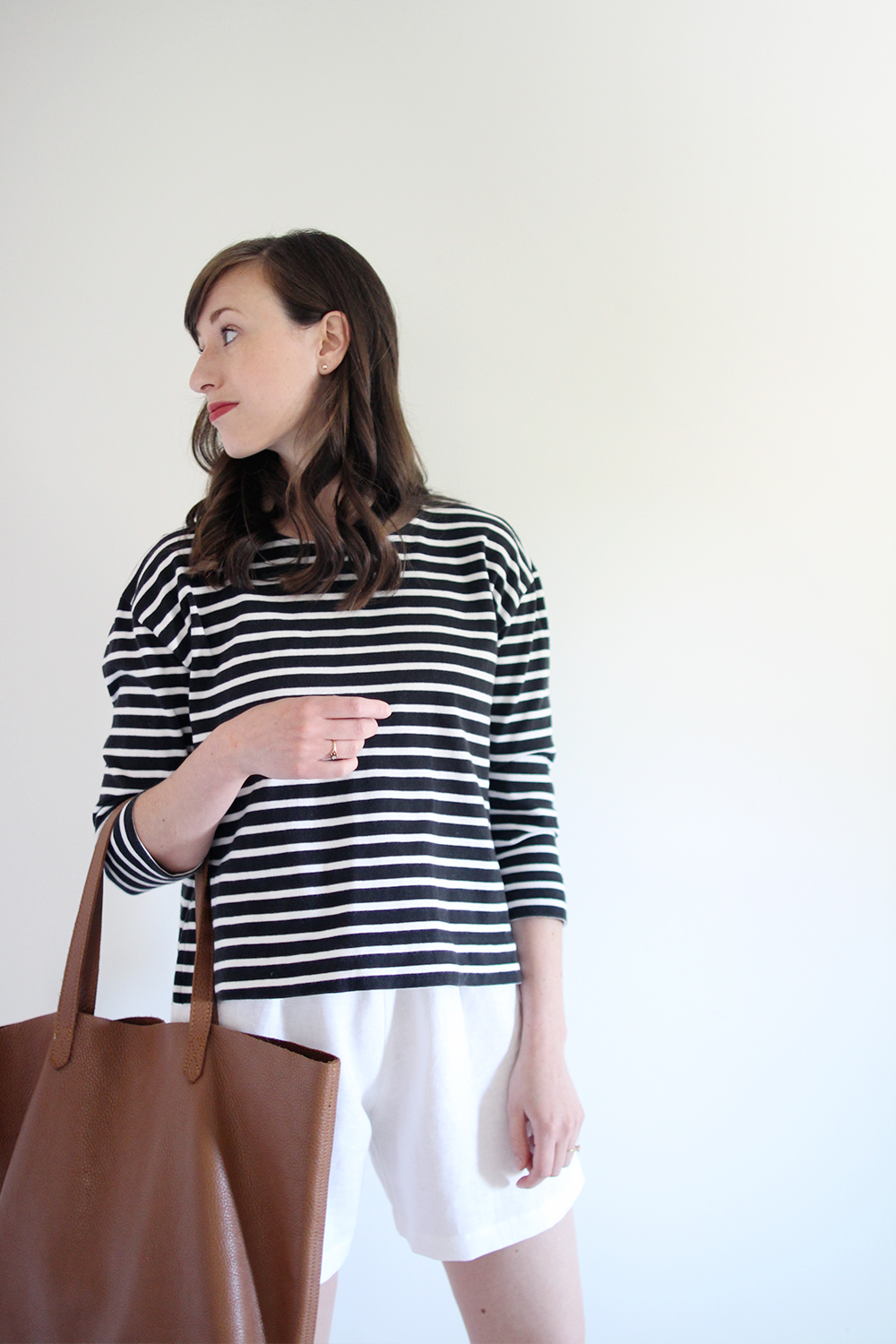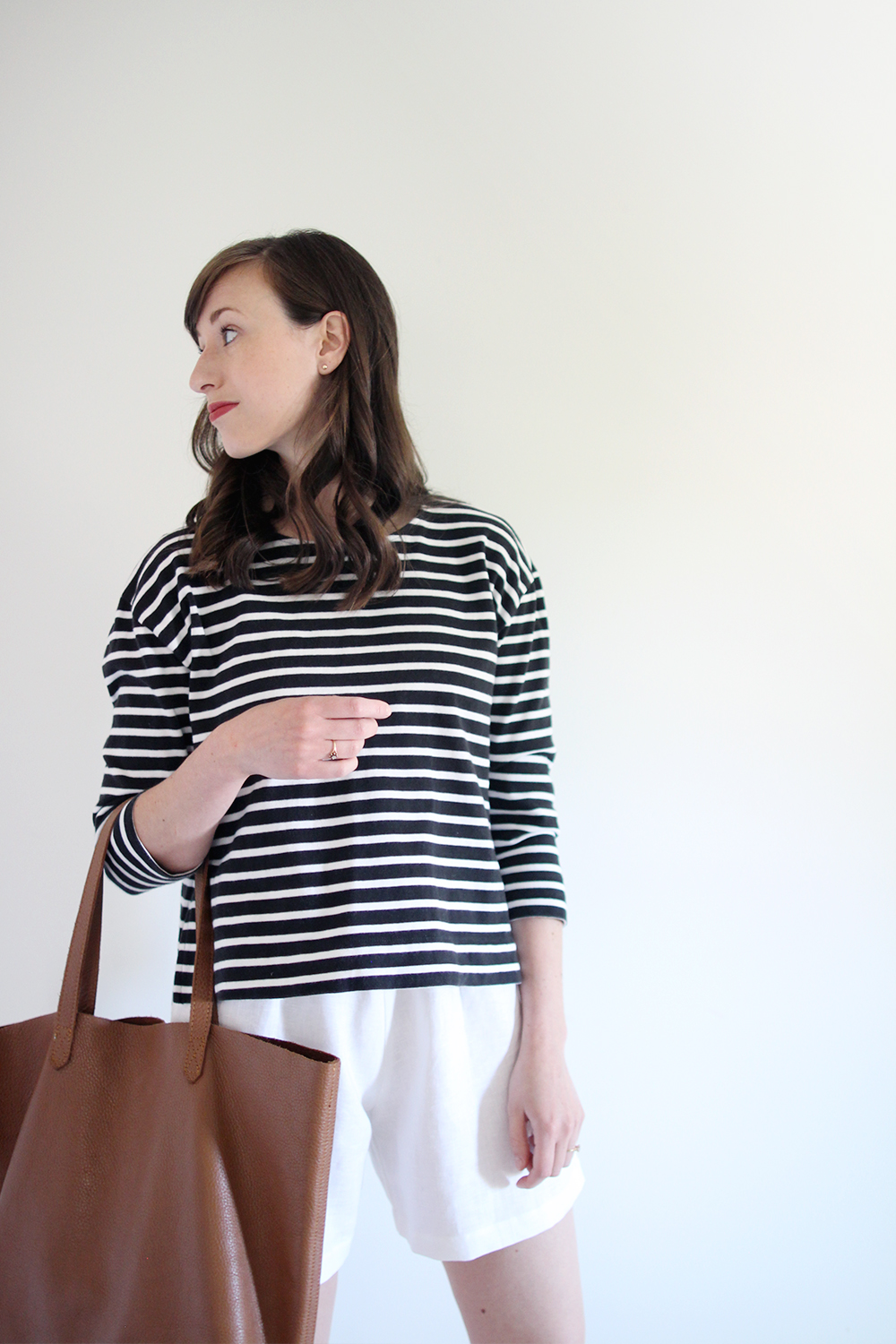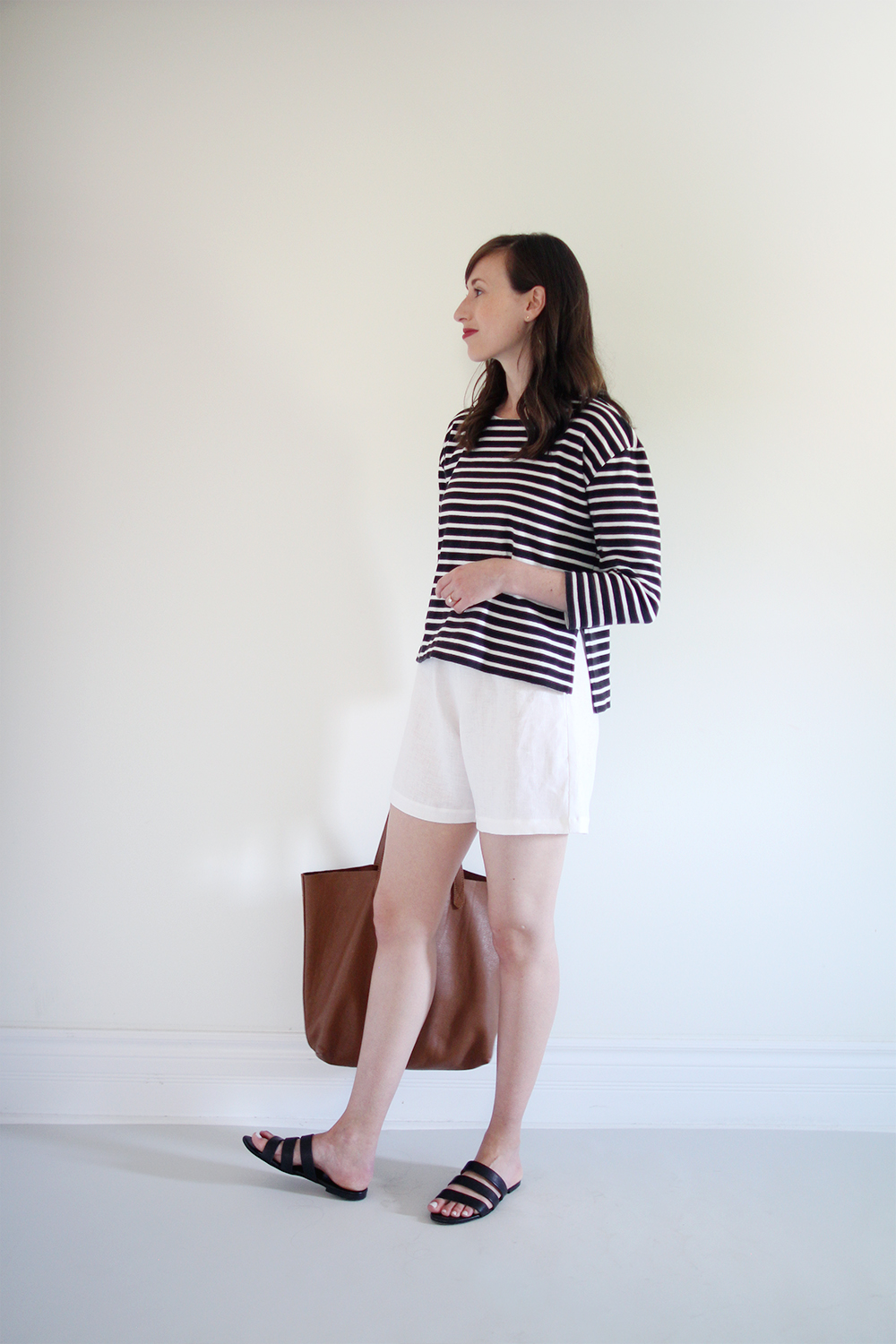 ---
ITEM SPOTLIGHT- WHITE SUMMER SHORTS
---
After finding my black shorts so wearable and versatile during my June 30×30 I knew I was ready to add another pair to my closet. These linen Summer Shorts from LLOYD fit the bill perfectly and after admiring them since their SS17 collection launched I got in touch to see if they'd be interested in letting me try out a pair and much to my delight, they said yes! So while these were gifted to me, they were an addition I carefully considered and felt was well worth a place in my closet. Plus, of course, if I didn't love them, they wouldn't be in my 10×10!
LLOYD is a Vancouver based brand and one of my Canadian made favourites. The line was founded by two talented friends, Kathy and Mira, and the collection is full of minimal, elegant, easy-to-wear pieces made of lovely natural fabrics like linen, cotton and tencel. Definitely a hidden gem but I suspect that won't be the case for long!
Now let's talk about these shorts, shall we? Here's some facts and my assessment so far: 
FABRIC: 100% Linen, which is light weight, has a soft texture and is very breathable. It is a true, crisp white, not an off white or ivory. The fabric (and cut) gives these shorts a great shape which falls away from the frame for a very warm weather friendly effect.
SHEER FACTOR: These are white linen so you're going to want to wear nude undies with these but then you're totally fine. The loose fit helps too. If you're looking to tuck in a tee there might be some show-through depending on the colour of the top.
CREASING: It's funny how often people ask me if a linen piece 'creases easily' and the answer is always, 'yes'. I ironed these shorts for this shoot but I've worn them a few times before and they do indeed develop some creases as you move and sit throughout the day. You can see how they look after some wear on the product page and I'll try to share them in my stories later today. I love them smooth and crisp but the worn in look is not without merit too, especially for summer!
FIT: I'm wearing a size S and I'm 5'7, 125 lbs and have a 26 in waist and 37 in hip. Available in XS, S, M, L.
The 2″ waistband sits very comfortably on my natural waist and because it's wrapped in linen it doesn't feel hot against my skin. The elastic band isn't super stretchy, so I find them a bit tricky to pull over my hips/butt although with some maneuvering they pull up no problem. The waist fits really well but not too tight which is great for hot, humid days, plus there is not a lot of extra fabric bunched up as there is with most elastic waists (for example the ES Florence pant).
The inseam is 5.75 inches, so they hit at about mid thigh, which is well below the butt but not too close to the knee, ie: just right (aka nerd-tastic). You can easily adjust where the waist sits for a longer look or cuff them if you'd prefer a shorter length (I might try that later).
The bottom leg opening on the shorts is 25 in, so they're quite relaxed but not not absurdly wide.
DETAILS: Other than the lean but forgiving elastic waist band and the great length I love the front and back darts on these shorts. You can't see them in these photos because my shirt covers it but they're what helps them fit nicely along the lower waist without poofing out as some shorts tend to.
I also like the 1 inch hem on the bottom, which keeps them straight. My other shorts have a short hem, which can sometimes curl out or get wavy after a wash.
Basically these shorts well on their way to becoming a summer closet hero! 
CARE: Machine wash cold. Hang Dry. Iron smooth or wear as is for a more worn-in look (as shown on the product page).
COLOURS: These also come in a black linen, white cotton and brown tencel. See them all here. Not to mention a beautiful pant version!
MADE IN: Vancouver, BC
PRICE: $160 CAD
---
STYLE BEE SPECIAL: LLOYD is generously offering Style Bee readers an exclusive discount of 10% OFF sitewide during the 10×10 Challenge! Just use 'STYLEBEE' at checkout. 
---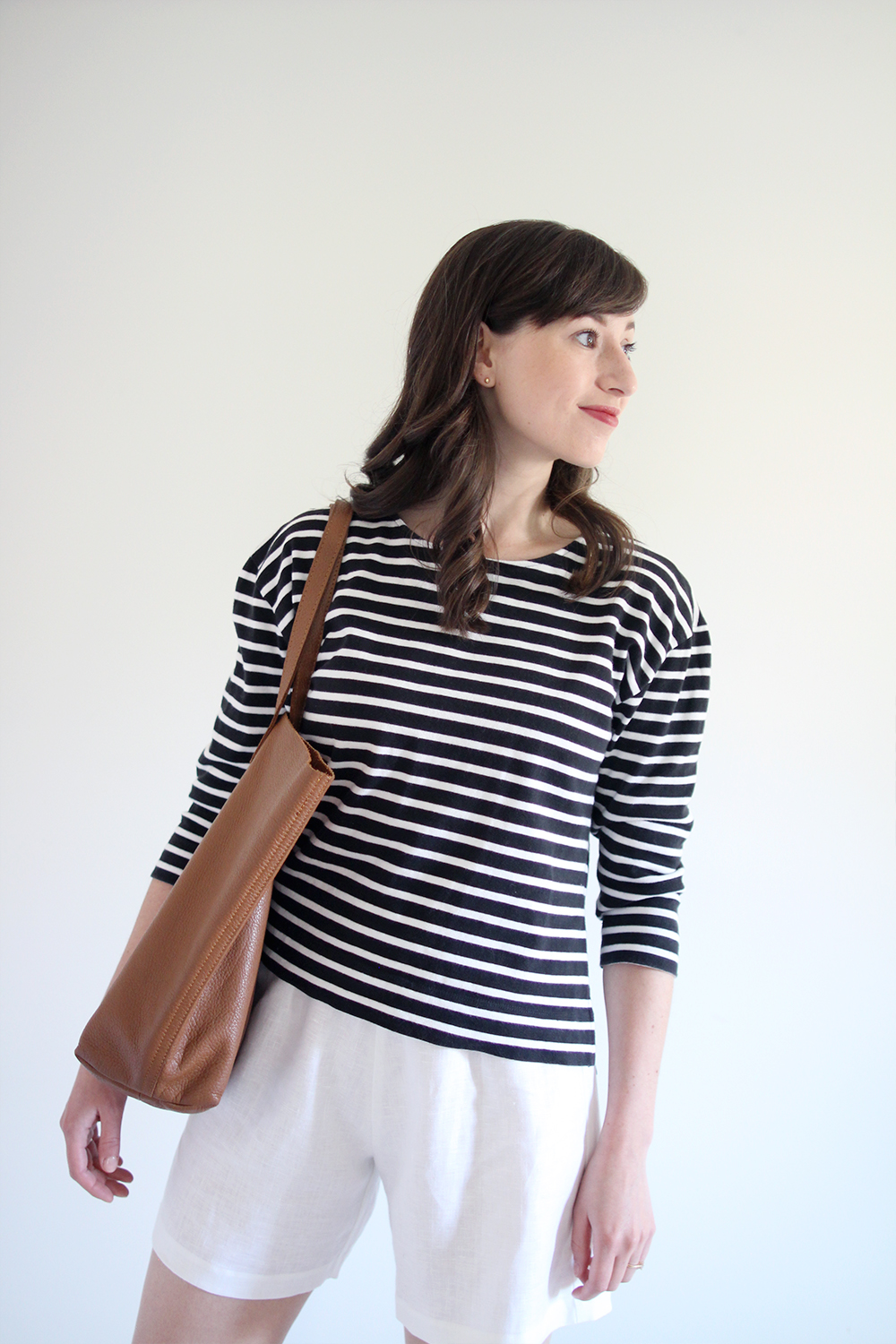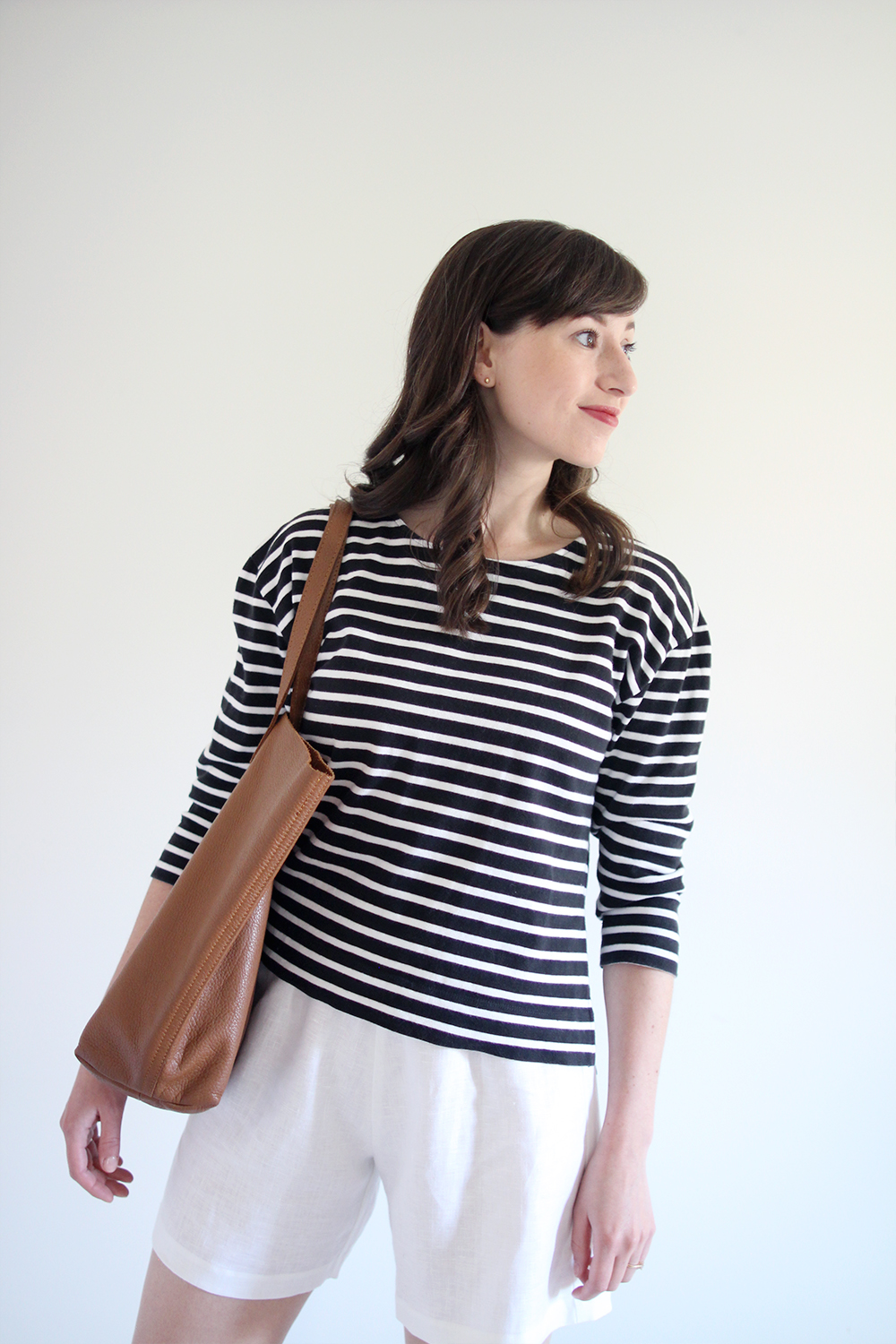 ---
SHOP THIS LOOK
---
1 | STRIPED TEE | EVERLANE | $168 USD | Size S | Made Responsibly in China
2 | SUMMER SHORTS | c/o LLOYD CLOTHING | $160 CAD | Made in Vancouver | I wear a size S | Style Bee readers save 10% OFF sitewide at LLOYD with 'STYLEBEE' during the 10×10 Challenge! 
3 | CAMILLA SLIDE | NISOLO via GARMENTORY |  $88 USD | I wear a 7 | Made responsibly in Mexico | Save $20 OFF your first order when you sign up here. 
4 | CARAMEL TOTE | CUYANA | $175 USD | Made in USA
5 | GOLD STUDS | ATTIC | $290 CAD | Made in Toronto
---

---
What were the first pieces you reached for this 10×10 challenge? I'd love to know! 
Tune into my Insta Stories for a look at this outfit in action later today.
---
This post is not sponsored but contains affiliate links. When you shop via the links above I may make a small commission from a sale. This income helps limit the amount of sponsored content that appears on Style Bee. Thanks a lot for your support!