As you know I love digging into the nitty gritty details that make an item special and today we'll be doing just that! The item up for discussion is the Wide Leg Chino from Everlane. I know a lot of folks are talking about their new Tread sneakers but over here we're chatting chinos!
These particular pants were part of my spring wish list and a number of you expressed an interest in hearing my thoughts on them. So that's what I'll be sharing in this post, which includes:
Why I bought the wide leg chino
Quick facts about them
My thoughts on fit & fabric
Details that make them special
+ 6 ways to style the wide leg chino
Let's dive right in!
---
DISCLOSURE: I'll be sharing my honest thoughts about these pants but before I get into that I felt it best to note that this post wasn't sponsored and I bought the pants myself. When you shop via an affiliate link below I may make commission on a sale at no additional cost to you. Thanks for supporting the brands that support Style Bee!
---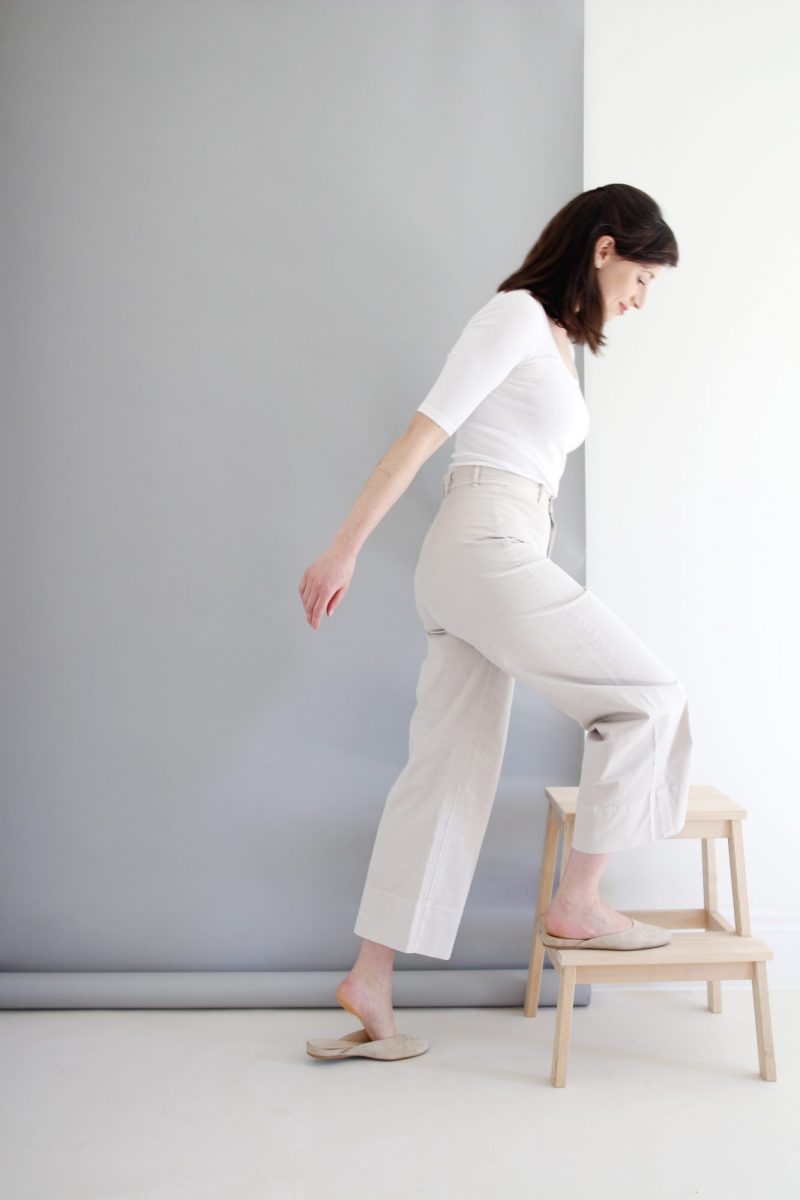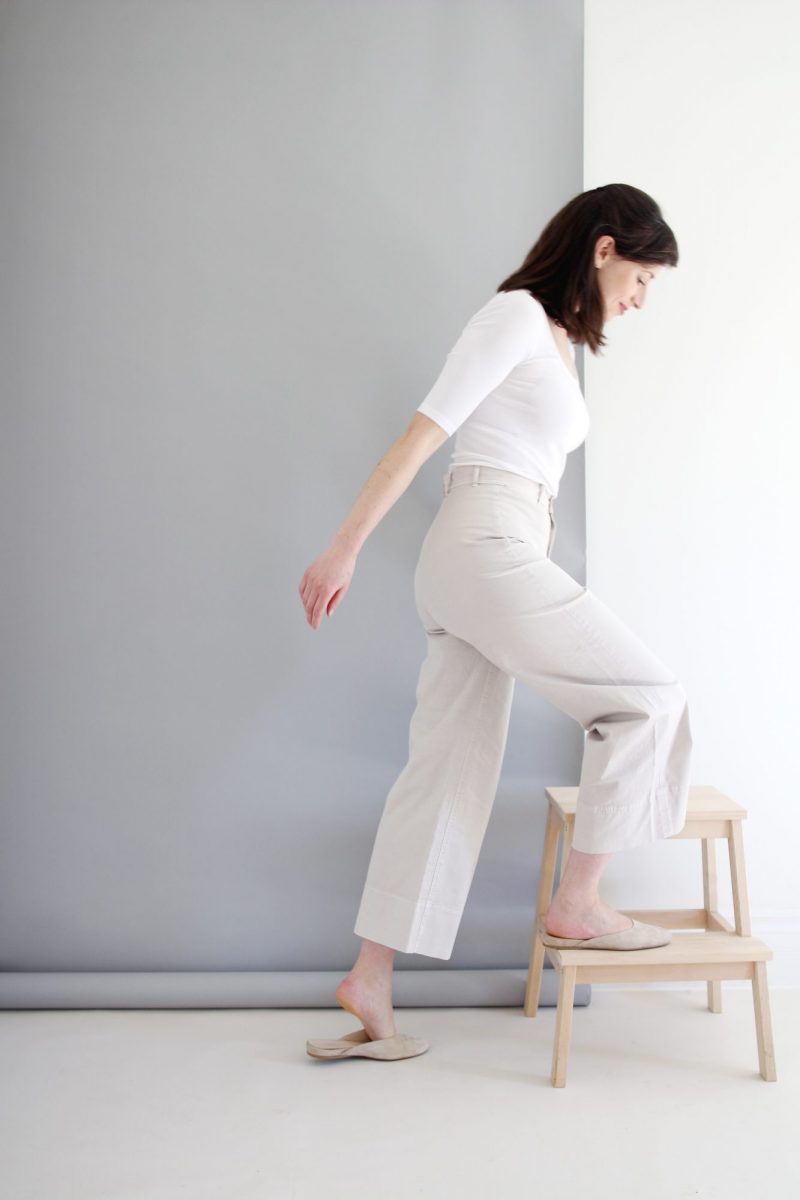 ---
WHY I BOUGHT THE WIDE LEG CHINO
---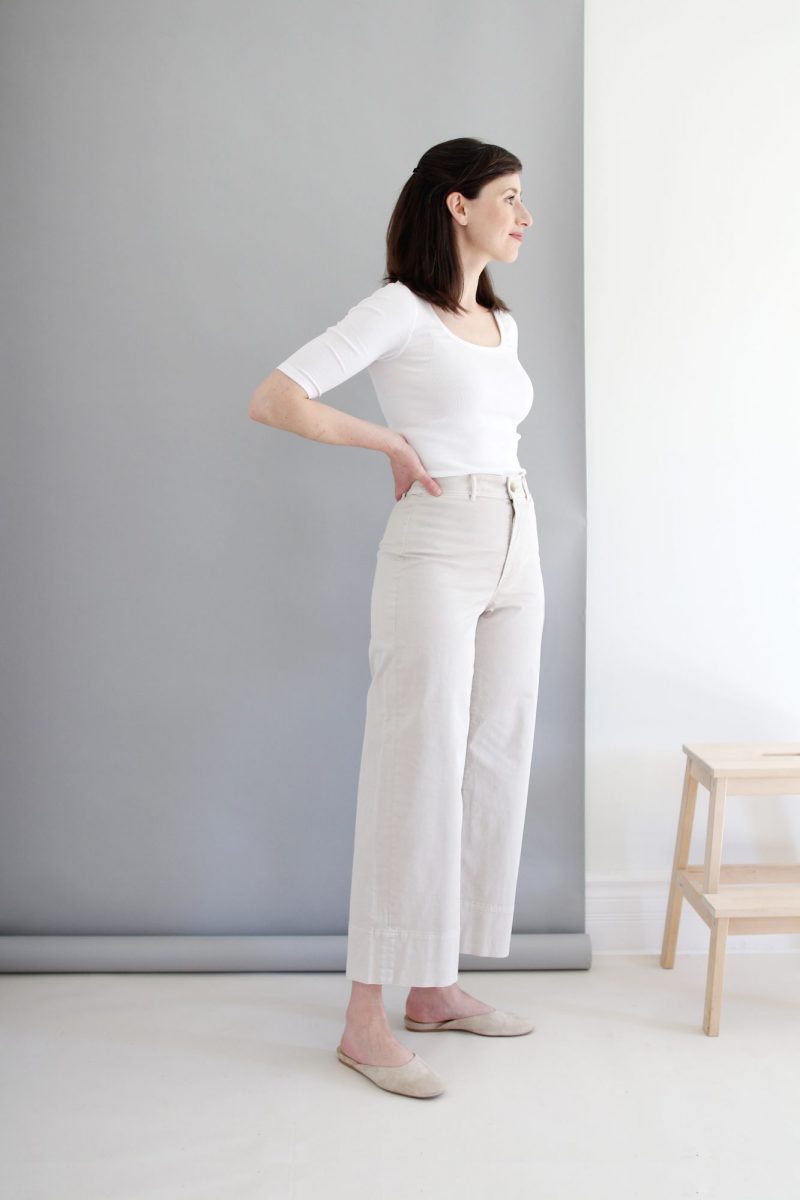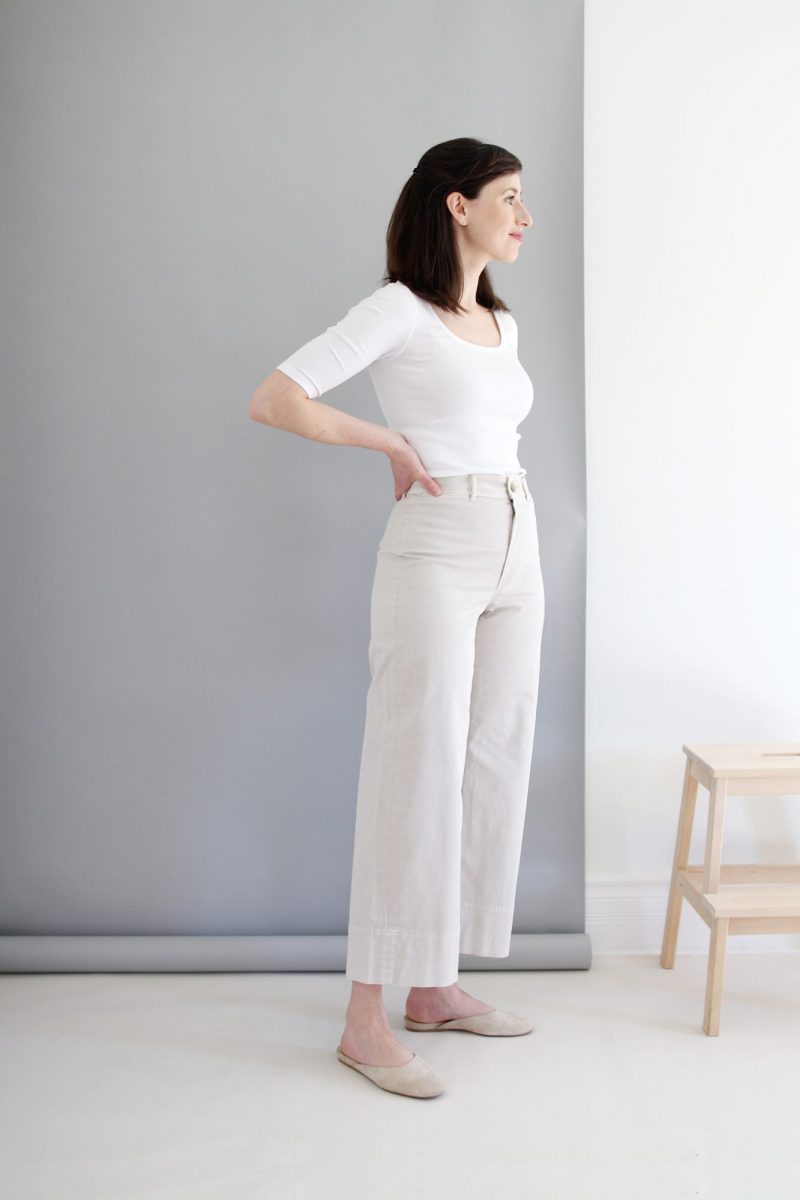 After doing my spring closet prep I noticed an opening in my closet in the light coloured bottoms department. I love my white denim (styled here) and my linen Florence pants (revisited here) but had been hoping to find something closer to a trouser that could be dressed up or down and feel a bit more tailored/professional.
---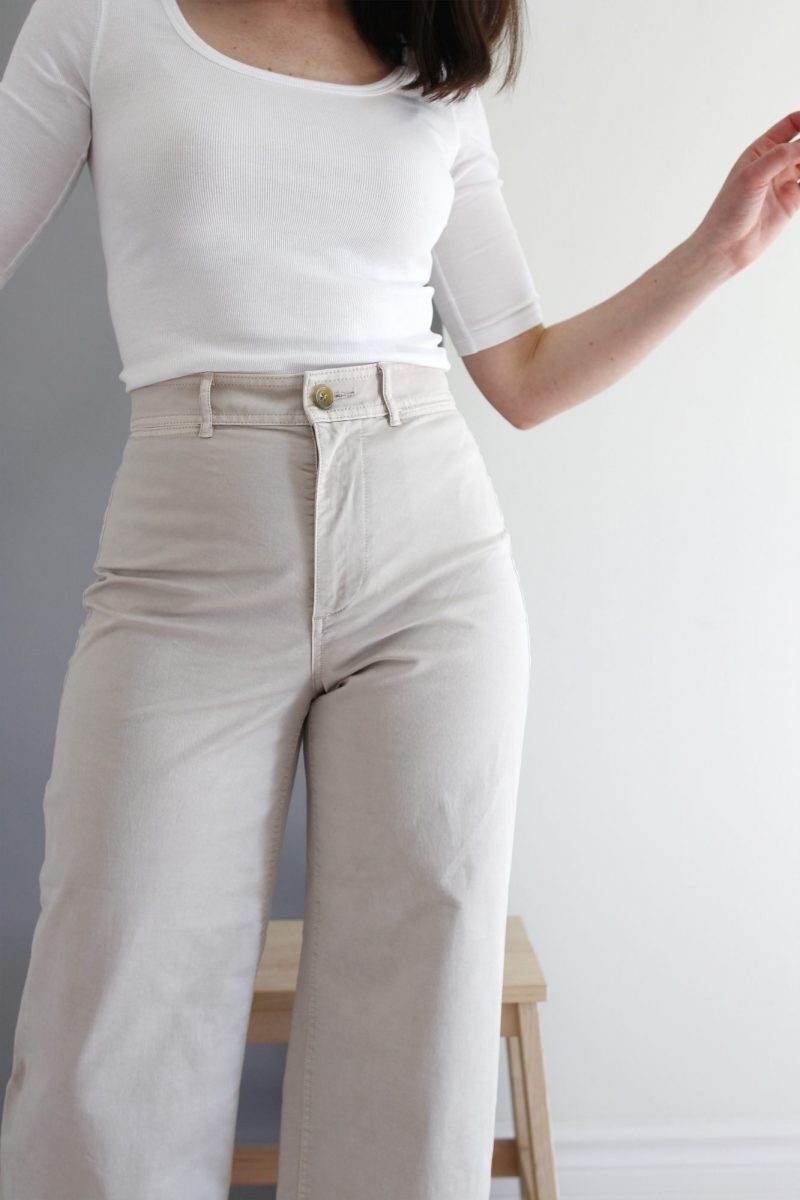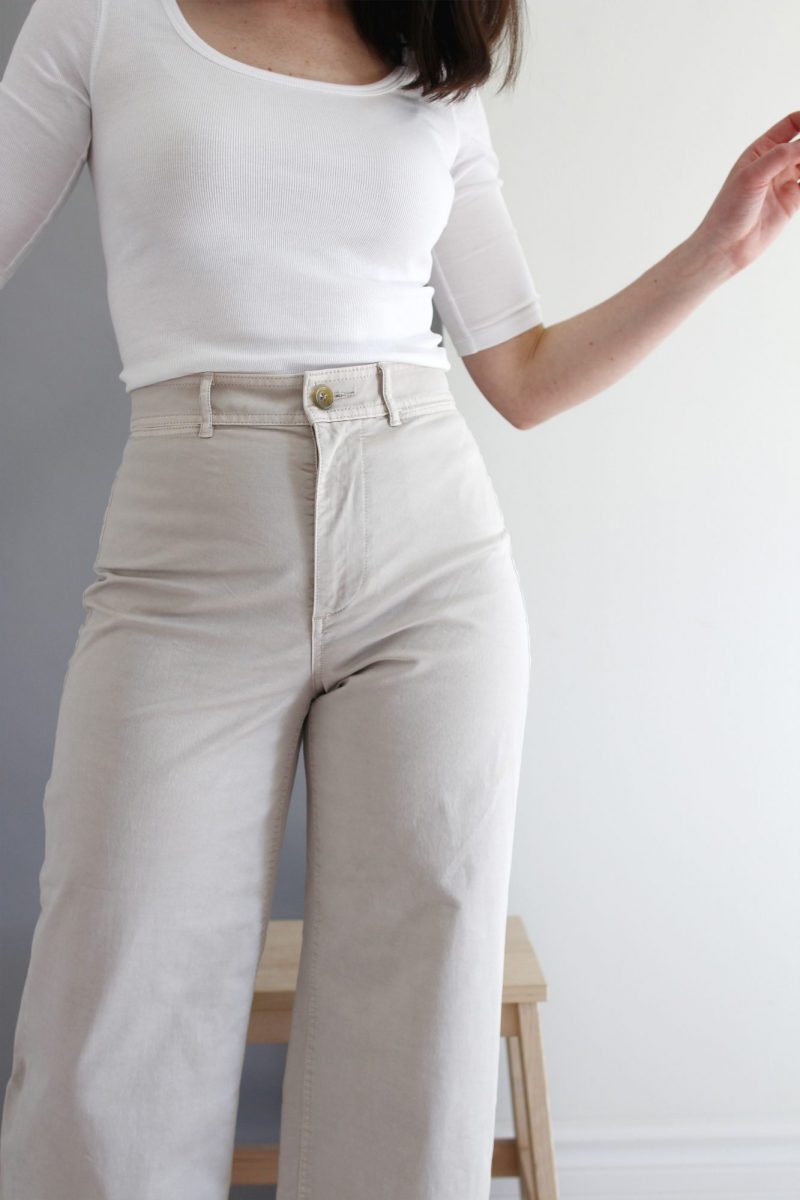 I'd been considering this particular pair of Kamm Pants but at $425 USD they were far from feasible for my spring budget this year. I was really intrigued by the Wide Leg Chino being a similar shape, available in a soft neutral ('stone') and at $68 USD the price point made them a much more viable option. So I decided to give them a try!
---
I had tried another style, the Wide Leg Crop (a cult favourite), back when they were first released but found the inseam was too short, the material stretched out a ton and the pockets bulged unflatteringly. The Wide Leg Chino, however, has a longer inseam, deep hem, welt pockets and was made of 98% cotton. Those differences were enough to persuade my purchase and resulted in what I think is a really well designed pant that's a lot of fun to wear!
---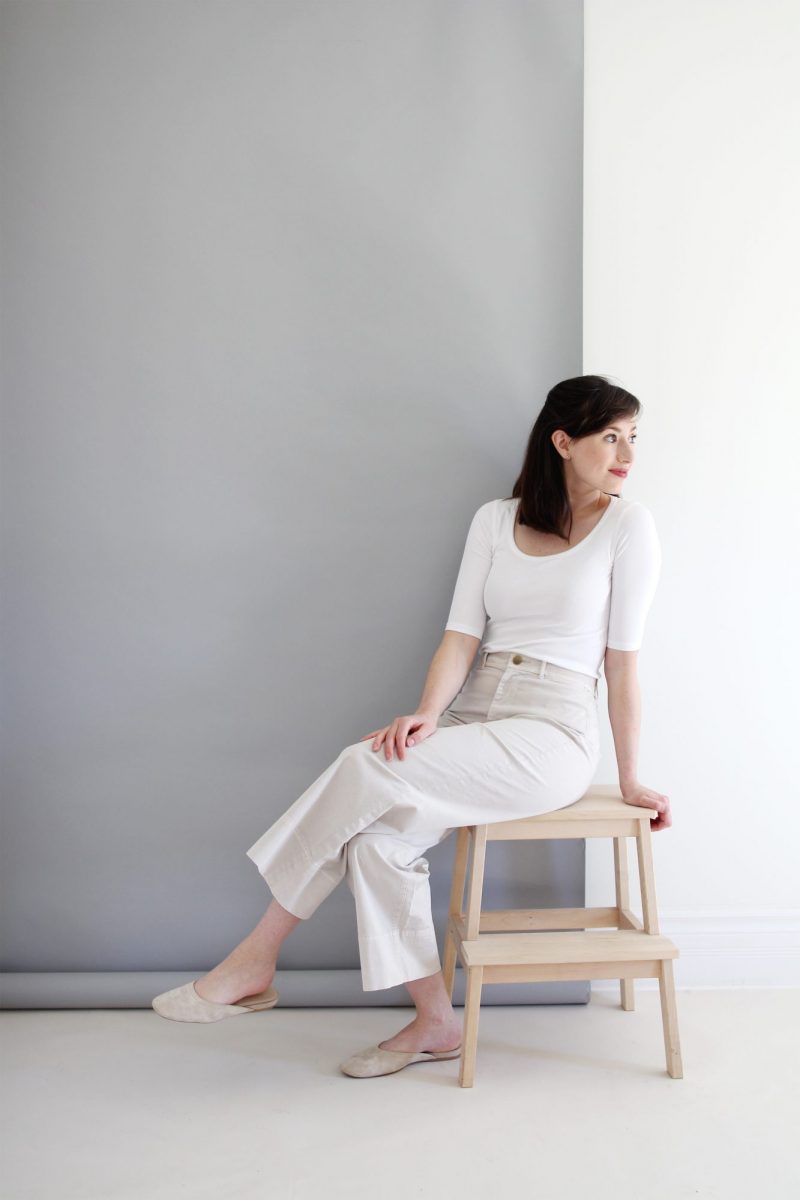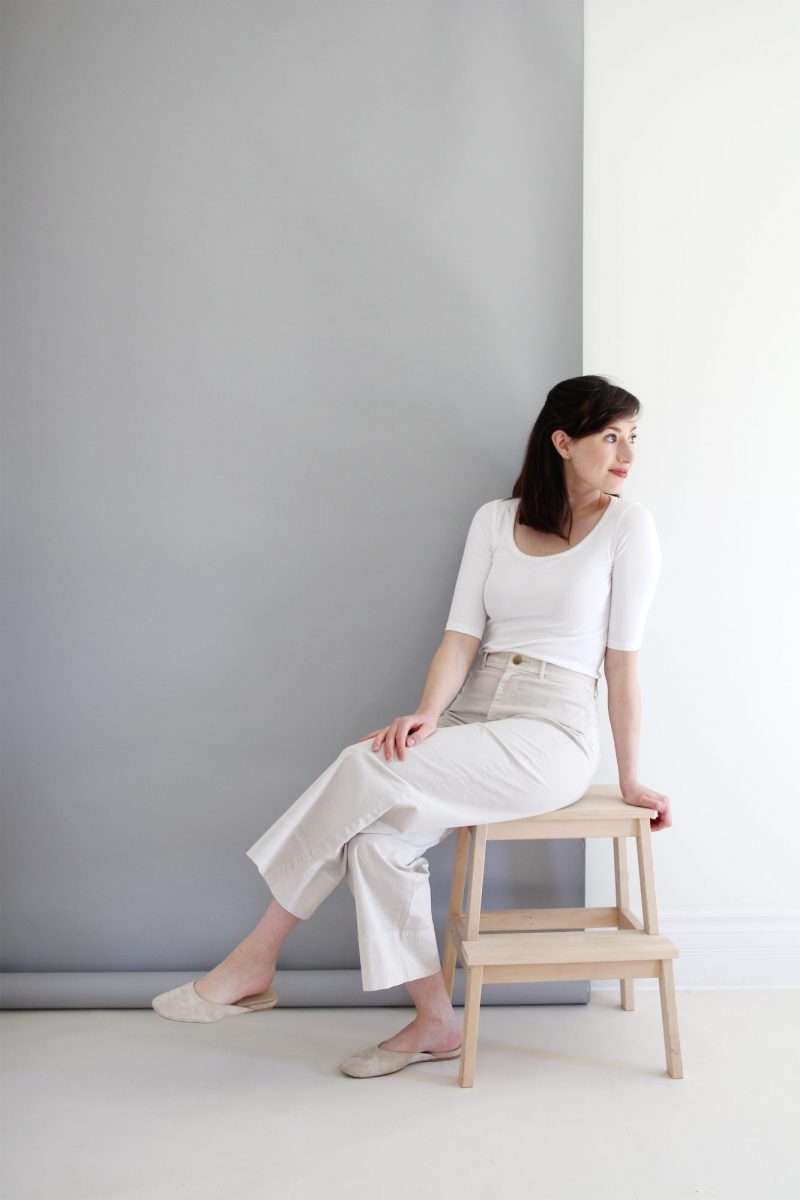 ---
---
PRICE: $68 USD – International orders over $100 ship free and all duties/customs are pre-paid so there are no surprises at the door.
FIT: Runs true to size. I wear a 26/27 in Everlane Denim and a 4 in pants and I got a size 4 in these. (more fit details below)
SIZE RANGE: 00 – 16
MADE IN: Jiangmen, China | See the factory
FABRIC: 98% Cotton, 2% Elastane (more fabric details below)
CARE: Machine wash cold with like colours, tumble dry low
COLOURS: These pants are available in 5 colours, which are some of my favourite options Everlane has ever done!
STONE | PALE BLUE | LIGHT SAGE | WASHED BLACK | OCHRE

---
Looking for a slimmer leg silhouette? Try the Relaxed Chino or Straight Leg Crop instead.
---
---
FIT & FABRIC
---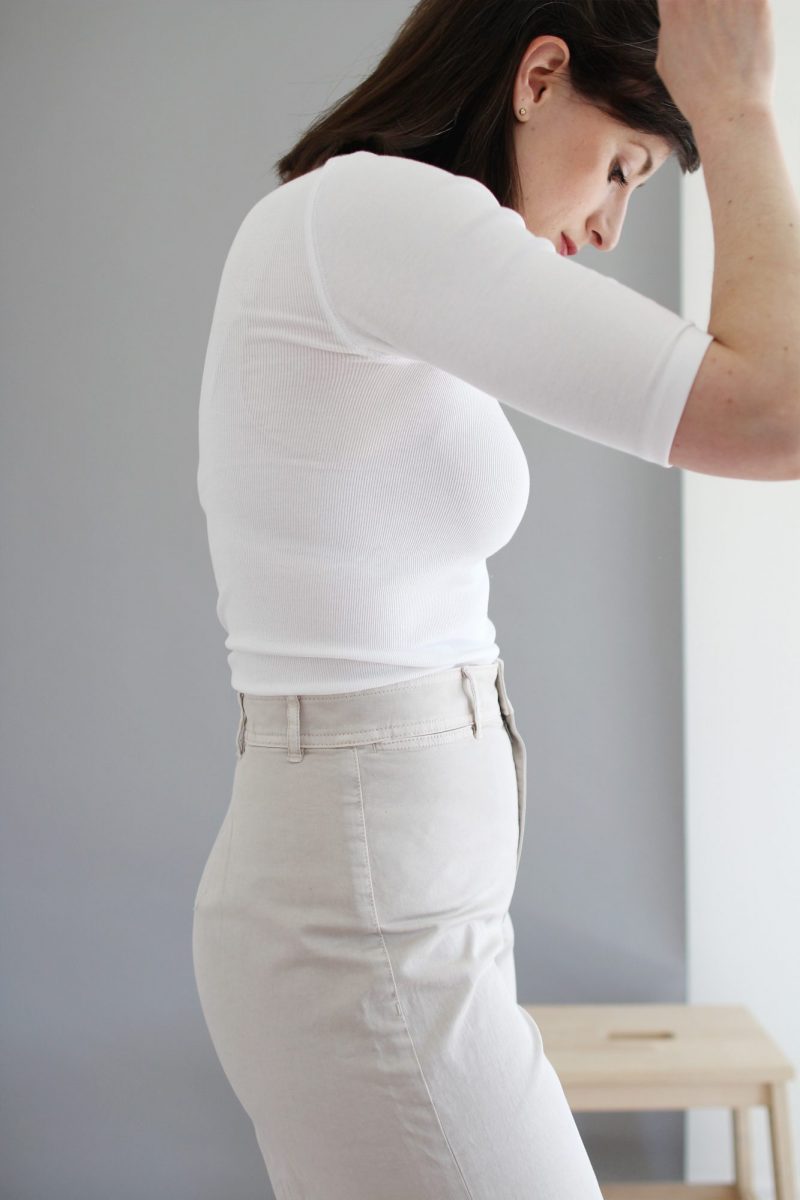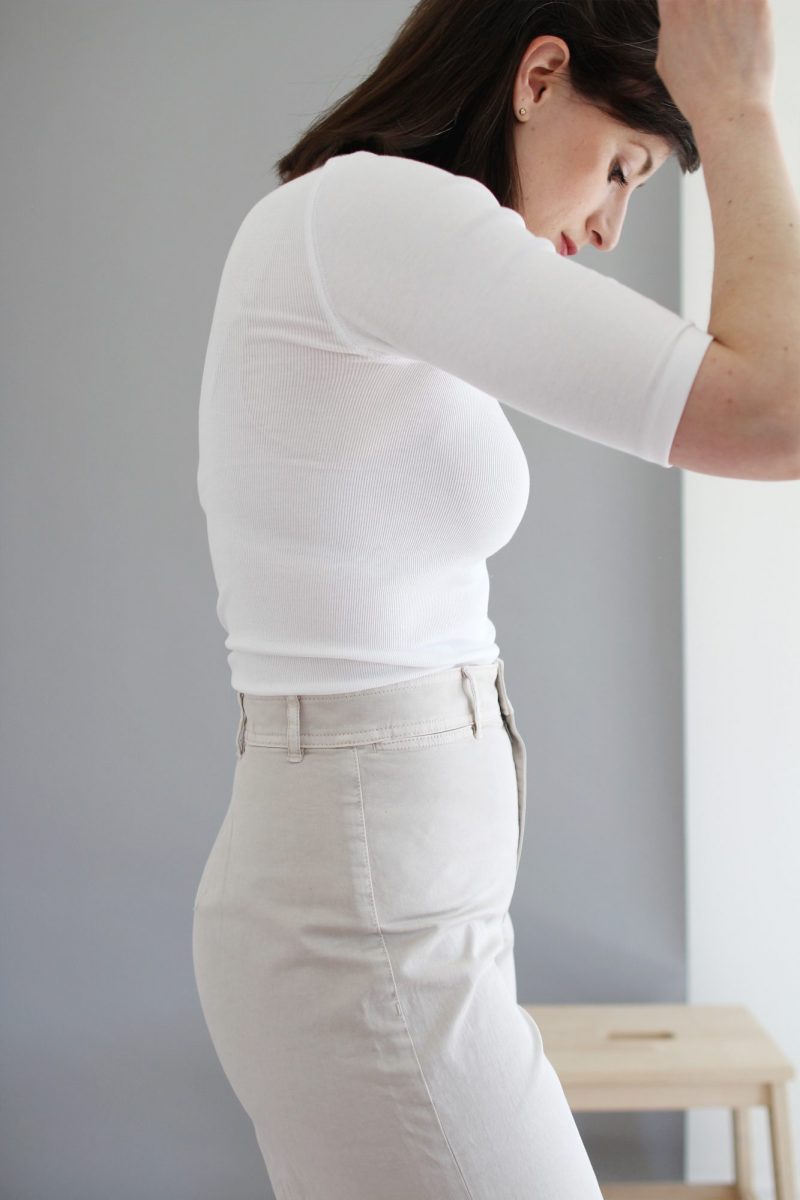 I tried to move around a lot while shooting this review so you could get a better sense of how the fit and fabric look in reality. I didn't iron or steam the chinos before shooting these images so you can see how they look after a day of wear. I also didn't edit out any creases or wrinkles and I think these shots give a very accurate representation.
---
THOUGHTS ON THE FIT
---
For reference I am wearing a size 4 and I am 5'7 and about 125 lbs. My measurements are 26.5 in natural waist and 37 in low hip.
I'm slightly pear shaped with an ample butt so most pants that fit my hips need to be tailored slightly to fit my waist. This was indeed the case with these pants. My tailor brought the waist in about 1.5 inches and was able to use the existing darts at the back so no extra seams were needed. Now they fit like they were made for me!
Other than the waist needing tailoring, which I'd expected, I was really pleased with the fit of these pants right out of the box. They slipped on easily and fit perfectly through the hip and lower waist but not too tightly!
I've worn these pants several times now and they are really comfortable to sit in, walk around in and generally feel great on. They're a good all-day pant for sure, not just a work or special occasion option.
If you're between sizes and worried about fabric stretch out, I'd suggest going with the lower size. I could have possibly worn a size 2 after breaking them in for a day but they would have been really tight through the hip at first. More on the fabric and stretch below.
---
---
THOUGHTS ON THE FABRIC
---
I wasn't sure what to expect with this 98% cotton and 2% elastane blend but was pleasantly surprised. The fabric is very soft and smooth but still has a nice bit of structure without feeling stiff. I can see wearing these through the spring and even into the summer since they're quite light and breathable. They'll be great going into the fall.
Does it stretch out? Yes. This fabric will relax with wear throughout the day, however, they didn't stretch out an outrageous amount like the wide leg crop I tried in the past. I think it depends what you're doing and how you're sitting and moving in them. For instance, they didn't relax much when I was just working at my desk or walking Dobby but after biking and sitting cross-legged on the couch visiting friends I found they'd warmed up more and stretched a bit further.
I hung them up overnight and they regained their original shape for the most part. If I really want them to fit snug again I'll give them a wash.
---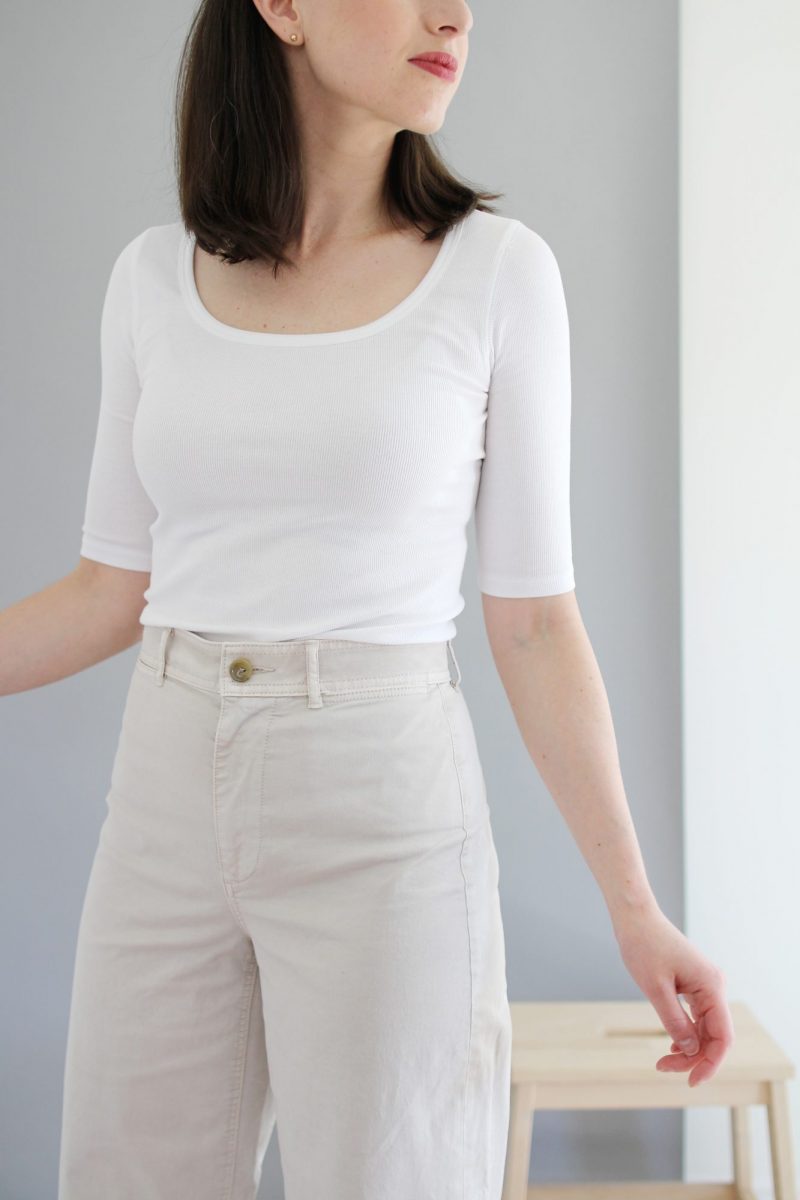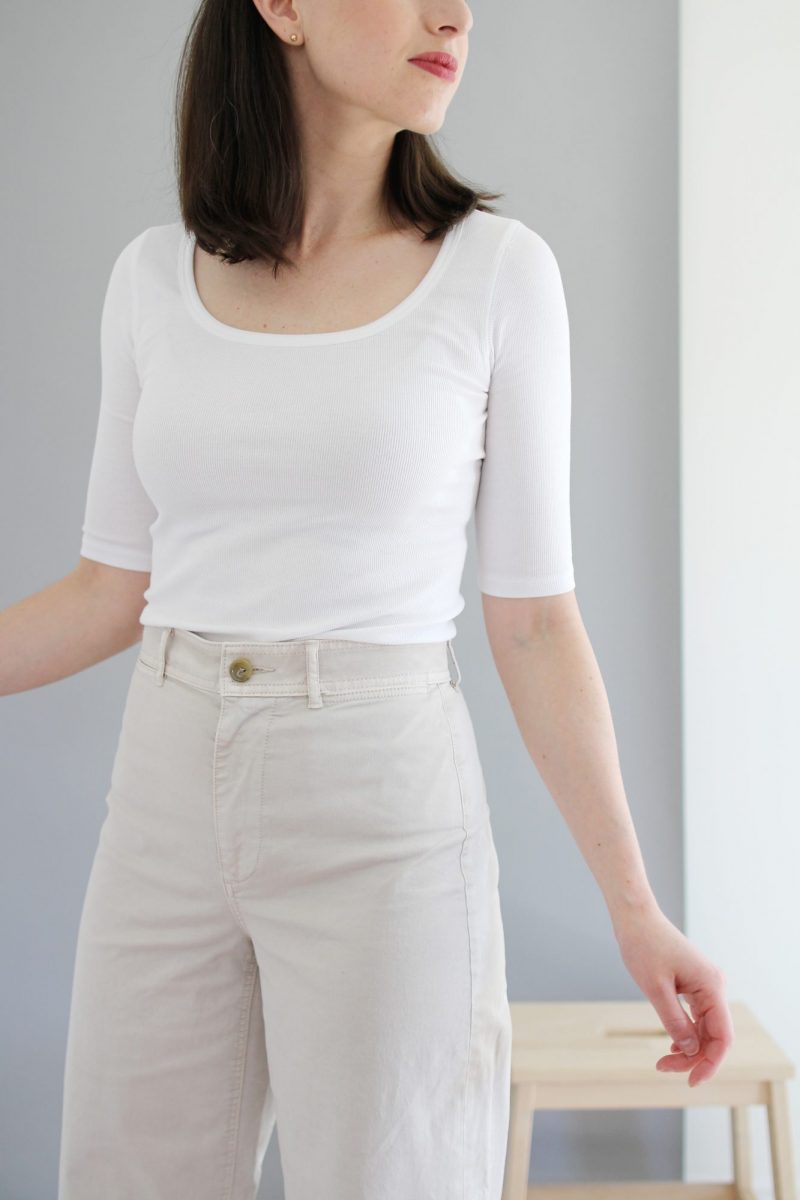 Do they wrinkle? You'll find some creases develop throughout the day as you sit and such. That said, they're not nearly as wrinkle prone as a linen and the crotch creasing is not very noticeable in the stone colour. They smooth out easily overnight too.
---
How do they compare to a Kamm Pant in canvas? This material is much lighter and softer than the Kamm canvas. This makes them feel more practical for sitting and moving around in and more versatile for warmer temperatures. The fit is pretty close but these are a little more relaxed through the leg, which helps with comfort and breathability too. That said, they still hug the right places, fall in a straight line from the hip and do great things for the caboose!
---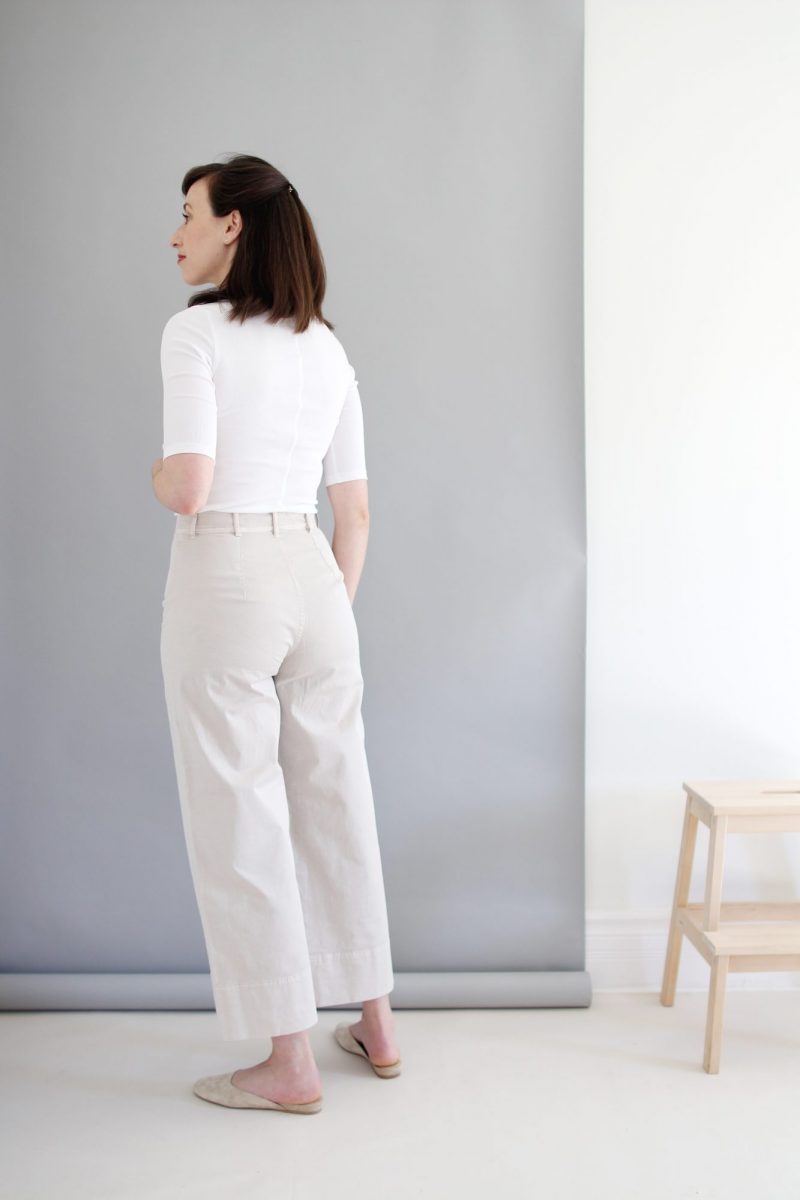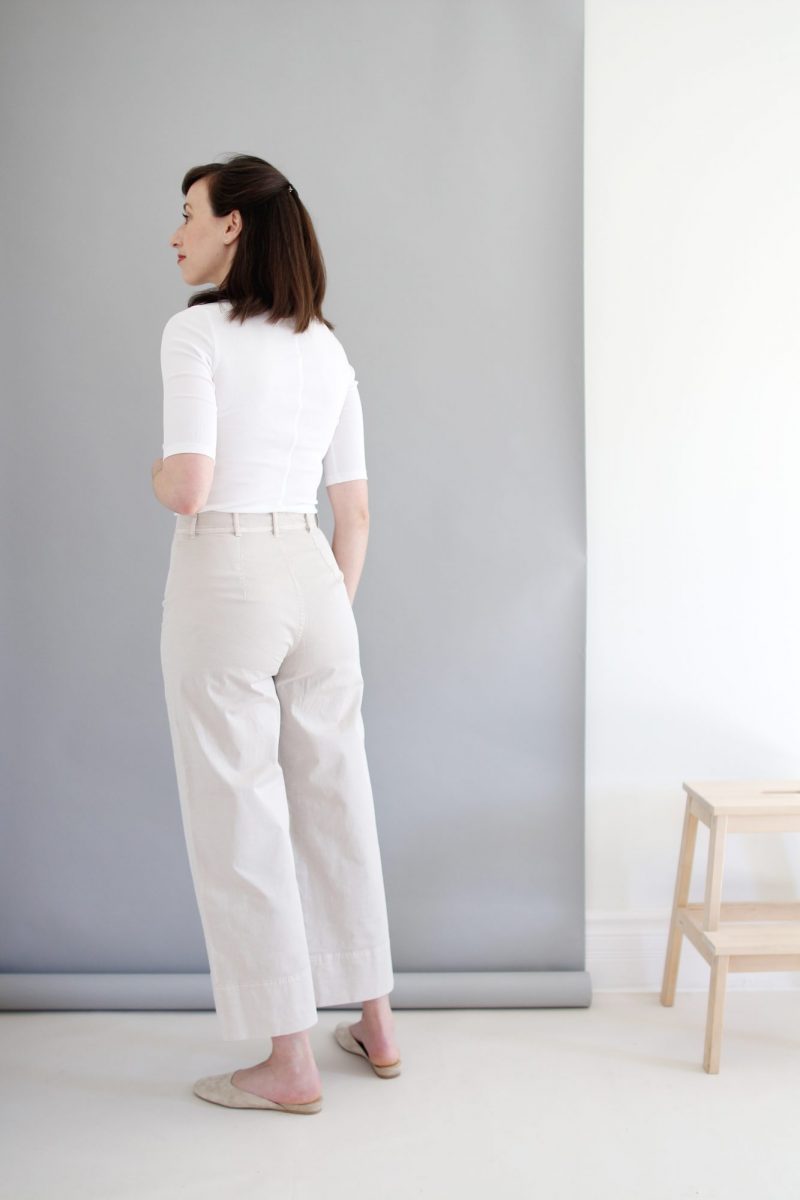 ---
DETAILS
---
As usual it's the details and a bit of careful design that make all the difference when it comes to a classic like chinos. These are the key ones that make the Wide Leg Chino a great pant in my opinion:
WELT POCKETS: These pants have a set of welt pockets on the front. They're almost invisible but if you look closely you can see the opening just below the waist band. This means they sit flat and don't flare open the way the slanted pockets on the wide leg crop do. The designers could have foregone front pockets however, I think that the extra layers help give the front of the pant some structure and they hold their shape through the hip better. Not to mention having a handy spot to stow small things throughout the day.
BACK POCKETS: There are no pockets on the back and I personally love this design choice. It gives a traditionally utilitarian pant a sleek and refined update.
DEEP HEM: I love the super deep, 3.75″ hem on these. It gives them the authentic sailor pant shape and a very clean line at the bottom. This extra material makes them a good option for taller folks who might need a little more length. For shorter individuals, these would be an easy hem for a tailor. Just make sure they keep the deep hem.
TRUE HIGH RISE: These pants sit right at my natural waist and this high rise creates a leg lengthening visual effect. The rise on a size 4 is 11 3/8″.
---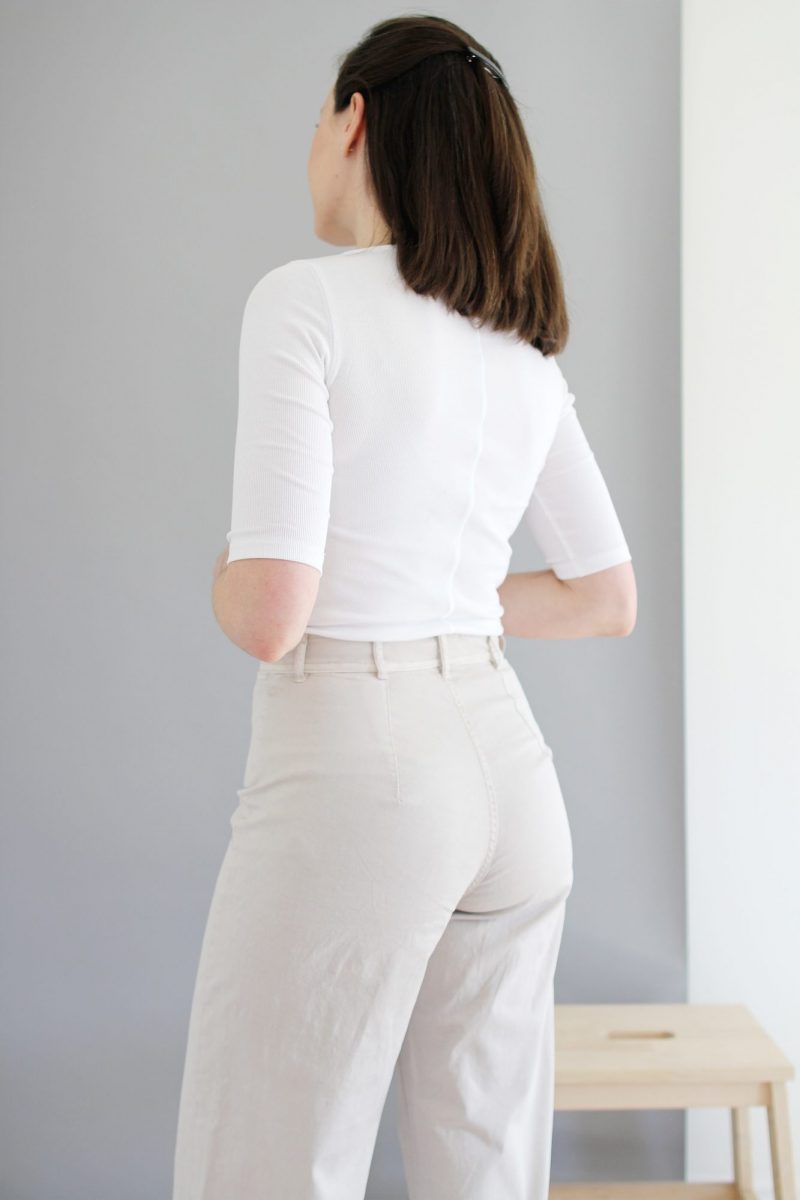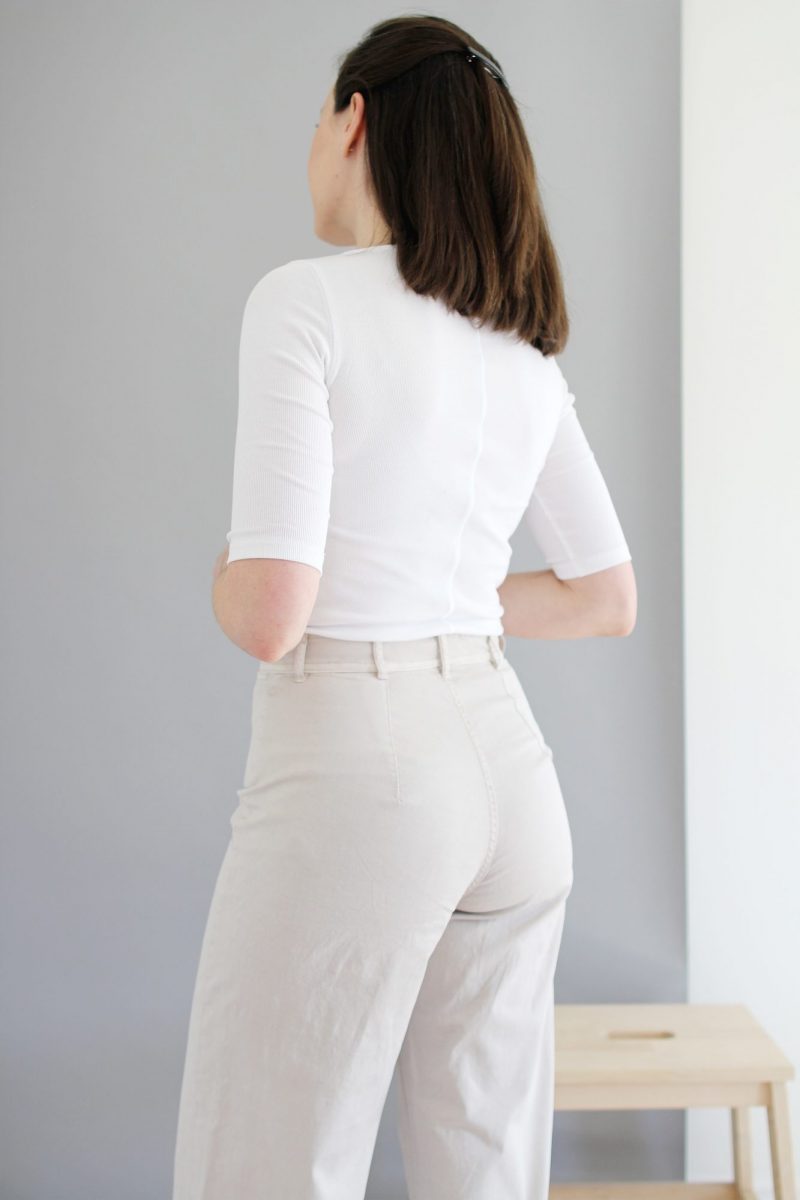 BACK DARTS: This is a similar design to Jesse Kamm's Sailor Pant and a key reason that these pants fit so well. Most form fitting, high rise pants will have some variation of back darts to help the pant contour to the shape of the wearer. The designers were also smart to line the darts up with the belt loops.
---
7 BELT LOOPS: I've been wearing a belt much more regularly this year and find that it tends to slip over the waistband on some pants with fewer belt loops (most have 5). These have 7 loops, which helps the belt stay in place.
STONE GREY: I really love all the colours these pants come in but this soft grey tone was the most versatile for my closet and exactly what I'd been looking for. It's dark enough to contrast white but it's also fresh and light for the spring and summer seasons.
---
That's it for my Wide Leg Chino review! Feel free to ask any additional questions in the comments.
Now, onto the styling!
---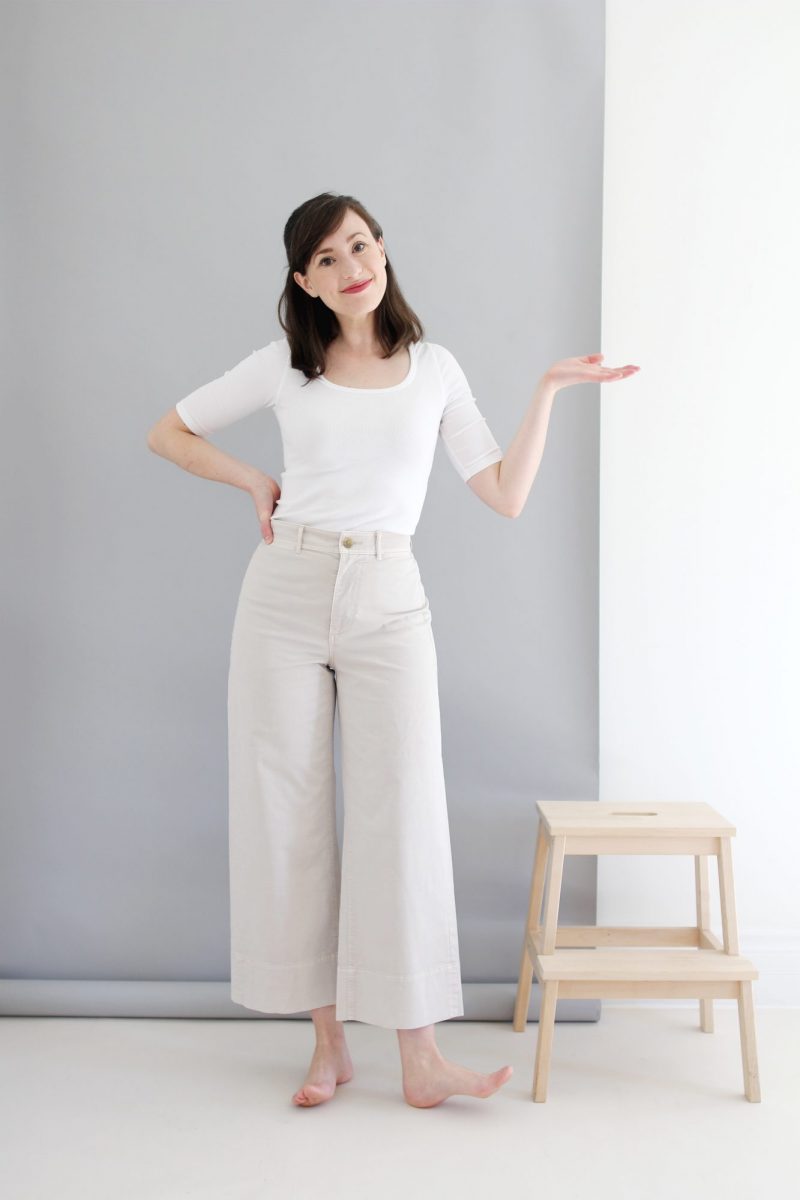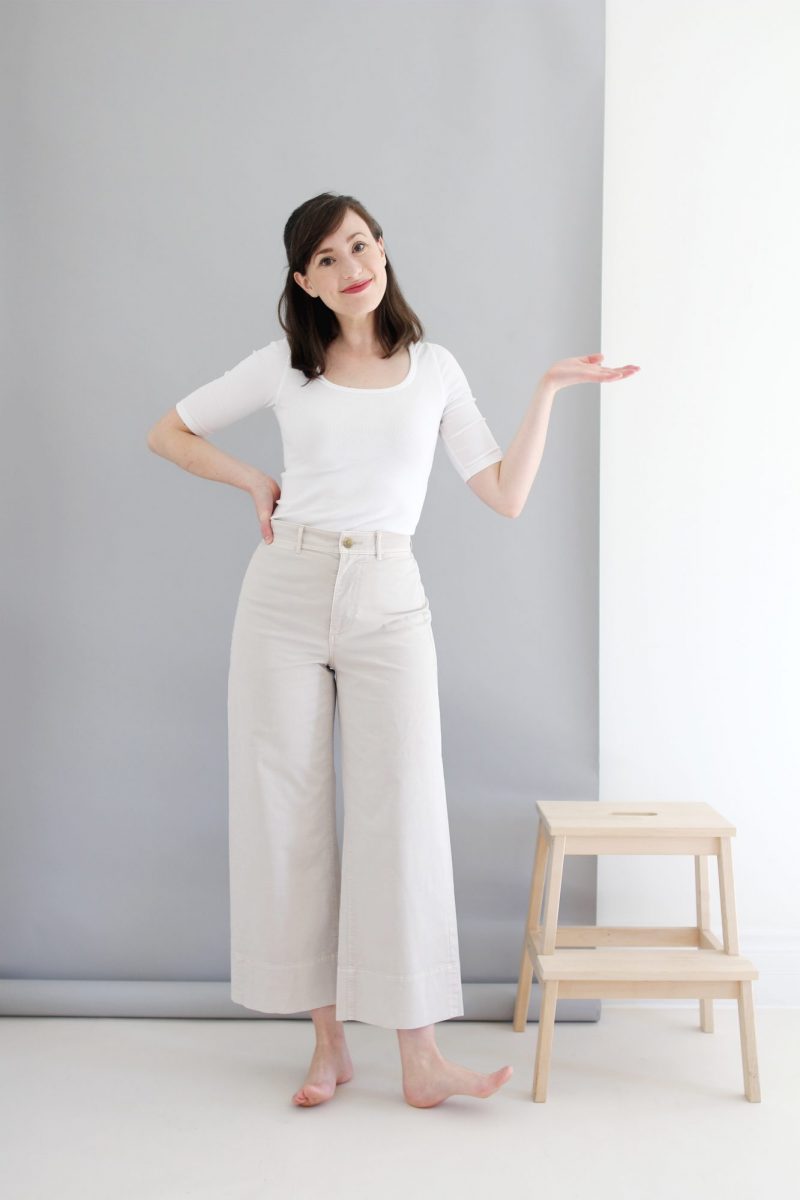 ---
1 BASE – 6 LOOKS
---
I thought it would be fun to share how I've been playing around with the styling of these pants. I really love them paired with a micro rib scoop neck tee for spring so I've put together a series of 6 outfits using this simple base that can work for so many looks!
---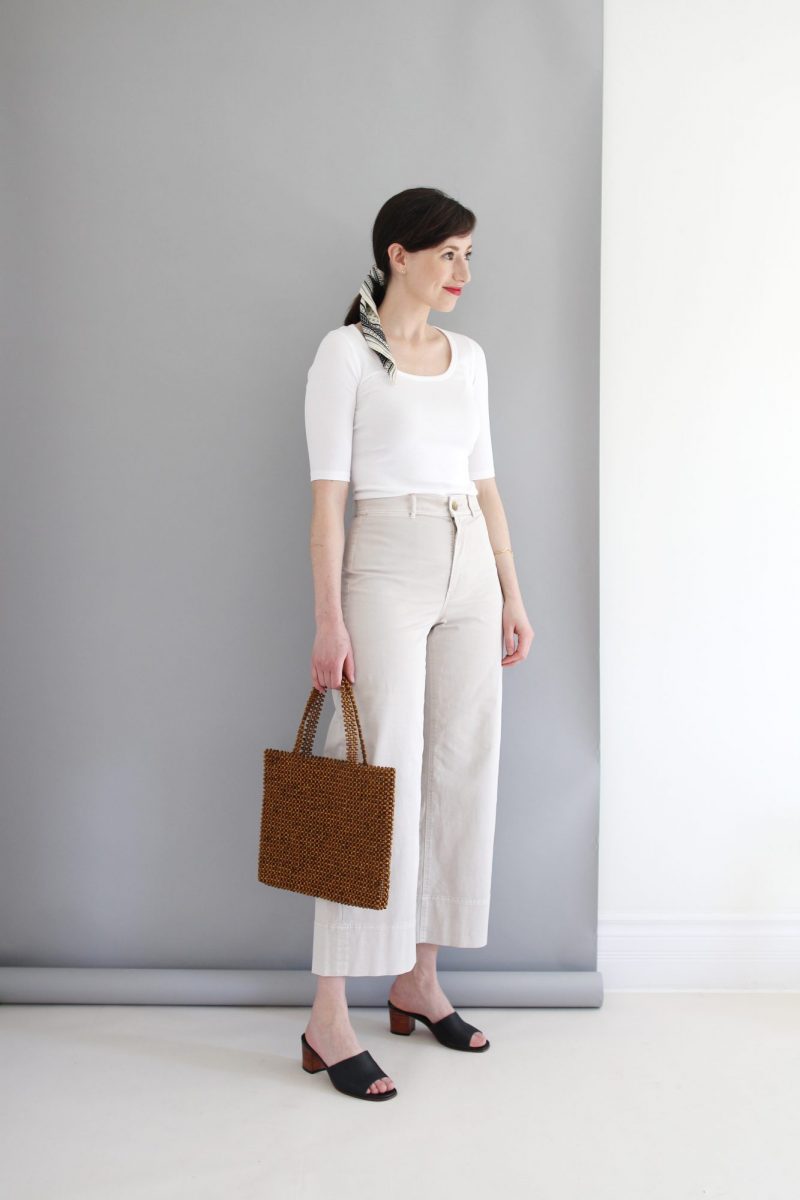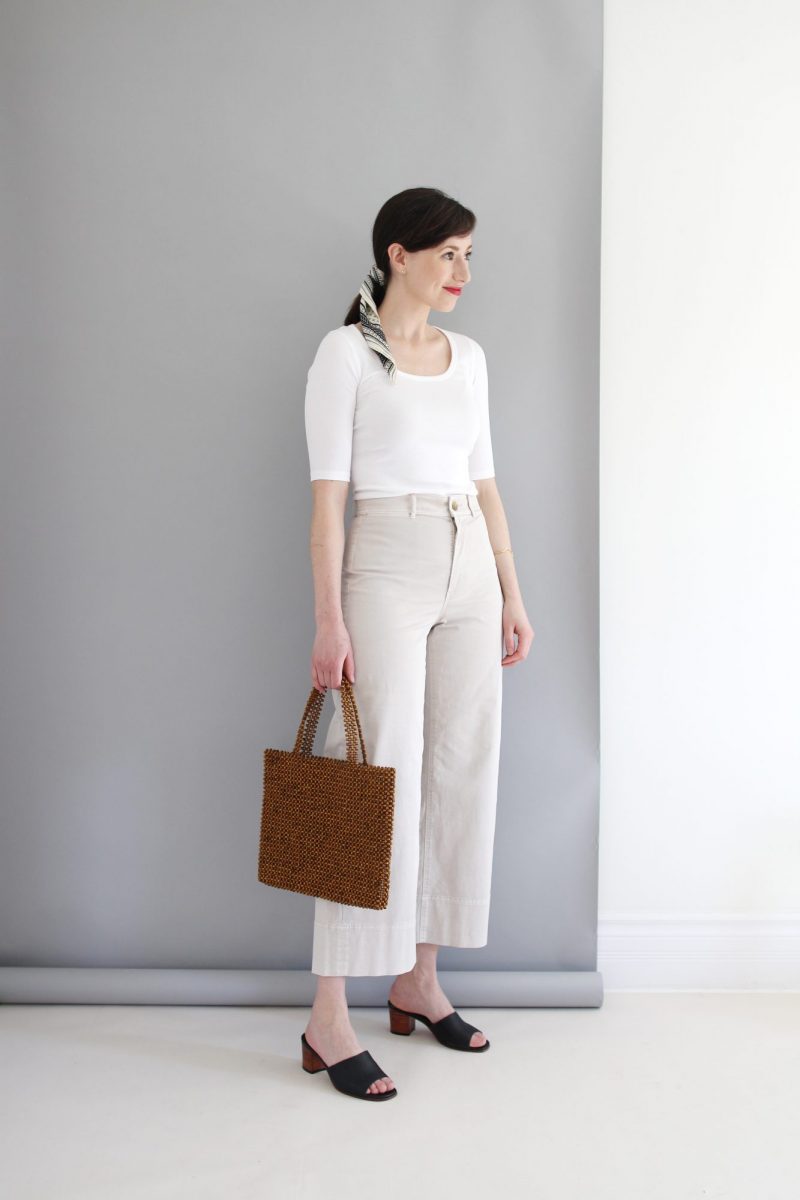 ---
LOOK 1
ADD: Bright red lip + Scarf Tied Ponytail + Beaded Bag + Block Heel Mule + Gold Bangle
---
MICRO RIB TEE + WIDE LEG CHINO | EVELANE || BAG | ABACÁ || MULE*| gifted NISOLO || SCARF* | n/a A PEACE TREATY || *Linked to similar

---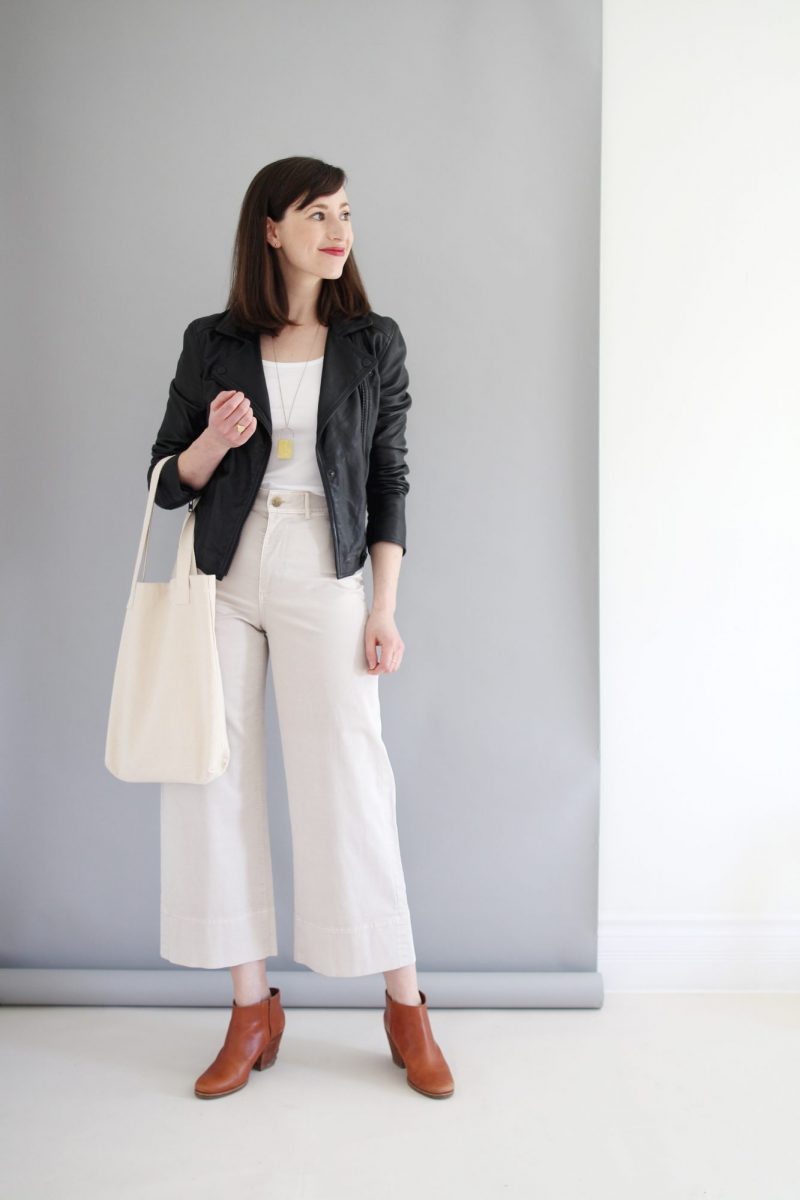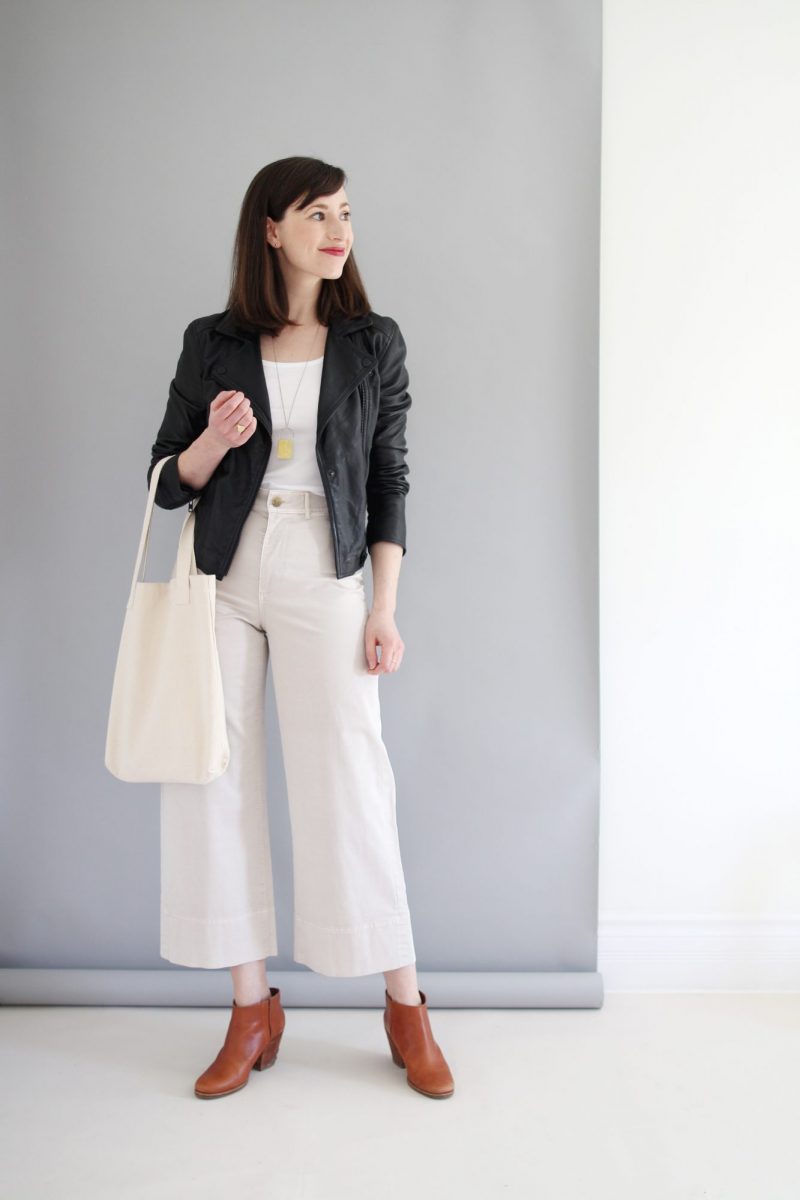 ---
LOOK 2
ADD: Leather jacket + Long Necklace + Canvas Tote + Brown Ankle Boot
---
MICRO RIB TEE + WIDE LEG CHINO | EVELANE || TOTE* || MARS BOOT | RACHEL COMEY || LEATHER JACKET* | MADEWELL || LONG NECKLACE | gifted CLAUS || *Linked to similar

---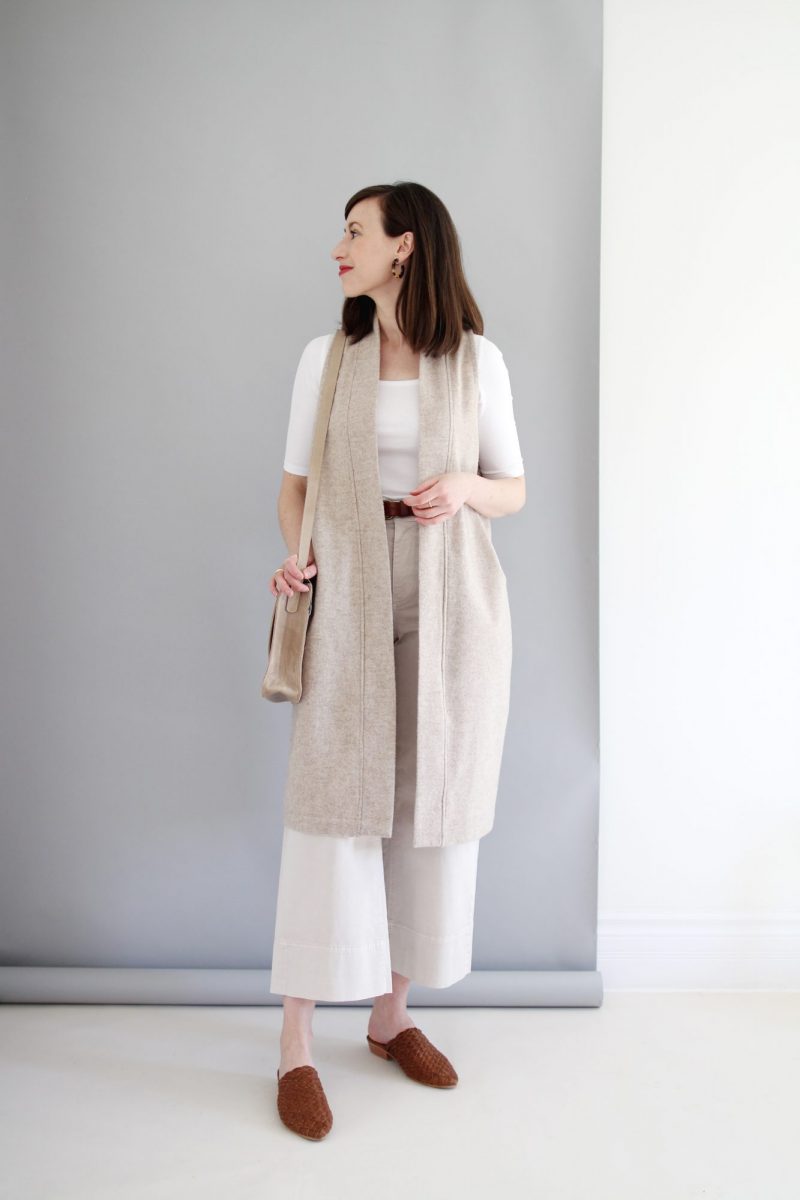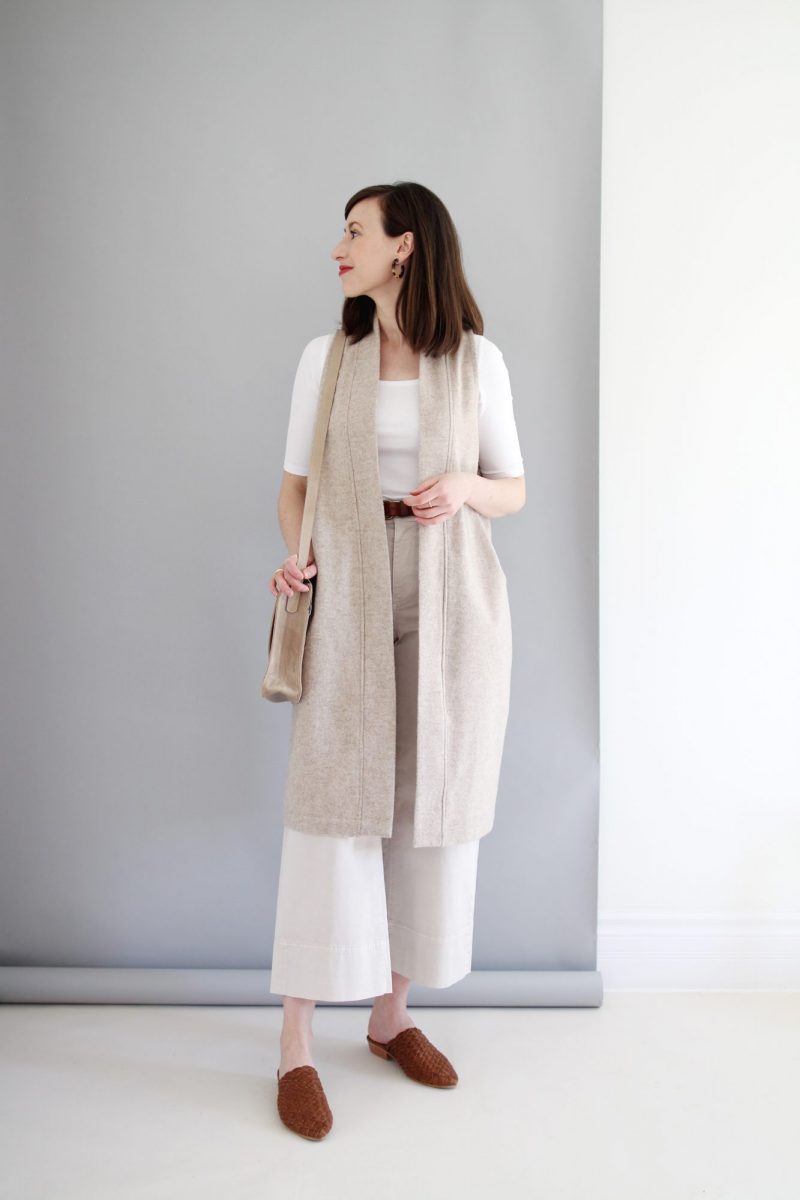 ---
LOOK 3
ADD: Brown Belt + Woven Mule + Light Duster Vest + Tonal Cross-body Bag + Hoop Earring
---
MICRO RIB TEE + WIDE LEG CHINO | EVELANE || DUSTER VEST| gifted ONLY CHILD n/a|| THIRAS BAG | gifted ABLE || PARIS MULE | ST. AGNI || KATE HOOPS | MACHETE | *Linked to similar

---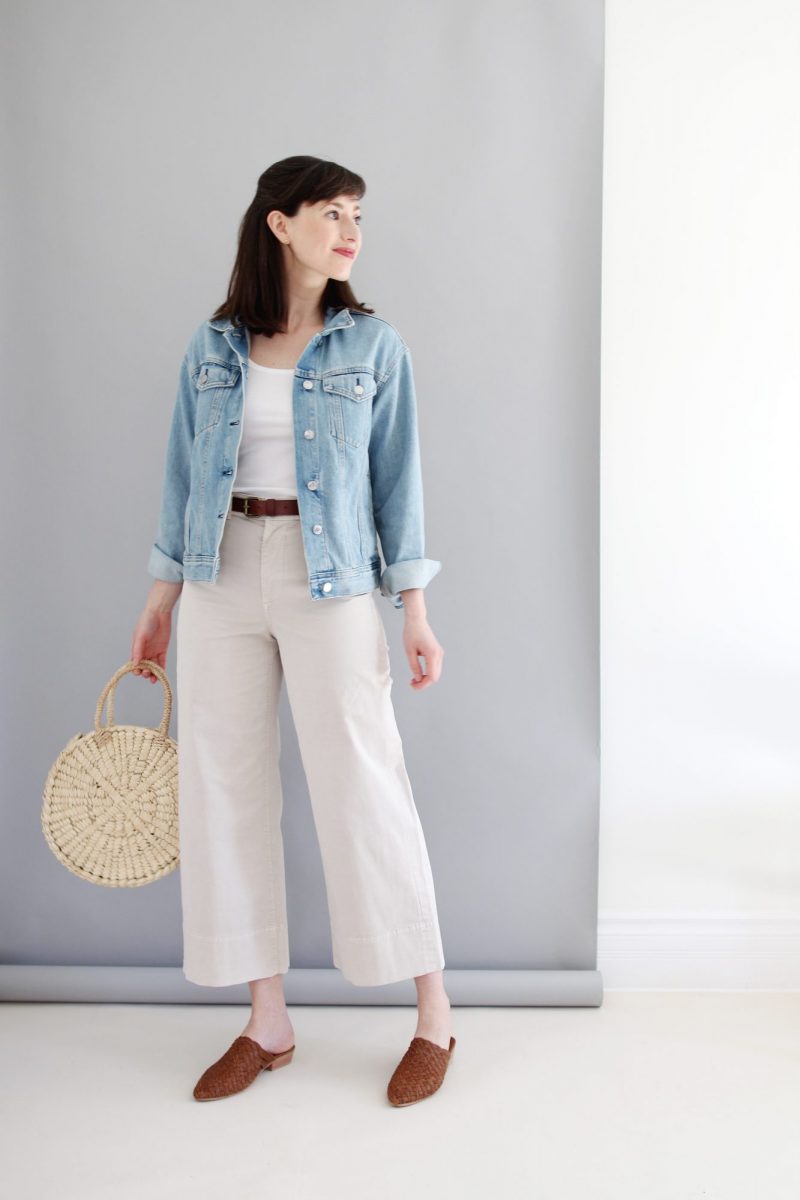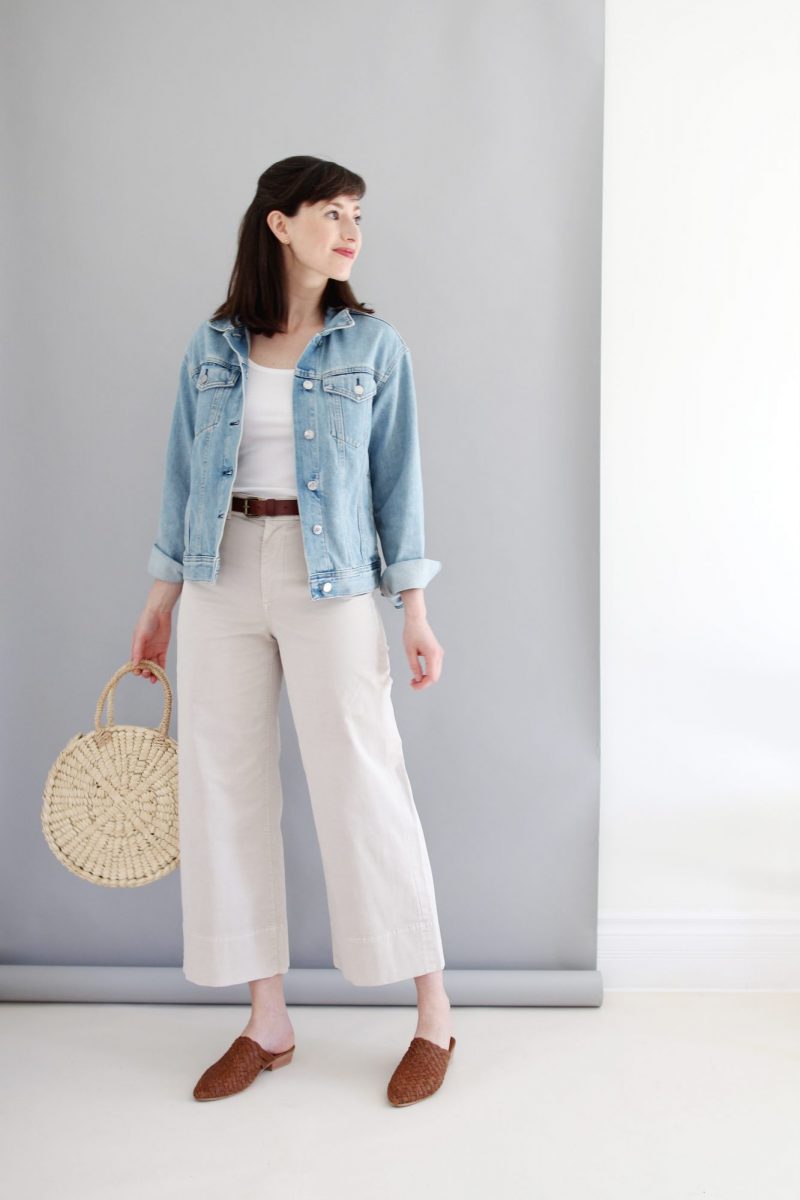 ---
LOOK 4
ADD: Brown Belt + Woven Mule + Denim Jacket + Woven Circle Tote
---
MICRO RIB TEE + WIDE LEG CHINO + DENIM JACKET | EVELANE || BELT | ATELIER B || CIRCULO BAG | gifted ARTISAN & FOX || PARIS MULE | ST. AGNI

---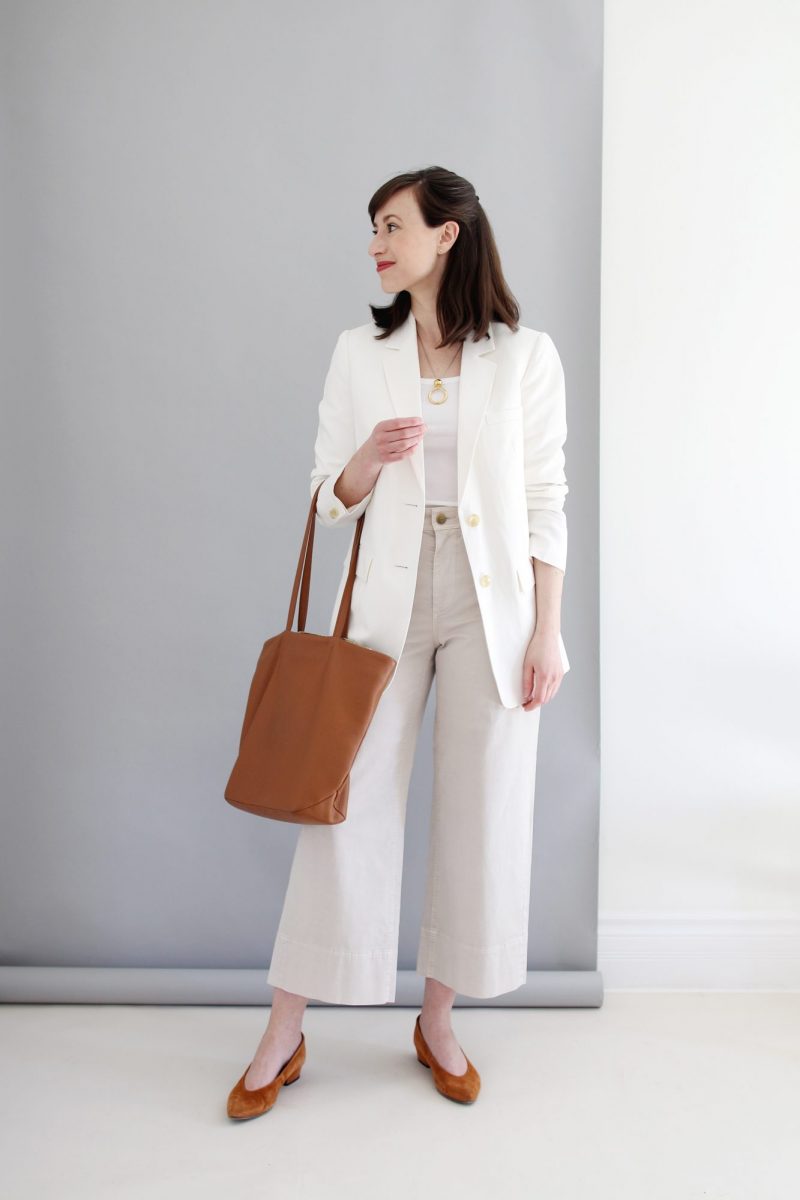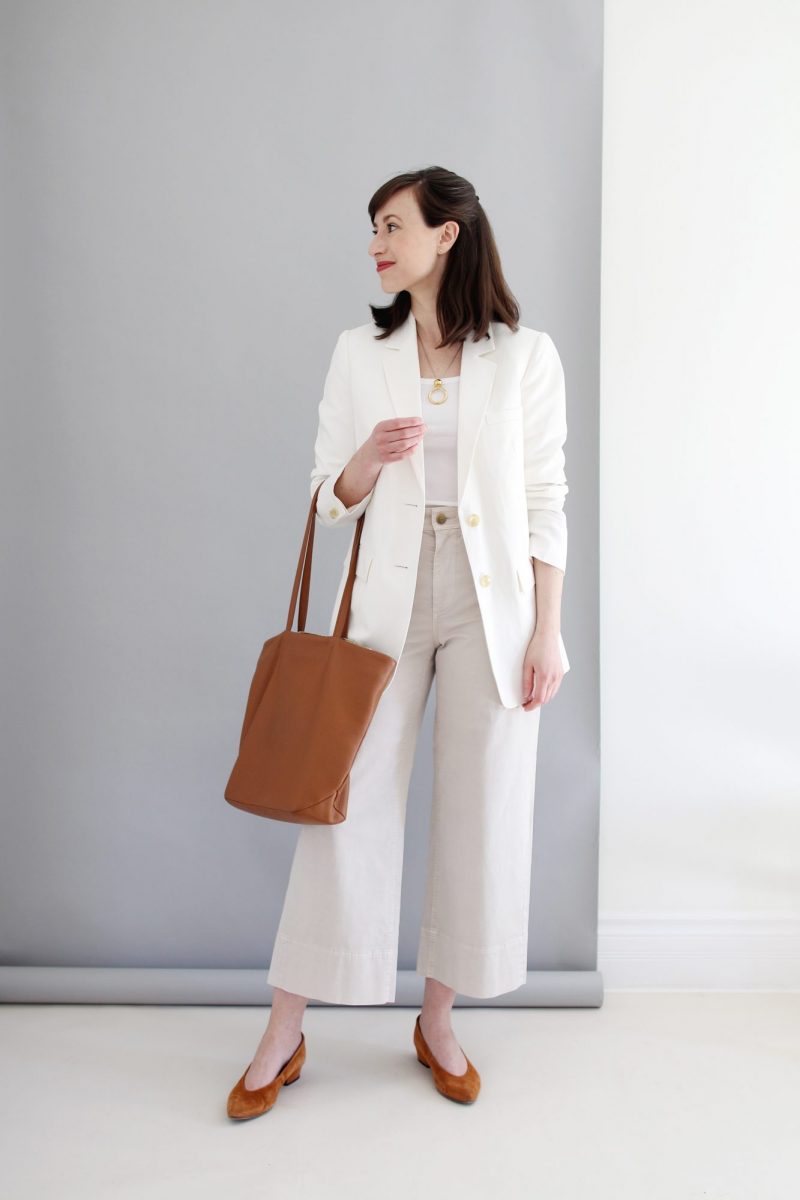 ---
LOOK 5
ADD: Hair Barrette + Gold Necklace + White Blazer + Cognac Tote + Suede Pump
---
MICRO RIB TEE + WIDE LEG CHINO + WHITE BLAZER | EVELANE || CIRCLE NECKLACE* | YOUNG FRANKK || BROWN TOTE* | gifted OPELLE || SUEDE PUMP* | n/a L'INTERVALLE || *Linked to similar

---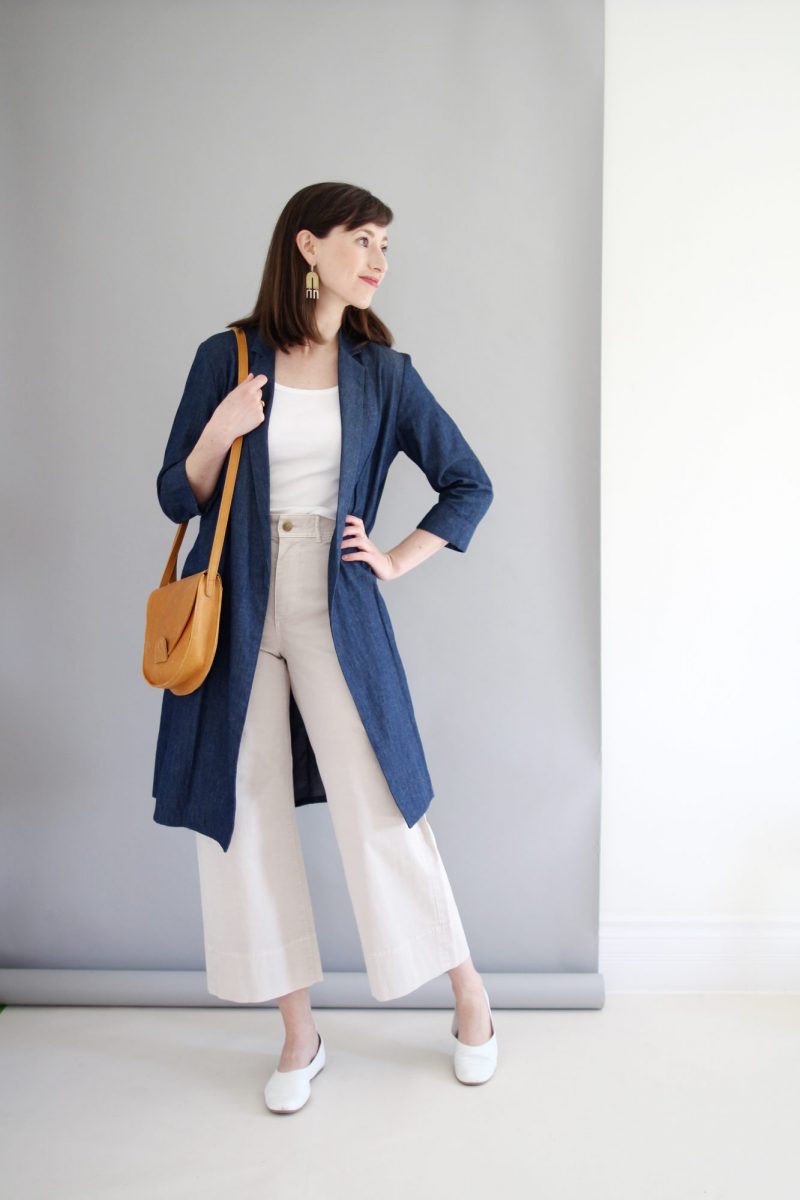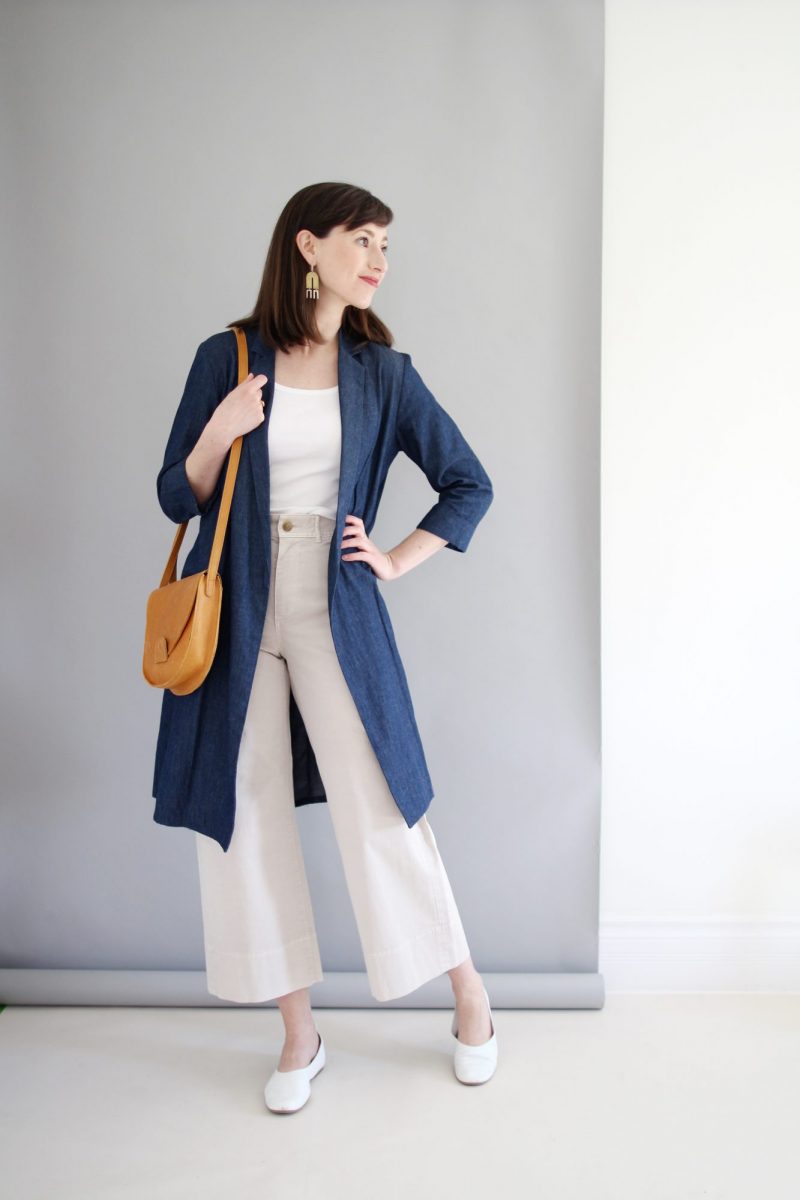 ---
LOOK 6
ADD: Denim Duster Jacket + White Flat + Cognac Cross-Body Bag + Fun Statement Earring
---
MICRO RIB TEE + WIDE LEG CHINO + DAY GLOVE | EVELANE || ARC + LINE EARRINGS | gifted NATALIE JOY || HANA BAG |gifted ABLE || DENIM DUSTER* | n/a ALI GOLDEN || *Linked to similar

---
C'EST TOUT!
Thanks for reading today's review and outfit post!
Let me know if you have a favourite look or any questions about these pants.
---
This post is not sponsored but contains affiliate links. When you shop via the links above I may make commission on a sale at no additional cost to you. I always strive to give information that is as honest and accurate as possible to help you add pieces you'll love wearing long-term. Thanks for supporting Style Bee! All opinions are always my own.