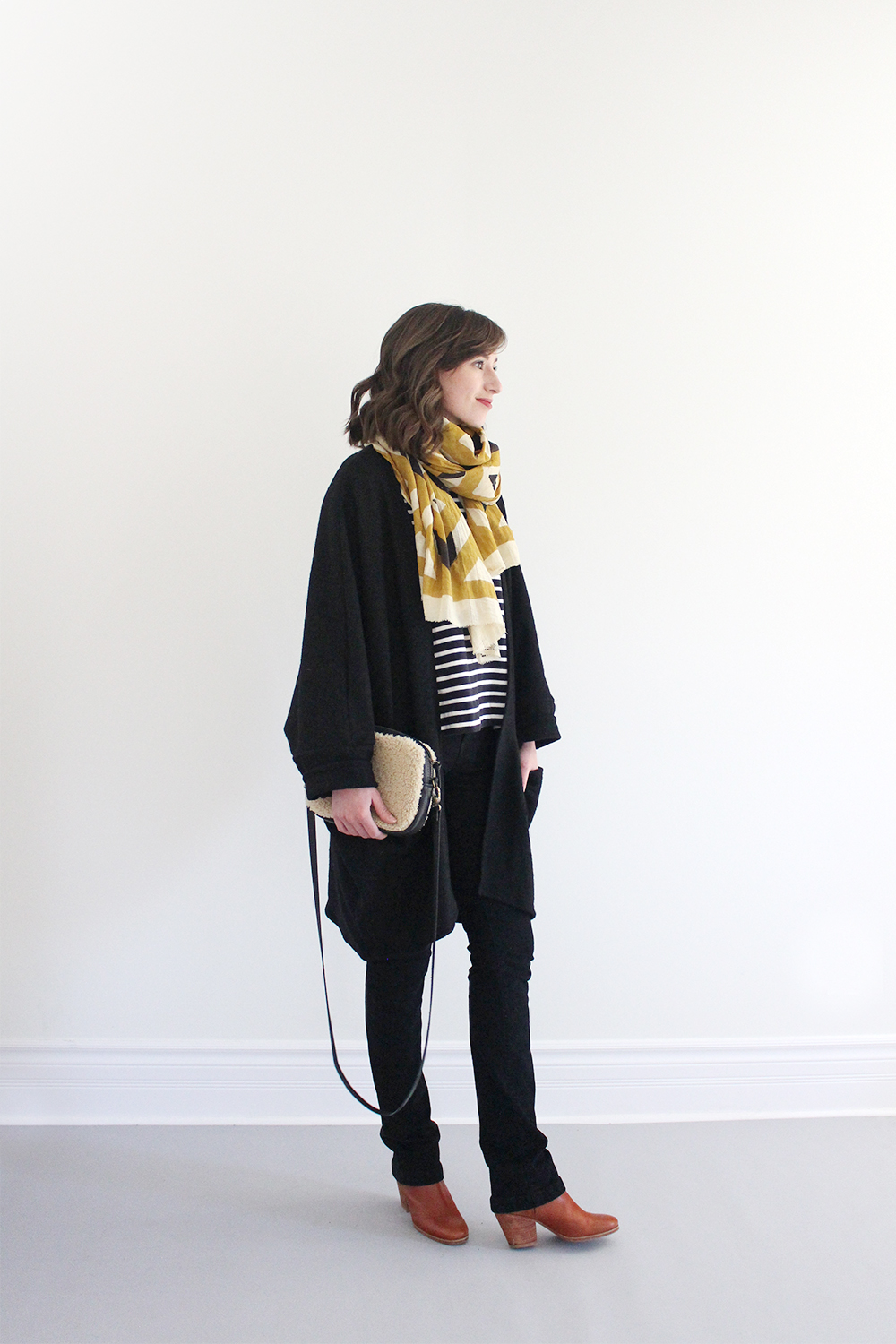 I can't quite believe it but this is the final look from my Fall Foundation closet series. It took everything I had not to share this one sooner but I held off and managed to save my personal favourite for last. I love that I'm basically wearing all black but it doesn't come across as too dreary or blah. I think the pattern mixing and the pops of warm tones help a lot to add some interest. This combination of skinny jeans, a cotton tee, big sweater and boots is indeed my Fall uniform. I always feel great in this type of outfit and it's pretty much impossible to screw up. It's also one of those age defying looks that works whether you're 22 or 65!
In particular, these sky rise jeans from Yoga Jeans have been such a closet hero over the last couple of months. I was initially a bit skeptical about all the hype they've received but my sister-in-law swears by them and now I'm entirely on board! They just fit and feel incredible to wear, whether I'm trekking through the trails with Dobby, sitting for hours at my desk or heading out for a fun night on the town. They hug and give in all the right places and they hold their shape unlike any stretchy denim I've worn before. But the best part is that today, I get to GIVE a pair of them away!! You could be rocking your choice of Yoga Jeans as soon as next week! Scroll down for details…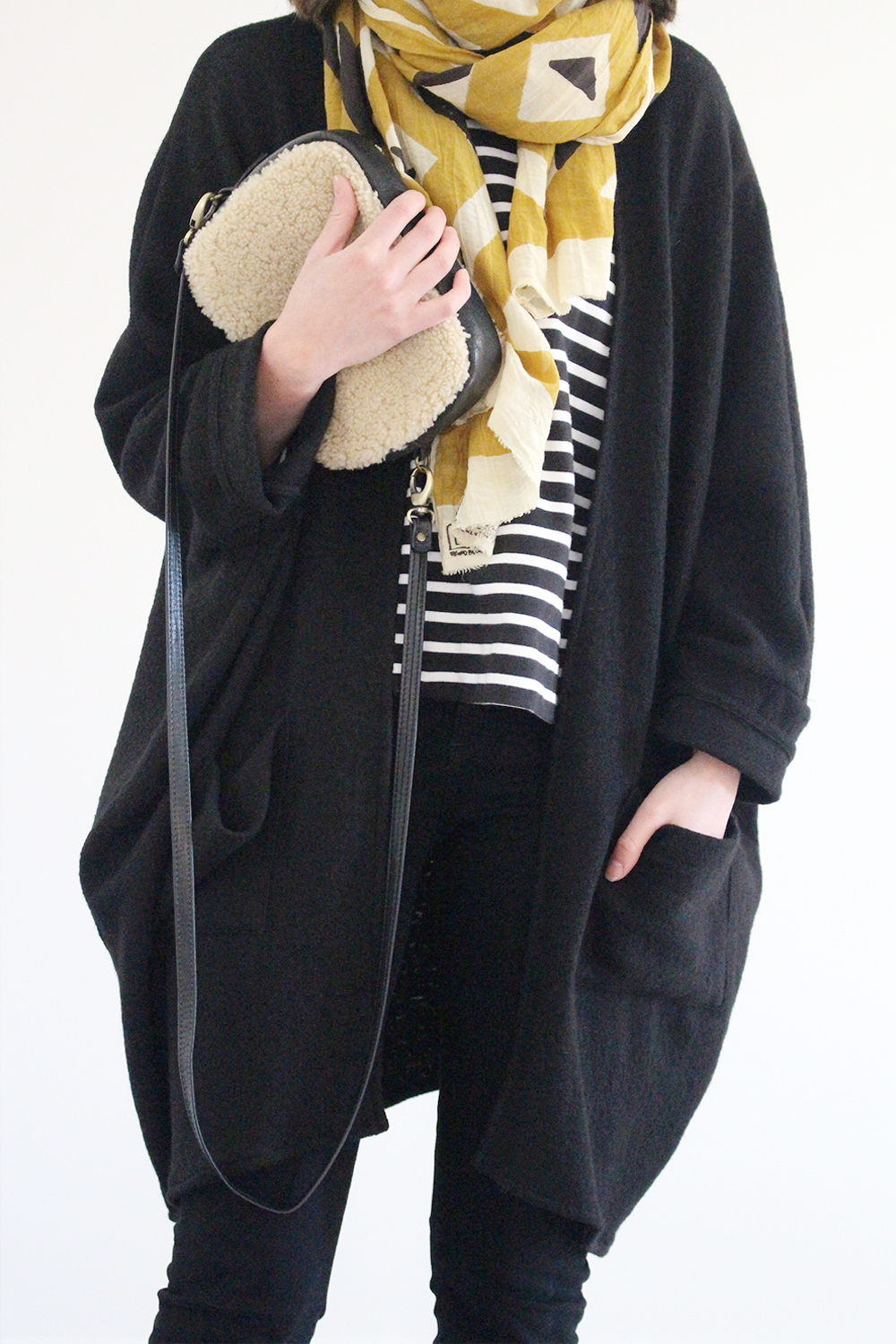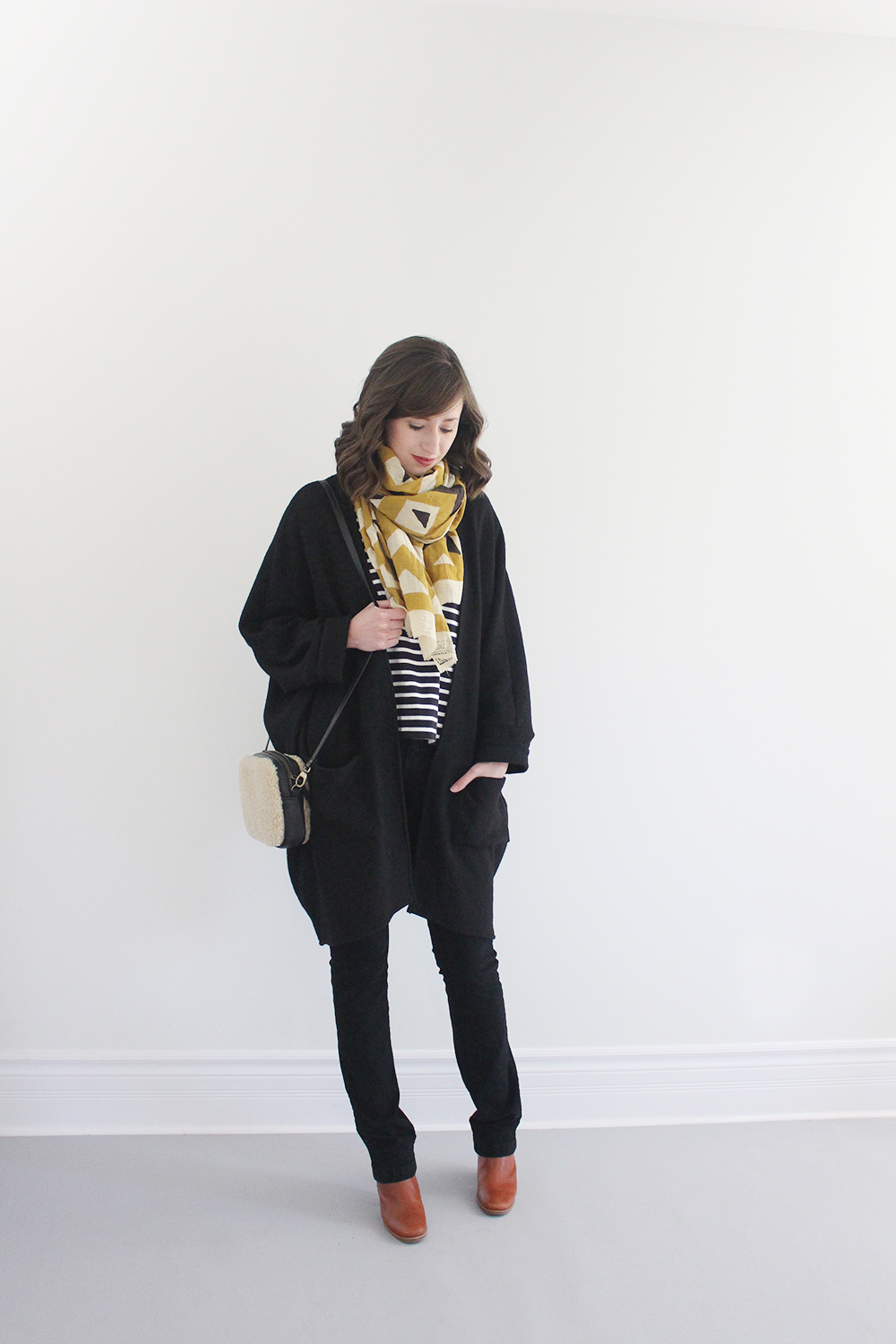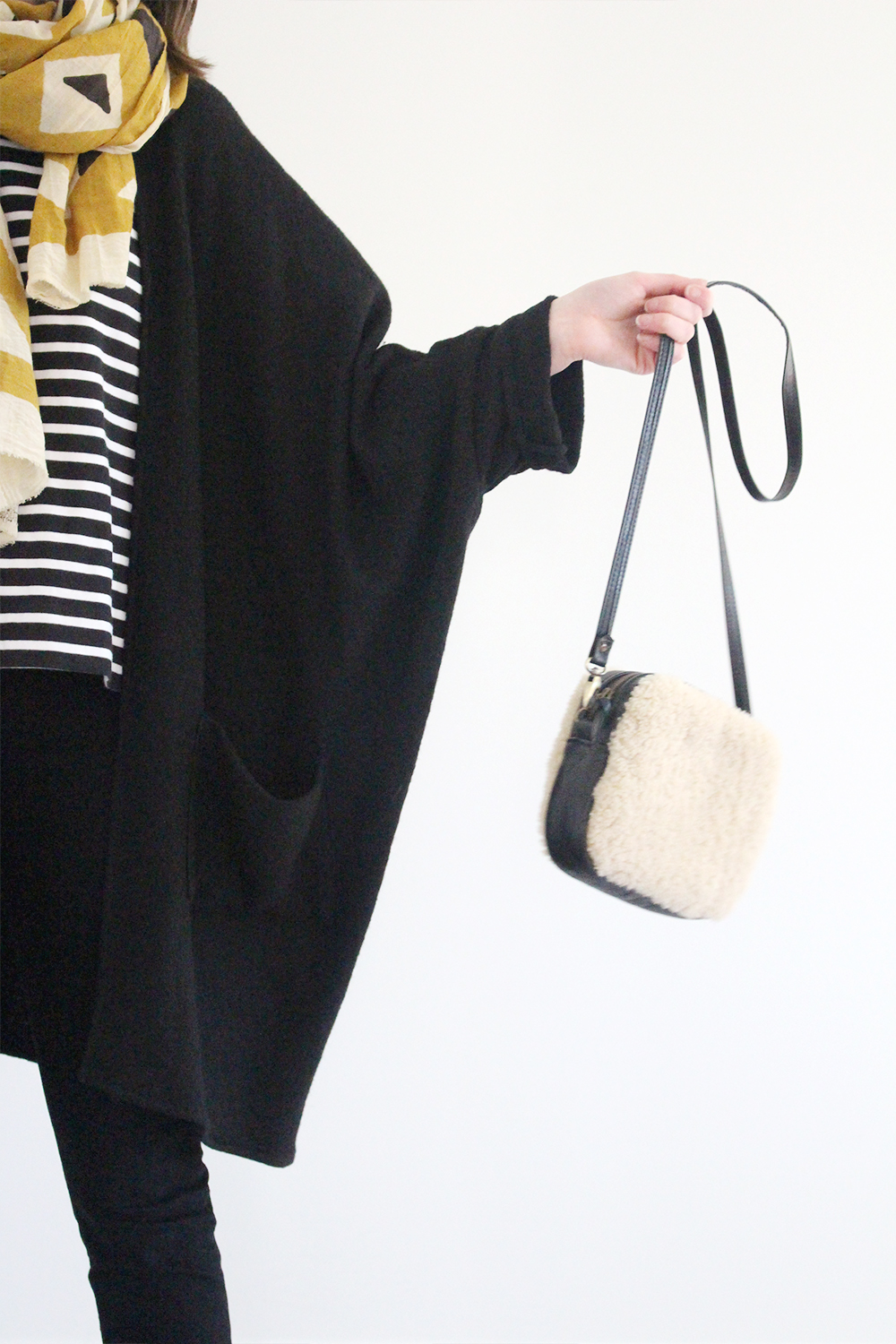 MAIN INGREDIENTS

First Rite Cape Sweater via NA NIN (also in grey and loving this one) | Rachel Comey Boots (black and grey suede) | Yoga Jeans via Grey Rock | Boxy Striped Tee Everlane | Blockshop Textiles Scarf | Primecut Bag old (love this one so much)
---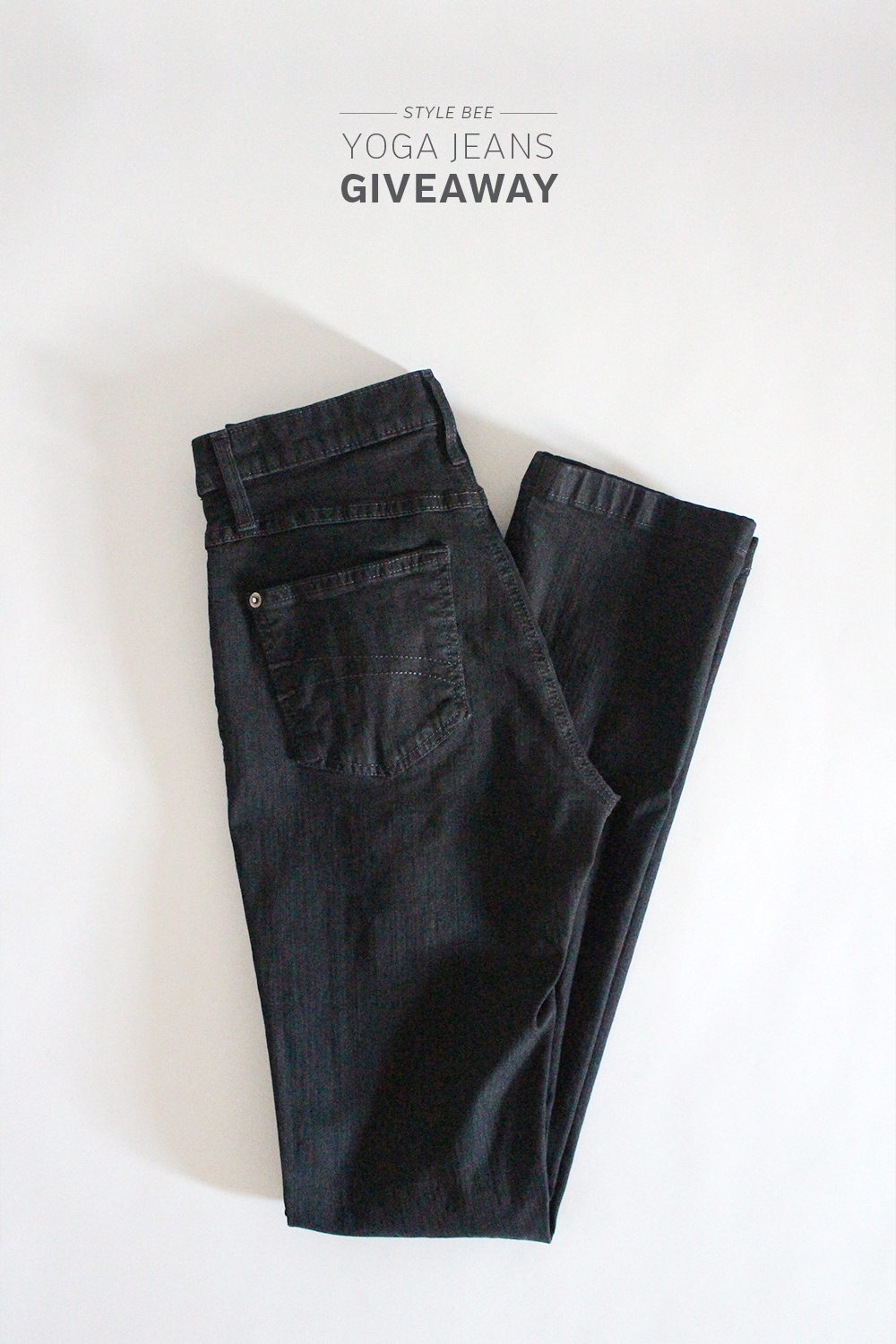 YOGA JEANS GIVEAWAY
A few months ago I met with Beth, the owner of Grey Rock Clothing Co., a lovely little boutique in Guelph that carries beautiful sweatshop-free clothing lines from around the world. As you may have gathered, conscious consumerism is something I have become increasingly interested in over the last year or so and it was great to learn about Beth's experience and how passionate she is about supporting fair trade, ethically made clothing. When I asked Beth about her most popular brands it was no surprise that Canadian made Yoga Jeans came up first. I'm always excited to discover new denim brands and after trying about 10 different pairs from the extensive Grey Rock selection I was a convert. See how I've styled them one, two, three, four, five different ways since.
From there Beth and I decided to collaborate and host a giveaway so one of you could experience Yoga Jeans first hand! Woo! Here's how to enter:
Check out Grey Rock's selection of Yoga Jeans here. 
Leave a comment below with your favourite pair and how you'd style them. (My style isn't online but available in-store.) 
That's it! 
For an additional entry check out my latest Instagram post (@leevosburgh)
Winner will be announced on Friday (Nov. 13)
Open to Canadian and US residents
Good luck!! Thanks so much to Grey Rock for partnering on this post and to you for following along on my quest for closet contentment!