Ready for some lean closet goodness? I hope so because today I'm taking a look at my 2016 Closet Mission, assessing where I'm at and sharing my 50 piece Fall + Winter Wardrobe. I've had lots of messages asking whether or not I'd be doing a cold weather version of what I did for Spring/Summer and your interest in it was the perfect motivation to follow-through with it. As you might have seen, last week I did an in-depth closet edit through which I used a 5 step approach to reducing and curating my closet, letting go of the excess and getting everything organized for the chilly months ahead. I can't tell you how great it feels to have only the stuff I'm excited to wear and know I'll get lots of use out of left.
Which brings me to today's post, all about said 'good stuff'. So here's what we're going to be covering:
CLOSET MISSION CHECK-IN

MY 50 PIECE FALL/WINTER WARDROBE

10 FW CLOSET HEROES WORTH INVESTING IN
---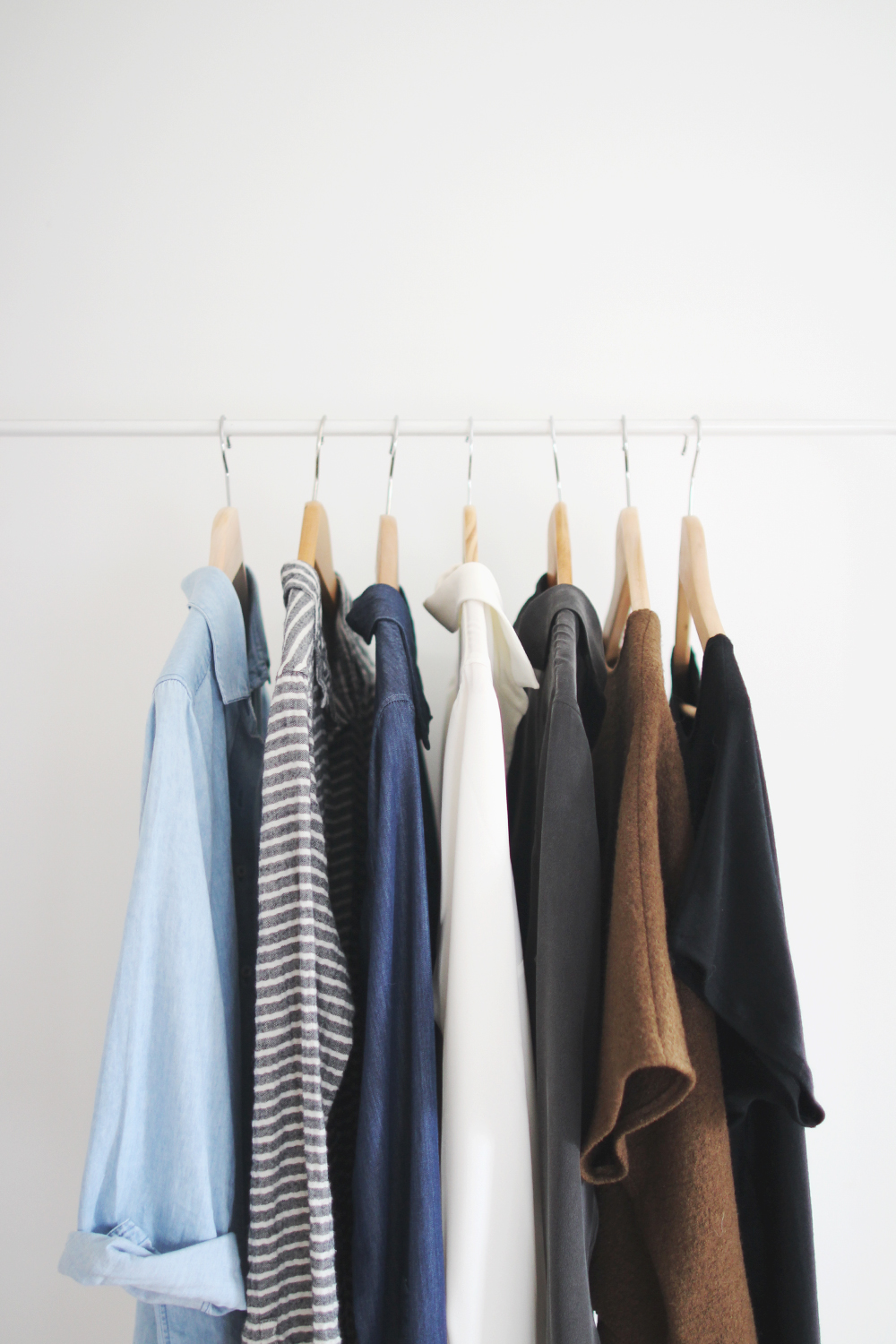 CLOSET MISSION CHECK-IN
It's been a while since I looked back at the 5 goals I set out with at the start of the year. In fact, I was hard pressed to recall them without looking back at my original post, whoops! But here they are and here's how I'm doing with them:
1 | Reduce – This goal has had some ups and downs. I've been really good about shopping less this year, but that was in large part due to collaborations and receiving some beautiful free product. If I'd actually bought every item that's found its way into my closet, I'd be looking at some serious credit card strife but luckily that's not the case.
As you know I've been holding off on partnerships for a while and I intend to maintain that through to the end of 2016. I'll go into a bit more depth about how sponsorships and free product have impacted my style both for good and for worse soon. That all said, I've managed to spend less and save more than any year to date so I have to give myself 7/10 for this goal overall.
2 | Create – This goal has taken a major backseat and instead of feeling guilty about it, I'm accepting that there are only so many hours in the day and that realistically we find time for what we really love to do. If I really wanted to sew clothes or make jewelry or whatever else I'd categorize as 'creating' I would have. Plus, it's not like these skills can't wait their turn! Something tells me with a wedding on my horizon there will be plenty of opportunities to make up for lost time on this one next year. Lets just give this one a grade of N/A for the moment OK?
3 | Connect – I've been so lucky to connect and partner with some really great independent designers and brands this year. Some have even become people I consider good friends and creative confidants, which is incredible! While this element of the blog is quiet right now, I've already got some exciting prospects for 2017 that feel 100% right. While I went a little overboard saying 'Yes!' I still have to give myself props for pursuing this goal head on. 10/10
4 | Empower – This is my favourite part by far. Getting emails, messages and comments from readers, fellow bloggers and style enthusiasts alike is seriously the best part of all of this. I'm so glad that I've been able to share my process (aka responsible style obsessions) and encourage others to streamline their personal style and shopping habits. I feel like this Fall in particular has been the best yet for this Closet Mission, with Wish Lists, Prep, Edits and 10×10 Challenges all getting involved. While I wish I could post more frequently I will give this goal a 6/10 for effort.
5 | Live Better With Less – This one will always have room for improvement but I've been feeling so much more content with my current closet and have seriously curbed my impulse shopping tendencies. At the same time, I've felt constantly stressed this year and it's worn me down. Home renos, busy job, growing blog, wedding planning etc. has been a lot to juggle and I've let some important things like keeping in touch with friends and looking after my health take a backseat. Not so good.
But there is a light at the end of the tunnel! As we near the end of our last major renovation project (our entrance hall and dining room), I'm feeling the weight of living in constant construction mode slowly lifting. As a true homebody, it's been very difficulty to live so unsettled for so long but of course, it will be well worth it. I'll share my dining room decor plans soon! I'll go easy and give myself a 5/10 for endurance!
So that's my current Closet Mission assessment. Now let's get to the good stuff!
---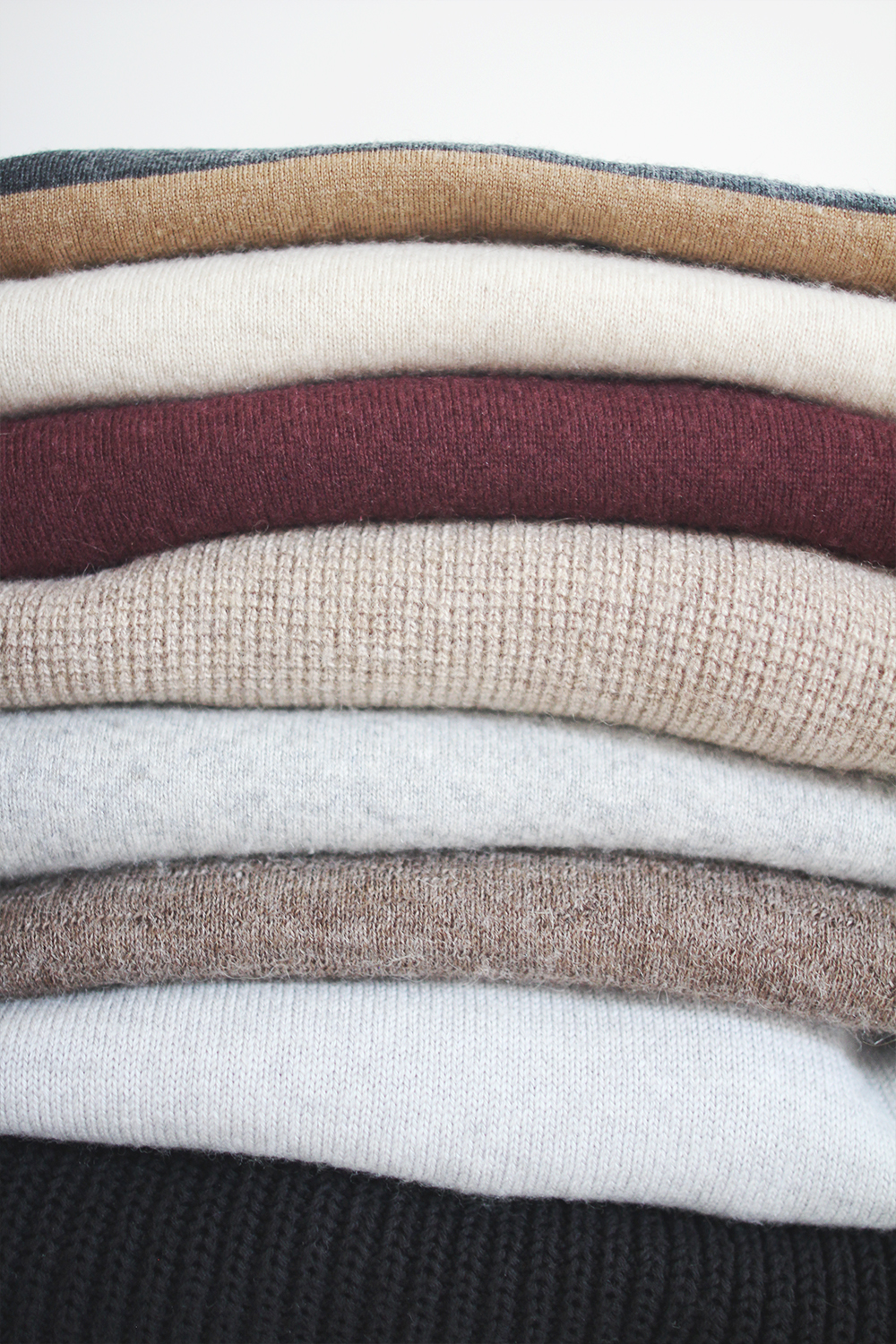 ---
A FEW THINGS TO NOTE
WHY 50 PIECES? As I mentioned in my Spring + Summer version 50 pieces is for all intents and purposes, an arbitrary number that felt right to me for the time being. 40 was too small and 60 was too big. It also just kind of organically worked out that way. I did a big closet edit and when I counted what was left for Fall + Winter it was pretty much exactly 50 items.
HOW IS THIS NOT A CAPSULE? To me a capsule is finite. Once you've decided what's in there, that's it. This isn't necessarily a bad thing, but it makes me personally feel a little claustrophobic and that's not good. This lean closet idea I'm working with leaves room for improvement as you go and even if I don't add anything for a couple months I like to know I have the option. Really it just comes down to the phrasing and I like the sound of a lean closet more than a capsule closet. Overall, I see this approach as a way of life for me more than as an exercise in restraint and hard boundaries.
IS THIS ALL YOU'RE WEARING ALL F/W? For the most part yes, but I'll definitely work in pieces from my Spring and Summer closet as well. I'd love to have a totally seasonless closet one day, which may or may not be a possible goal for 2017.
ABOUT THE LINKS – I've linked wherever possible to the exact item. That said, a lot of these items are from previous years so if the exact one is not available I've tried my best to find something very close, that's made responsibly. Hopefully that helps!
---
— 50 PIECE FALL + WINTER LEAN CLOSET —
---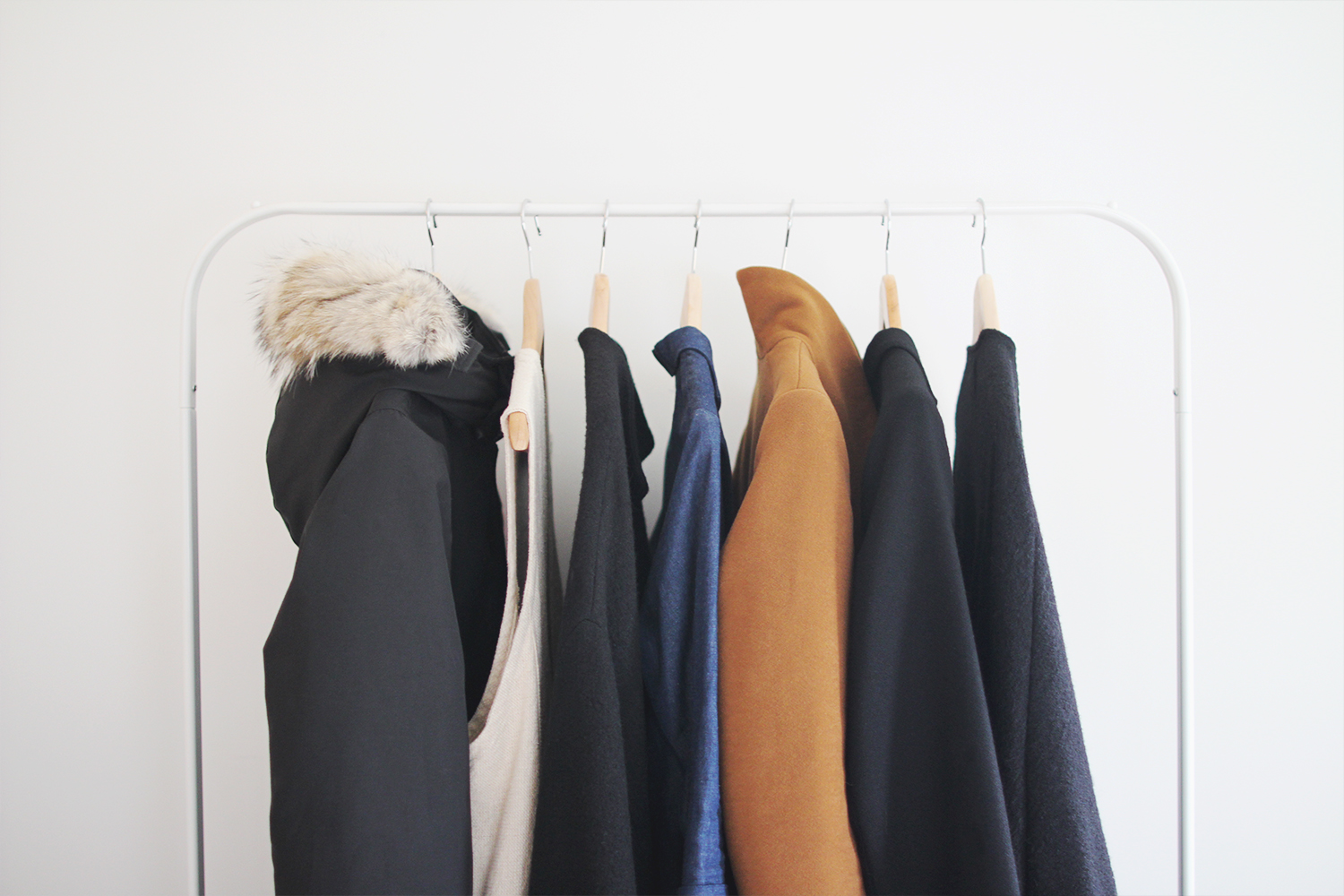 OUTERWEAR
---

---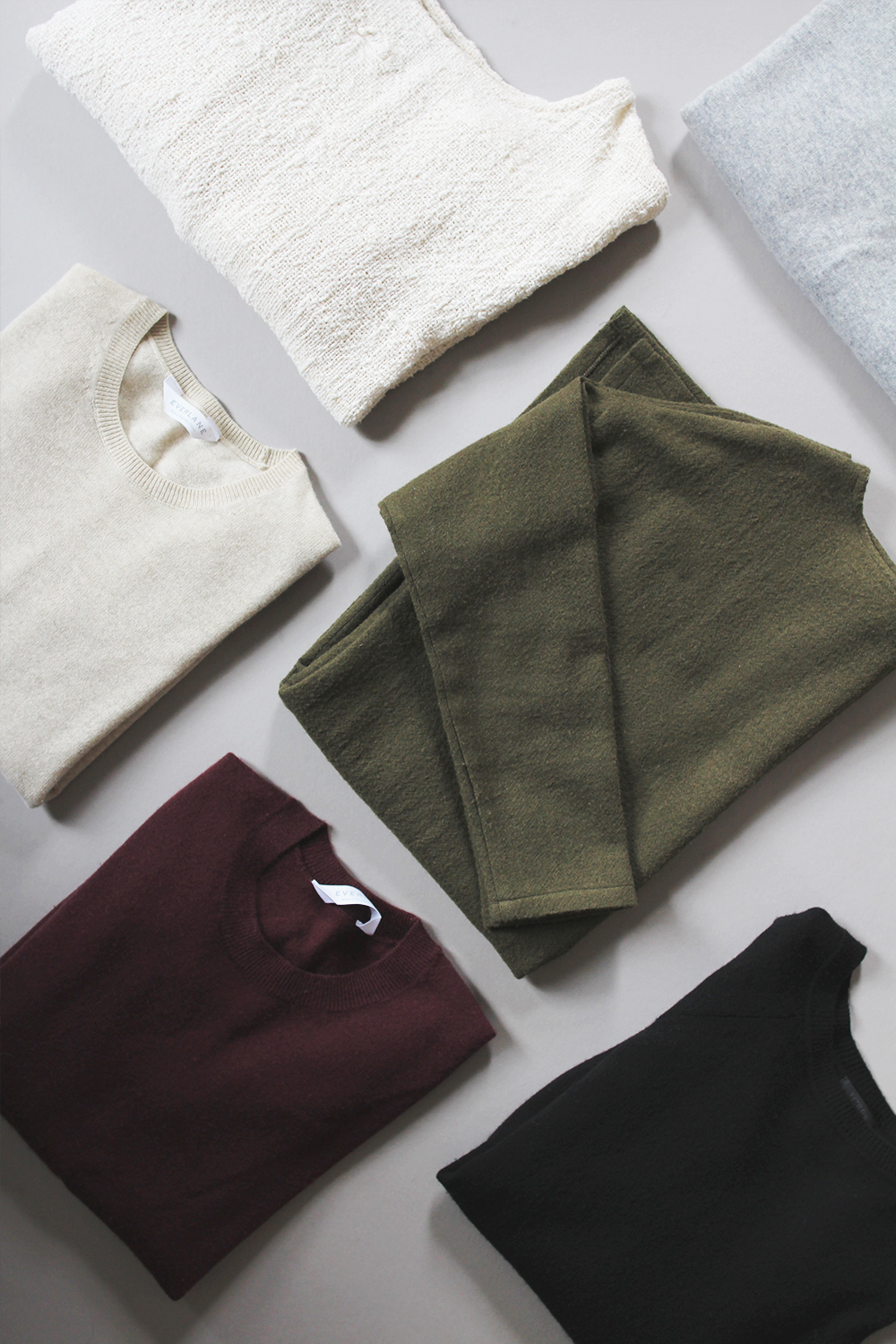 SWEATERS
---

---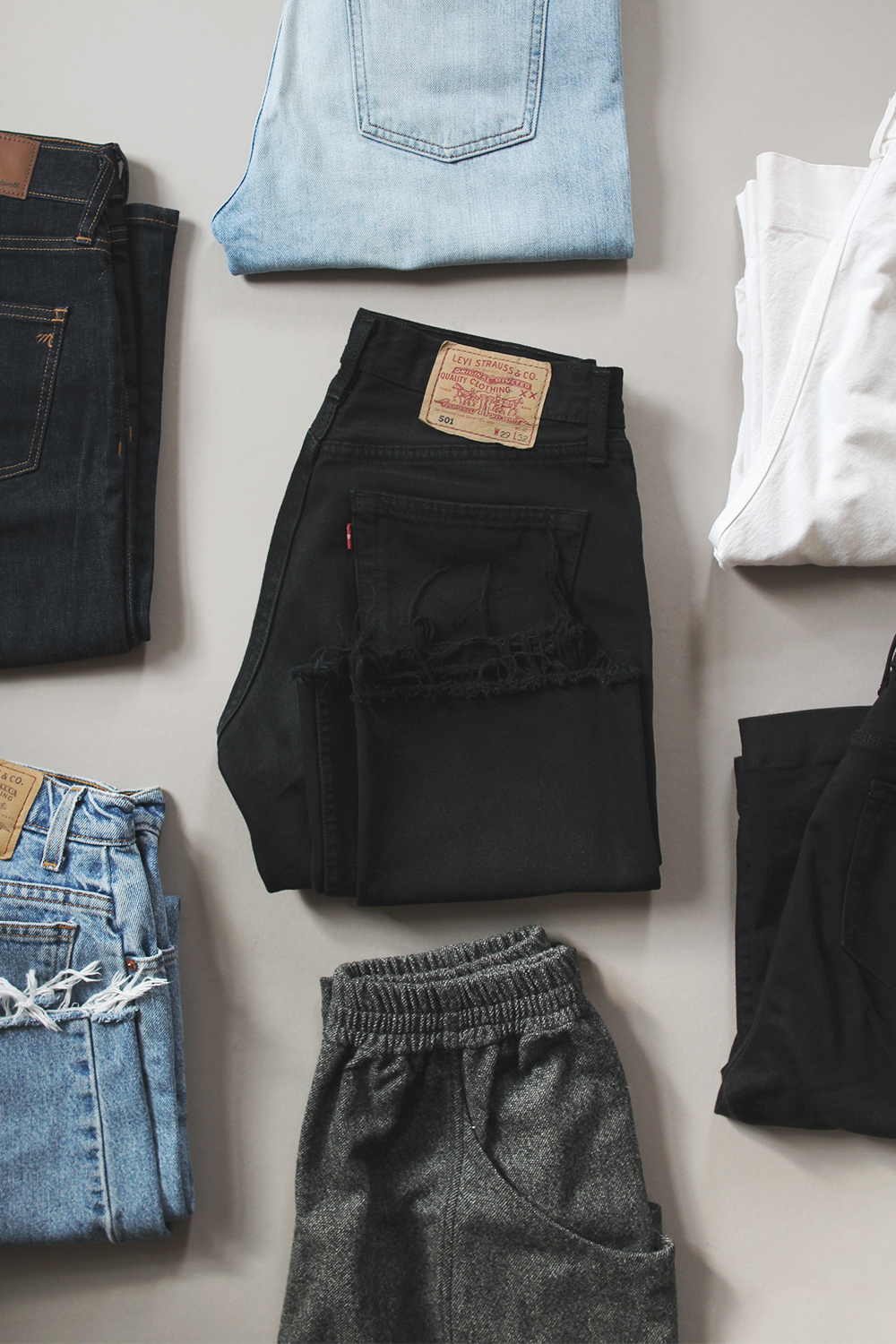 PANTS
Black Skinnies – Paige via Nordstrom
Black Flares – J Brand via ShopBop (n/a Linked to same style dark wash)
Black Vintage Levis – Episodes (n/a Linked to very similar)
Wool Clydes – old c/o Elizabeth Suzann (n/a Linked to canvas version)
Skinny Jeans – old c/o AYR
Medium Vintage Levis – c/o Outpost Vintage (n/a Linked to very similar)
Light High Rise Skinnies – old GAP
Dark Flares – old Madewell (n/a Linked to very similar)
Sailor Pants – Jesse Kamm
Mom Jeans – Madewell
Ponte Pant – c/o BRASS
---

---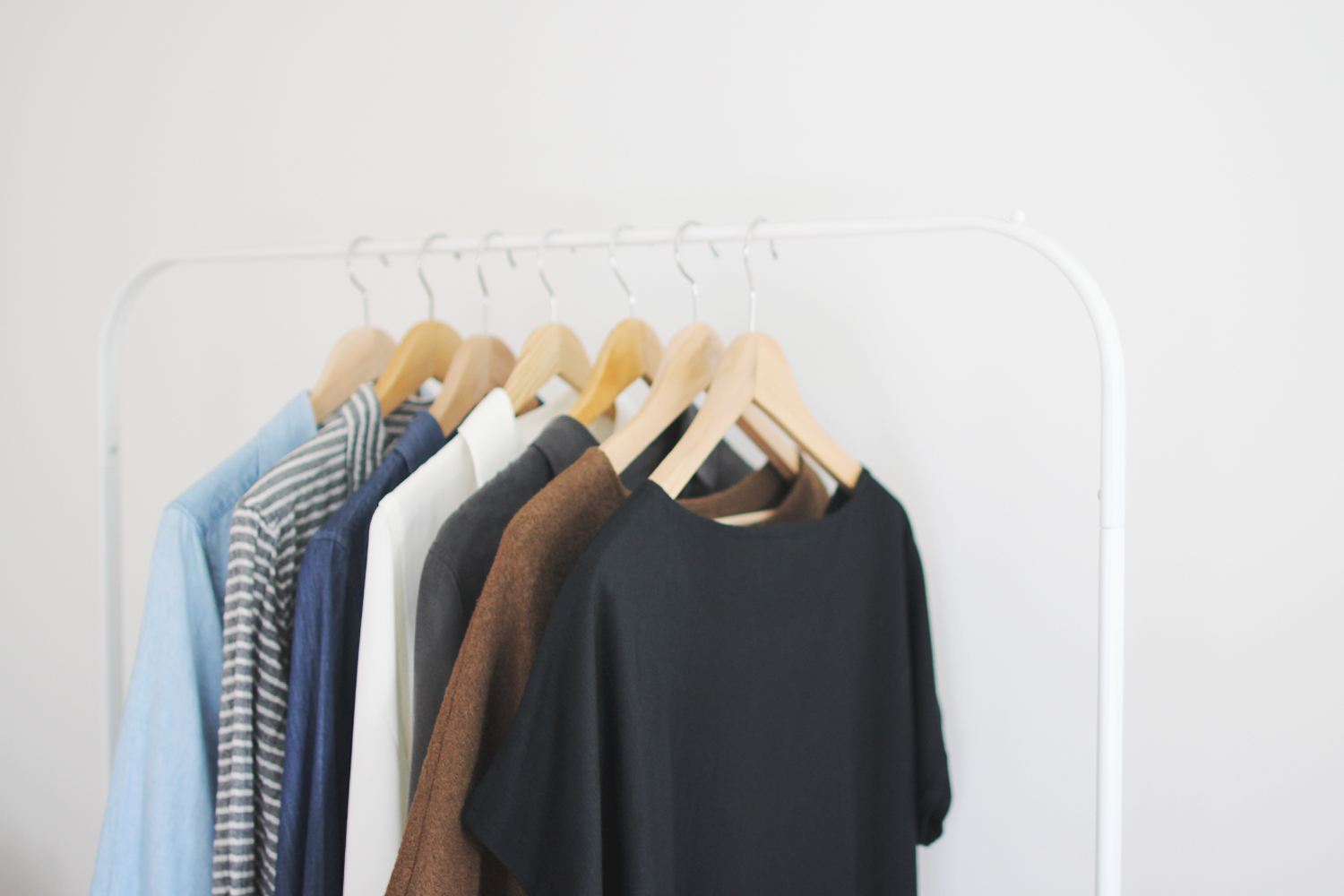 TOPS
---

---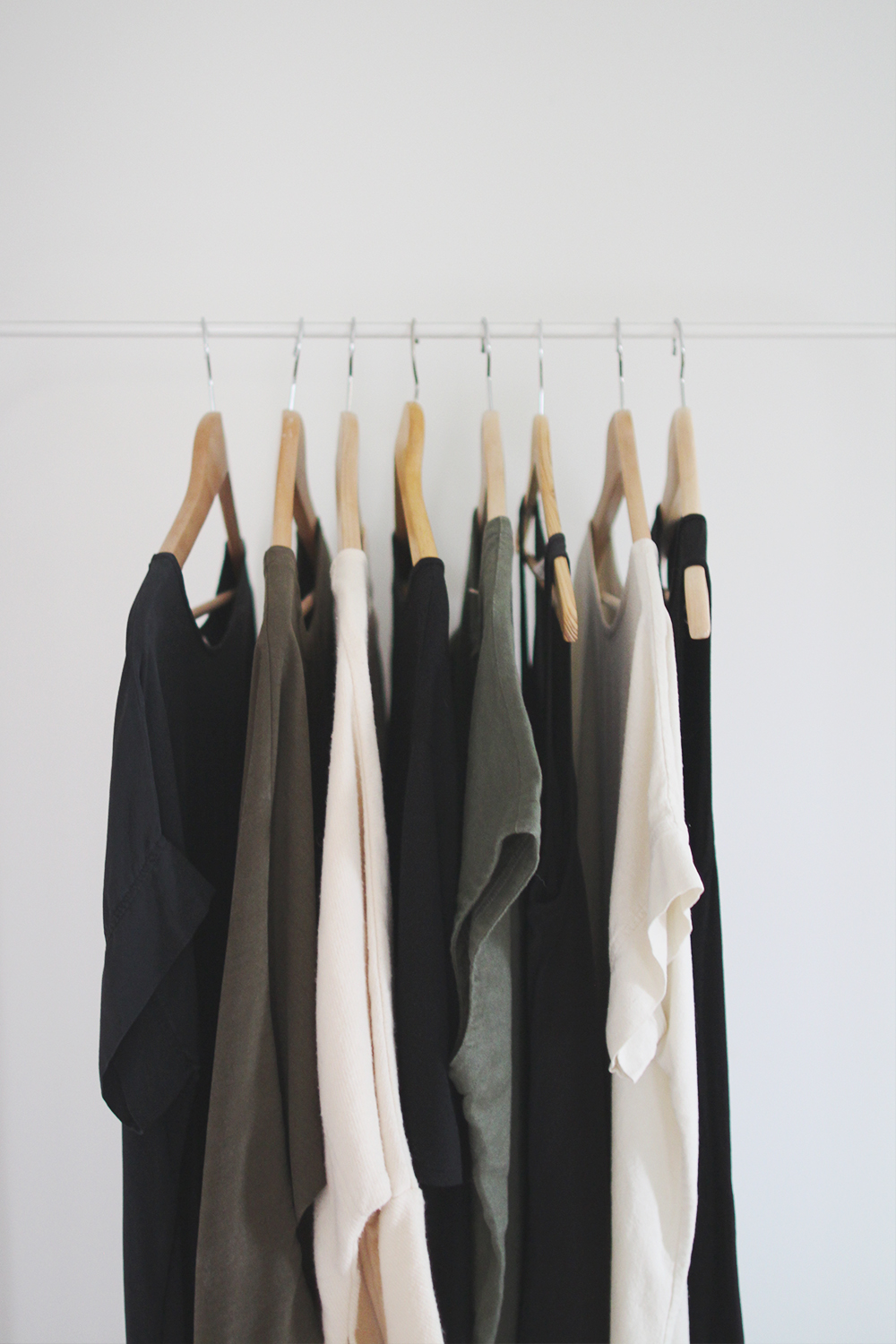 DRESSES
---

---
— EXTRAS —
---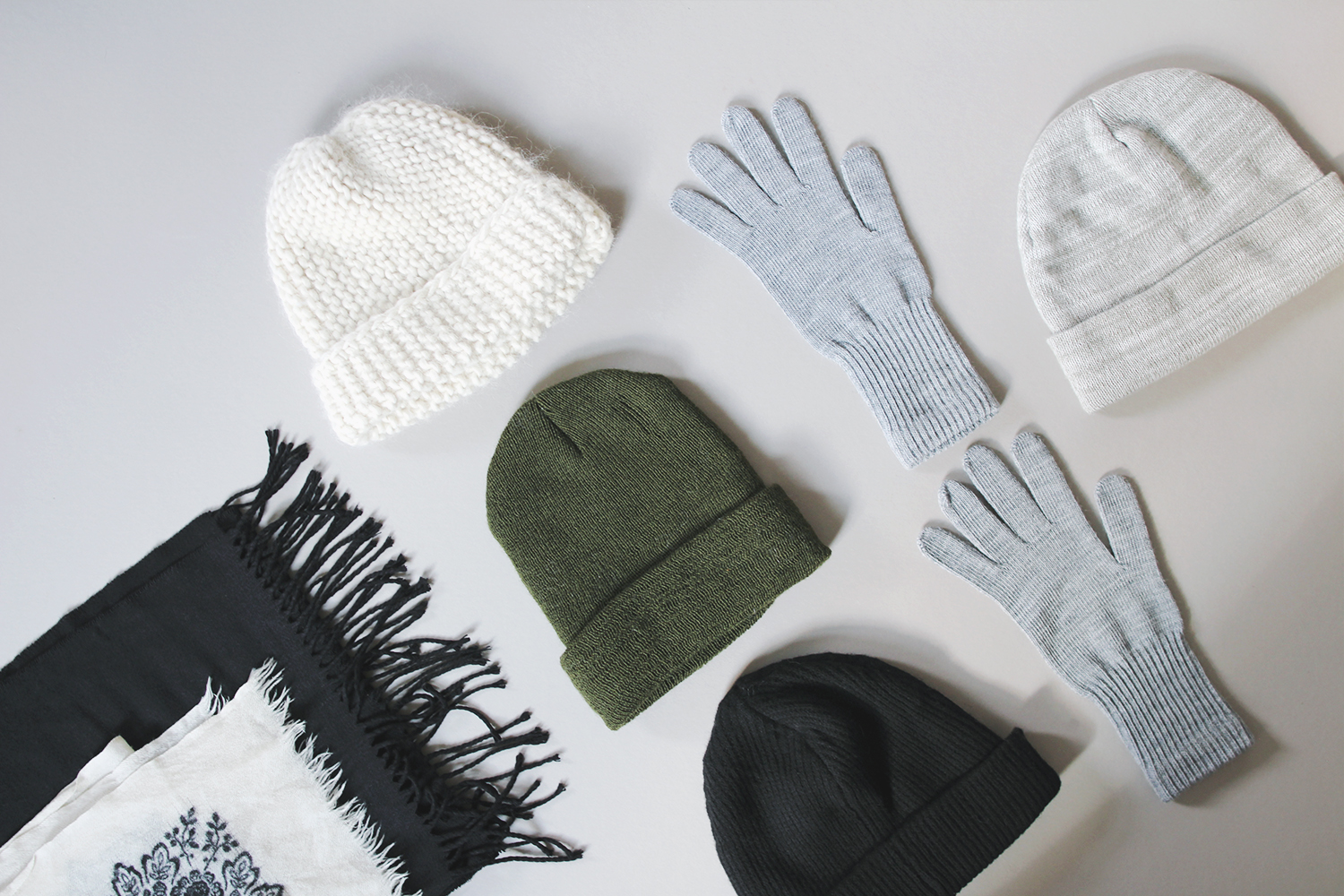 ---
Similar to my Spring and Summer edit, I left out the following items from the count.
F/W SHOES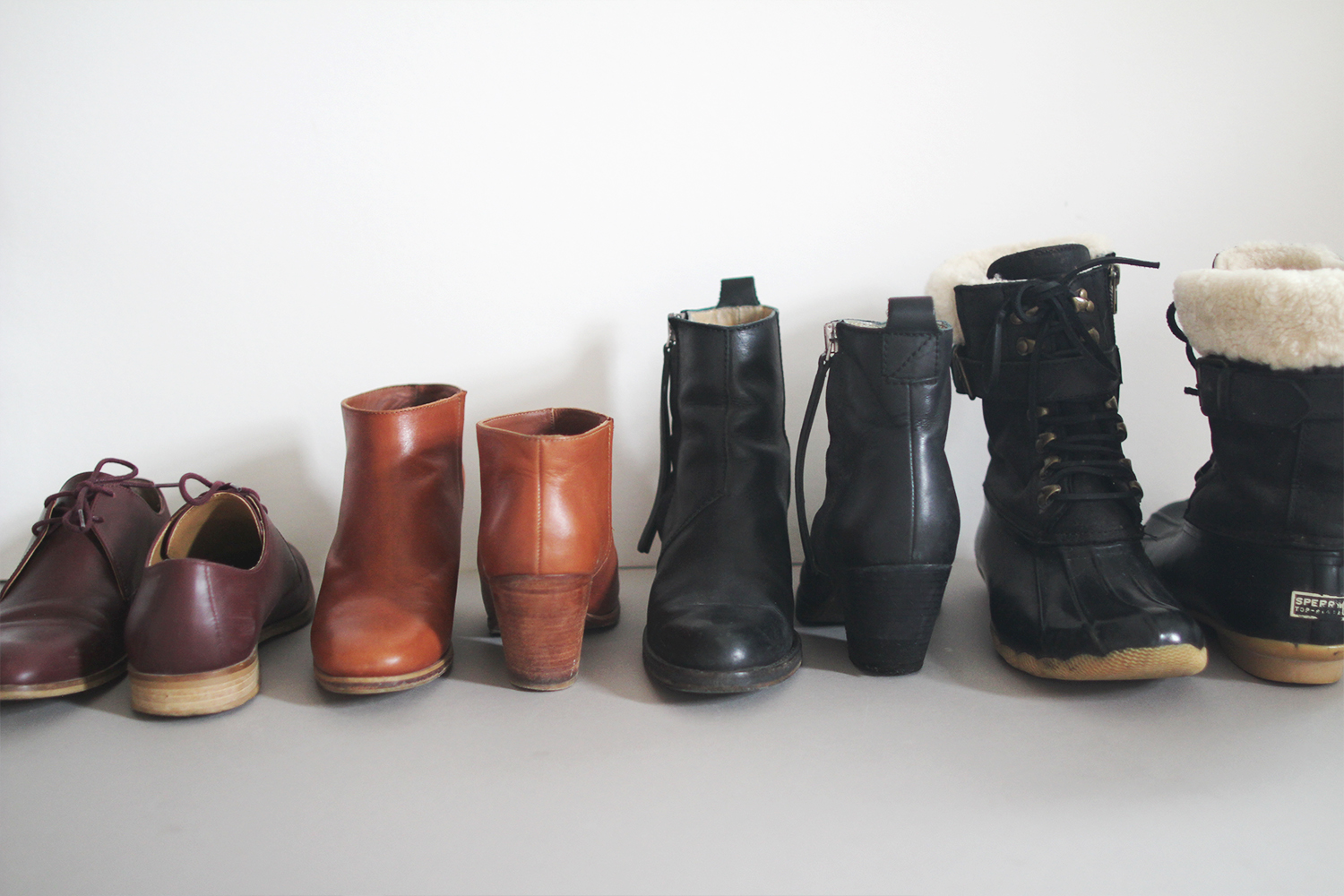 OTHER
Spring + Summer Items (although several were edited and a few were included)
T-Shirts (culled my collection down to 10 total, which was a major feat!)
Raincoat
Accessories (Scarves, Hats, Gloves and Bags)
Workout Gear
Loungewear + Camping Clothes
---
10 FALL + WINTER CLOSET HEROES WORTH INVESTING IN
Now this is definitely a subjective list because these are some of my personal all-time favourite pieces, not necessarily the most classic or conventional items. But they're the ones I reach for again and again or, for the few that are new, have spent a long time searching for. Truthfully, this list might change slightly from week to week depending on the weather but I know not everyone lives in as hostile or at least as variable a climate as I do so I included options for a broad range of temps.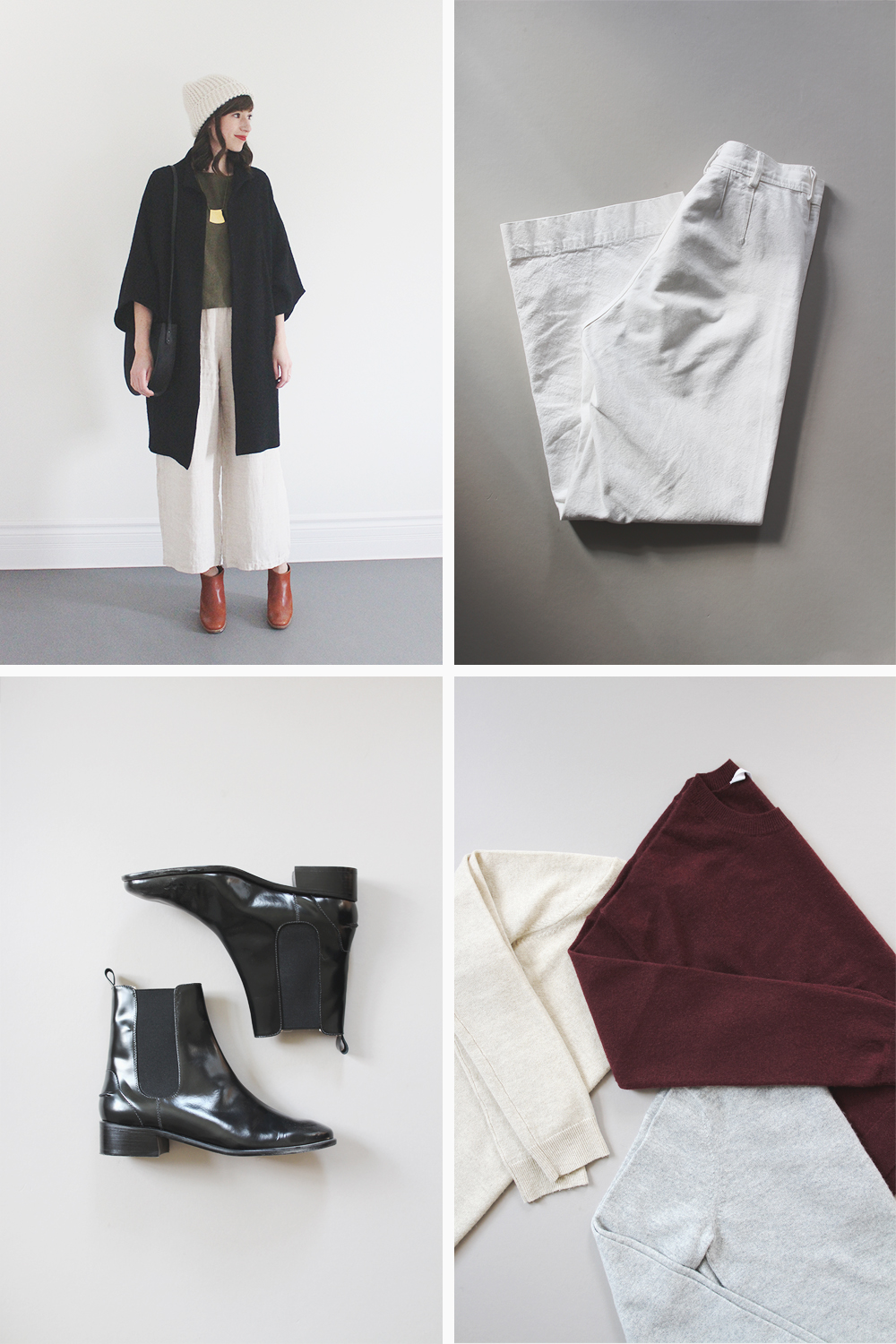 ---
1 | Cocoon Coat – I can't tell you how much this coat has changed my style and life. It's the perfect timeless shape and slips on over literally anything and makes any outfit infinitely more chic. I'm so glad I got it when I did (2 yrs ago) but the new version looks insanely gorgeous. Saving my precious pennies for the camel version one day. If I want to keep it closed I simply wear a cross body bag and it stays put. Eileen Fisher has designed a similar option, at a more approachable price point, with pockets in a linen/tencel blend.
2 | Kamm Pants – These pants were a major purchase for me this Spring and I am so glad I bit the bullet. They are entirely worth the hype and I truly feel like a strong, fabulous, feminine powerhouse everytime I wear them out the door (more on the fit and such in Wednesday's outfit post). The canvas cotton is definitely thick and warm enough for cooler temps. I'm currently debating whether to add the black or the tobacco next (hope JK does a sample sale soon)! (White, Black, Tobacco, Blue, Green and Red all available here.) Caron Callahan, Ilana Kohn, Rachel Comey and Han Starnes all make similar options too.
3 | Chelsea Boots – Ok, so I've only had these for a few days but I know they're going to be game changers this year and forever. My particular pair is by Rachel Comey (cuz I can't help myself) and lined with a faux shearling which makes them super toasty plus the leather is highly water and weather resistant. I fell hard for the classic but refined design and loved the slightly stacked heel, semi-gloss leather, fitted ankle and elongated toe shape. They are SO comfy and I've been wearing them non-stop since they arrived. Get $20 OFF when you sign up here (full disclosure: I get store credit if you shop). Another classic option for less here.
4 | Cashmere Sweaters – My collection of these is not exactly lean but they're definitely my go-to as soon as the weather allows. I genuinely love the cashmere sweaters I have from Everlane and have found they hold up very well. Typically, I've dry cleaned them a couple times a season (max!) but I'm very tempted to try this detergent kit and hand wash them at home. Has anyone tried this?
---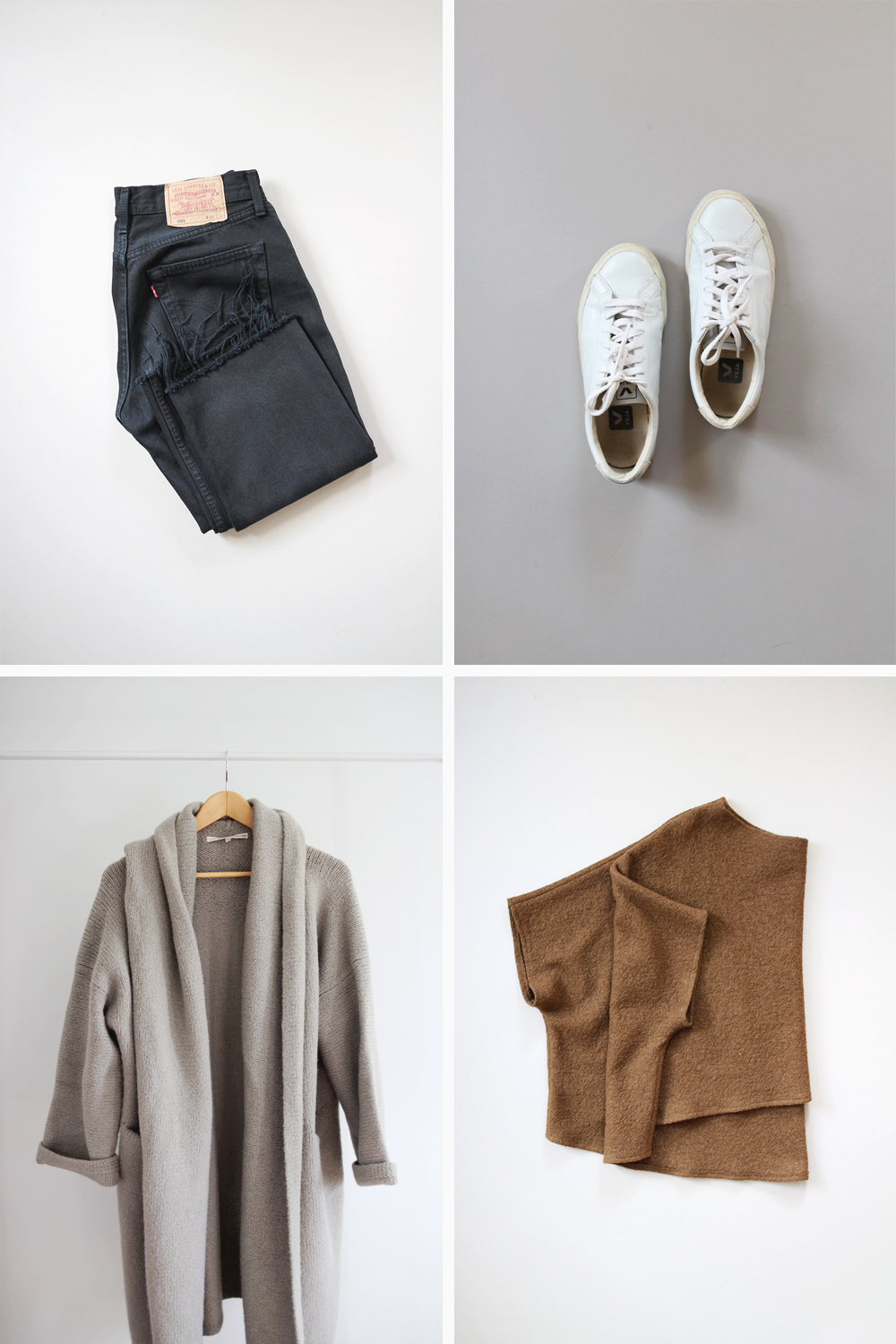 ---
5 | Vintage Jeans – Now these can take a long time to find and you may even think you've found them but then they're not quite right (spoken from experience). That's OK though! Keep trying them on and keep looking. Once you truly find your pair you'll understand why all the cool fashion kids can't get over them. Try Redone or Urban Renewal for a modern fit made from vintage Levi's OR visit Episodes if you're ever in Amsterdam!
6 | White Sneakers – I don't know what I'd do without my Esplars. An all-white sneaker is the comfiest way to save your feet and still keep an outfit looking chic. They're not as hard to keep clean as you may think either as long as you avoid canvas or other woven, stainable materials. I would likely opt for this pair if I was buying again because the white suede heel tab does get blue from jeans. I wear a US 7 and got the 38, which fits very well.
7 | Capote Coat – I wear this pretty much daily in the cold months and even on cool spring and summer evenings. It's such a beautifully designed coat made of the most amazingly soft alpaca wool. It's impossible not to feel cozy in this coat! (White and Charcoal also available).
8 | A Wide Cropped Sweater – Perhaps not the most obvious option, but it happens to be the perfect throw over layer. I wear mine over dresses, button-downs and turtlenecks alike. Any of those combos over skinnies or flares, make for the perfect simple statement. Hopefully Elizabeth Suzann releases a similar style in the Knitwear collection launching November 16th (eep!). Until then I'd opt for the Cotton Canvas version, the Blank Canvas Top or the T-Sweater (available for pre-order).
---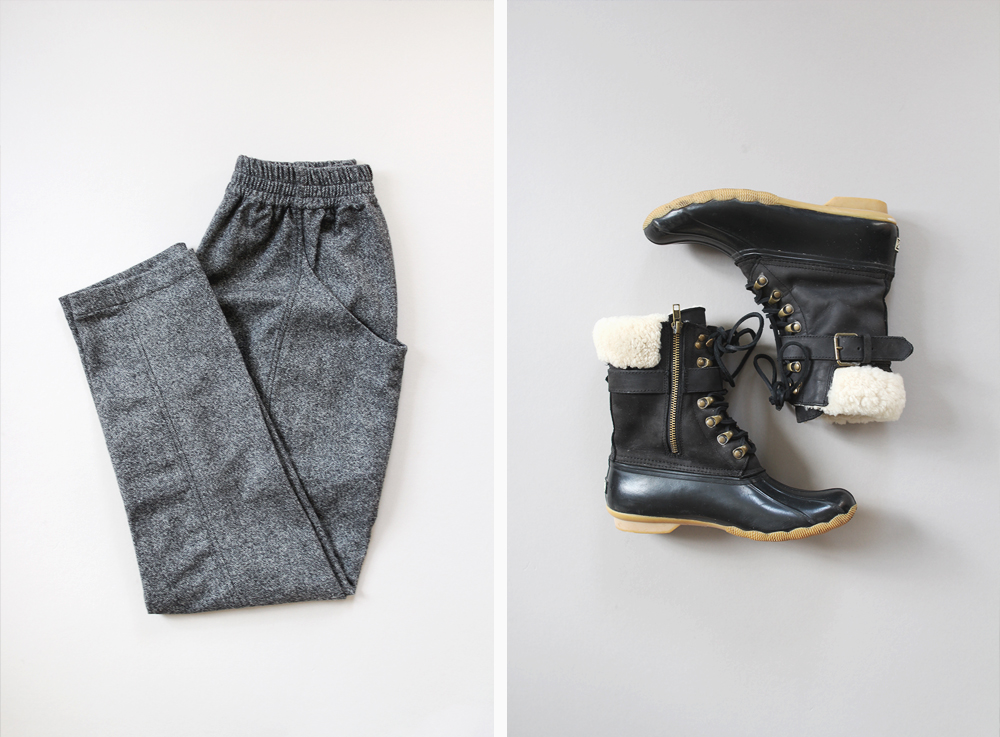 ---
9 | Wool Pants – Truthfully, wool pants weren't really something I ever thought much about until I saw this Clyde pair in last years Fall/Winter collection. They just looked so warm and cozy but still enough of a proper pant to be presentable. Needless to say they lived up to all expectations and have become one of my go-tos for the proper cold weather. I love pairing them with a cashmere sweater, a basic tee and a blazer or a button down. Similar options are hard to come by but these look very close (wool blend) and these look super chic (wool blend, cropped length, straight leg) both by Eileen Fisher.
10 | Warm Winter Boots (That Aren't Ugly) – My Sperry for J.Crew boots have been the best winter boots, ever. They're 100% water/slush/snow proof, lined with shearling (so cozy soft) and the inner zipper makes them a breeze to put on with no lace-up required. I'll be honest, if these ever break down (currently going on winter #3) I will be replacing them with the closest pair I can come by, which is currently these (made in China).
---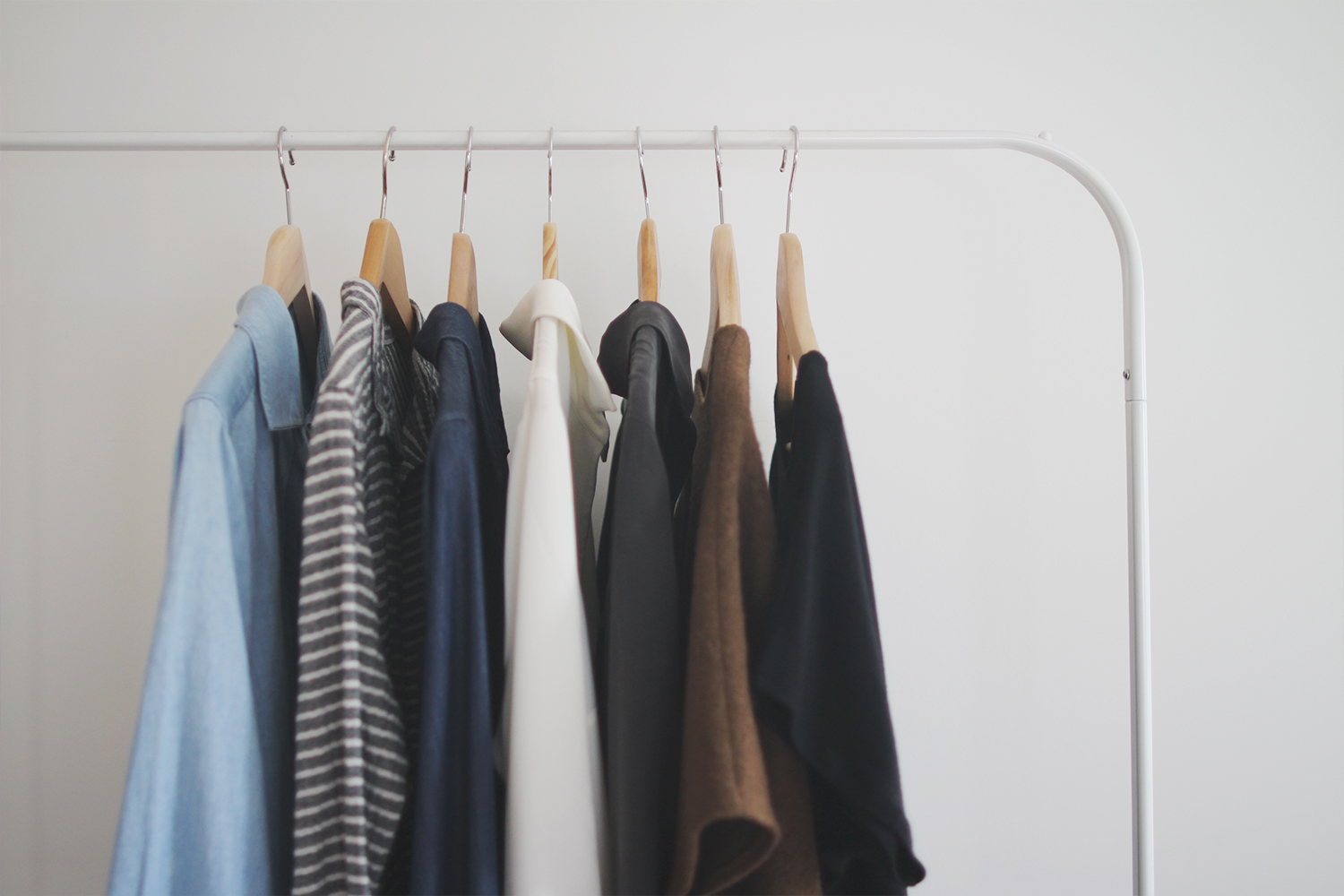 — UP NEXT —
So that's the closet I'm working with for the next few months! I can already spot a few items that will probably get edited out but for now I'm excited to experiment with what I've got and have some style fun. So here's what is on deck:
Regular Outfit Posts – There are lots of outfits posts coming down the pipeline and I'm looking forward revisiting the post format I used during the 10×10 Challenge meaning candid thoughts on each look along with style and fit details.
Style Bee Closet Shop – As you may have guessed, with every closet edit there now comes a closet sale! This time around, since the account is already 'Public' items will be uploaded in real time, meaning, I'll be adding items one by one during the day. Same rules will apply, first to comment gets an invoice and has 4 hrs to pay or it goes to the next in line. I will host a preview on the blog the morning of and the sale will be held this coming Saturday November 12th starting at 12 pm EST, so mark your calendars and follow @stylebeecloset. Last time almost everything sold in under an hour.
Home + Wedding Posts – As much as I love yammering on about style and fashion I've been itching to share some of the exciting ideas I'm cooking up for our home and our wedding next summer. These posts will be few and far between but just a heads up that a little more 'lifestyle' action will be headed to the blog soon.
---
SO TELL ME:
What are your thoughts on a 50 piece closet?
Are you a lean closet subscriber?
What are some of the cold weather heroes in your wardrobe?
---
This post is not sponsored but contains affiliate links. When you shop via the links above I may make a small commission from a sale. Thanks for supporting the brands that support Style Bee! All opinions are always my own.