Has anyone else been enduring some haywire temperatures lately? Last week started with sneakers and a light jacket and ended with snow boots and a parka! Even though this neurotic forecast can be a drag, luckily it means that Spring is on it's way, AT LAST! Now sure, I might be getting a little bit ahead of myself here but after a few brief tastes of double digit days I can't help but start craving all my favourite springy things.
But before I slip back into my old overzealous, over spending ways I'm taking a deep breath. With all the pretty pieces and fresh palettes hitting shops right now it's so easy to get carried away and trust me, I've done made my fair share of impulse shopping in season's past. Before last Fall began, I decided to try out a few ideas for a Fall Closet Prep that really helped me temper my shopping and stick to my budget and closet needs. It was really refreshing to head into a season armed with a thorough sense of my existing closet, a lean and well thought out wishlist and a proper budget to stick to.
Since it worked so well for Fall I knew I wanted to take the same approach this Spring, which brings me to today's post all about Spring Closet Prep. We'll be covering some similar topics from last Fall but I'm also adding in a few updates to the process along with things I need to keep in mind going into a new season.
On the docket today we have: 
WHERE I WENT WRONG LAST SPRING
STEP 1 | ASSESS WHAT YOU HAVE + EDIT
STEP 2 | REINVEST
STEP 3 | MAKE A WISH LIST
STEP 4 | SET A BUDGET
FREE ALL-SEASON PREP WORKSHEET
---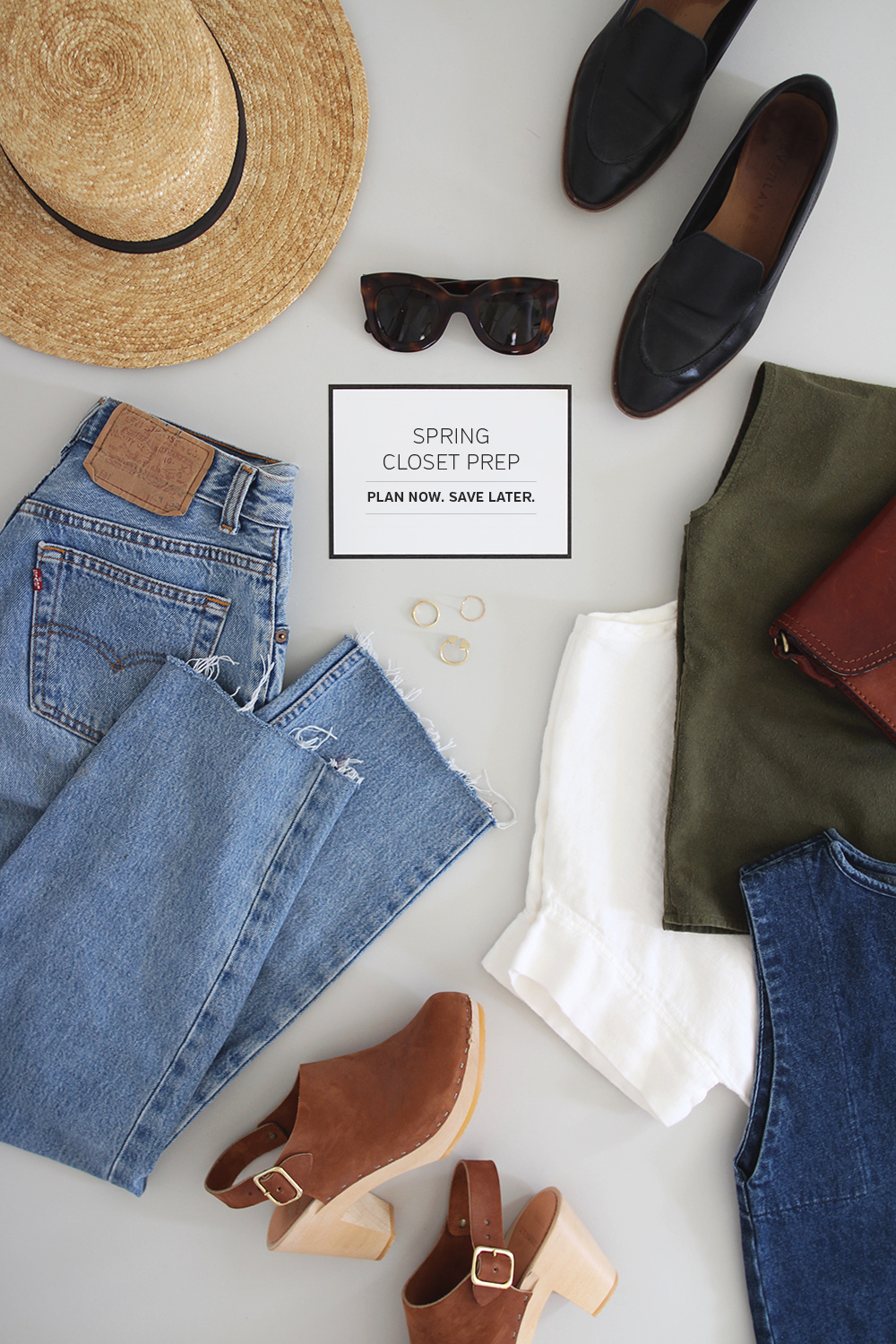 ---
WHERE I WENT WRONG LAST SPRING
---
Spring in Ontario is sort of a cruel joke most of the time. It's usually pretty sunny and the snow is long gone but for most of March, April and into May it's usually not actually all that warm. Too many times I've tricked myself into thinking open toes, bare legs and short sleeves are weather appropriate only to find myself frozen and disgruntled. In particular my 10 x 10 Challenge last Spring was highly optimistic and most looks were not nearly warm enough to be enjoyable until a few weeks later. I loved the outfits, I just couldn't wear them IRL. Wearing a sweater when it's not cold in Fall is one thing, but a short silk dress when it's too cold in the Spring is much less tolerable. Lesson learned!
So keeping in mind that I'm far better off in long pants and light layers I'll be planning and organizing my Spring closet to serve the true weather instead of my dream forecast. This means keeping some sweaters handy, lots of jackets at the ready and not getting too overzealous with shorter inseams until it makes sense. I'll just have to do my best to seize the odd warm day and not lose all sense of practicality when it isn't.
Maybe this acceptance of reality is brought on by age (I'll be 30 this Spring) because I often find myself remarking about underdressed young women I see out and about. "How can she go without tights?" and "Is she nuts? Where is her coat?" are some of the annoyingly sensible, grown-up things I find myself wondering aloud. Hilariously (and tragically) it feels like only yesterday I was the silly girl willing to brave a sinus infection for a great but poorly timed outfit! Ah life. 
---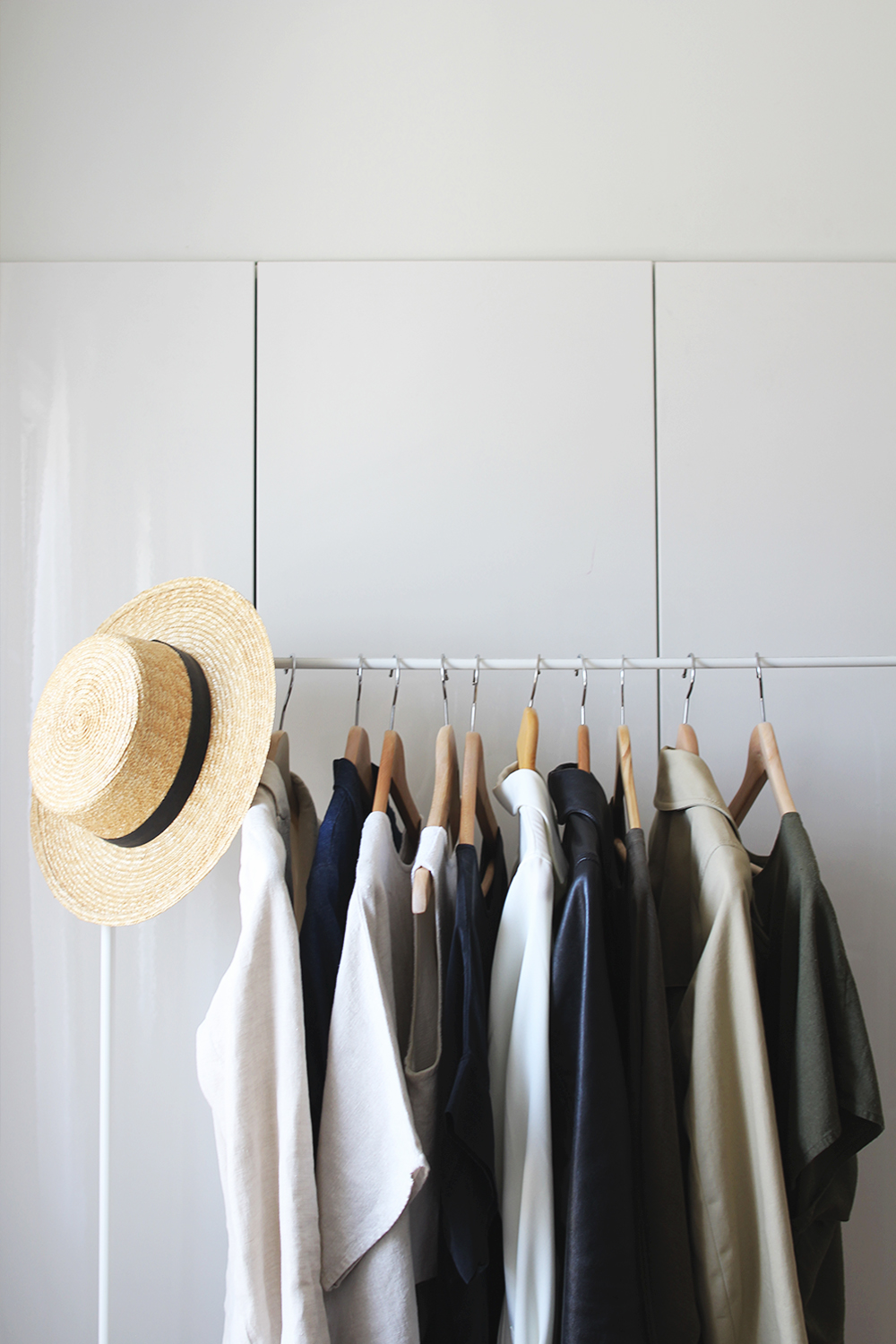 ---
STEP 1 – ASSESS WHAT YOU HAVE + EDIT
---
By now it's no secret that I love a good CLOSET EDIT (see my 5 Step approach). It's one of my favourite seasonal activities and after conducting them quarterly for a couple of years now I can promise you it gets easier and easier. To the point where now it takes all of 30 minutes to complete.
---
If you're in need of a more thorough refresh, to conduct a proper Closet Edit you'll want to:
A) Pull out all your Spring items so you can see them. If you're short on space start with whole sections like pants and skirts or tops and jackets but it's really helpful to be able to see everything together.
---
B) Hold each item up and ask:
DID I WEAR THIS LAST FALL?
DO I WANT TO WEAR IT AGAIN? 
DOES IT FIT WELL AND FEEL GREAT? (If no, can it be tailored?)
If the answer is not a resounding 'YES!' then it's probably a good item to consider letting go of.
---
C) Sort all your items into 3 piles: KEEP / SELL / DONATE
---
New In-Season Editing Tactic: One new trick I've been trying over the Winter is to designate a small section of my closet for items I'm not loving or not using as the season goes. Then I'm not forced to decide what to give up all at once, which can feel wasteful and impulsive. It's been so helpful to have this little grace period so I'm confident that what I'm letting go of is really not right for me. Then when I do a thorough edit I add anything else I feel ready to part with.
If you're someone who has a hard time parting with old clothes or items you want to love but don't, this could be a good trick to try!
---
D) REORGANIZE
Now you're ready to return your Spring 'KEEP' pile to your wardrobe. I'm a big believer that you wear what you can see more than what you can't (or have to look for) so if space allows, try to keep your items as visible as possible. I have a standing clothes rack where I keep my more reached for favourites during the season and that has been a huge help.
---
E) MAINTAIN
Now you're all set for the season ahead. The key thing at this point is to keep your space organized and be methodical about what you add going forward. It's all too easy to slide back into the habit of adding needlessly and ignoring the existing closet you've spent time, effort and money on already!
---
For a more in-depth approach to closet editing, organizing and maintaining see my 5 Step Closet Edit post. I promise if you follow all the steps you'll come away feeling SO much better about your style options with a much less cluttered closet.
---
STEP 2 – REINVEST
---
Reinvesting in my favourite pieces is by far my favourite part of the closet prep process. I think it might also be the most important step in keeping a lean closet and reinforcing style contentment from one season to the next. It can really help you refresh your style definition and curb your shopping cravings too.
Now that you've sorted your closet out and know what is staying you can ask yourself:
What did I wear most last Spring?
What pieces am I most excited to wear again?
What are 3-5 outfits I can't wait to repeat?
Maybe jot those down or try them on and take a quick photo so you can remember when the time comes. This will be a good indication of what you get the most use out of. It will also highlight some potential looks/silhouettes/uniforms that will help ensure that whatever you add, either serves a unique purpose or works really well within the styles you most often gravitate to.
---
FOR EXAMPLE: Last Spring I loved wearing my Kamm Pants or Florence Pants with cropped shirts, topped with a light coat and Mars boots. This Spring I'll be getting lots of use out of my duster vests, light sweaters and vintage jeans. I also plan to wear my Veja sneakers more and have fun layering my Georgia Midi under loose crops and light coats and my Georgia Raw Silk over slim black pants. I'll be slipping into my favourite Classic Loafers and taking advantage of the new pieces I added from my Eileen Fisher collab.
---
  HERE ARE A FEW OF THE OUTFITS I'M EXCITED TO WEAR SOON
---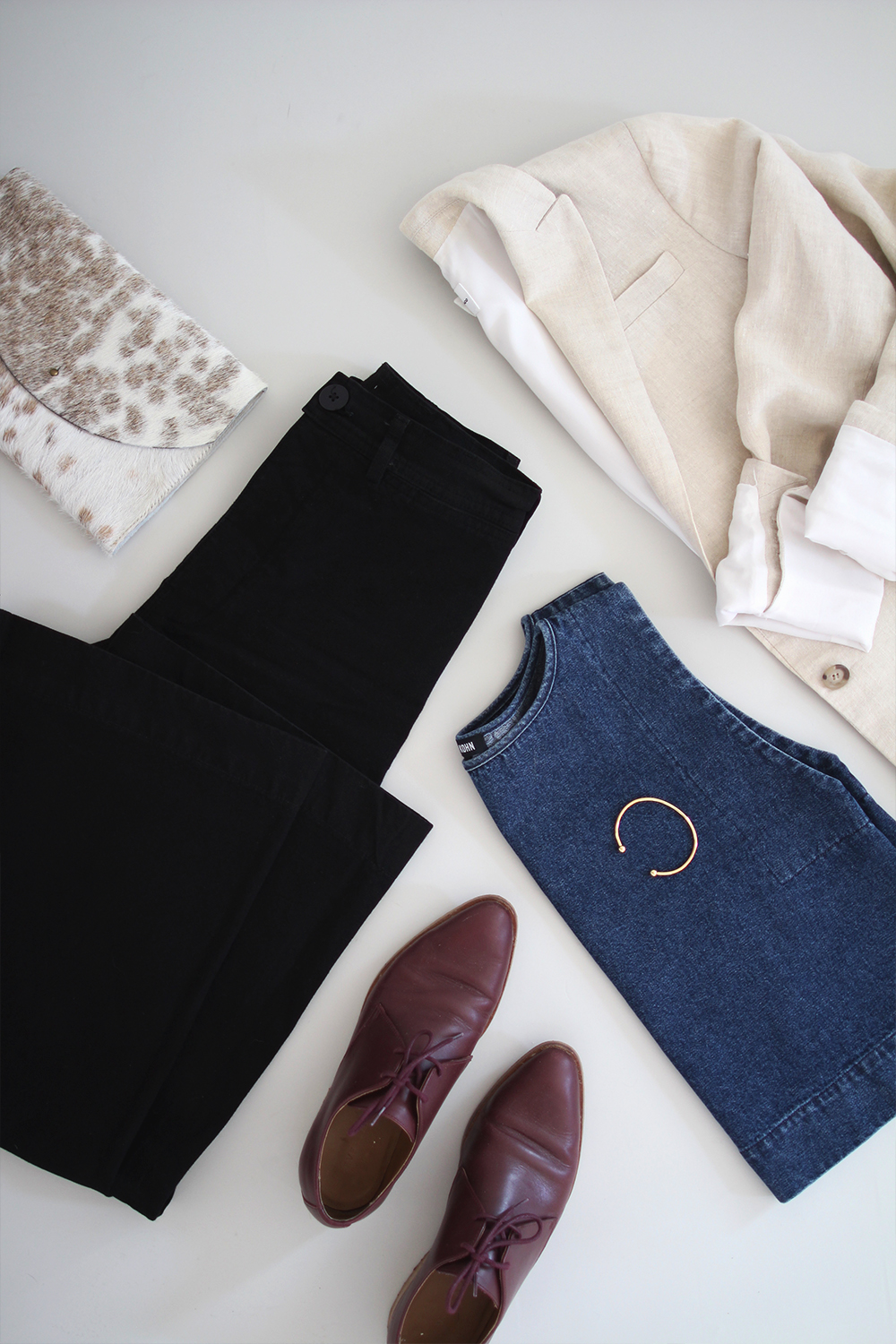 ---
KAMM PANTS  (similar for less) | CLUTCH | OXFORDS | DENIM CROP TOP* | LINEN BLAZER* | CUFF | *Linked to similar
---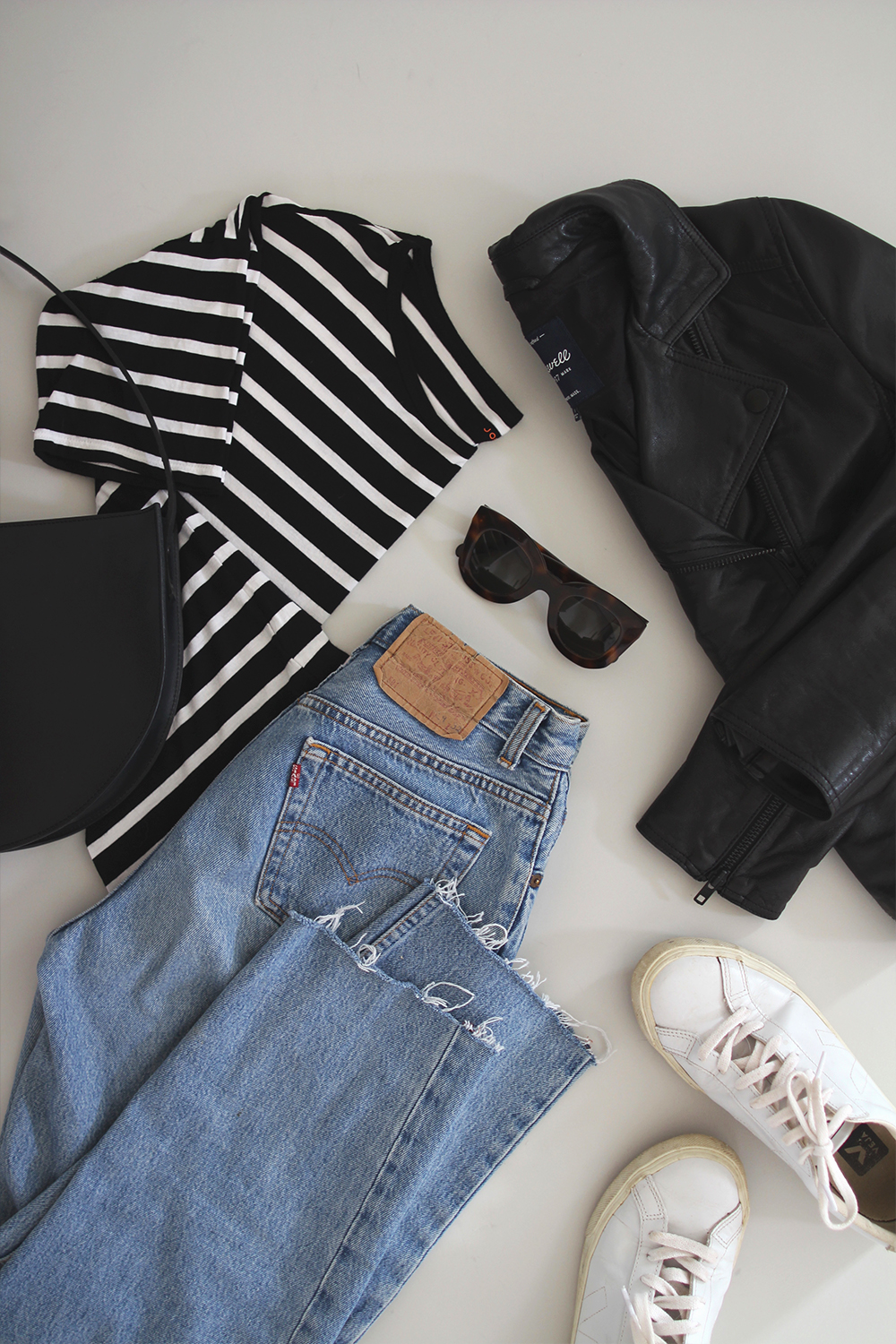 ---
ELOISE BAG | STRIPED TEE* | VINTAGE DENIM | WHITE SNEAKERS | SUNGLASSES | LEATHER JACKET | *Linked to similar
---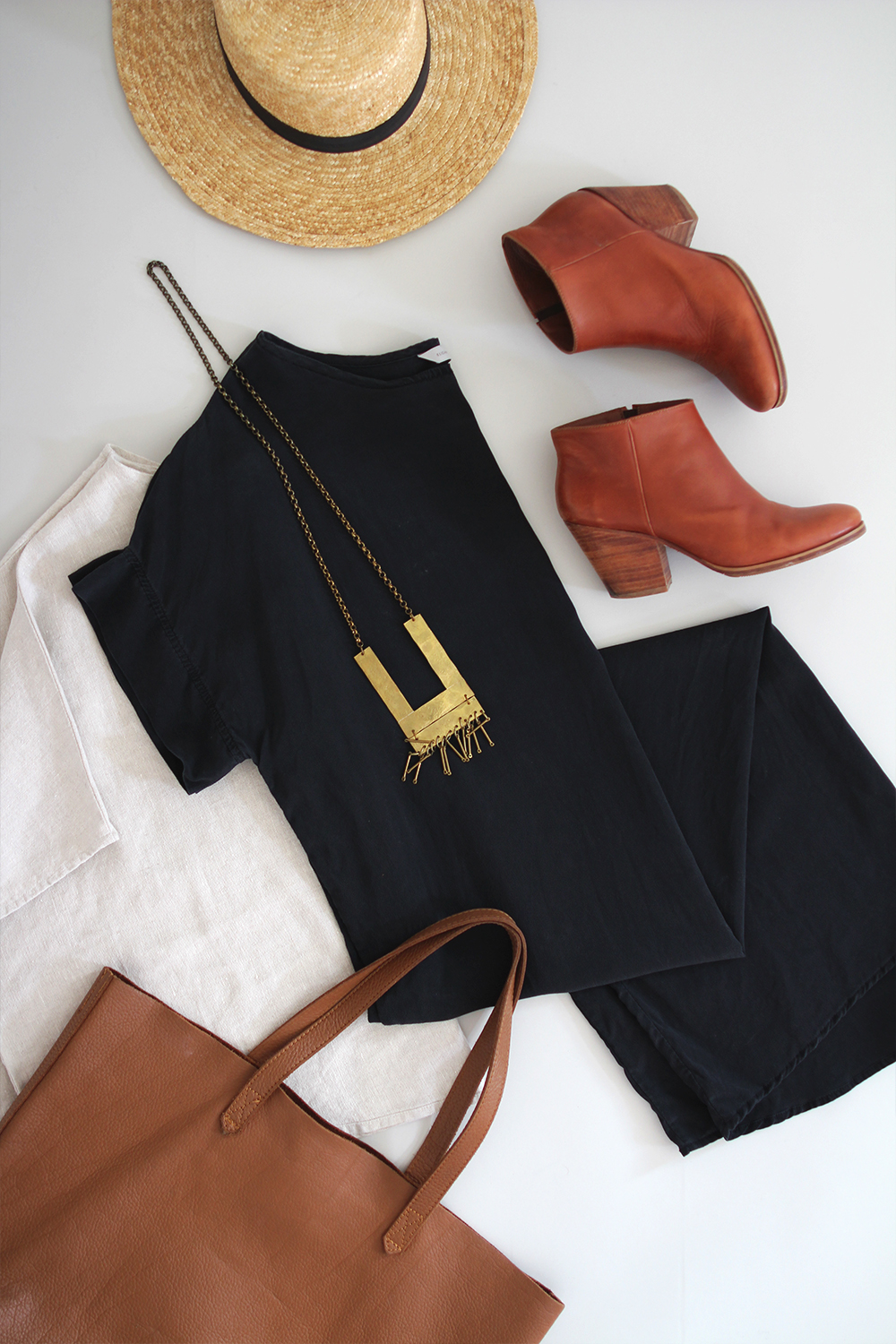 ---
CARAMEL TOTE | LINN TEE | GEORGIA DRESS | STRAW HAT | STATEMENT NECKLACE | MARS BOOTS 
---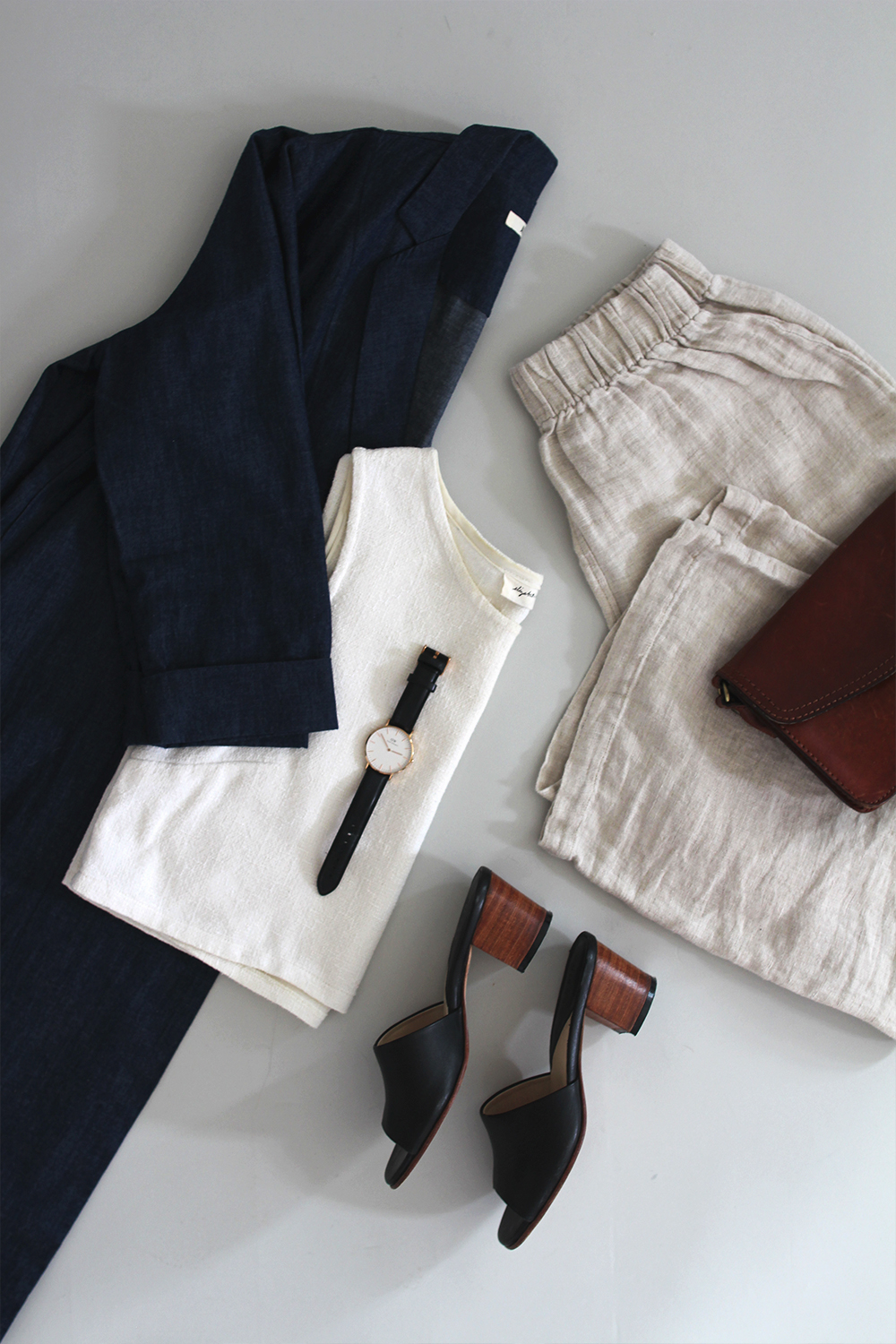 ---
DENIM DUSTER* | WHITE CROP TOP* | LINEN FLORENCE PANT | WATCH | VINTAGE BAG* | SLIDES (similar more sizes)
---
HERE ARE A FEW PREVIOUS LOOKS I'LL BE REPEATING TOO
---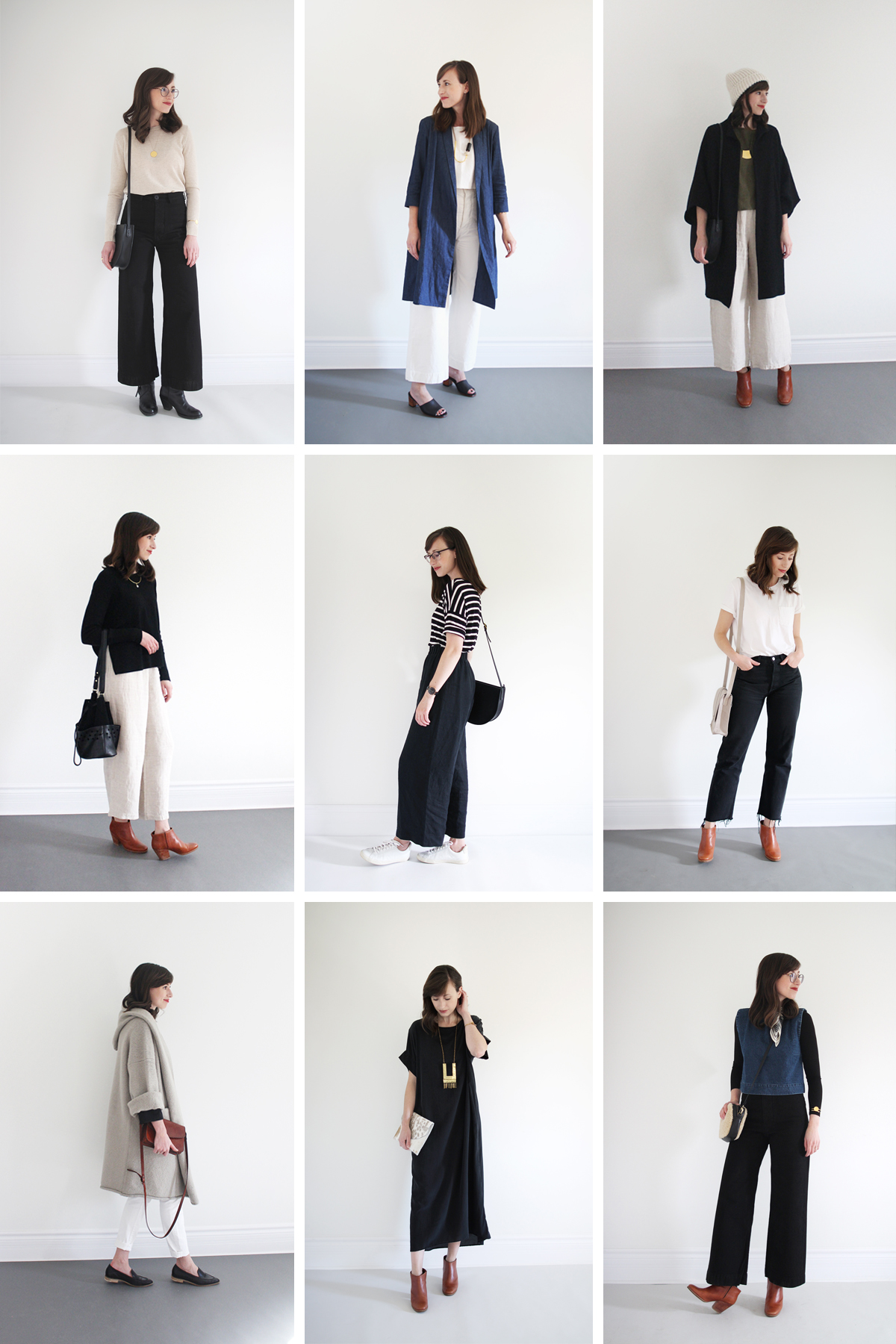 ---
OUTFITS: #1 | #2 | #3 | #4 | #5 | #6 | #7 | #8 | #9 |
---
Now that you know what you're keeping and what you're excited to wear again, you can begin to reorganize. While you're putting winter clothes into storage and/or Spring pieces into their places for the season ahead, look at your various categories like Shoes, Sweaters, Coats, Pants, Accessories etc.
CONSIDER IF:
THERE ARE ANY GLARING GAPS WITHIN THE SECTION? 
THERE ARE STILL A FEW PIECES YOU NEED OR WISH YOU HAD?
DO ANY ITEMS NEED TAILORING OR REPAIRS?
Maybe you only have one pair of flats or your favourite jeans are wearing dangerously thin or you have only 1 good tee left after the edit. These are all important things to note so you only add things you can really make use of. So often we add variations of things we already have enough of and end up wearing things even less.
---
FOR EXAMPLE: My Spring wardrobe is in great shape right now but I took a few things to my tailor and I jotted down a few pieces I was pining for last Spring which were:

1 | The perfect cognac suede flats that would look great with my wide leg pants and shift dresses but comfortable enough to walk a lot in.

2 | Slim fit, crew neck tees that were easy to tuck into pants and wear under coats and blazers.

3 | A relaxed white tunic/top that would look great over slim black pants.

4 | Contemporary Trench Coat that's relaxed in fit with minimal to no hardware.
---
Look at what you're planning to donate or sell. What are the things you didn't love enough to wear much (if at all)? This way you can avoid repeating old habits.
ASK:
WHAT ITEMS DID NOT GET WORN LAST SPRING?
WHAT SHOULD I DEFINITELY NOT BUY?
---
FOR EXAMPLE: Every Spring I want to wear cute dresses but it's rarely warm enough and I always end up feeling self-conscious of my pale legs.

I keep buying vintage jeans and tees that I liked in store but then find are not quite right after the fact. Not going to do that anymore!

As usual a few sample sale purchases haven't worked out either.
---
STEP 3 – MAKE A WISH LIST
---
Now that you have an idea of what you didn't get much use of and, alternatively, what you would have liked to have, it's time to make a shopping list or a wish list. I swear by short and thoughtful wish lists and always have one going for each season. They really help to keep me on track with both my spending and personal style and deter me from any impulse shopping. I'll be going into more detail about my 2017 Spring Wish List on Wednesday but check out my Fall Wish List and a great little printable you can use (also included in today's worksheet)!
Most collections have started launching but this is a good opportunity to note the designers you love so you can save your budget before getting distracted and buying things you might later wish you'd passed on.
---
FOR EXAMPLE: I'm not adding any more until I see what Elizabeth Suzann is cooking up!
---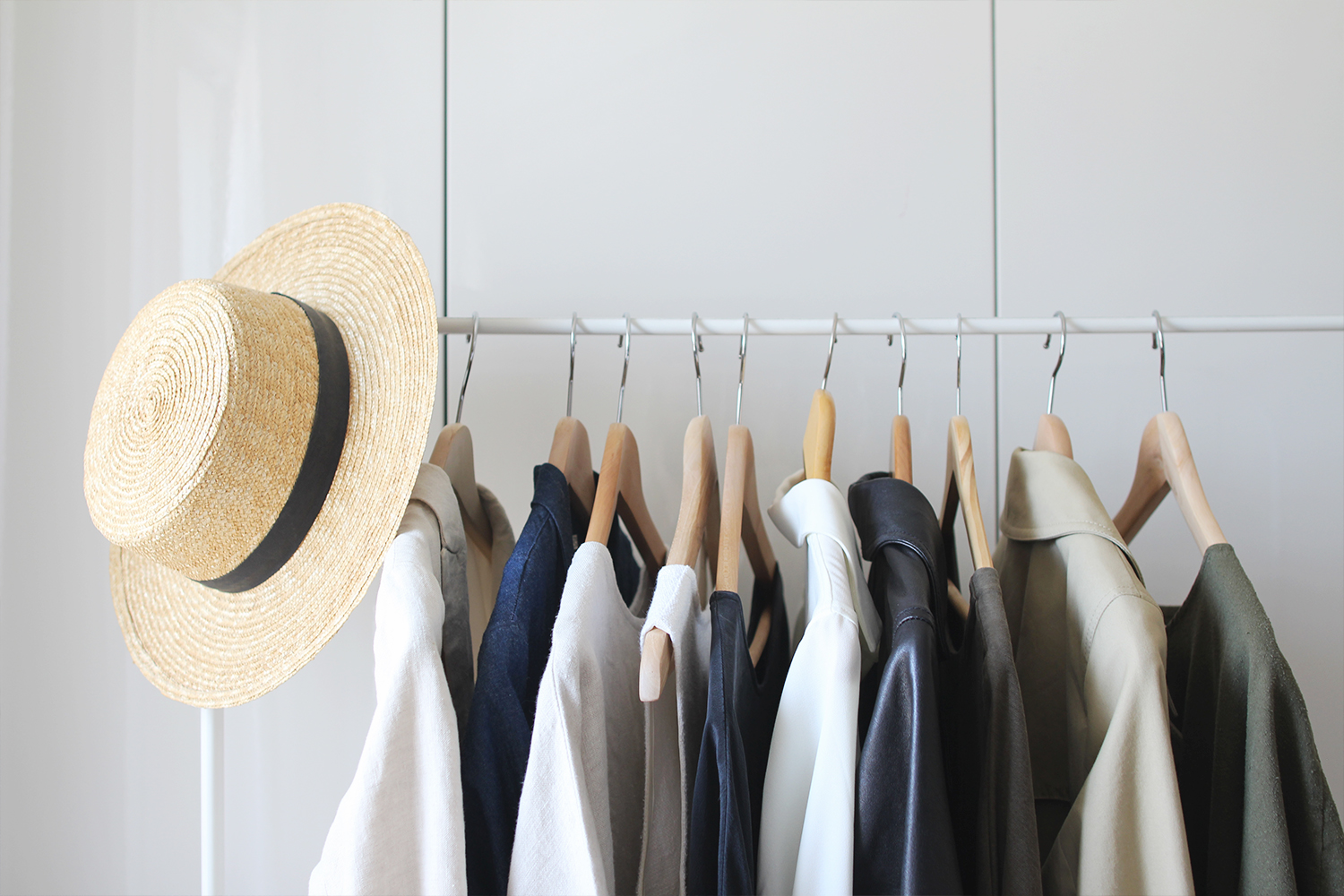 ---
STEP 4 – SET A BUDGET
---
As I've mentioned before, even if it's a buzzkill it's important to set a ballpark figure or at least a price range you want to stick to. You're much less likely to impulse shop or overspend if you've got a figure in mind to stay under.
---
FOR EXAMPLE: It's income tax season plus our property taxes are due in April, oh and we're getting married, so yeah, I've got a few big ticket items to look out for this year. We've also invested in a few custom furniture pieces for our home. Plus, I'm really quite happy with my closet right now! With all that in mind I'm going to set my budget lower than last year and say $1000 – $1200 should be my maximum spend over the next few months. Maybe that seems high but this gal's been working hard and expensive taste adds up! Skipping a warm weather vacay this winter has also helped with saving.
---
---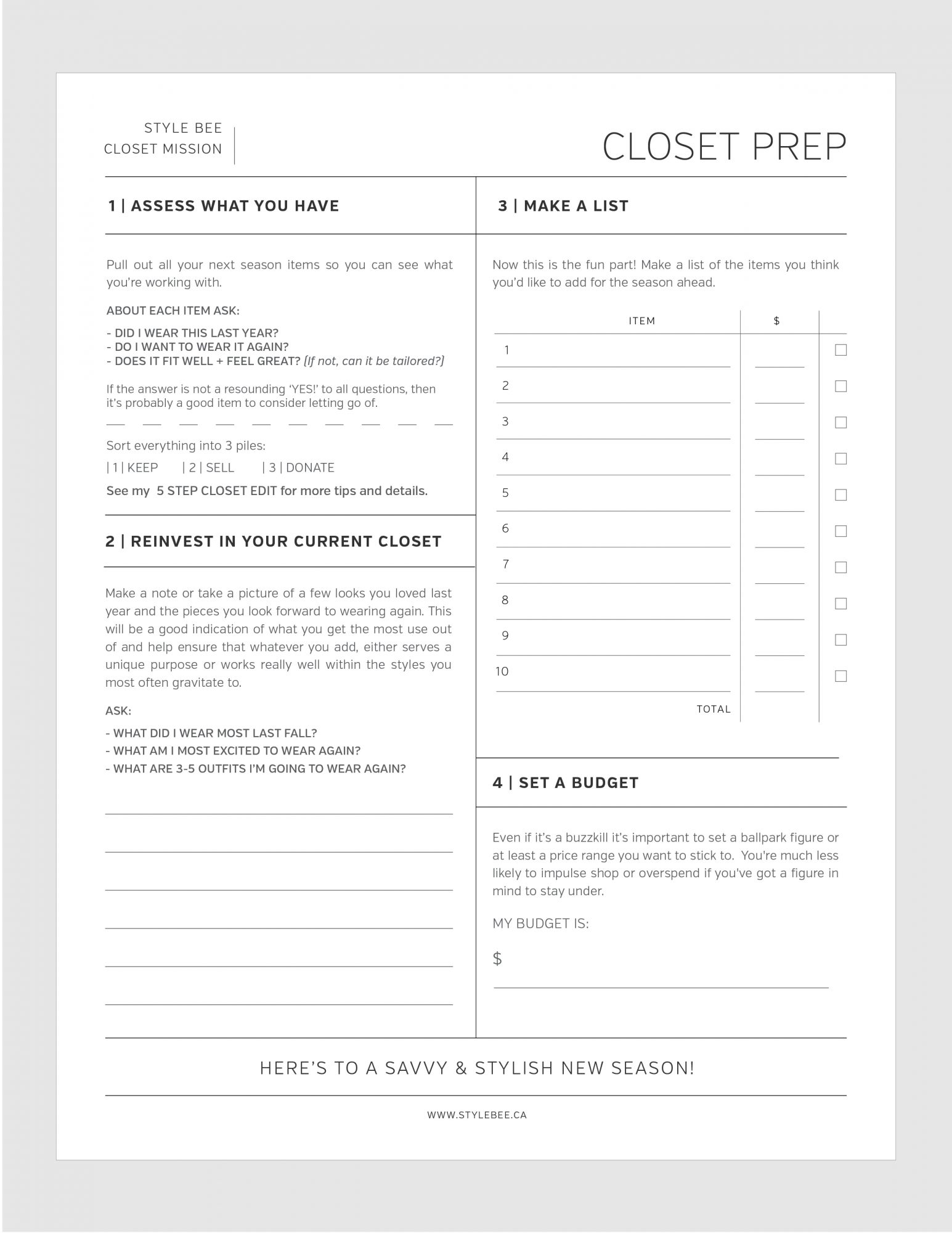 ---
WANT MORE CLOSET PREP INSPO? Check out my friend Caroline's post on UnFancy where she talks about her preparation process which includes tailoring, laundry, off-season storage and trying out the hanger challenge (where you switch your hangers around and only return them the right way once you've worn something). Lots of good ideas as always!
---
SO WHAT DO YOU THINK, ARE YOU UP FOR A LITTLE SPRING CLOSET PREP?
WHAT STEPS DO YOU TAKE BEFORE A NEW SEASON?
DID YOU LEARN ANYTHING FROM LAST SPRING?
DO YOU HAVE ANY TRICKS FOR MAKING SURE YOU STICK TO YOUR BUDGET AND STYLE?
---
See something you liked? You can shop and support Style Bee by using the affiliate links provided. This post is not sponsored but when you shop via the links above I may make a small commission from a sale. Thanks for your support!
---