Happy Friday! Honestly, this one felt as though it might never come so I'm particularly relieved by its arrival. Plus, long weekend baby!
The Labour Day holiday always signals the end of summer for me. Between the first changing leaves, the crisp morning breeze and the back to school buzz, the spirit of fall is definitely in the air.
Although I'm not packing up my shorts and sandals just yet, I thought this would be the perfect time to revisit a few of my favourite fall staples from Everlane. You know how I love a seasonal closet prep and reinvesting in old favourites always helps me feel less overwhelmed by a new season. Each year, without fail, I find myself gravitating back to these styles. The reasons being dependability, timelessness and versatility, which as you know, are qualities that never go out of style!
Read on to see the three looks I created and why these pieces are some of my personal fall favourites:
OVERSIZED BLAZERS
FITTED LONG-SLEEVES
SILK SHIRTS
ANKLE BOOTS
BLACK DENIM
CASHMERE SWEATERS
Plus a few items currently on my list!
---
This post was produced in partnership with Everlane and Style Bee earns a commission on sales made using the affiliate links below (at no additional cost to customers). All opinions are my own and I was encouraged to share my honest thoughts on each product. Some items shown were gifted but most were bought by me. Thanks to Everlane for supporting Style Bee!
---

---
LOOK 1
---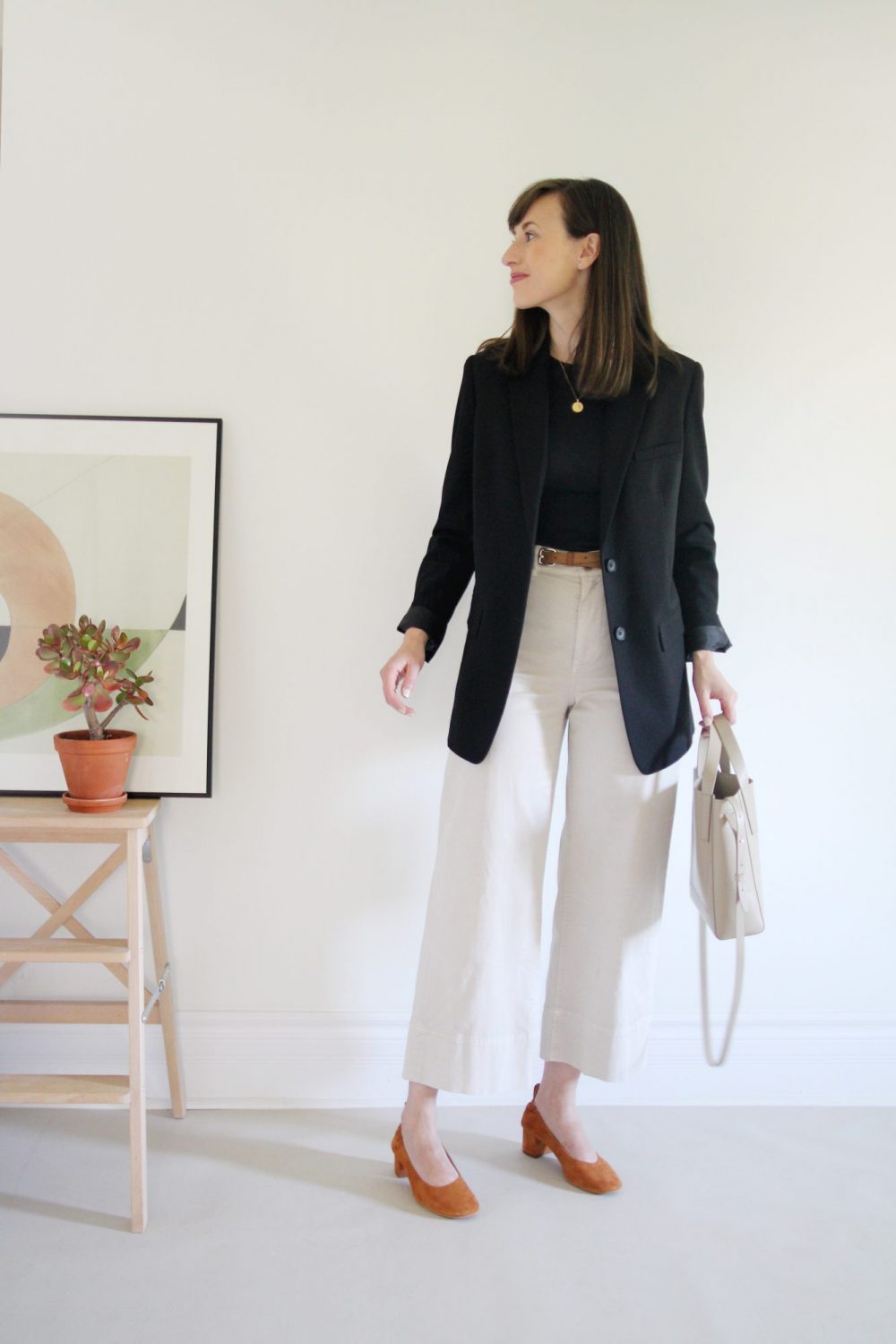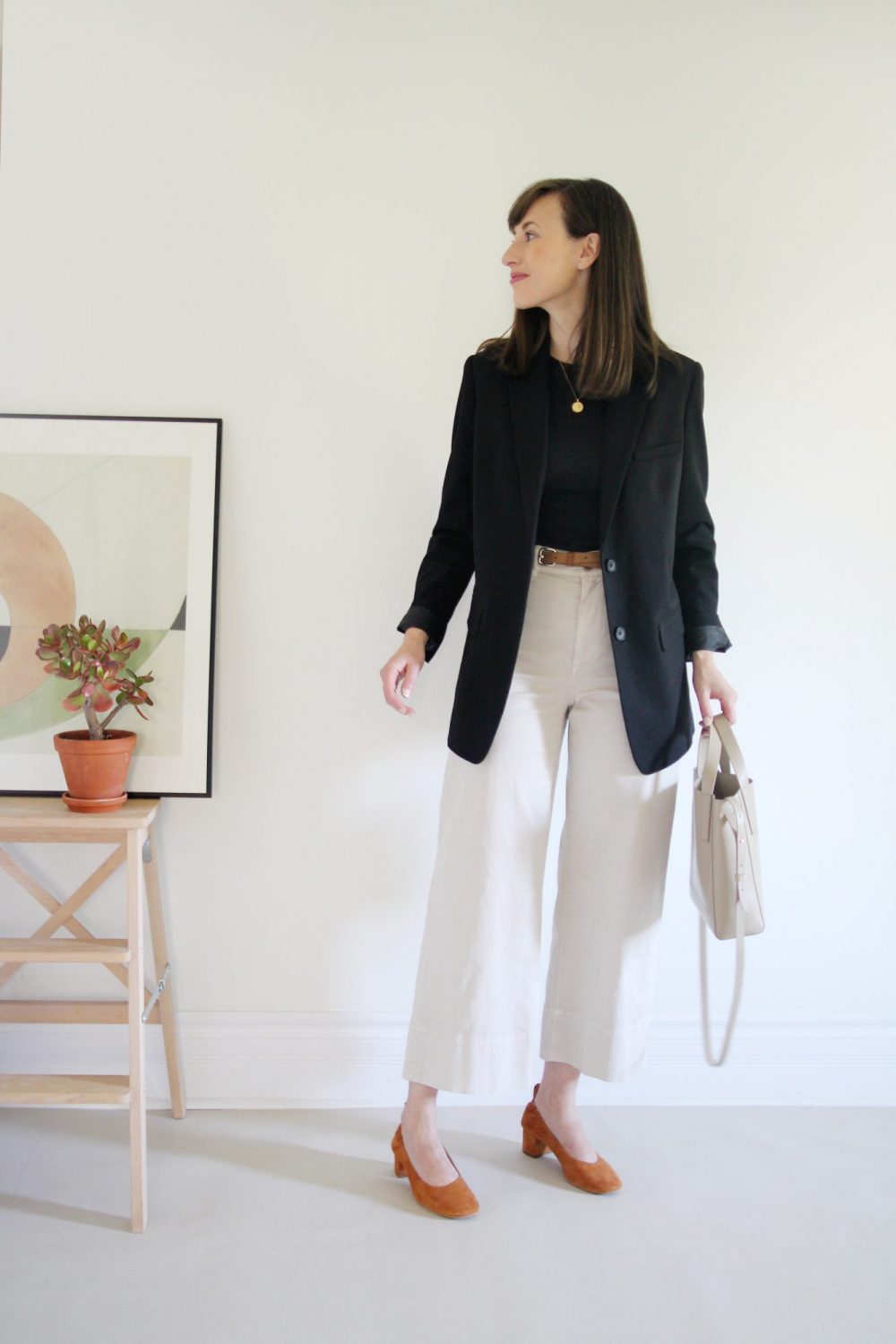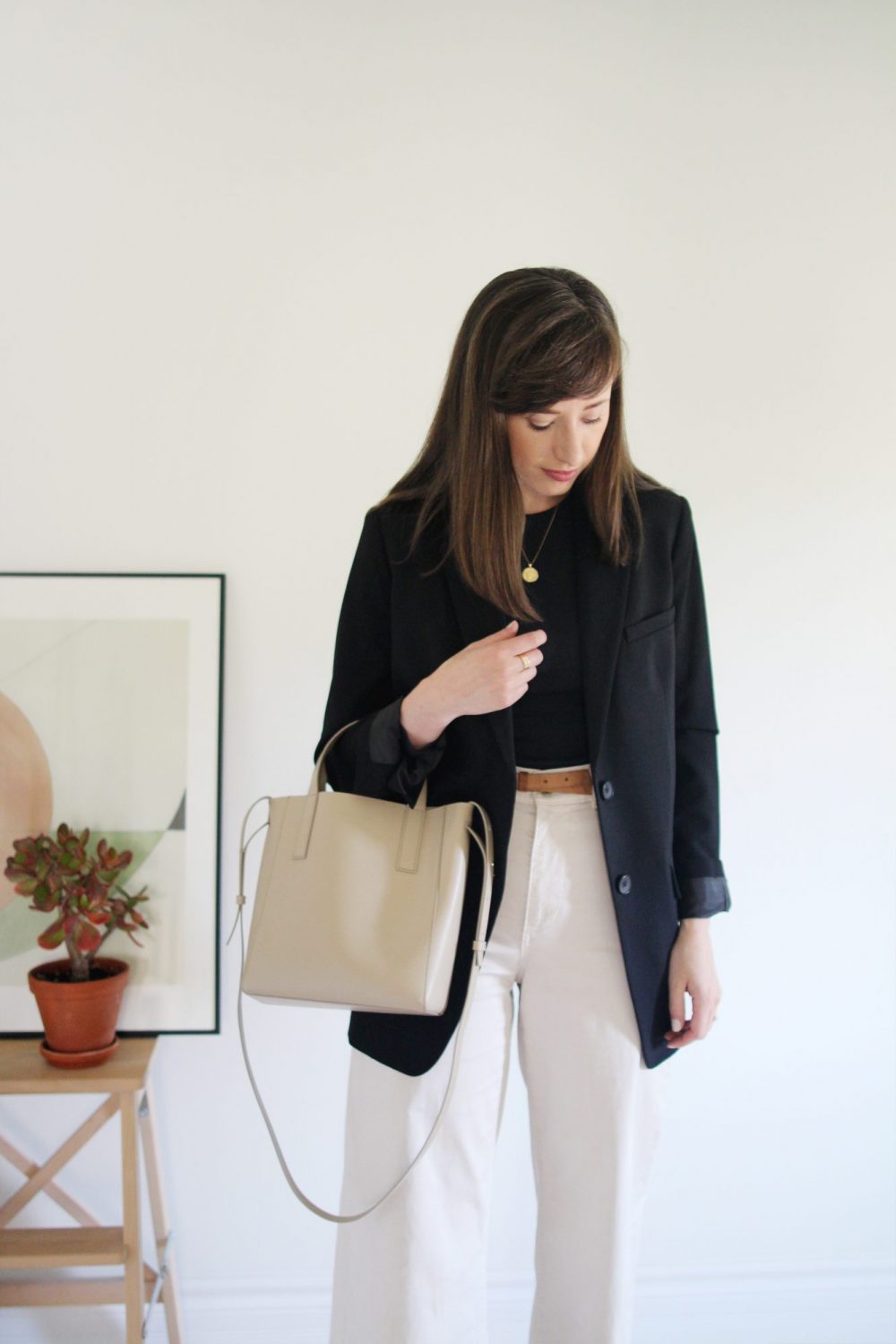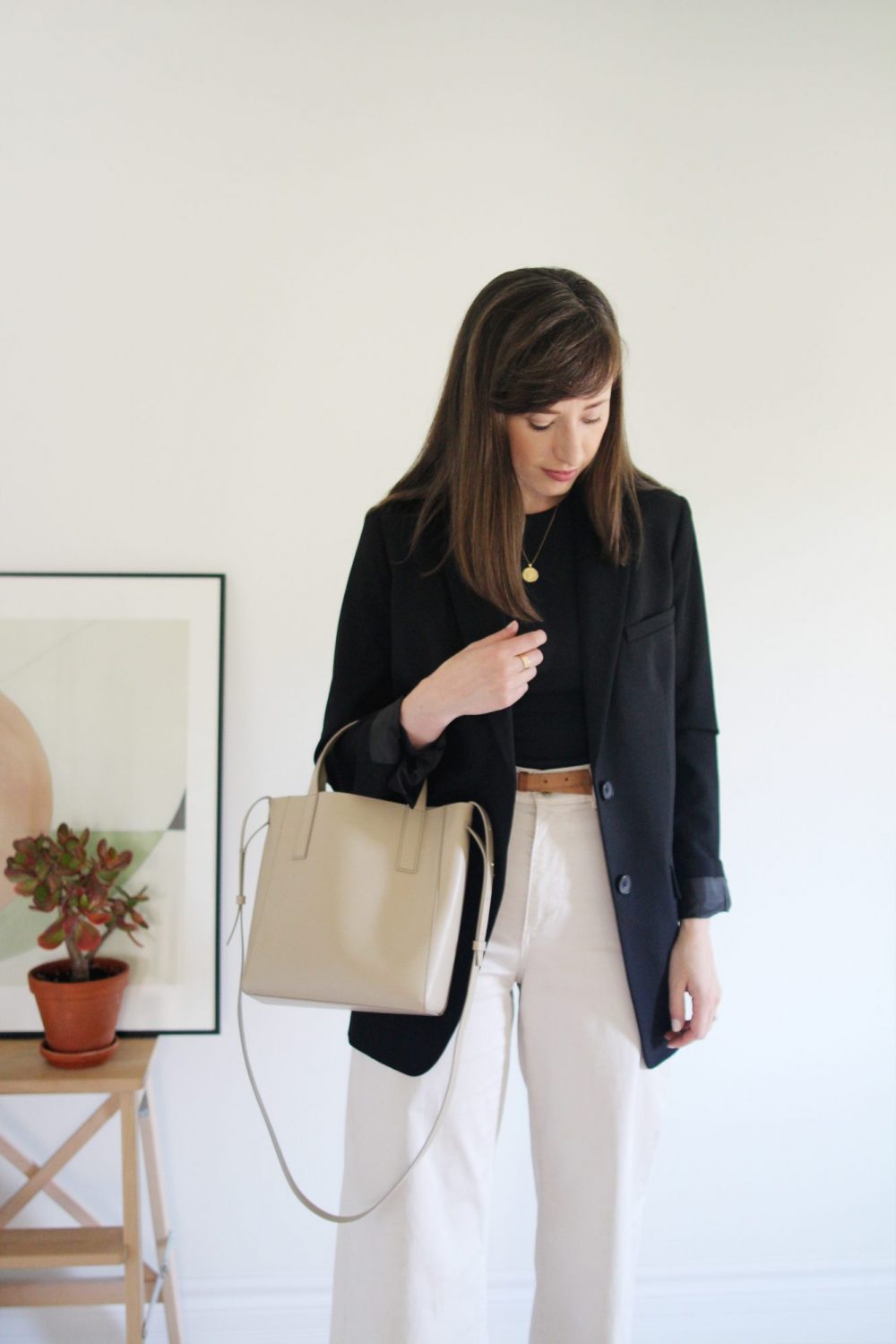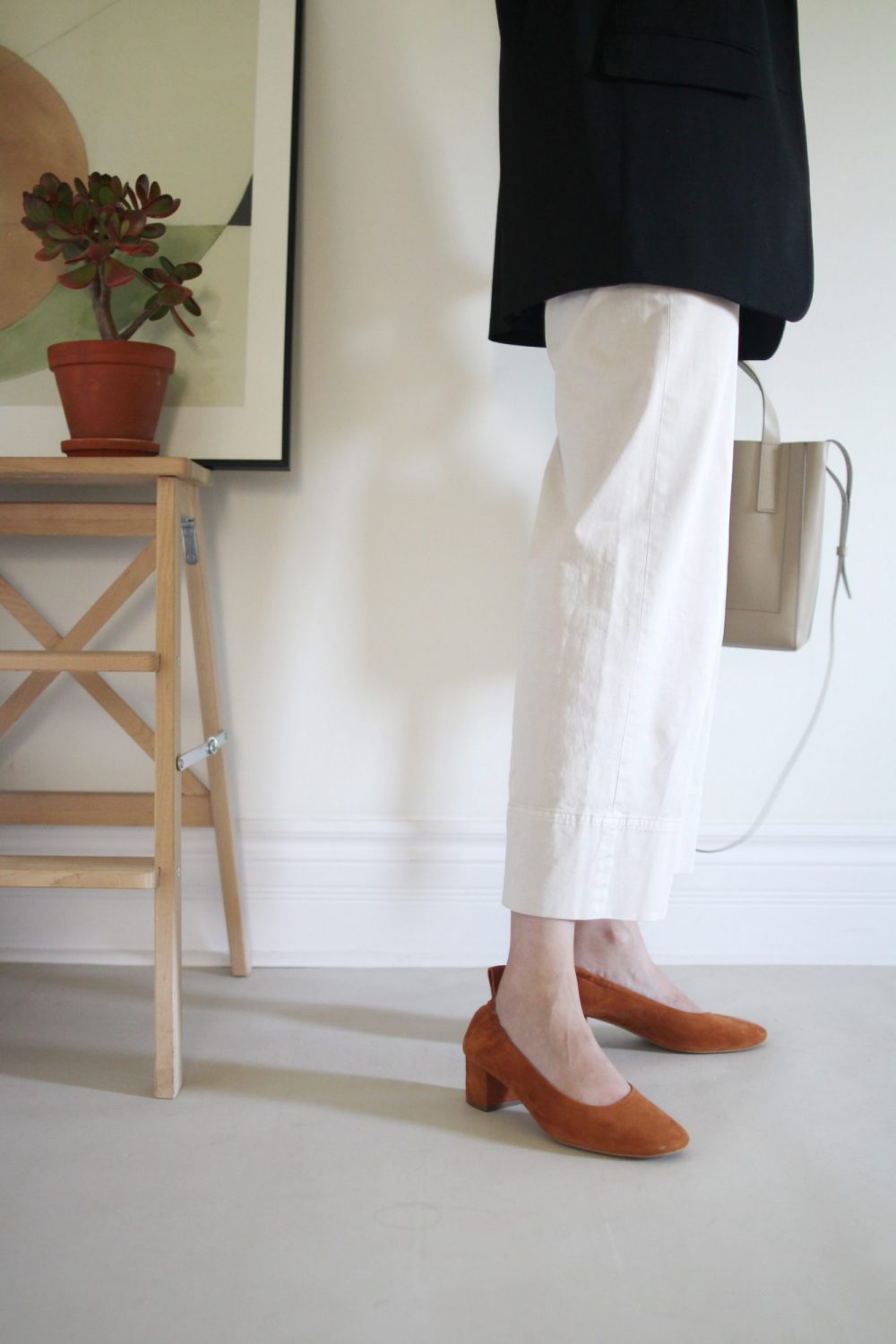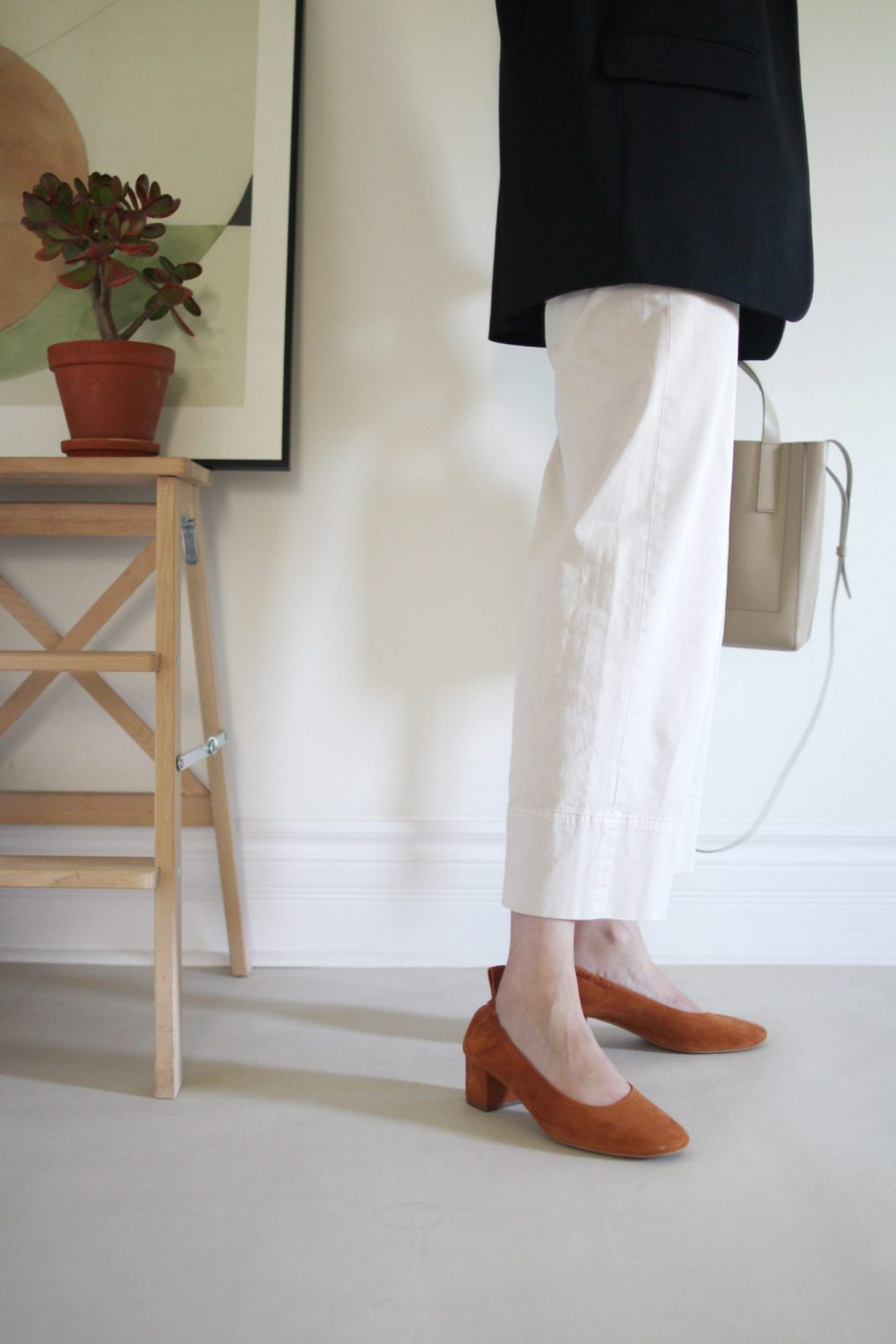 ---
FALL STAPLE: OVERSIZED BLAZER
BOUGHT BY ME IN 2017
---
I love an oversized blazer all year round but early fall is definitely prime time for this style, especially in black. I wear mine as a light top layer in place of a denim jacket, trench coat or even a chunky knit sweater. I wear blazers during the day, to meetings, presentations, dinners out and meet-ups with friends and family. When it's warm I throw one on over a silk tank with jeans and when it's chilly I'll wear it over a fitted tee or knit and wrap a scarf around my neck for extra coziness.
I've had the Oversized Wool Blazer for 2 years now and it's still in pretty much perfect shape. I like that the material (95% Italian wool, 5% elastane) doesn't attract a ton of lint or pet fur compared to other wool garments in my closet. The sleeves are easy to cuff or wear long and the shape is just oversize enough to feel intentional.
FIT: I wear a size 2 in Everlane's Oversized blazer. I have both the Wool and the Cotton/Linen styles and the fit is the same in both. It's oversize without being enormous and has the perfect amount of room to layer over a shirt, tee or even a sweater. For reference: I'm 5'7 and about 125 lbs.
SHOP THE OVERSIZED BLAZER > $170 USD (Available in three fabrics)
---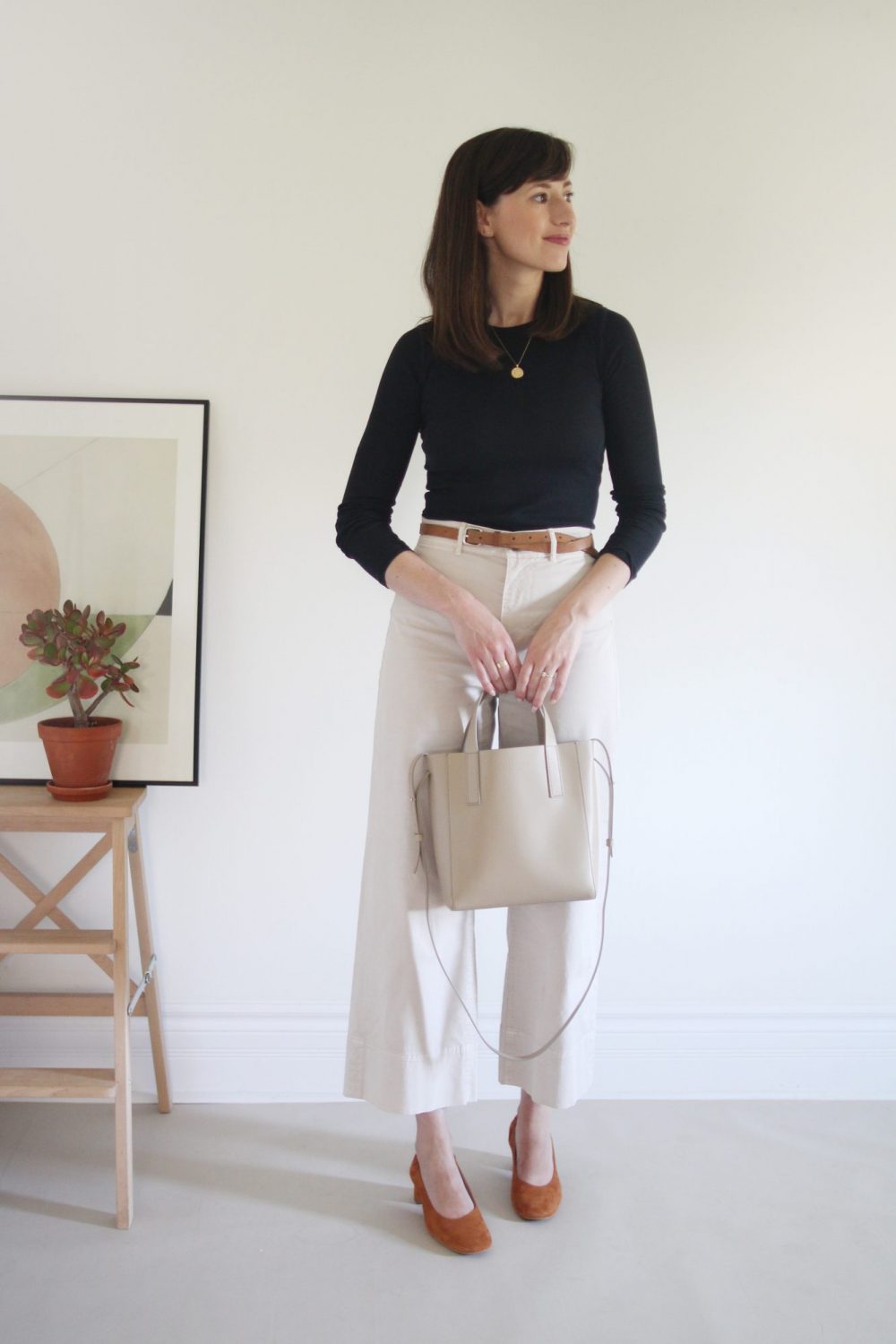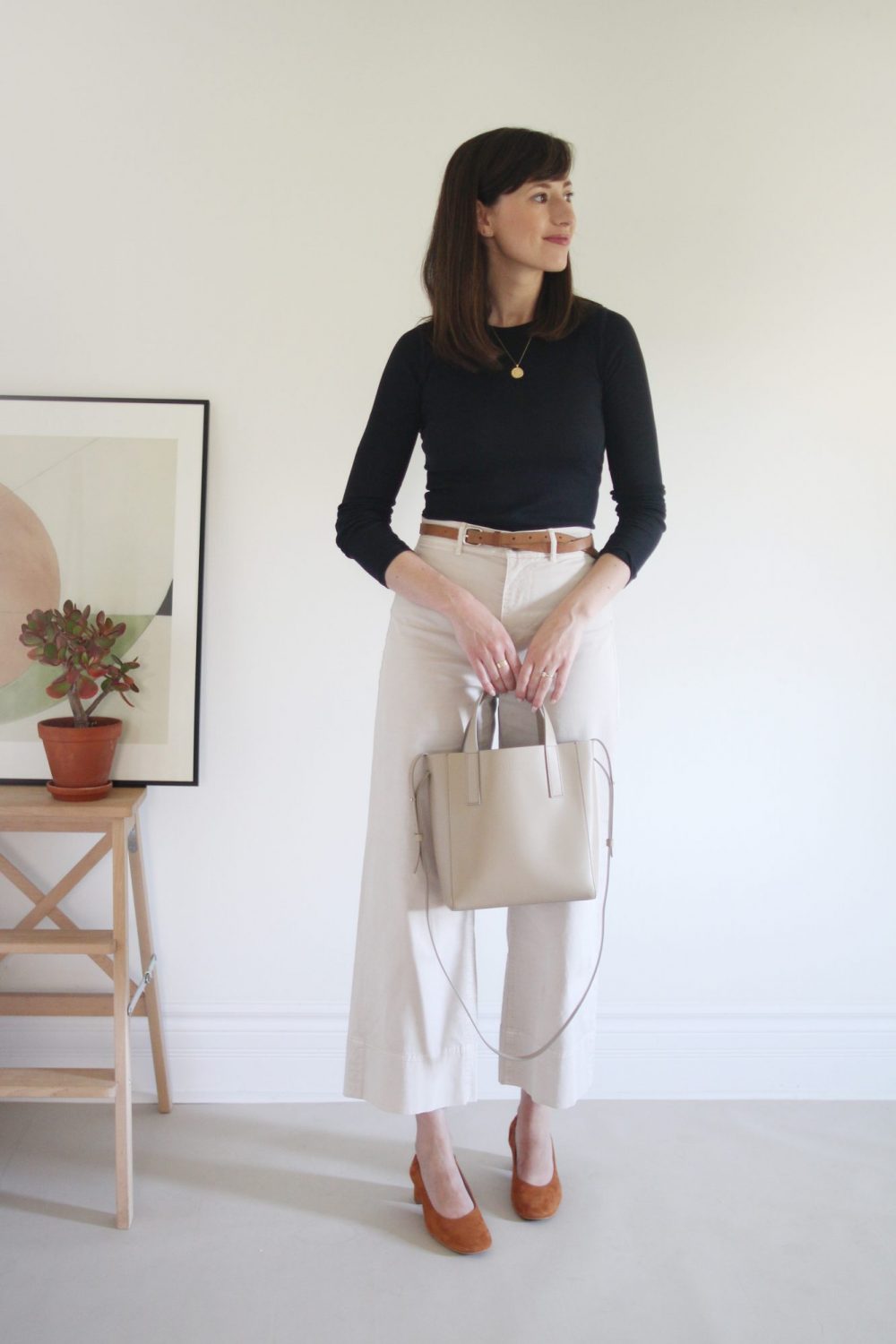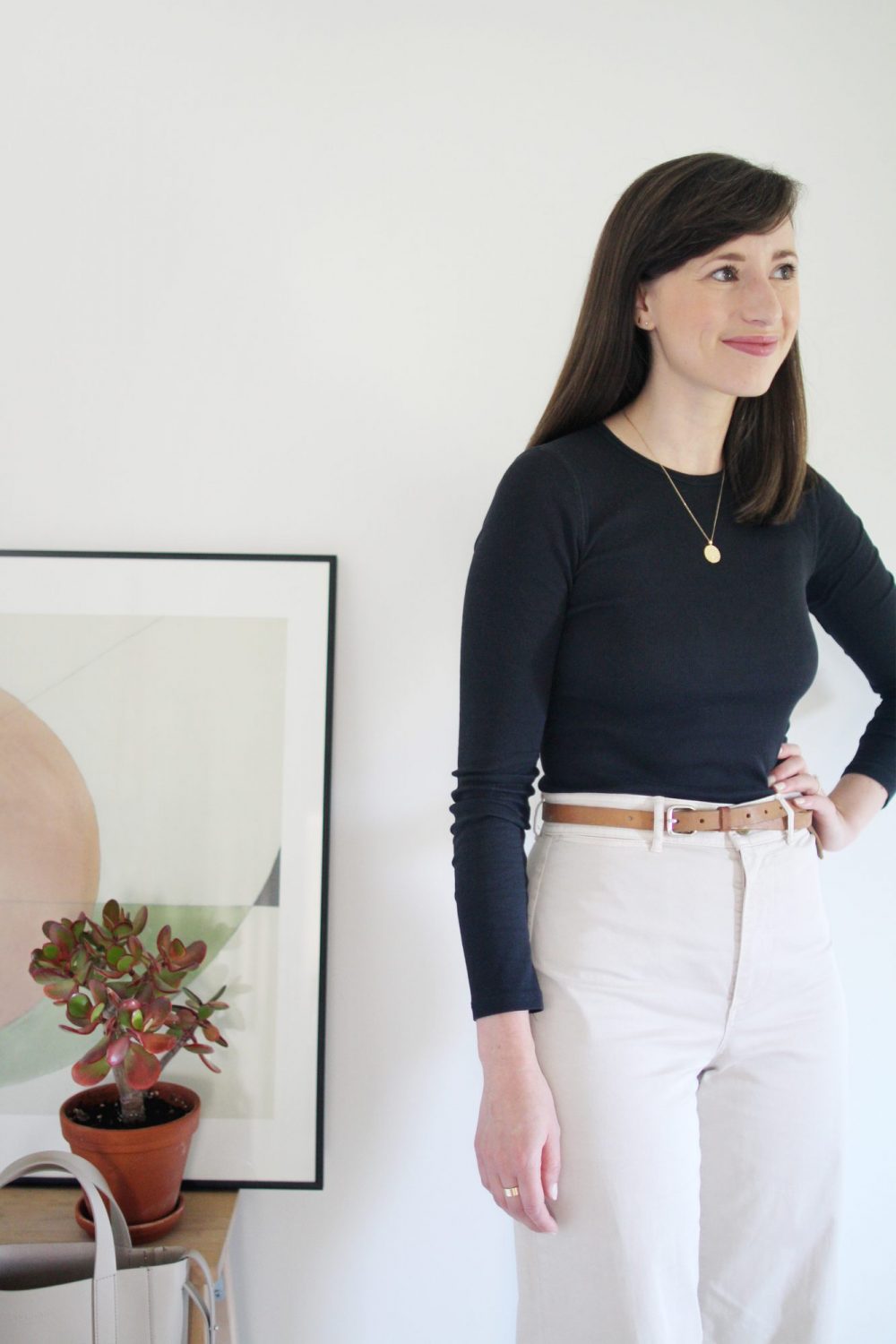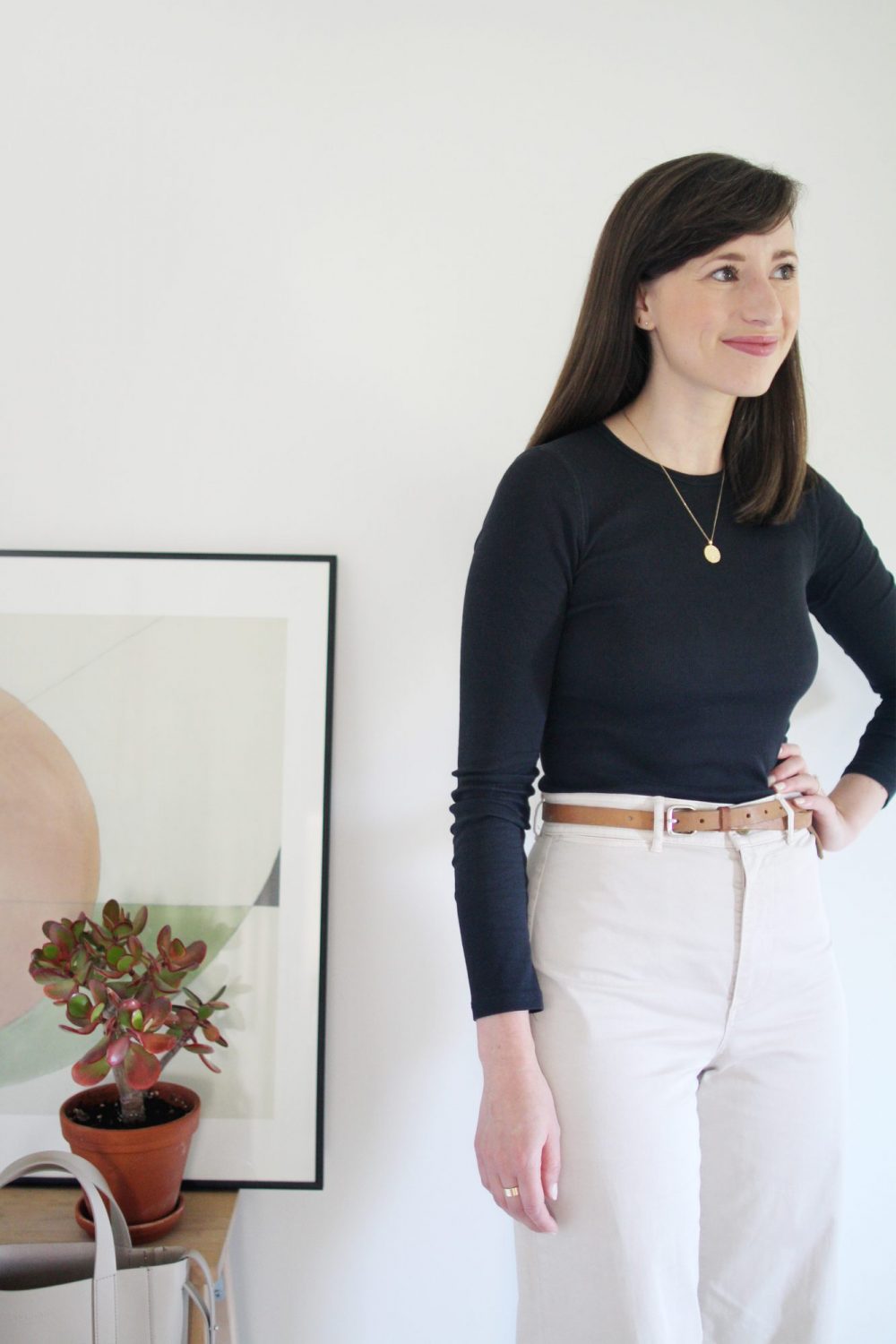 ---
FALL STAPLE: PIMA MICRO RIB LONG-SLEEVE TEE
BOUGHT BY ME IN 2018
---
A fitted long sleeve tee is a true staple in almost any cold weather closet. They're an ideal base for layering and the tight fit keeps heat in without creating extra bulk. I particularly like the Pima Micro-Rib Long-sleeve Crew because of the super soft pima cotton and a high neckline that works well under lots of sweater and jacket styles. There are no saggy spots under the arms and they retain their shape all day. I've had similar garments in the past that always stretch around the elbow and bunched up under the arm when layered. These are definitely a contender for closet MVP!
I wear my long sleeved tees as a base under jumpers, tucked into jeans and high-waisted pants, under blazers, jackets, sweaters and cardigans. Basically, anything I can when the temps dip! I bought a couple of these tees last fall and after washing them many times since, I've found that they maintain their fit and size very well. I typically hang dry but on the few occasions that they've snuck into the dryer they came out just fine.
FIT: I wear a size Small in this tee style and it's fitted without being super tight. For reference: I'm 5'7, about 125 lbs and wear a 32C.
SHOP THE PIMA MICRO RIB LONG SLEEVE TEE > $32 USD (Available in three colours)
---
OUTFIT #1 SOURCES: PIMA MICRO RIB LONG SLEEVE TEE | BLAZER | WIDE LEG CHINO (see my unsponsored review here) | DAY HEEL gifted | MINI DAY TOTE gifted | NECKLACE | ARTWORK gifted
---

---
LOOK 2
---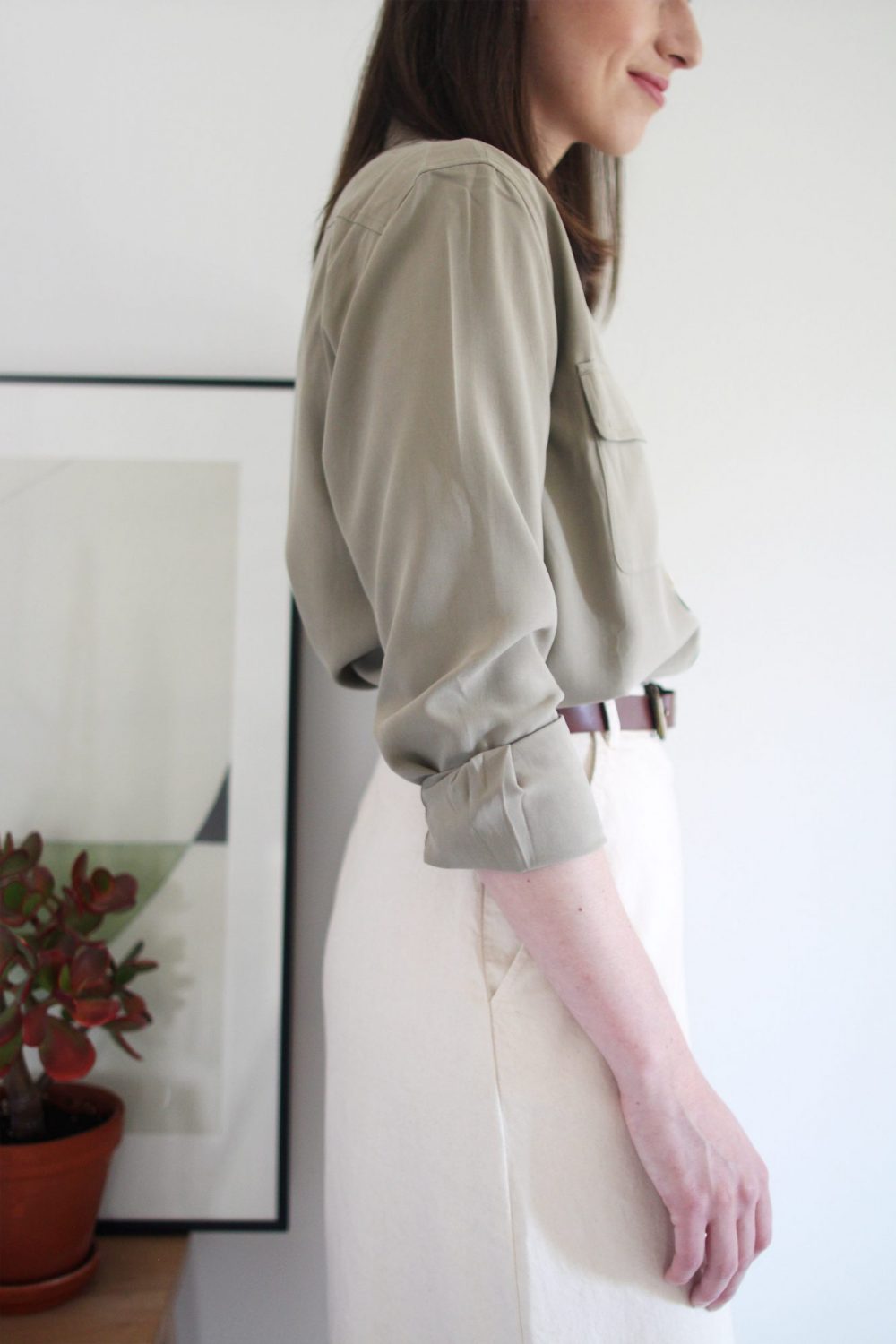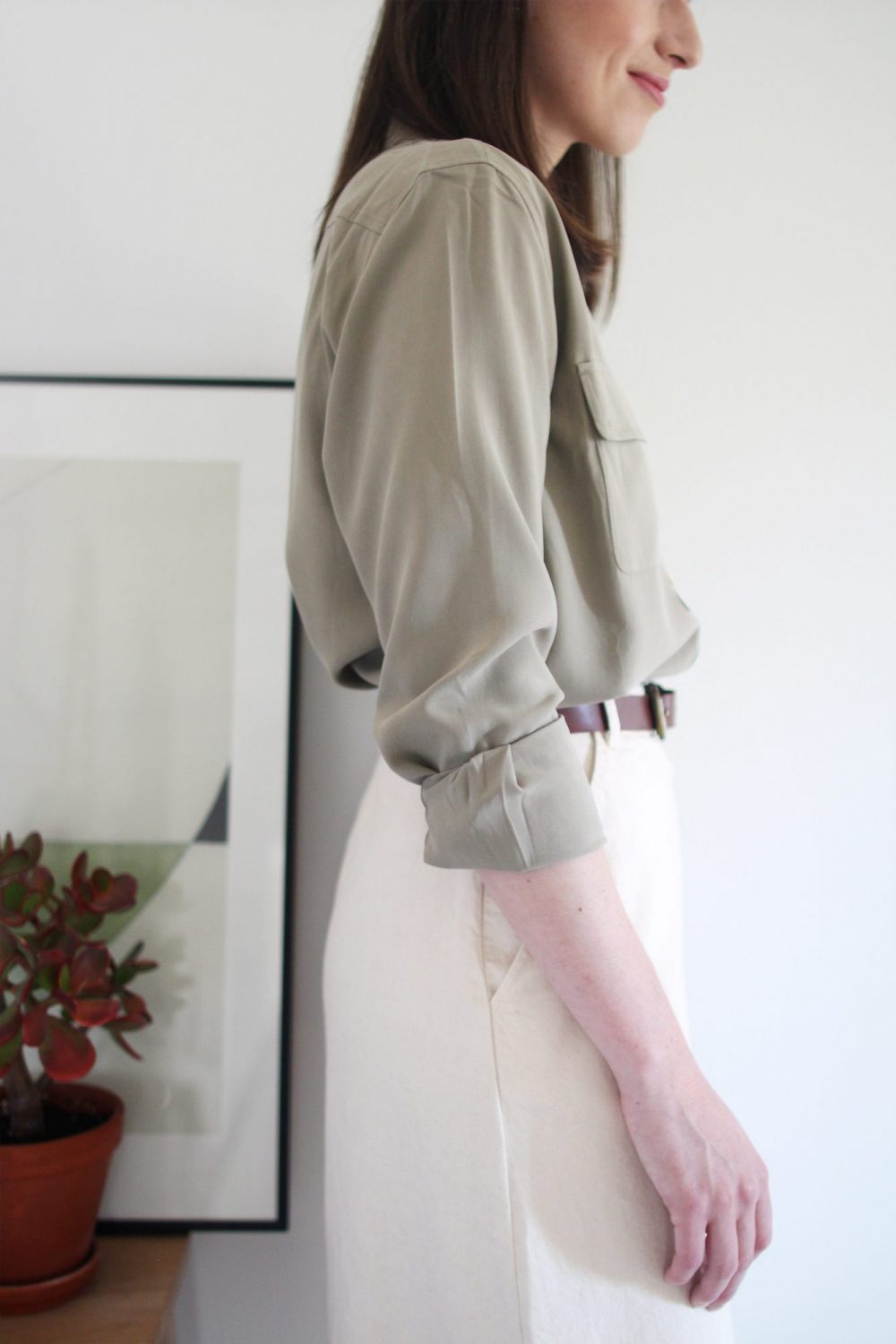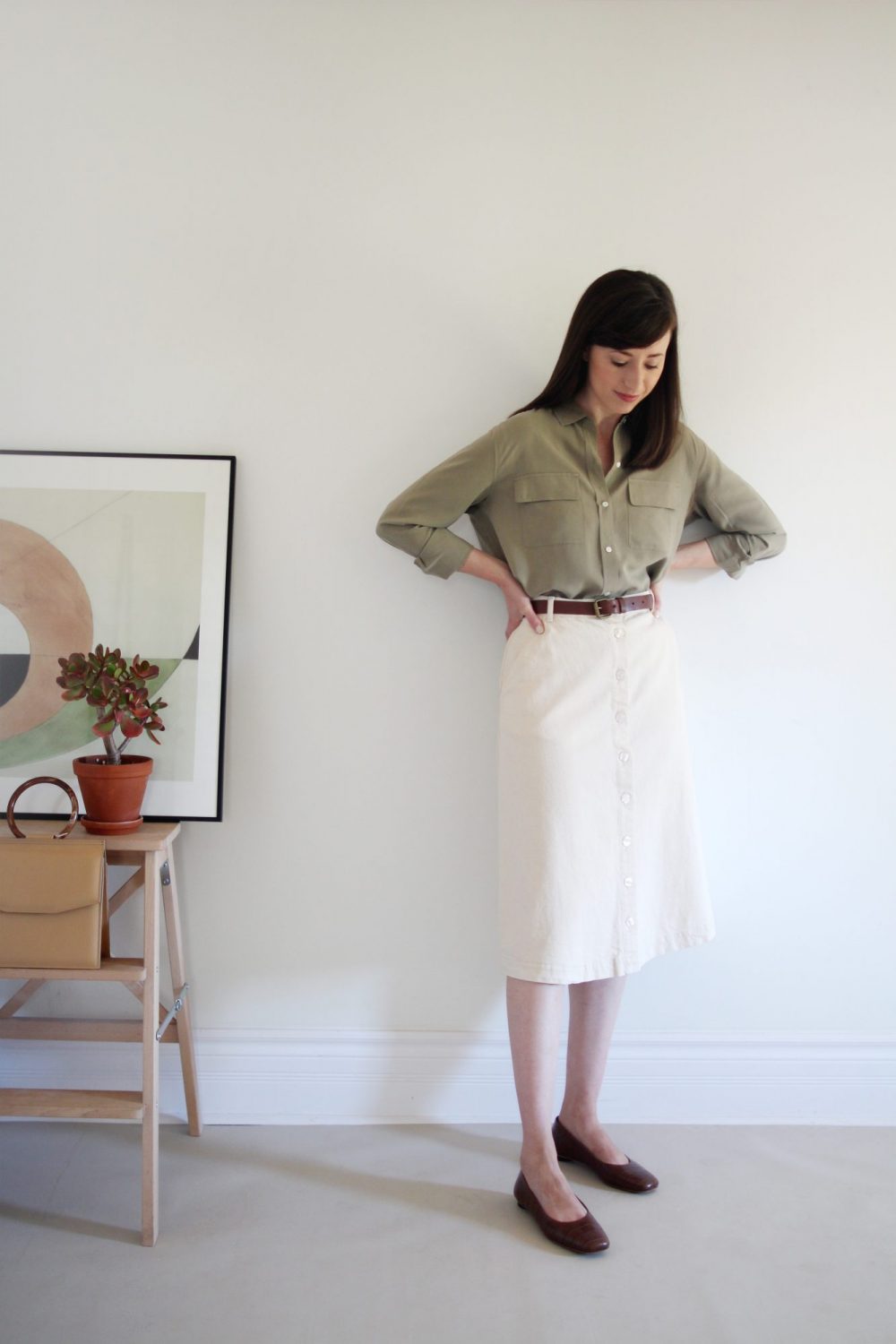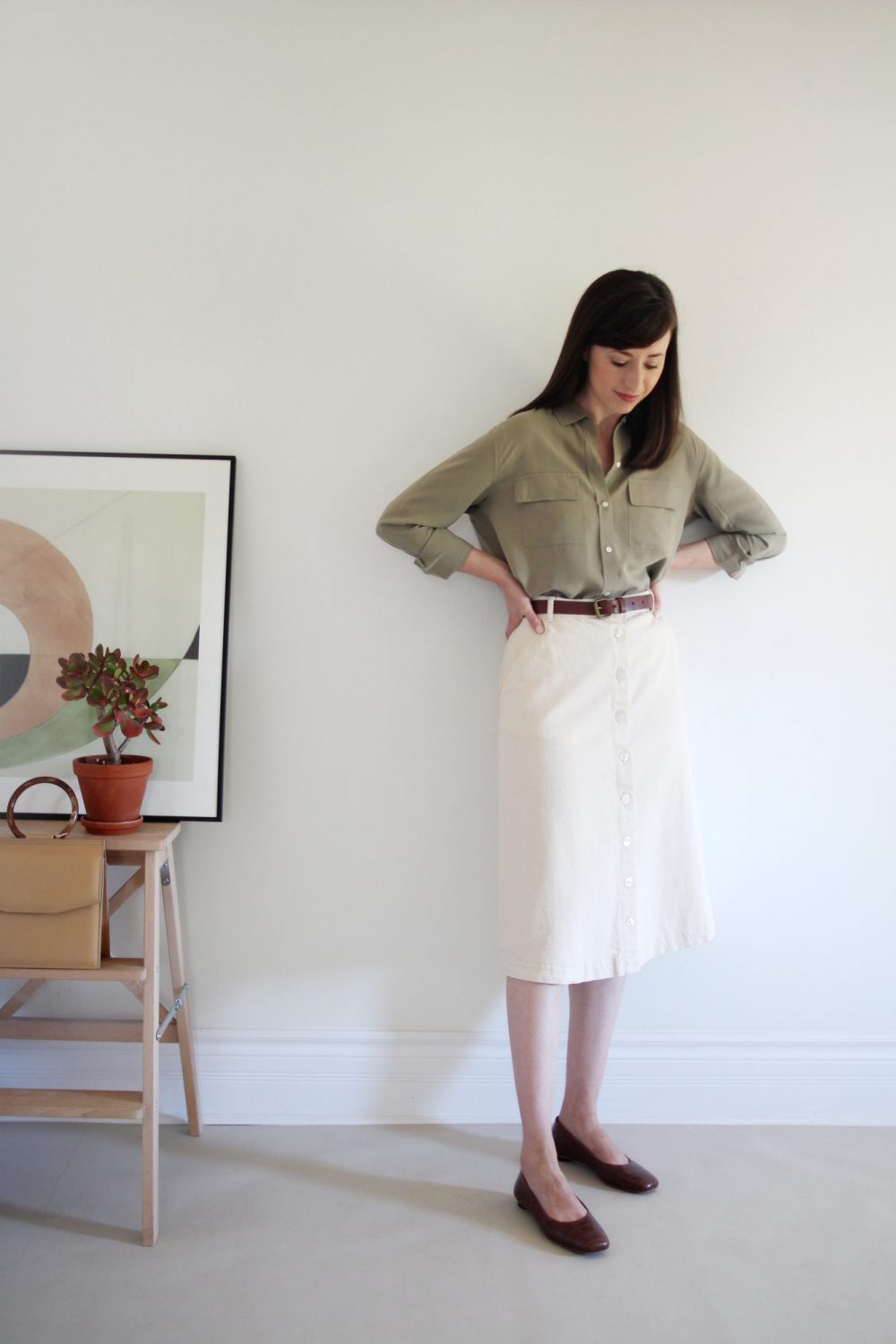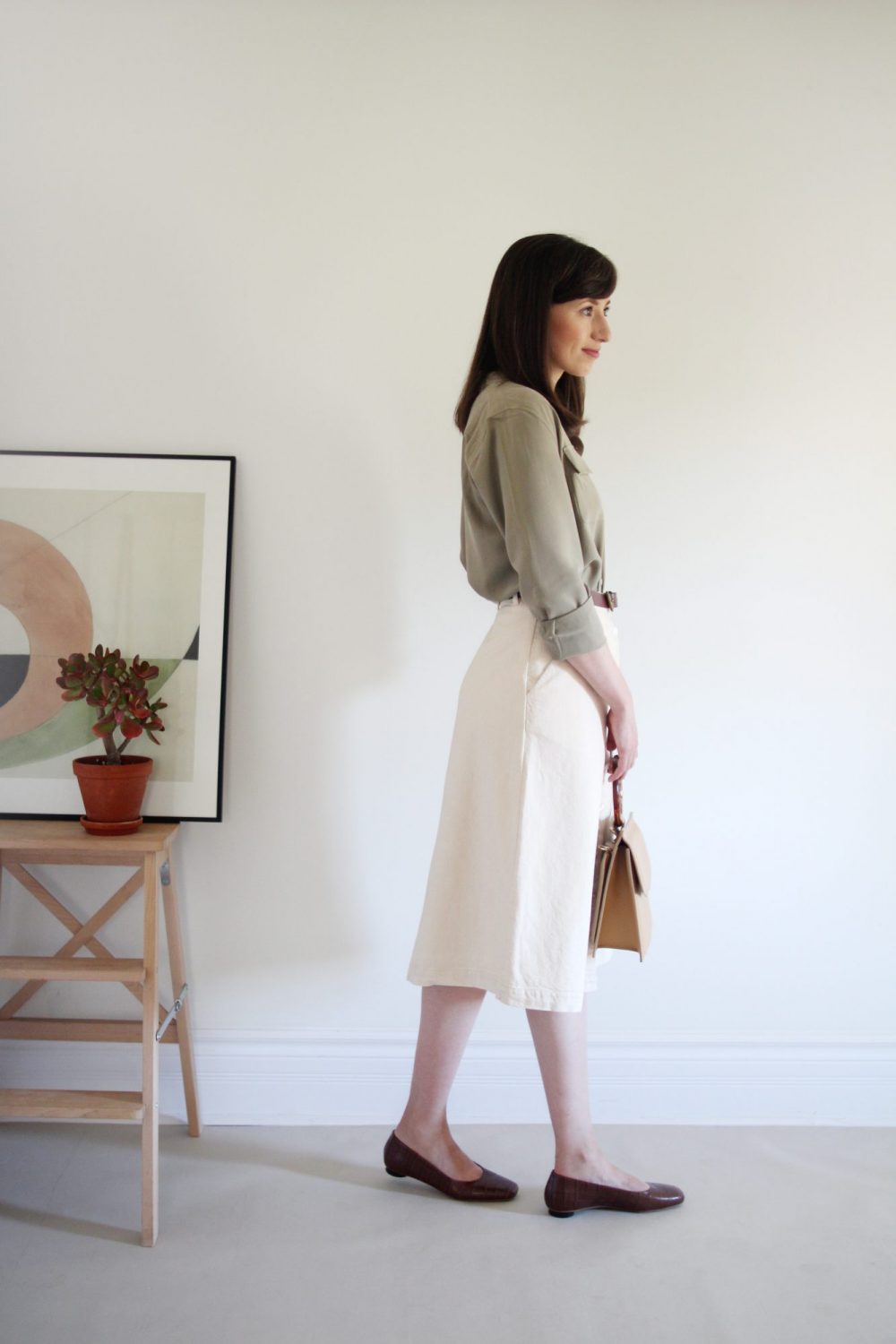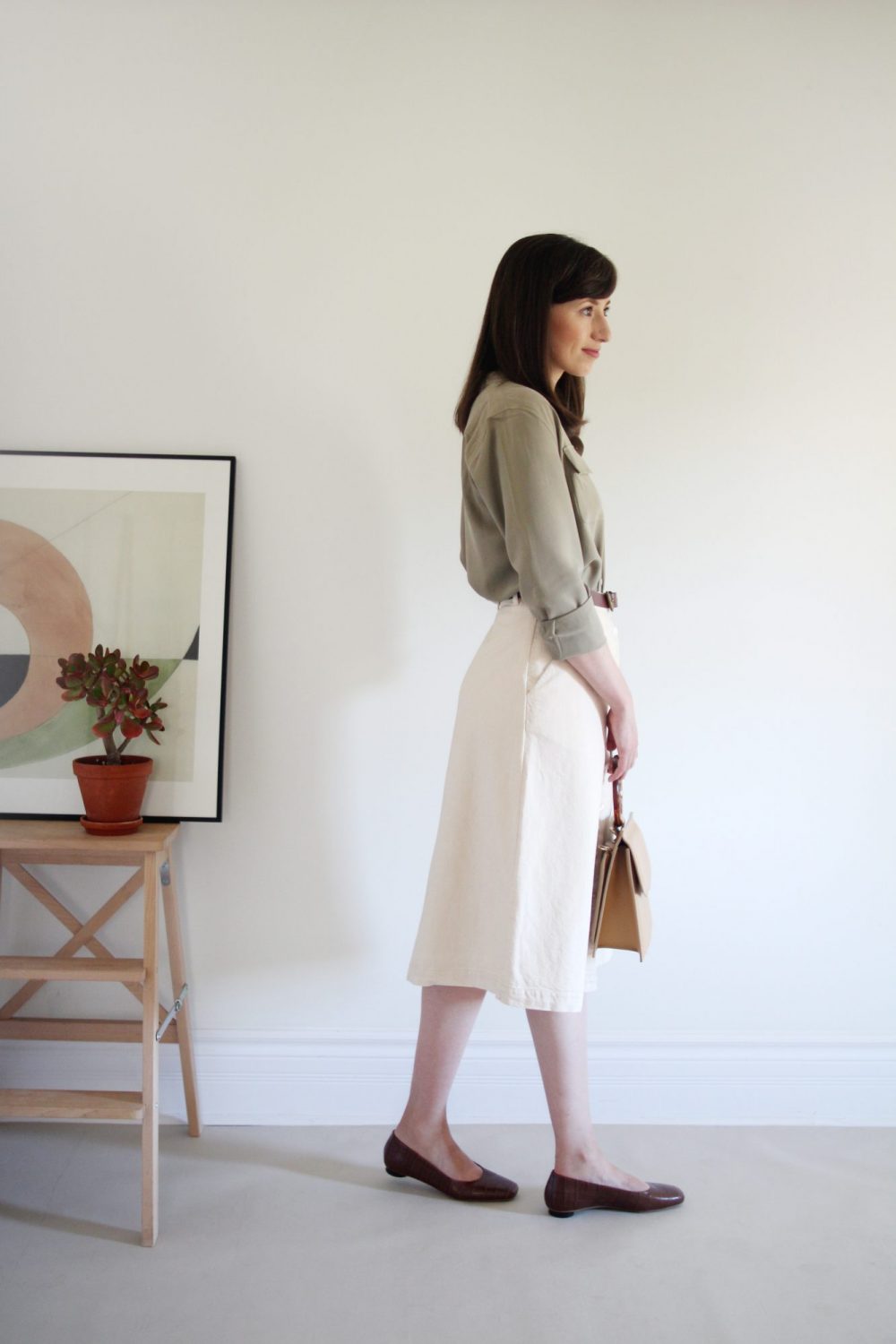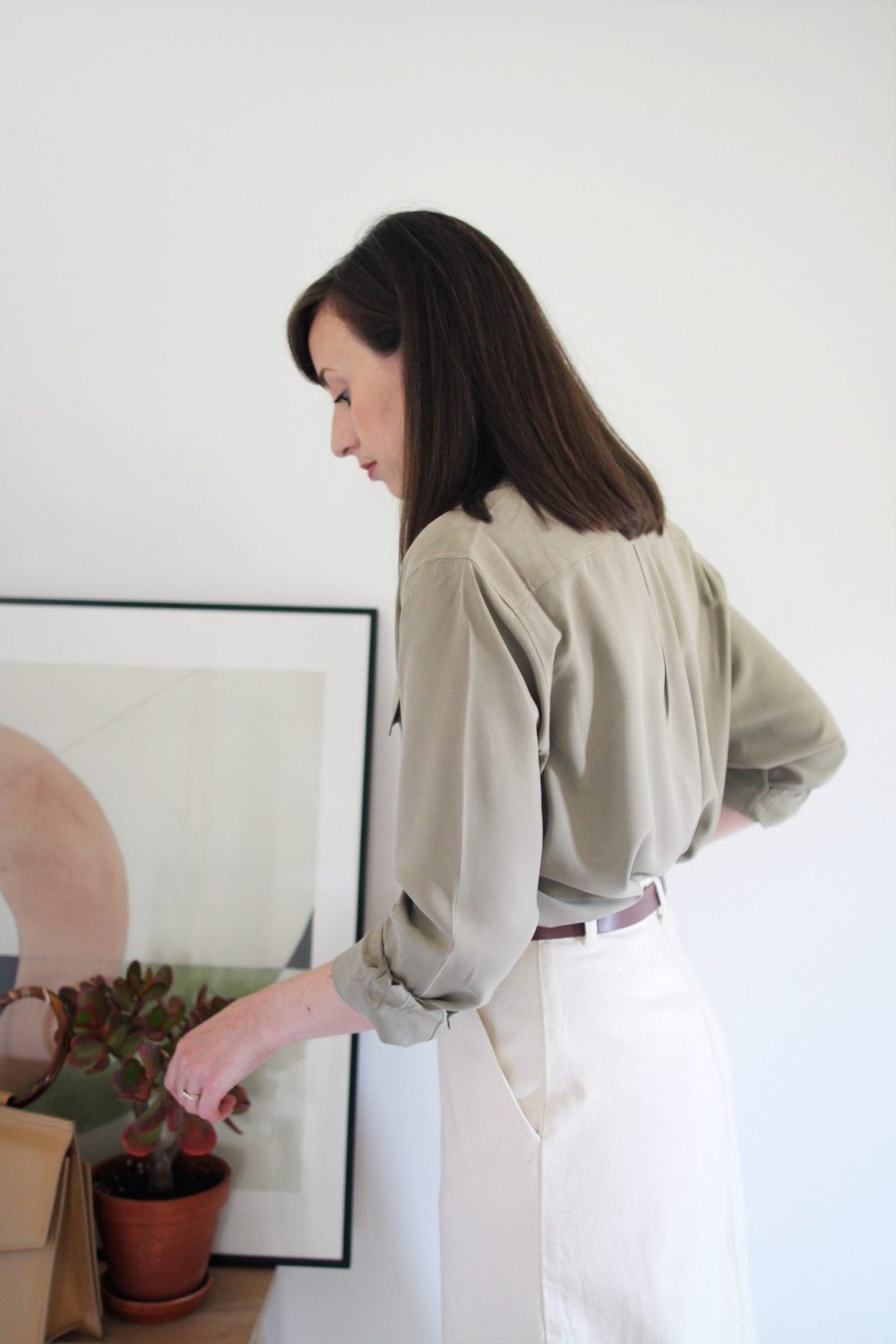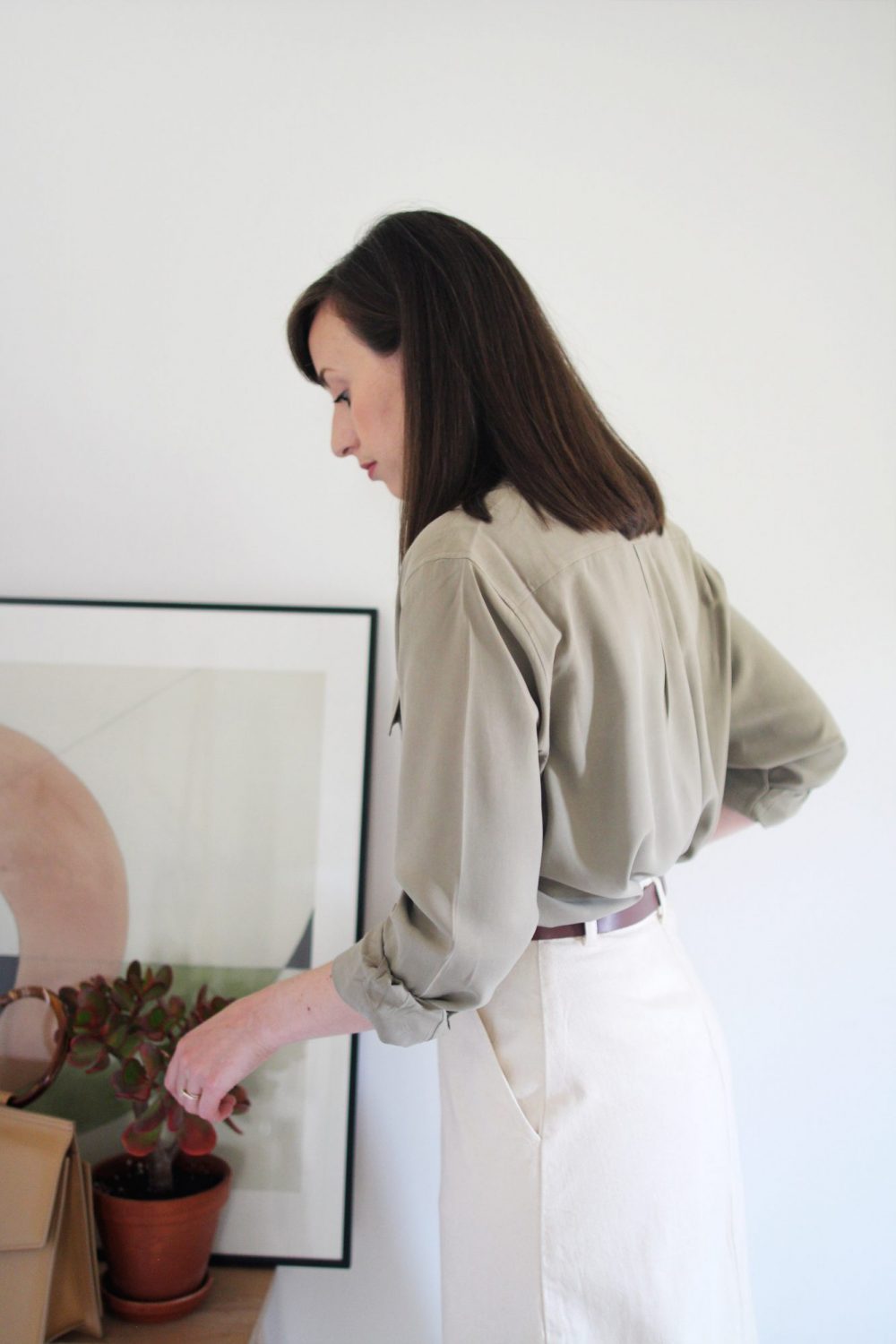 ---
FALL STAPLE: SILK SHIRT
GIFTED THIS MONTH
---
I was so excited to test out Everlane's washable silk collection because I love wearing it but the biggest barriers to getting more use out of my silk pieces is either the expense of dry cleaning or the hassle of hand washing. Thankfully, the washable collection eliminates both of those!
I've worn my Washable Silk Relaxed Shirt a couple of times already and I'm kind of obsessed with how it feels. It drapes like a traditional silk but has almost a suede-like texture to it. It feels less precious than other silk shirts in my closet so I won't hesitate to wear it whenever the mood strikes.
While this particular one is new to me, silk shirts are a long standing fall staple. I love wearing them under sweaters with jeans on a casual day or tucked into a skirt with a belt and some cute flats for a work meeting. It'll be perfect front tucked into my silk Florence pants under a wool duster vest or with black ponte pants and a long cardigan too. You can see a few different ways I like to style shirts in the fall in this post.
Note: I haven't washed this shirt yet so I can't comment on how it comes out, but I'll add an update on here once I do.
FIT: I'm wearing a size 2 in the Washable Silk Relaxed Shirt. I'd say it's more oversized than relaxed so for a more classic fit you might consider sizing down. For reference: I'm 5'7, about 125 lbs and wear a 32C.
SHOP THE WASHABLE SILK RELAXED SHIRT > $110 USD (Available in five colours)
---
OUTFIT #2 SOURCES: SILK SHIRT gifted | BELT | SKIRT | SQUARE TOE CROC FLATS gifted | BAG | ARTWORK gifted
---

---
LOOK 3
---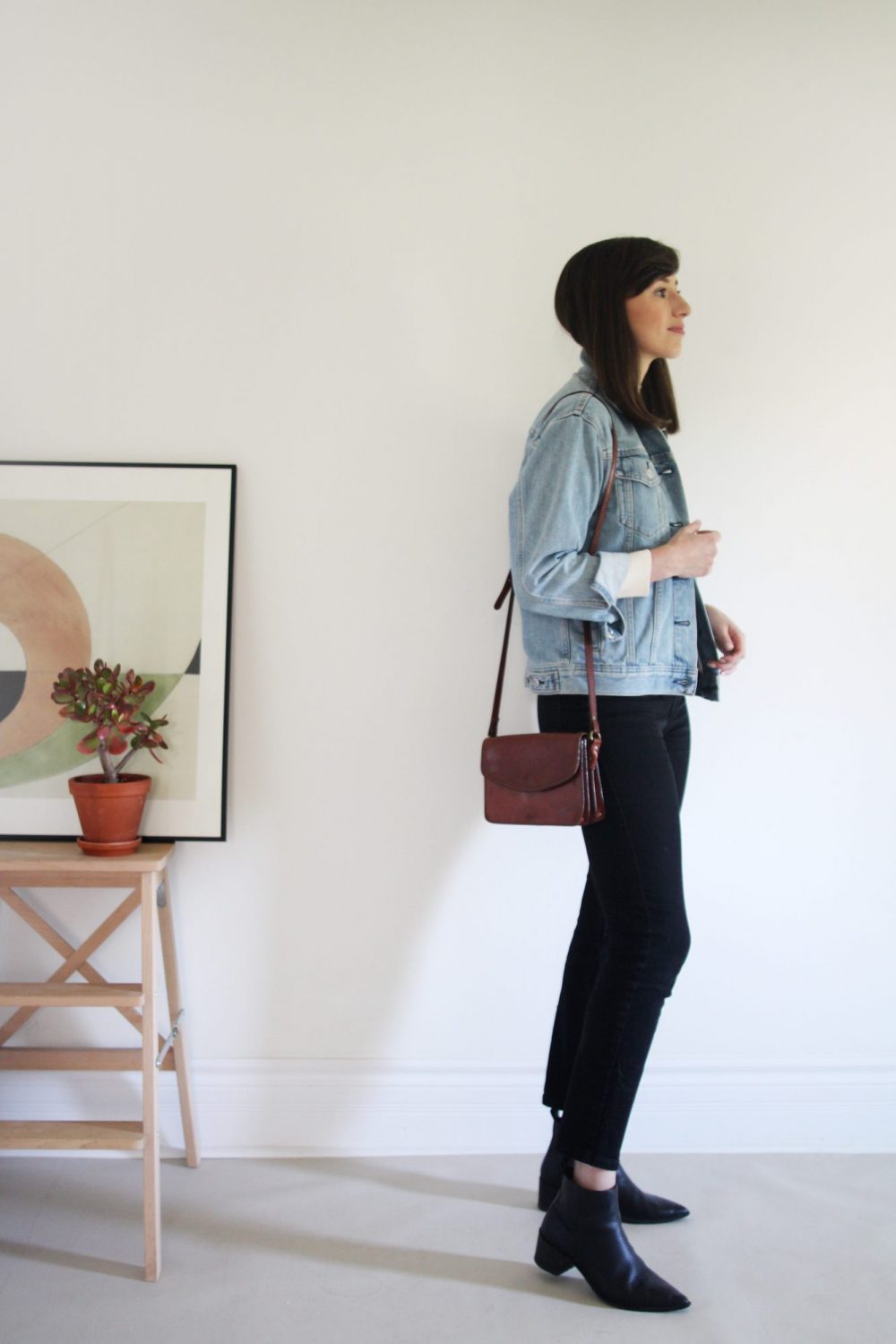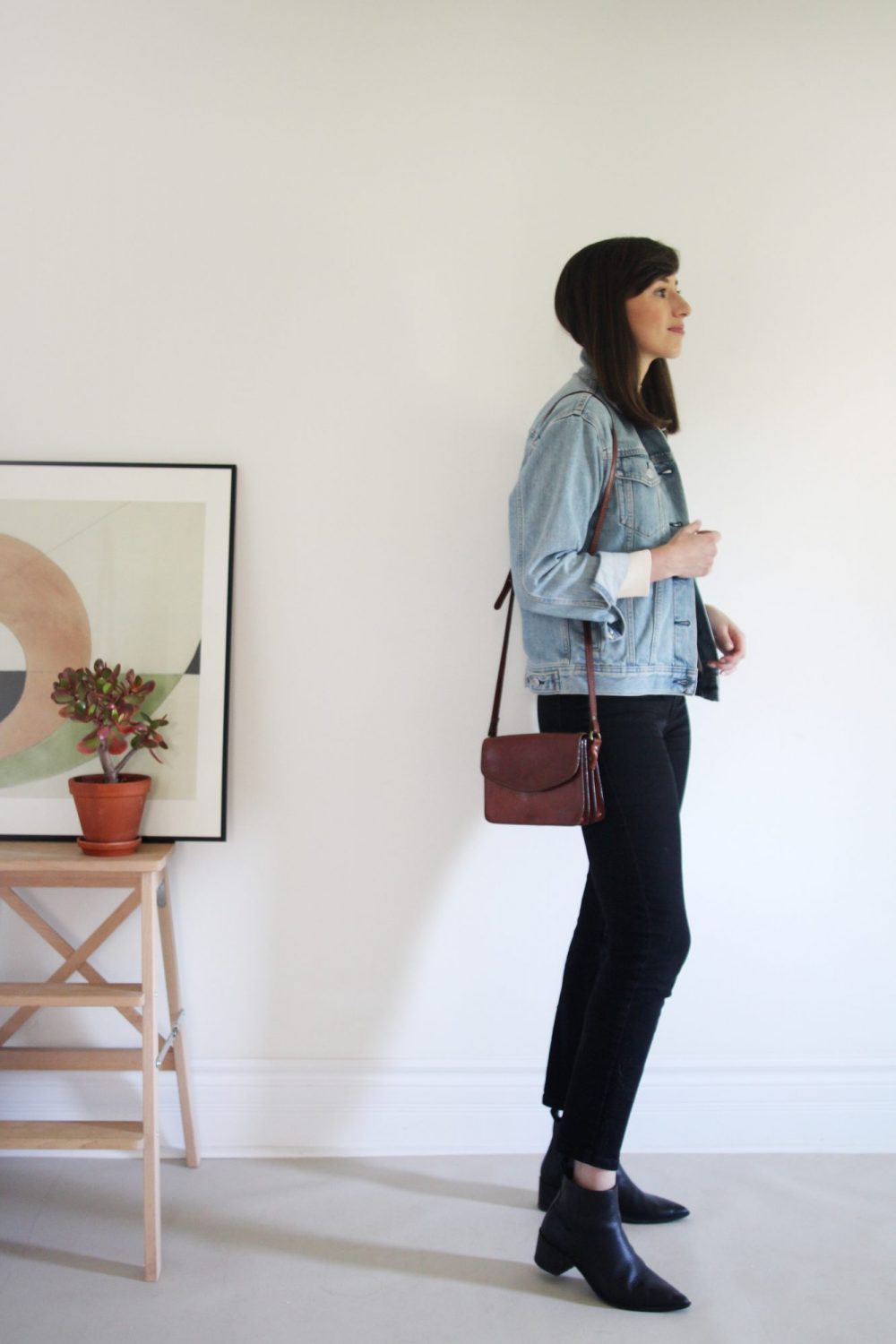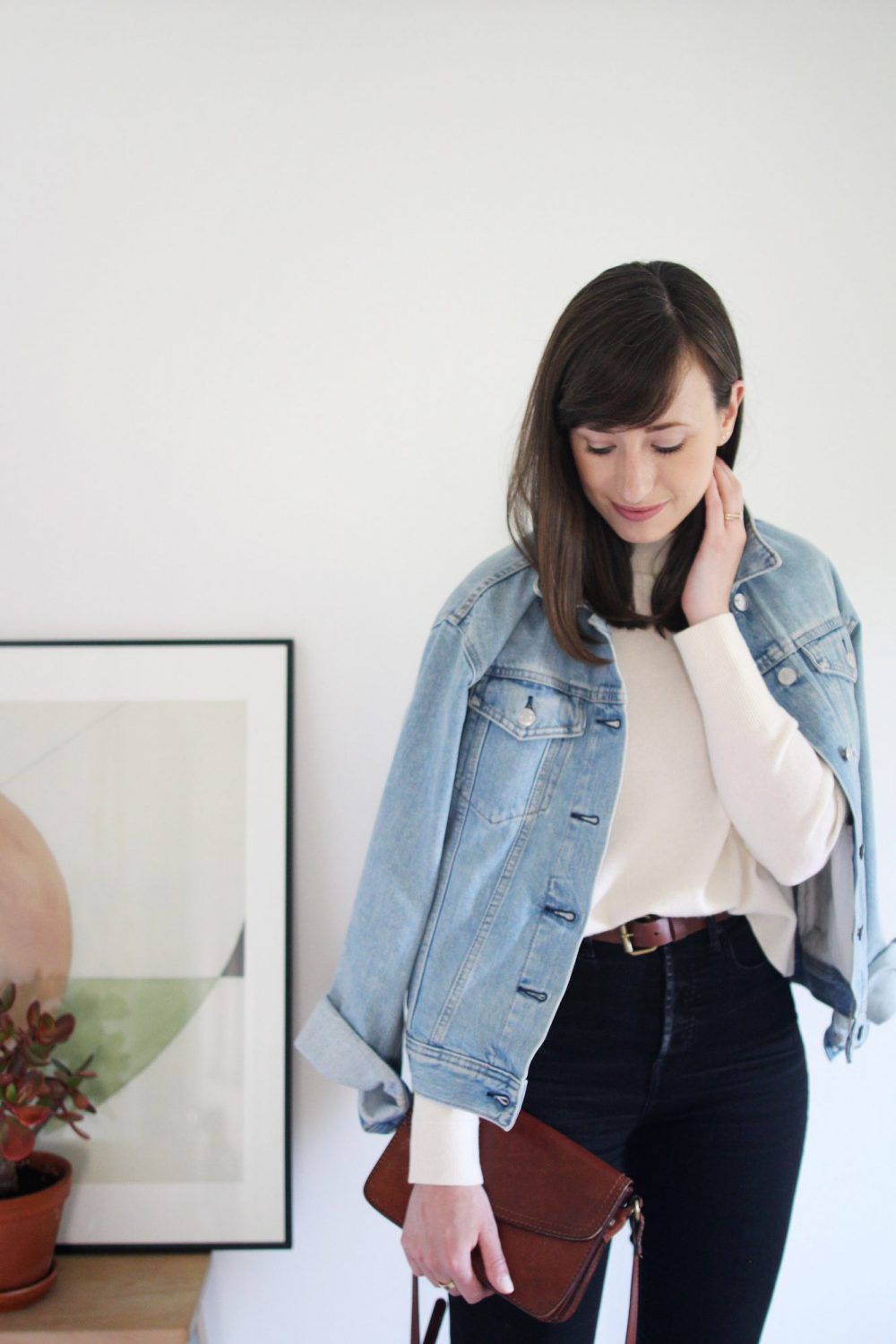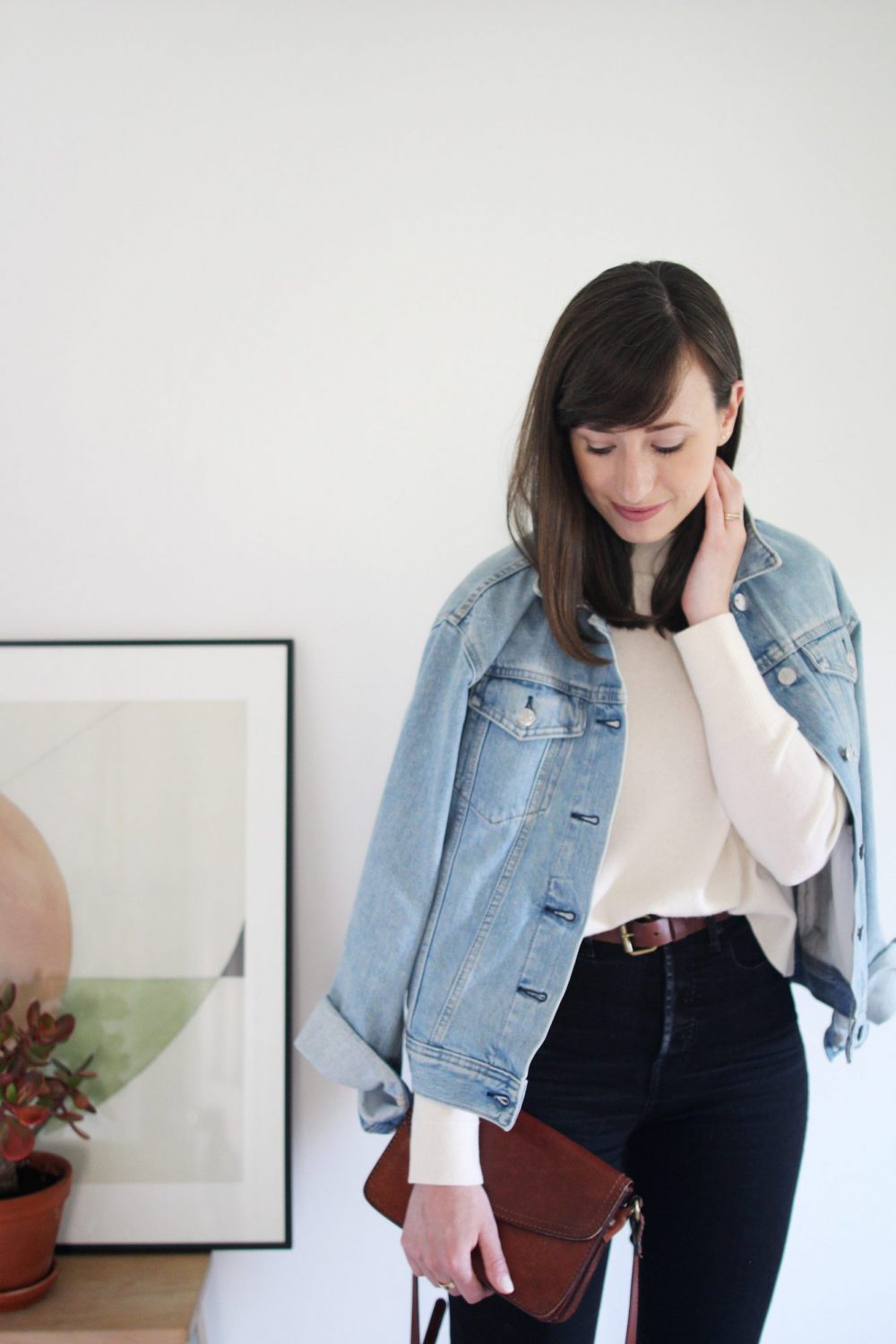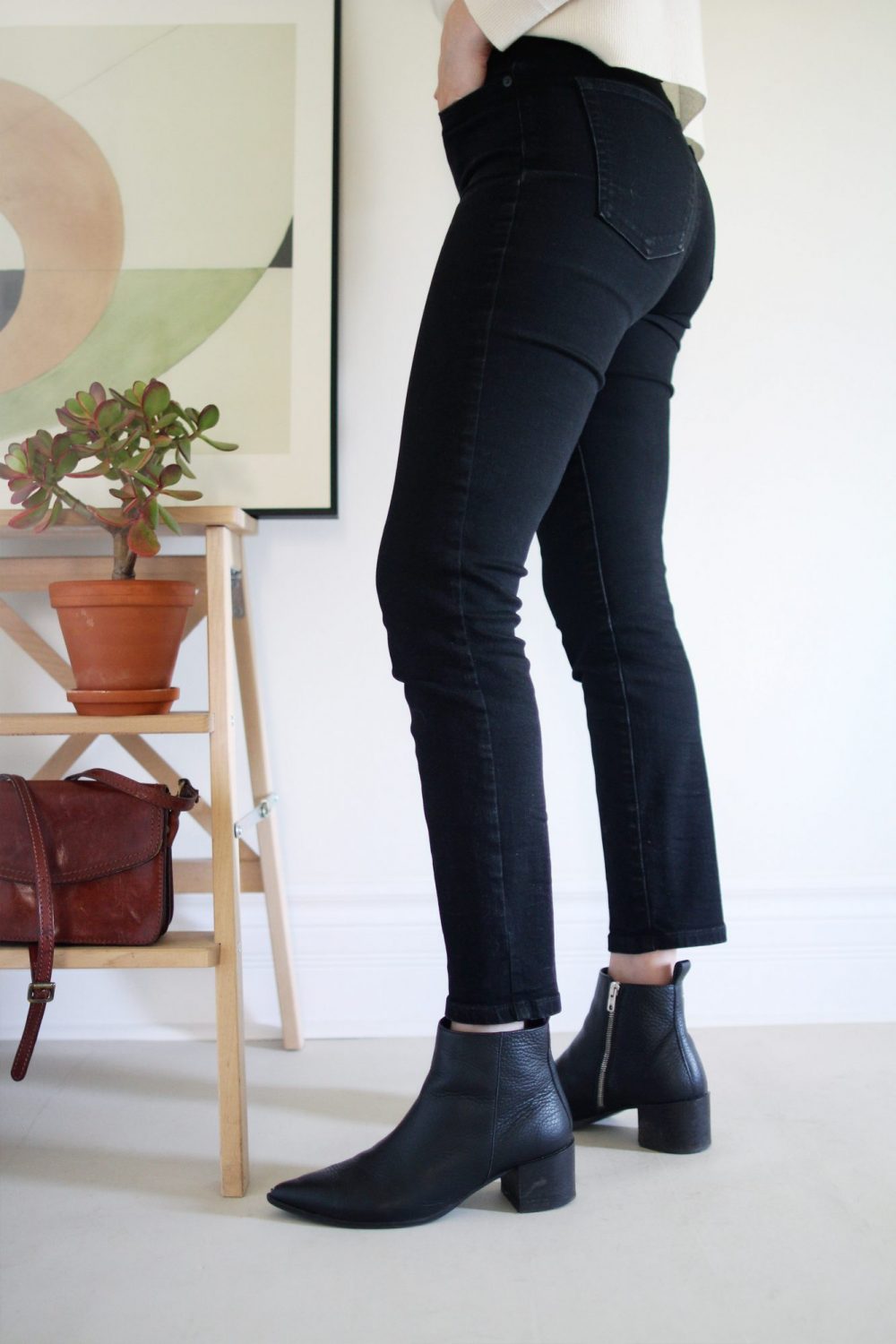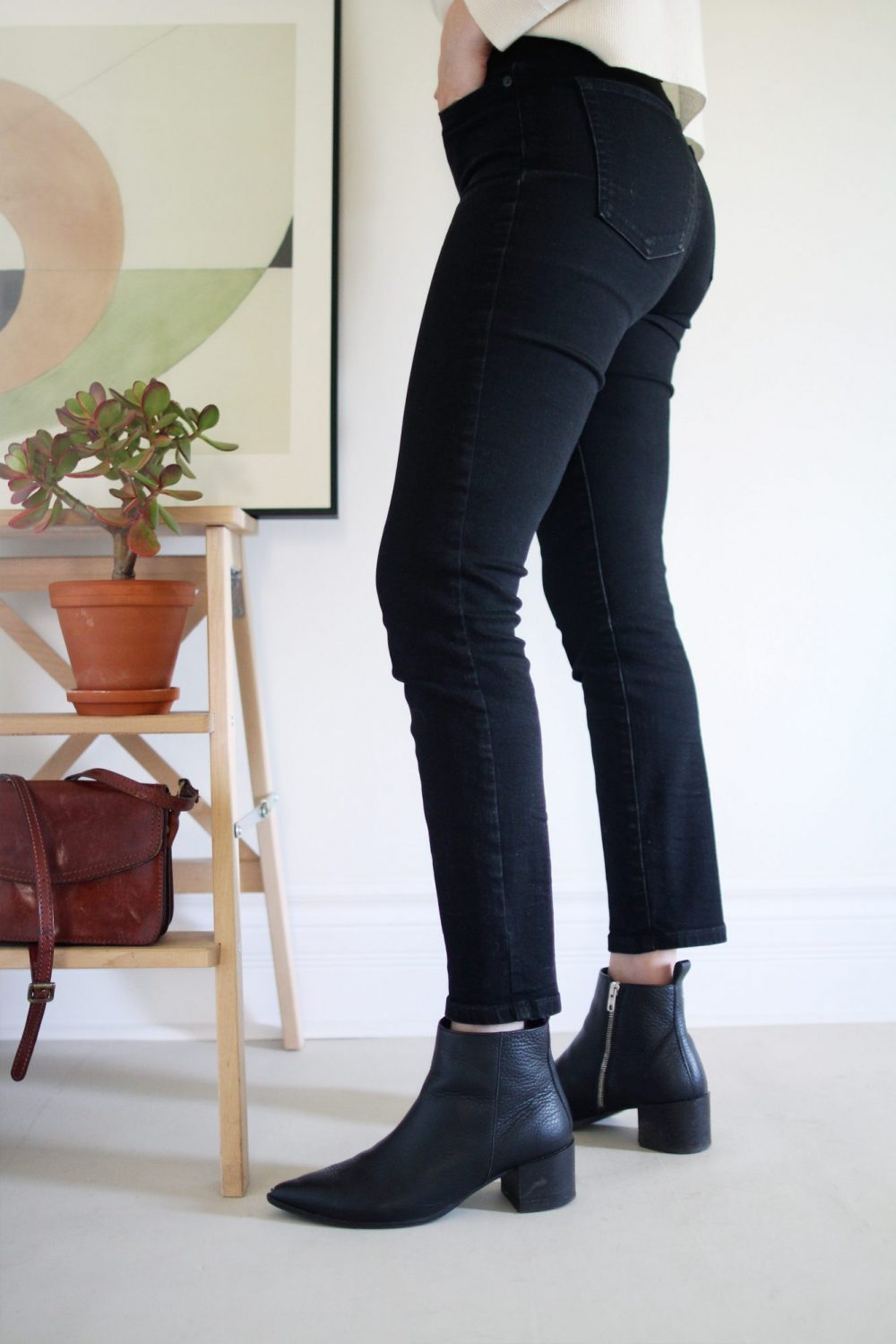 ---
FALL STAPLE: ANKLE BOOTS
GIFTED IN 2017
---
The Boss Boot has been in my closet for 2 full years (gifted in 2017) and I still can't wait to wear them this fall. I'd lusted after the Acne Studios Jensen boot for so long but at almost $600 USD they just weren't a viable option. The Boss Boot has the same sleek shape and perfect proportions with what I think are even cleaner details like an inner zip, higher heel and straight line across the ankle.
These are definitely one of my most worn pairs of boots because they're super comfortable, versatile and add a polished feel to any look. They have a couple of small scuffs on the toes but otherwise they still look great and both the heel and sole have withstood a lot of wear and walking. I haven't been particularly careful with them and simply wipe off any dirt with a wet cloth and spray with salt/water protectant a couple of times each season.
There is a very good chance that Everlane has a fabulous new boot style up their sleeves this season but I'll always keep my Boss Boots in rotation.
FIT: I wear a size 7 in the Boss Boot and in all Everlane footwear. I have a narrow instep but they're not too loose. The leather is beautifully soft and has relaxed where needed but hasn't stretched out too much. I can wear a dress or regular cotton sock without any issue.
SHOP THE BOSS BOOT > $225 USD (Available in several colours)
---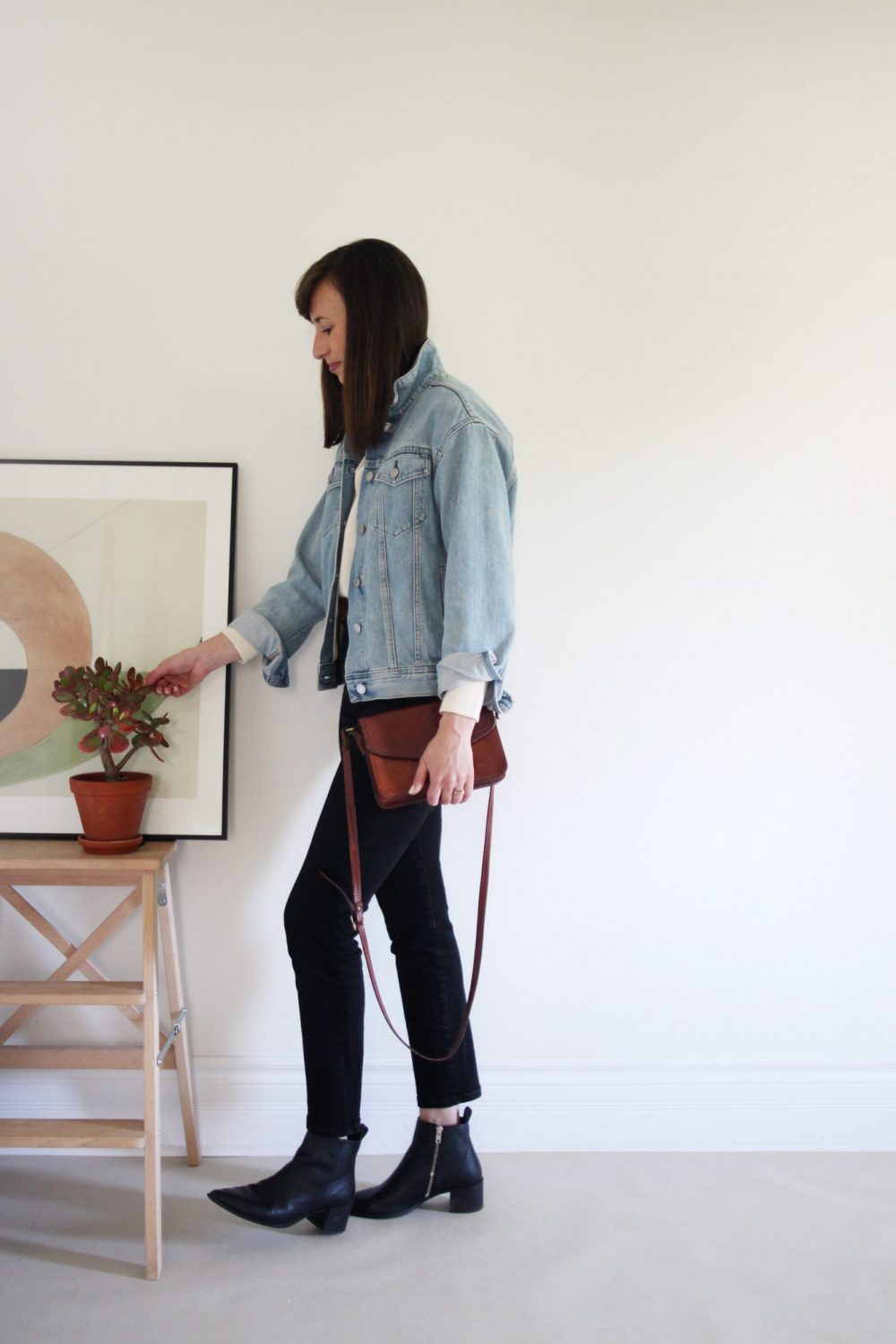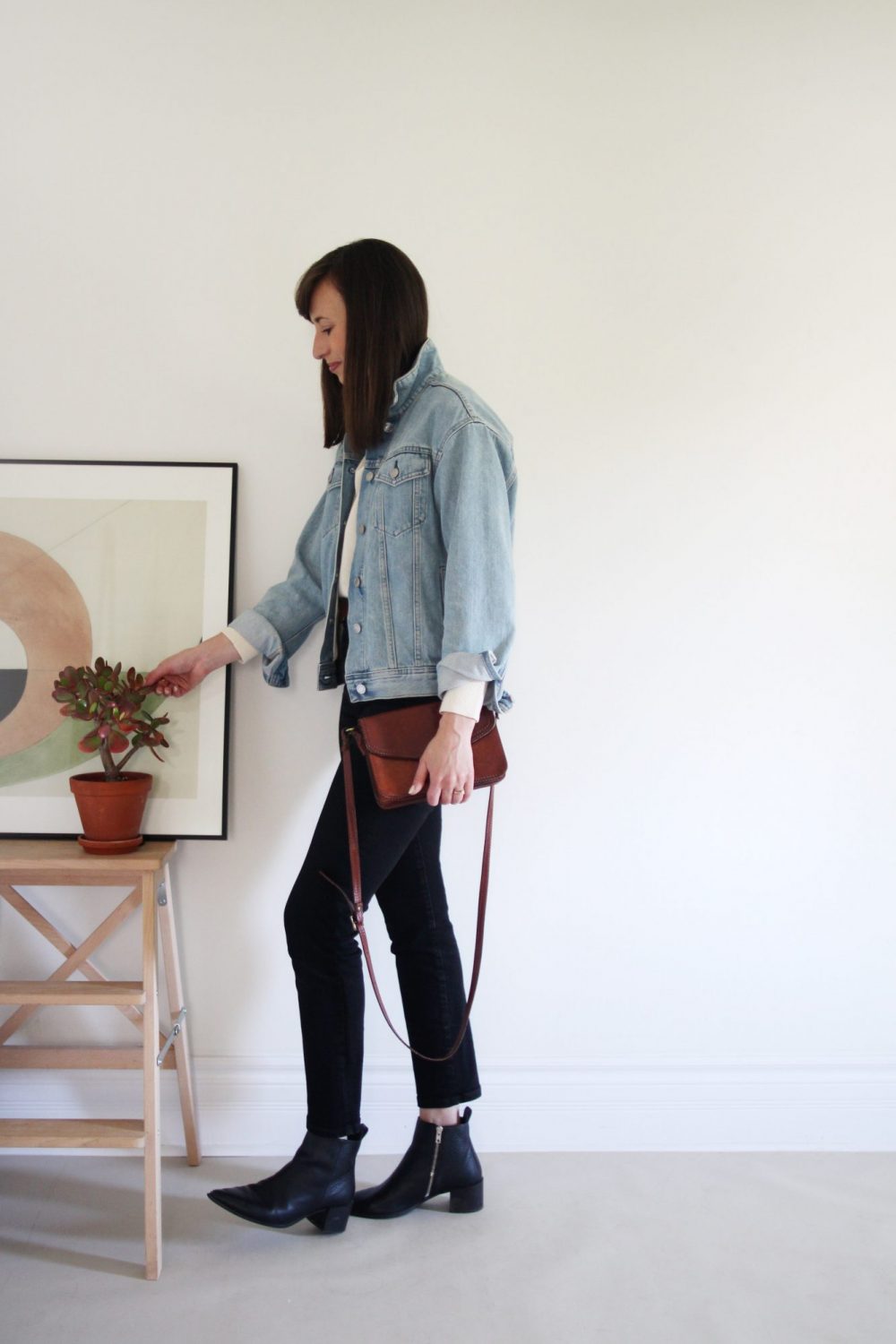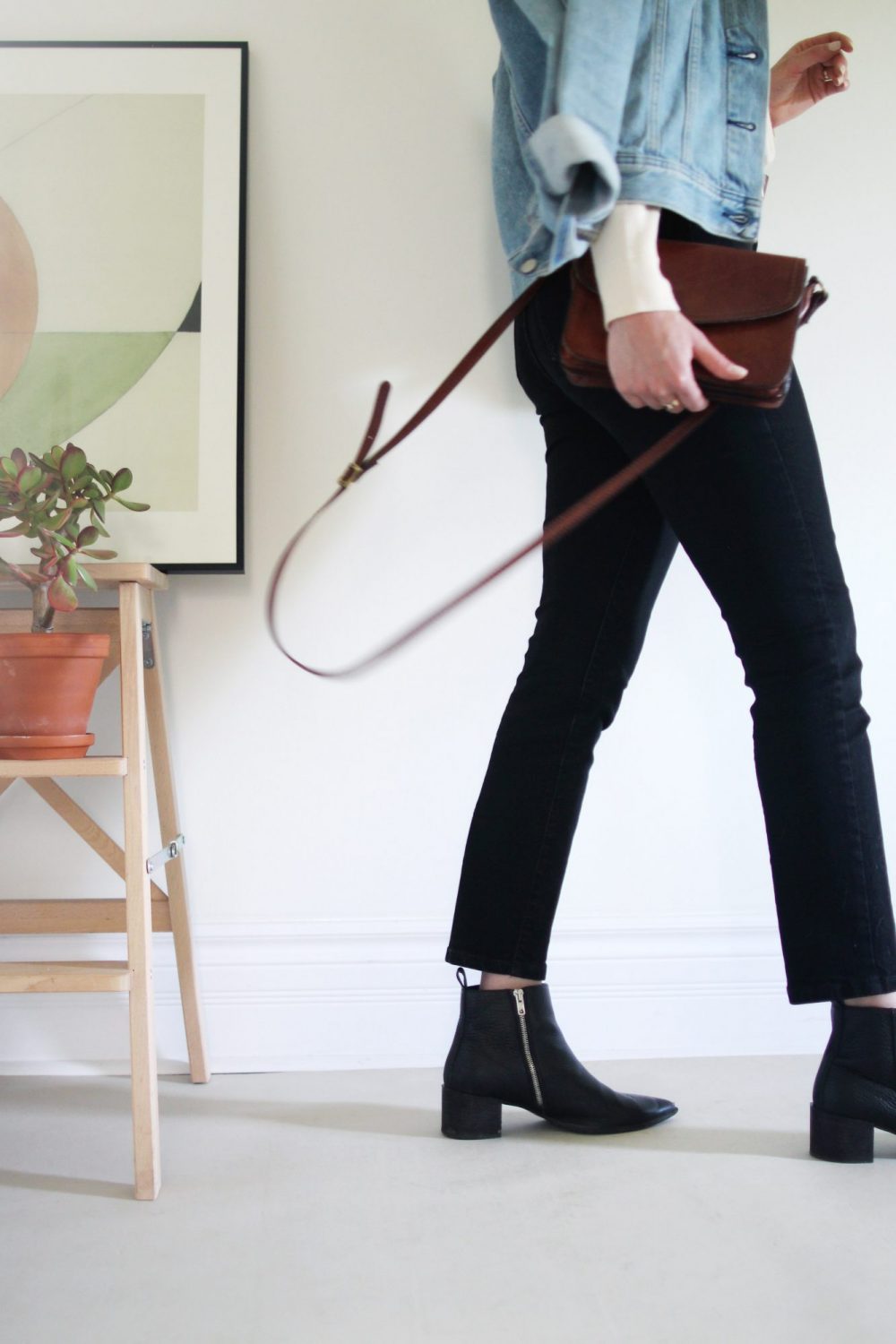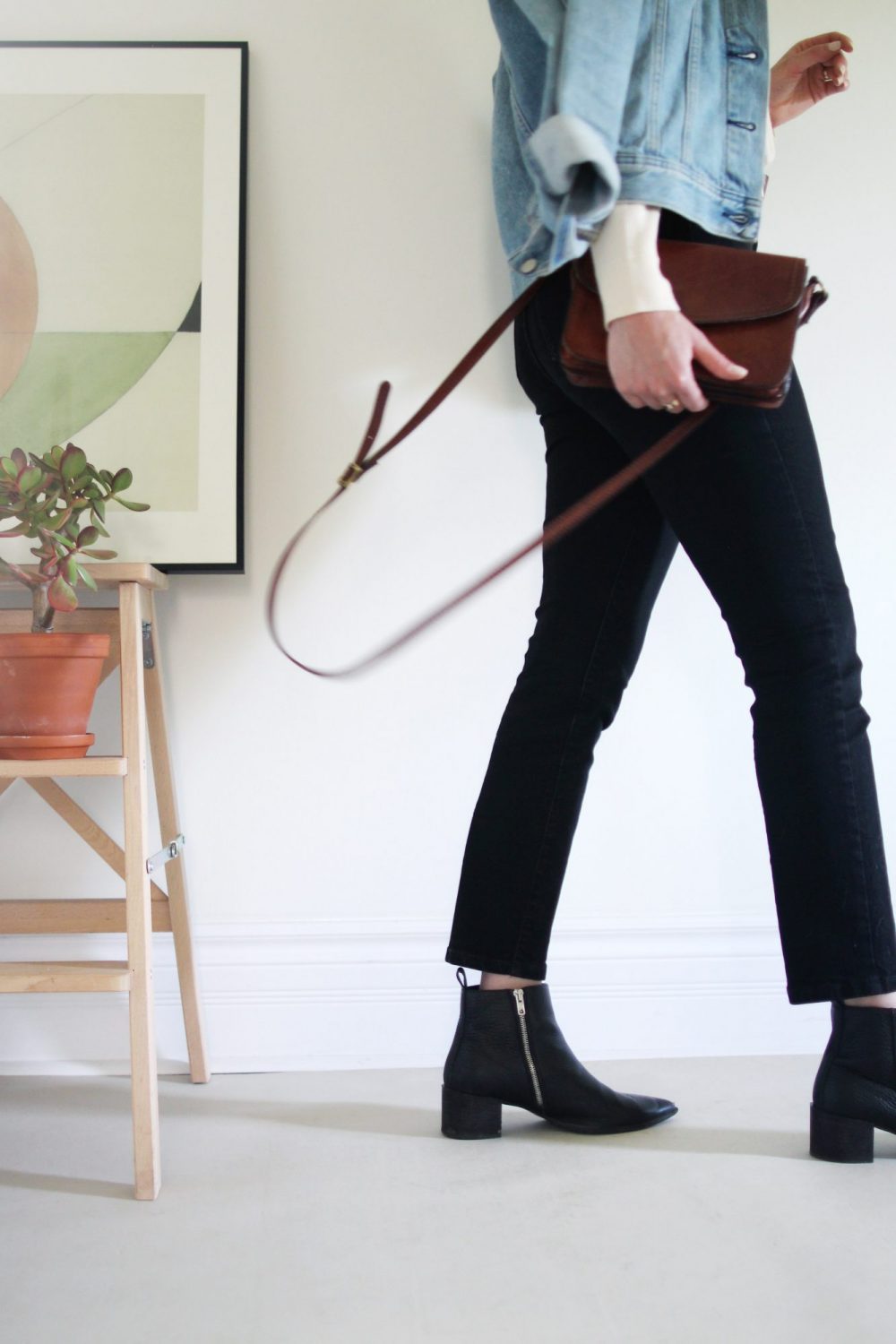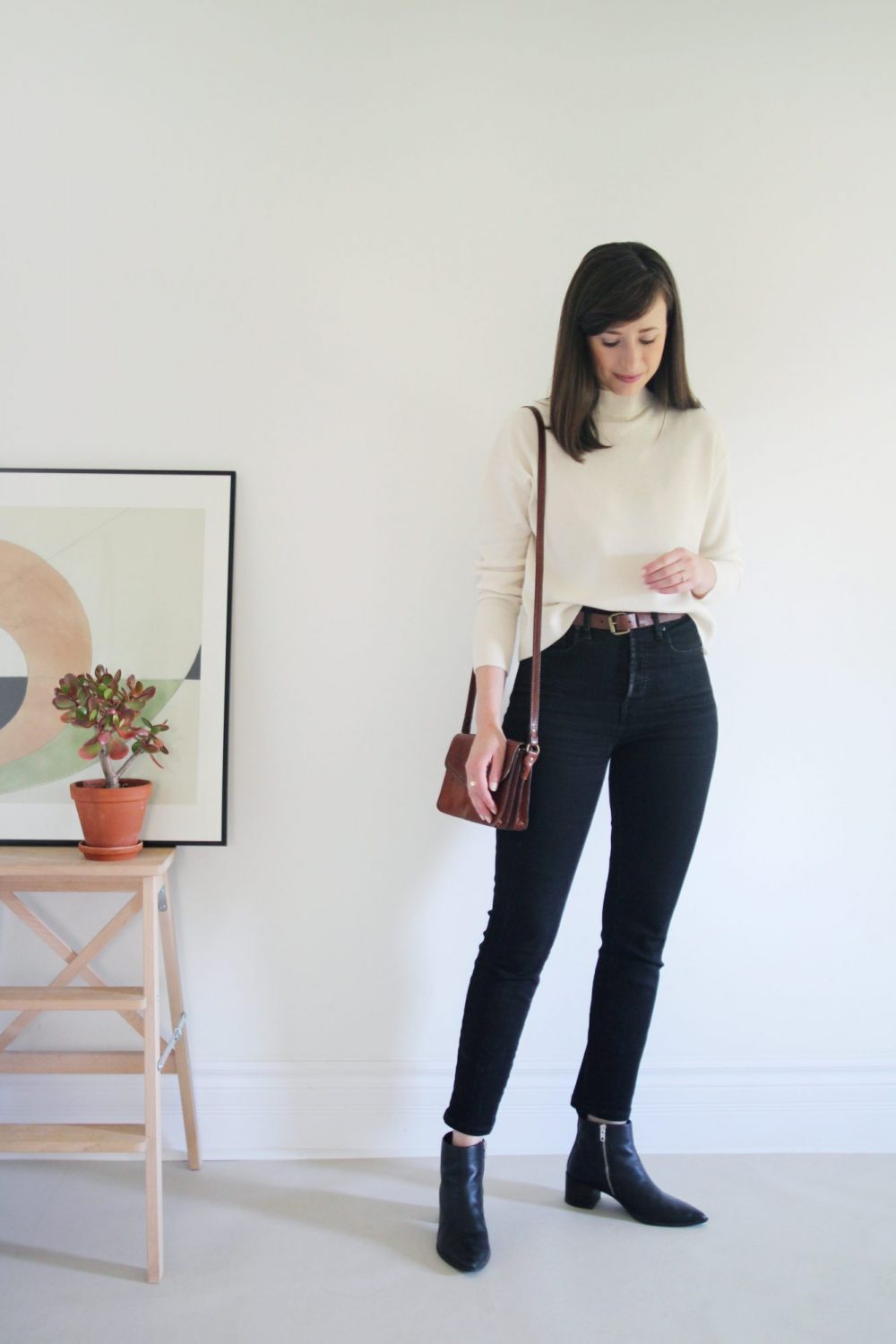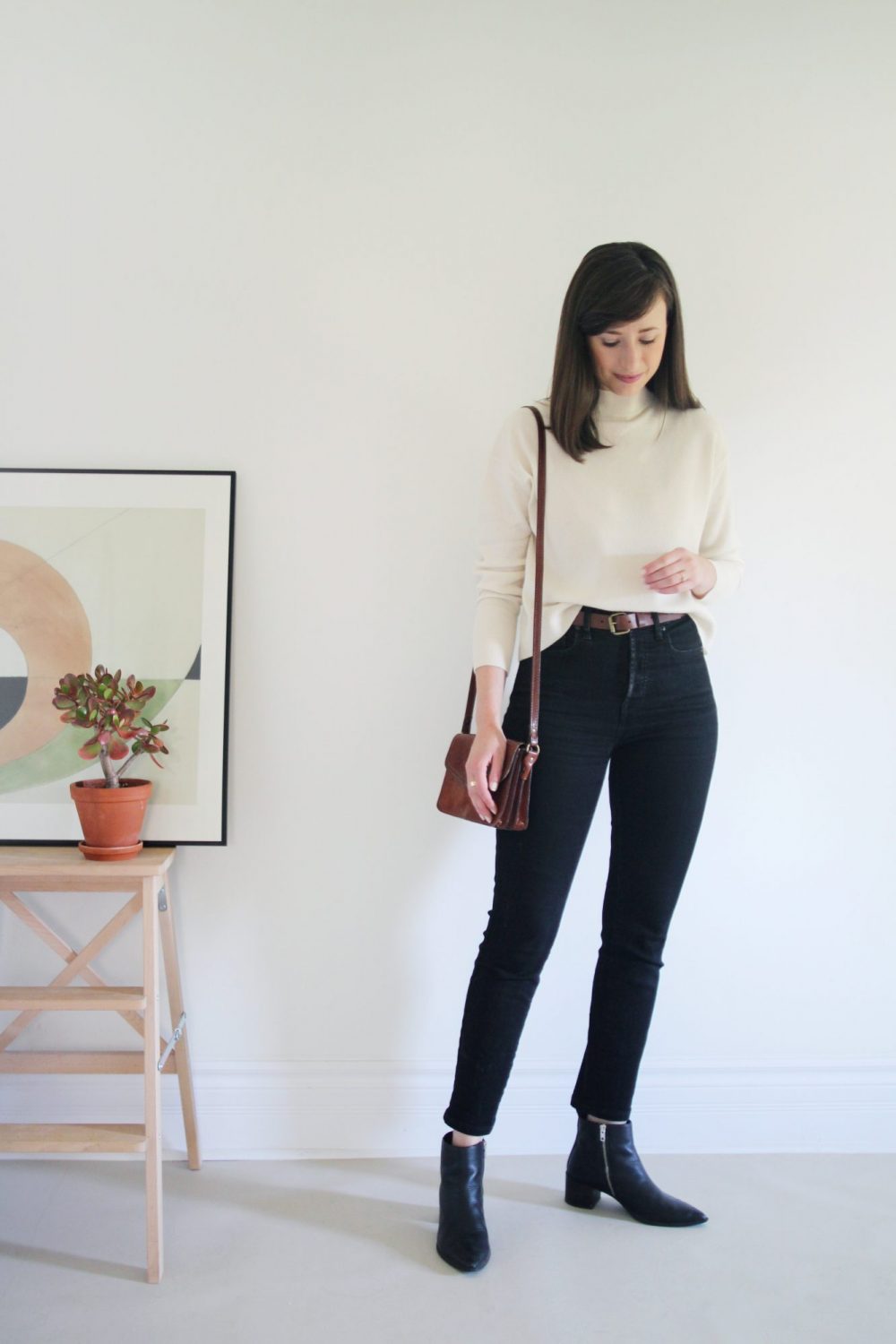 ---
FALL STAPLE: BLACK DENIM
GIFTED IN 2018 & I ORDERED A SECOND PAIR MYSELF
---
I declared my love for the Authentic Stretch Cigarette Jean a couple of months ago in this post but every time I share a look with the black denim version, I get lots of questions. They were my go-to jeans last fall and I have a feeling that will be happening again this year!
I really love how these jeans hug my curves without feeling tight and how the straight leg cut offers a contemporary take on a vintage shape. I also appreciate the effect of a button fly on a high-rise style because it helps the front lay flatter than a zip fly.
FADING: These jeans started out as a true black but the wash has faded a bit over time. I wish that wasn't the case but it's tough to keep denim from showing signs of wear some spots like the fly and pockets. I wash them as infrequently as possible and turn them inside out to help limit that amount of fading.
FIT: I have this denim style in a size 27 and I'm typically between a 26 and 27 in Everlane denim. These run TTS and are intentionally fitted through the waist, hip and thigh. The leg falls straight from the knee down for the classic 'cigarette' shape I've always loved on Audrey. Usually I need to have the waist taken in on high-waist pants but these fit perfectly, right out of the box! For reference: I'm 5'7, about 125 lbs.
SHOP THE AUTHENTIC STRETCH CIGARETTE JEAN > $78 USD (Available in three washes, two lengths and sizes 23-33)
---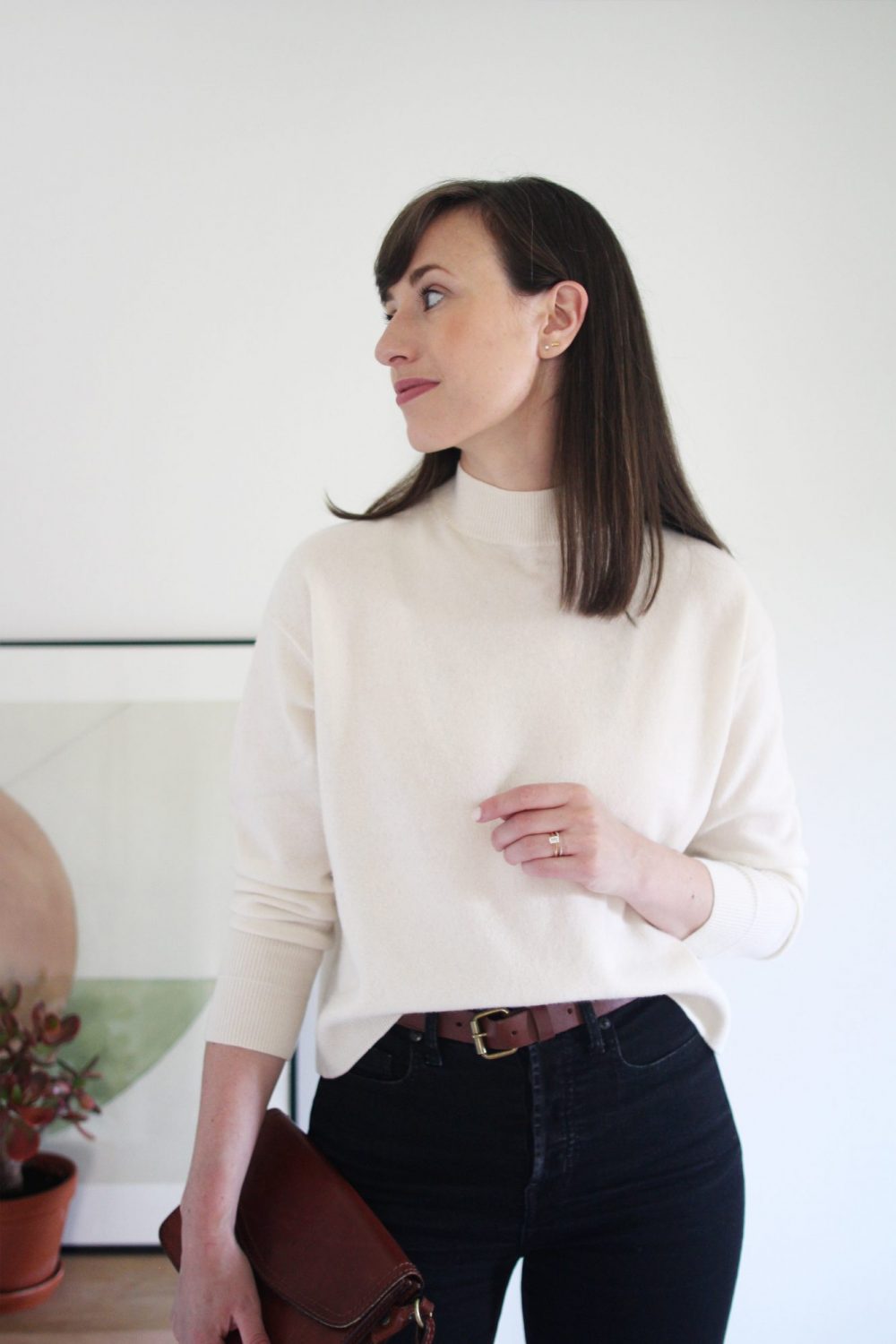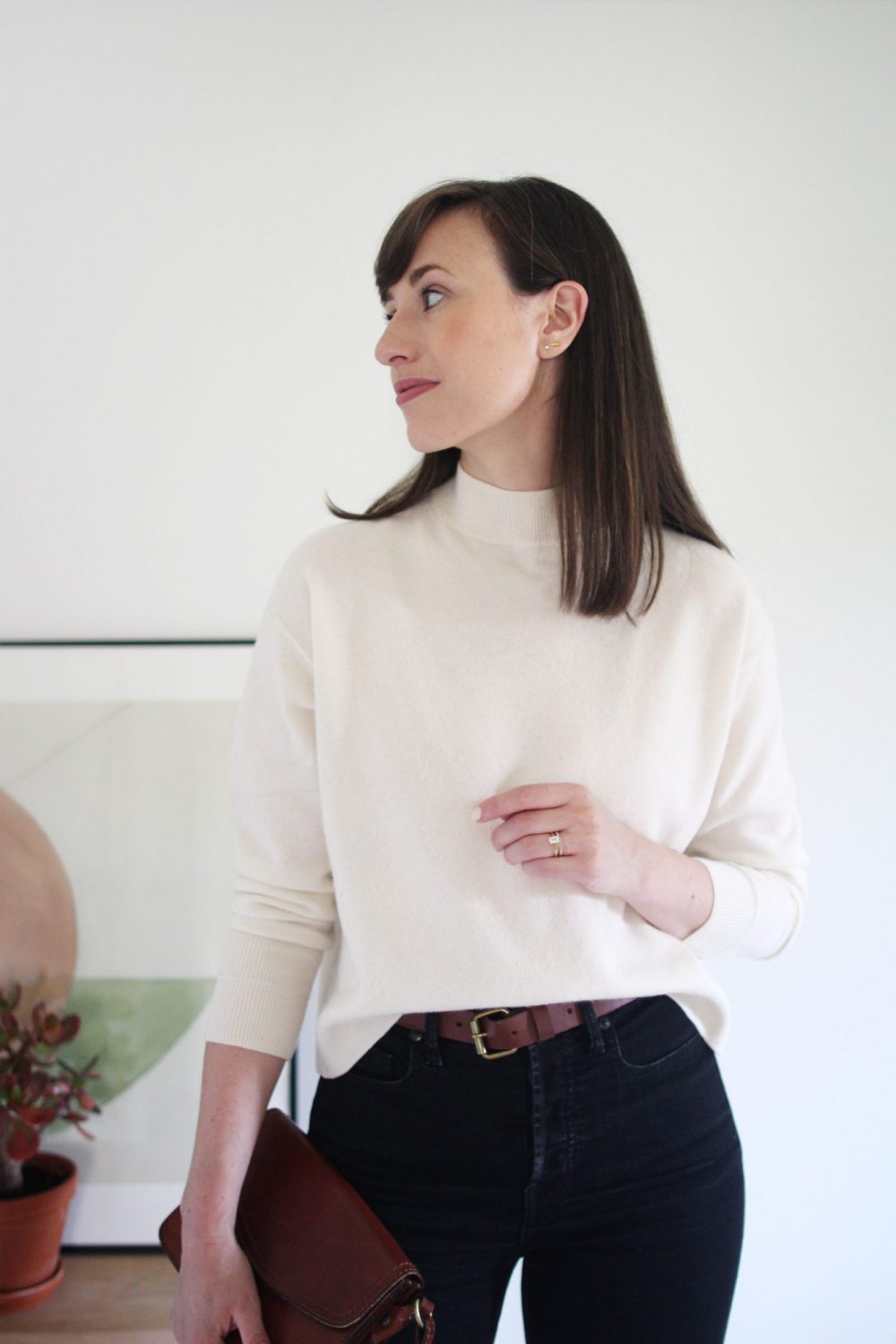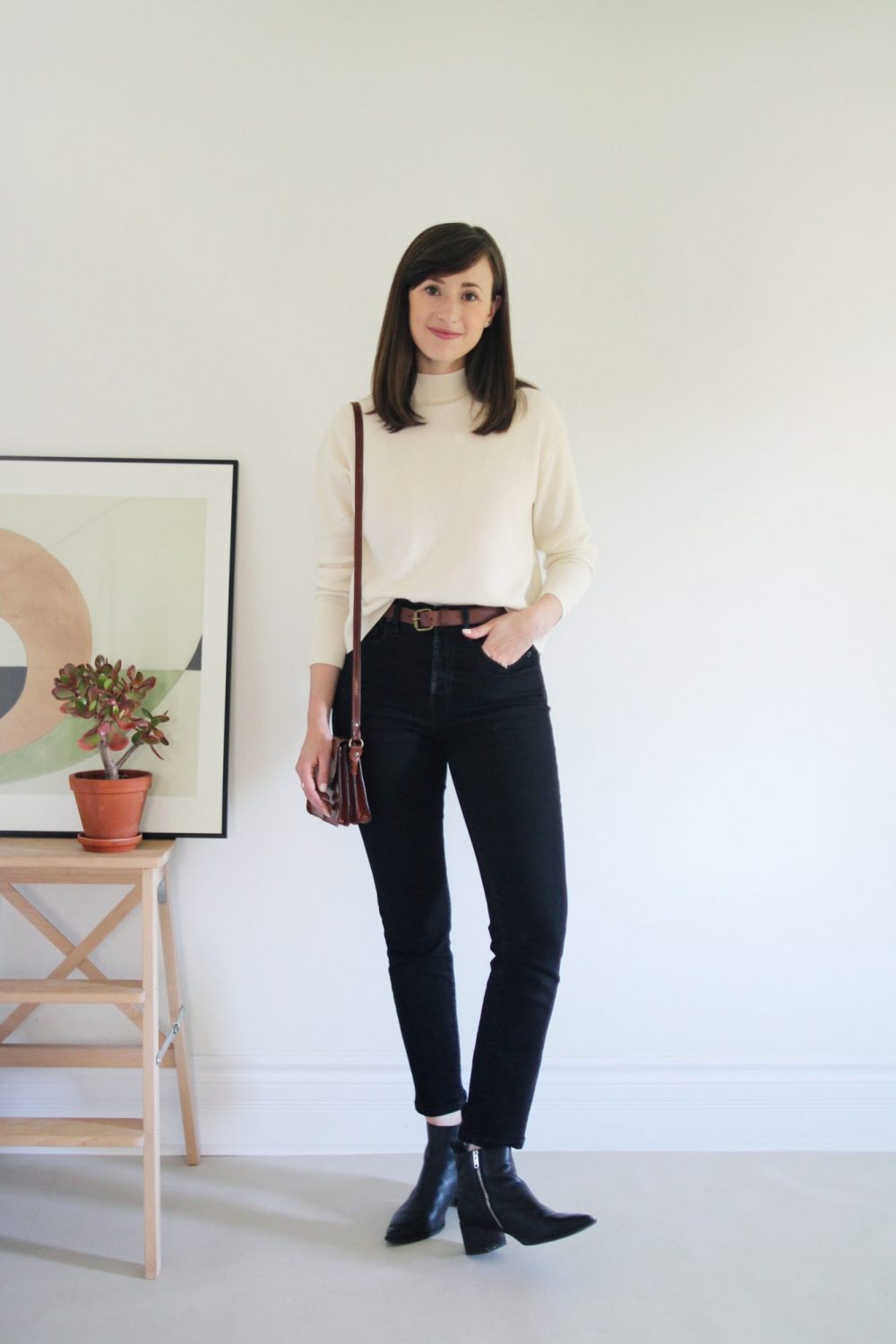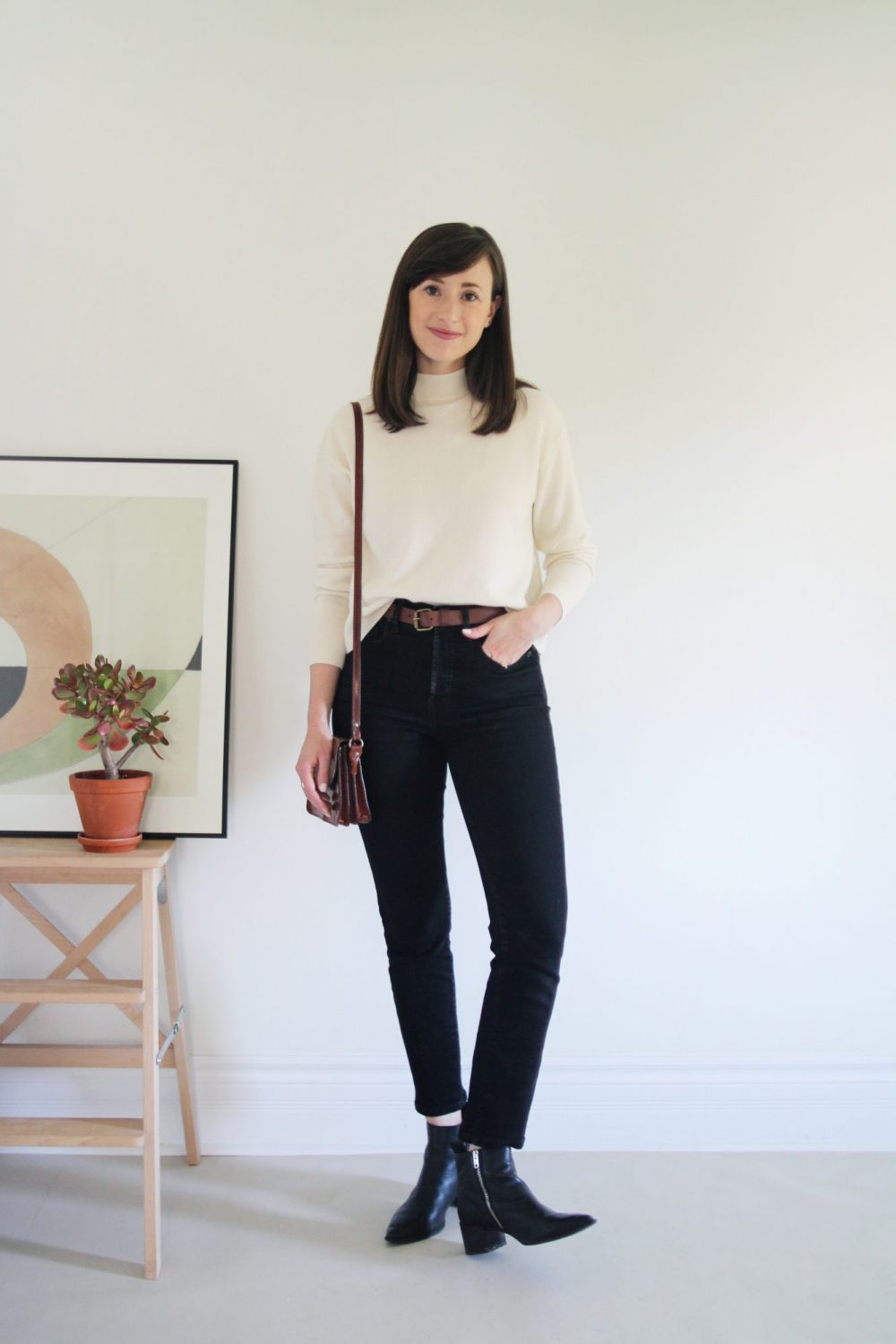 ---
FALL STAPLE: CASHMERE SWEATERS
BOUGHT BY ME IN 2017
---
Ah, cashmere, it's been too long my friend! Being one of those perpetually cold people, I've genuinely missed wearing my sweaters and knits over the last few months and it was such a treat to pull out some of my favourites for this post! Everlane puts out a lot of great knitwear but my favourite styles by far are the Cashmere Crop Mockneck and the Cashmere Crew.
This sweater style is one of my favourites because the slightly cropped length makes it so easy to front tuck into high waisted or mid rise jeans but it also looks great left out. The slightly relaxed fit layers well while still being jacket friendly. The mockneck is great for extra coziness and I find it has a contemporary elegance to it too. The reverse stitched cuffs a ideal for folding over or pushing up as needed.
PILLING: I've had this sweater in my closet for almost two years now and other Everlane cashmere knits in my closet for twice that long. I'm very happy with how they've held up and compared to brands that retail for 5 times as much I've found that the quality is top notch. Pilling is something that's going to happen with all cashmere, especially in high friction spots like under the arms. My recommendation is to use a sweater comb or dull razor to remove the pills.
Read more about How I Care for My Knitwear for some easy ways to look after your sweater collection without dry cleaning or much fuss involved.
FIT: I'm wearing a size Small in this sweater but often size up to Medium so I can layer comfortably over a fitted base tee. This helps with warmth, increased the number of wears between washes and improves the longevity of the sweater. For reference: I'm 5'7, about 125 lbs.
SHOP THE CASHMERE CROP MOCKNECK > $70 USD (ivory is almost sold out but there are more colour options in choose what you pay and a Cotton version is also available at $50 USD)
---
OUTFIT #3 DETAILS: CASHMERE CROP | DENIM JACKET | CIGARETTE DENIM gifted | BAG* vintage | BOSS BOOTS gifted | BELT | ARTWORK gifted | *Linked to similar
---

---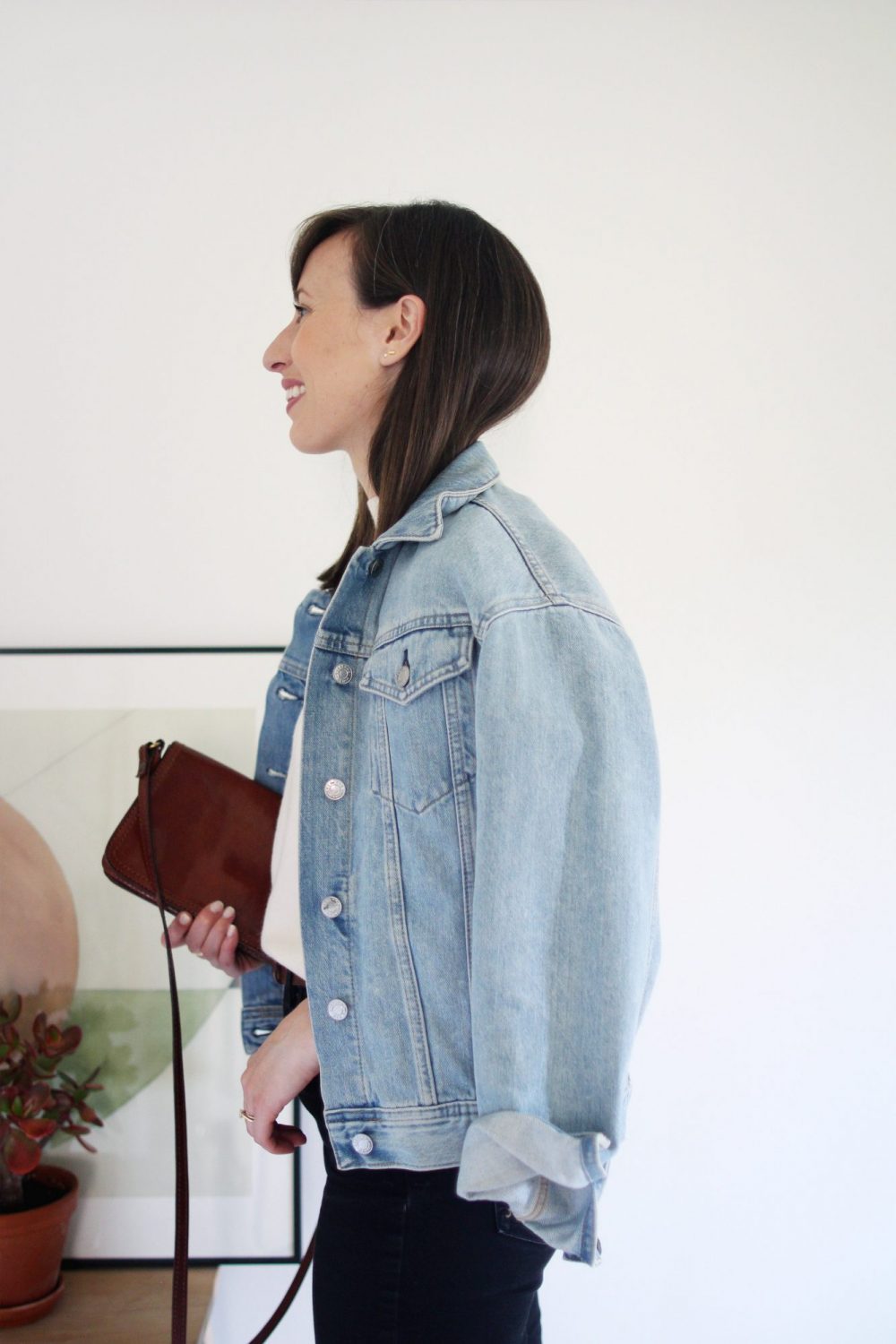 ---
A FEW ITEMS IN MY CART FOR THIS FALL
---

---
I hope you enjoyed this mini fall closet review! What are some of the pieces you can't wait to wear again this season?
---
Any additional questions about these pieces? Let me know!
---
WISHING EVERYONE A WONDERFUL LONG WEEKEND!
---
This post was sponsored by Everlane and Style Bee earns a commission on sales made using the links above (at no additional cost to customers). I always strive to give information that is as honest and accurate as possible to help you add pieces you'll love wearing long term. Thanks for your interest in supporting the brands that support Style Bee!