I dare say a new month calls for a new outfit formula, no? Especially when a seasonal transition is approaching and we're getting a little (ok A LOT) antsy about our wardrobe options. Truthfully, I'd wanted to create another instalment of my 1 Formula – 3 Ways series (see #1 and #2) for February but it just didn't really present itself until towards the end of the month when I found myself reaching for the same items over and over. Most notably my duster vests! I had relegated them to Spring and Fall in my mind but once I got my hands on a new wool one from the Elizabeth Suzann sample sale I started seeing opportunities to make this style work for colder weather too.
So the outfit formula I'm loving for March is as follows:
DUSTER VEST + LONG SLEEVED TOP + WIDE/FLARED PANT + BLACK ANKLE BOOT
This one feels particularly timely since it's so adaptable and easy to build up or down depending on what the weather calls for and as we all know March can be fickle! One of many things I love about the duster vest is how it can make an otherwise totally simple look suddenly much more interesting and impactful. No statement jewelry, bold patterns or bright colours needed to create a look that stands out without being loud.
So let's take a look at this instalment of 1 Formula – 3 Ways! 
---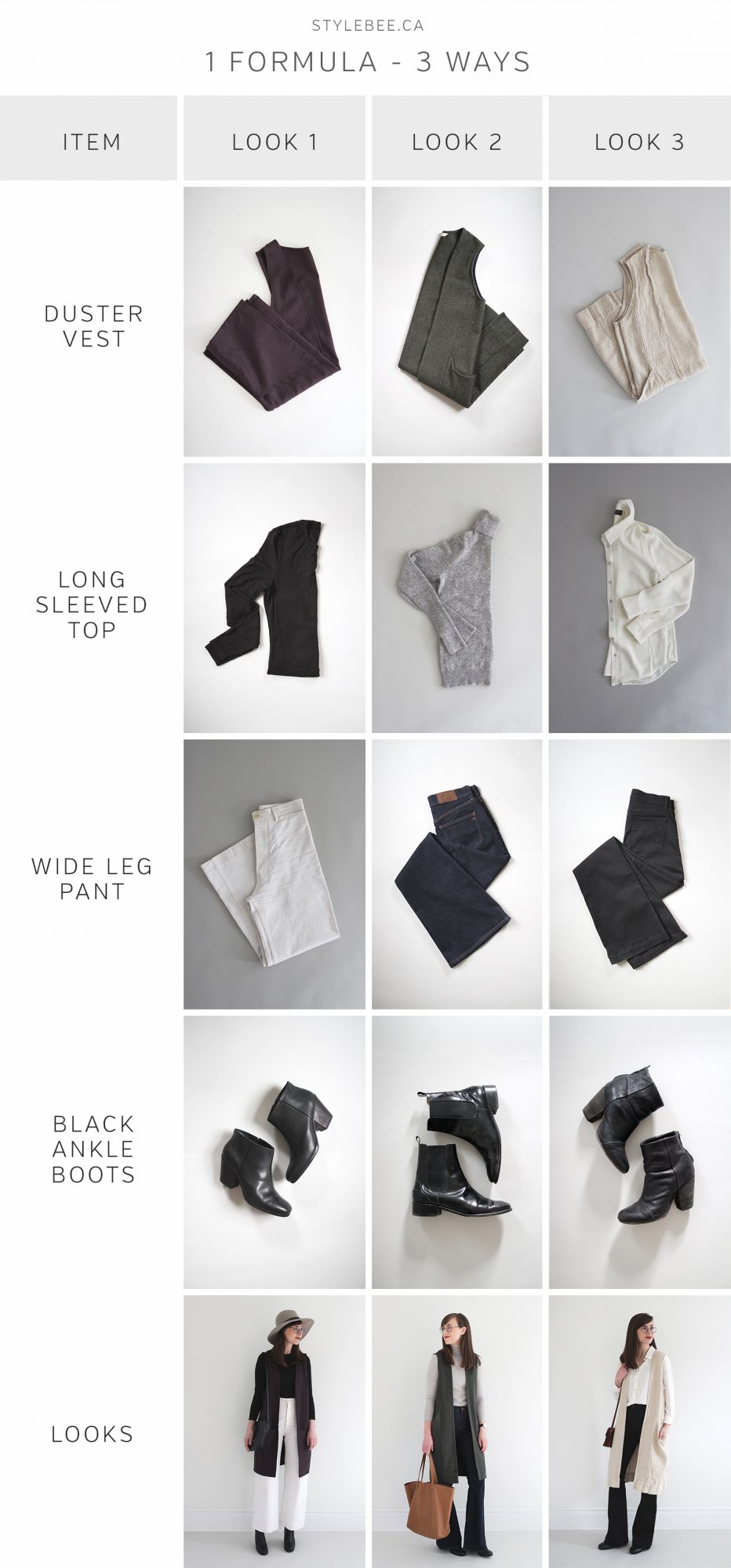 ---
LOOK 1
---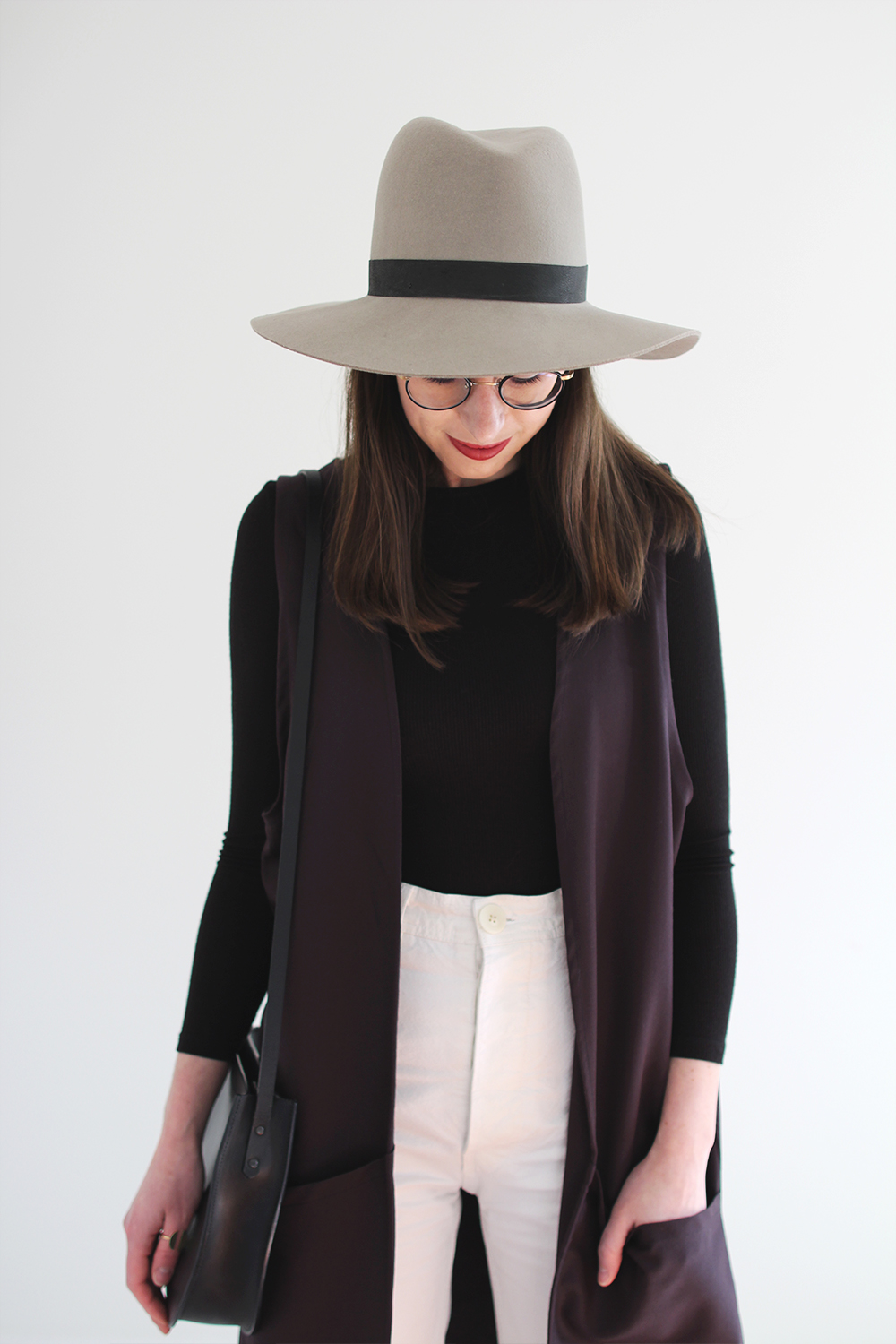 ---
THOUGHTS ON LOOK 1 
---
I've worn this exact look out a few times now and I love it. It feels fresh, thanks to the white pants, flattering, thanks to the sleek black long-sleeve bodysuit and contemporary thanks to this unique vest in a hard to find eggplant colour. It's not in your face bold by any means but it's a power suit look of sorts that's perfect for a night out with friends or drinks with my guy.
That said, wearing wide leg white pants in February will usually get you some side glances (especially in Guelph), so having a long layer like this vest helps to balance it out. To make this look truly cold weather ready I simply add a black coat and a chunky scarf and I'm good to go! I love that the little bit of colour from the vest peeks out under the bottom of my coat too! 
This base (meaning the pants, top and boots) is also perfect for any one of my 3 duster vests so I could have just as easily thrown on the wool green one or the linen flax one. I've also been seeing a trend in my closet, which is that most of the colour is in my outerwear. For example my cognac wool coat, my dark denim duster coat and my cement capote coat. I love this because it lets me add colour and interest to a look while still keeping my base look neutral and clean. Putting together a sophisticated look is so easy when you know everything matches!
---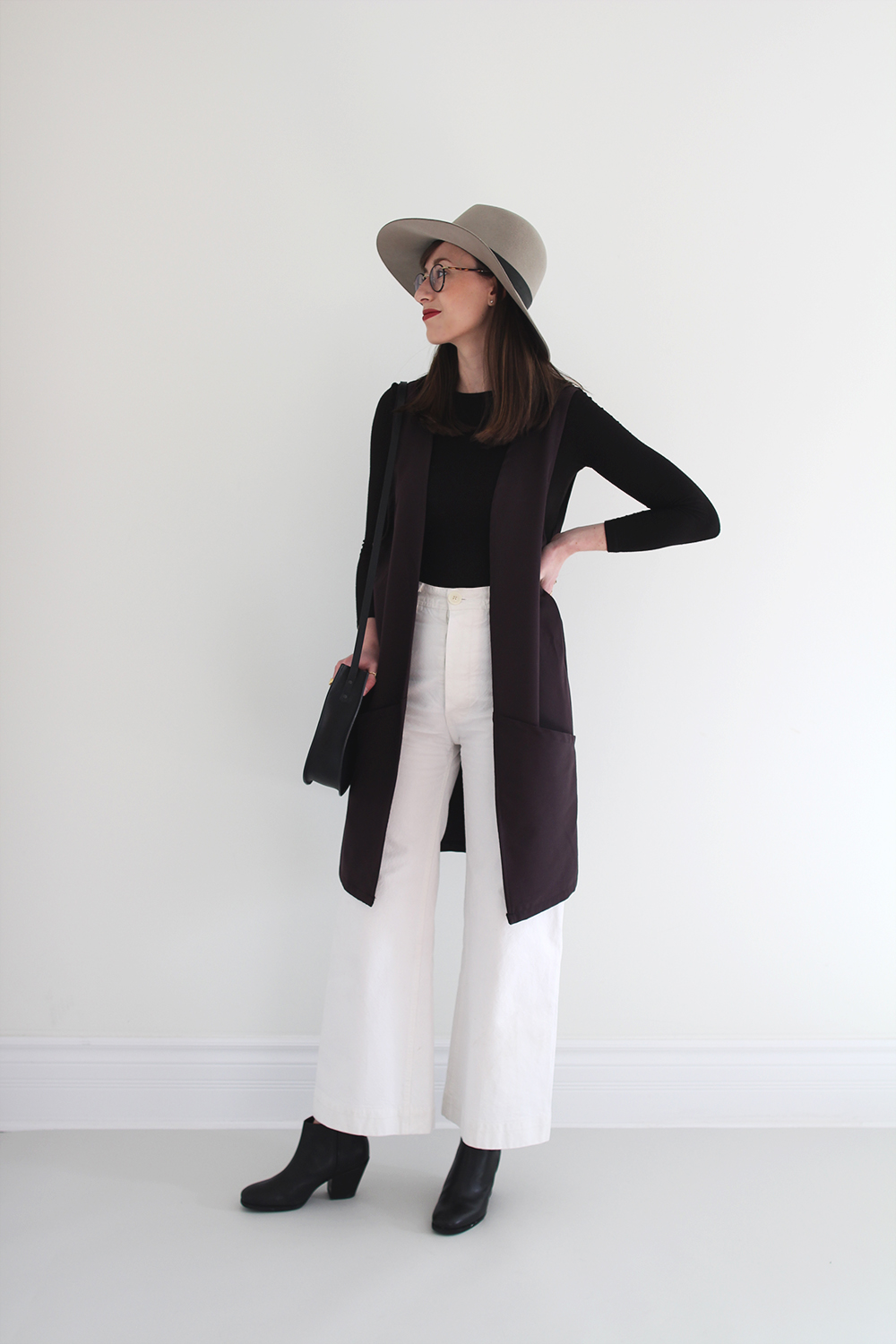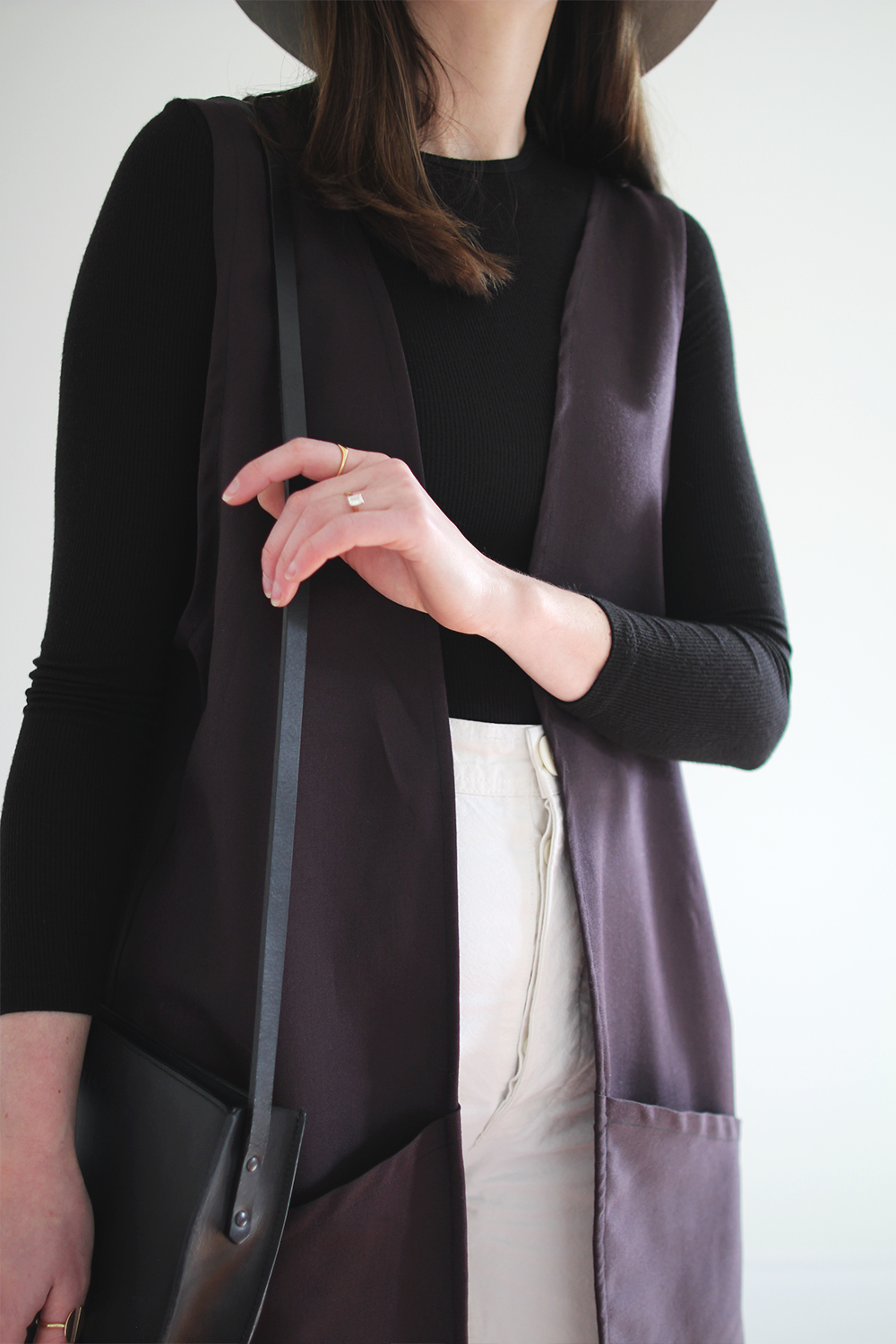 ---
STYLE + FIT DETAILS
---
1 | BLACK BORDERS | This outfit has a lot of black in it but it doesn't feel harsh or heavy because it's spread out and bordered on a different colour every time. This is a trick I've used many times (and often happens by accident) but you can see how it works when you notice that the black band on my hat is bordered by a neutral taupe brim, my black top is bordered by my white pants and eggplant vest and my black bag and boots are also sitting next to lighter colours.
Next time you're tempted to wear a lot of black in a look, try bordering it with different neutrals and one colour to keep it from feeling bland or harsh.
2 | TAUPE TOPPER | I've certainly worn this outfit without the hat but in a perfect world this hat is the ideal finishing touch. It adds a nice element of warm neutral which softens the otherwise stark contrast between light and dark colours. It makes it feel a little less formal over all and practically speaking, it keeps my head warm! I didn't know if it would work with the colour of the vest but I ended up loving this colour palette over all.
Next time you're looking for that extra something to pull an outfit together, try a hat in a neutral colour and a classic shape. You might be surprised how it completes the look!  
3 | HIGH WAIST –  LONG VEST | I've heard a lot of people say that they can't do long vests because they're not tall enough but I think a long vest actually gives the illusion of height when paired with the right elements. For instance a high-waisted pant creates a visual midpoint that makes your legs look long and helps to offset the length of the vest. I also love the way a wide leg pant or a flared jean balances the vest out, whereas skinny jeans can sometimes look a bit odd poking out from the bottom. Duster length vests are also very slimming since they create a long lean window to the base of your look.
If you're considering whether a longer vest style is right for you try one paired with a wider bottom that starts at your natural waist and you'll probably feel a lot taller and slimmer than you thought!
---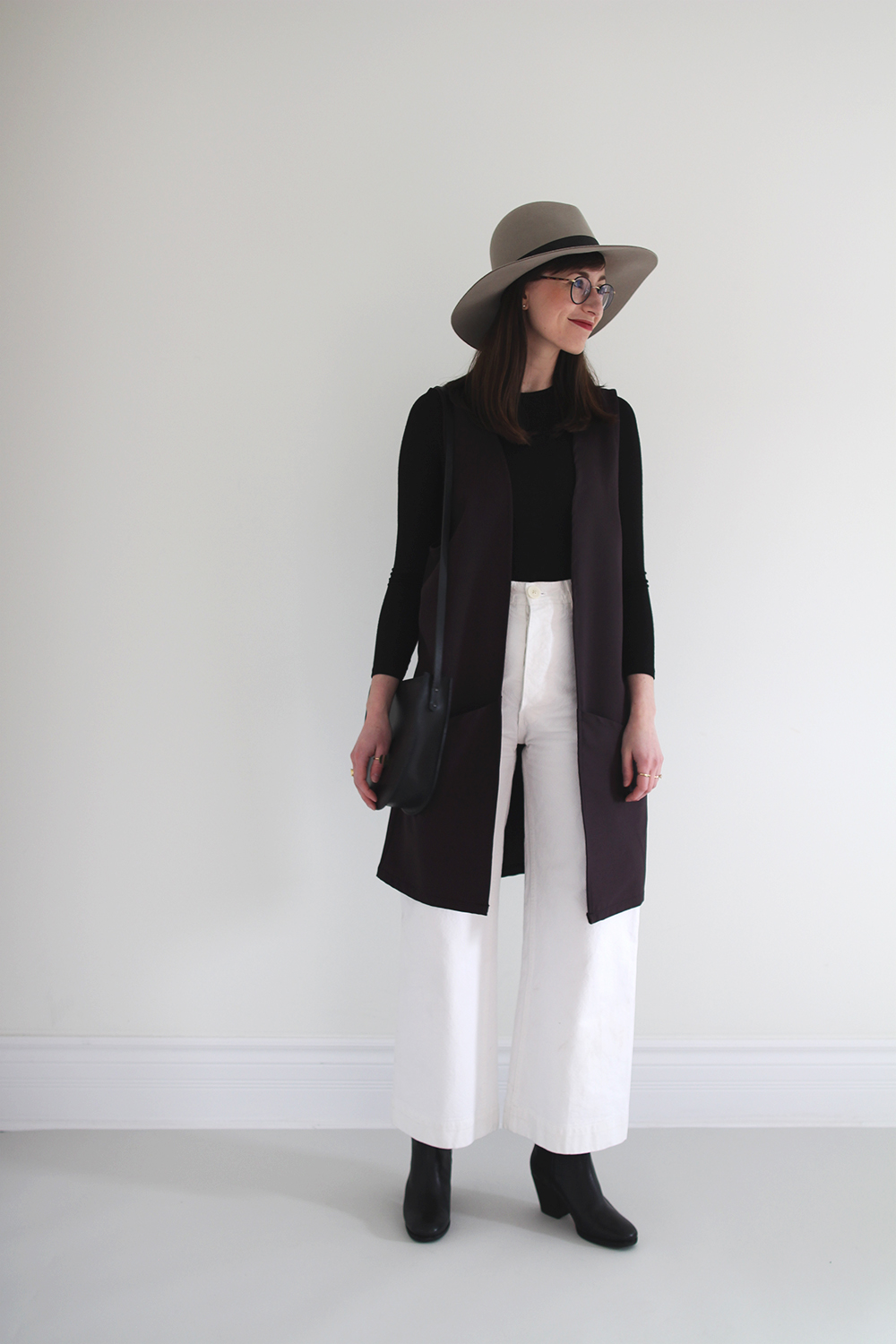 ---
LOOK 1 | Eggplant Vest c/o Only Child (n/a linked to similar in black) | Bodysuit by American Apparel (linked to similar) | Kamm Pants by Jesse Kamm (wearing a 4) Similar for less here. | Bag by The Stowe | Hat by Janessa Leone | Boots by Rachel Comey | Glasses by Garrett Leight | Rings c/o CLAUS
---
LOOK 2
---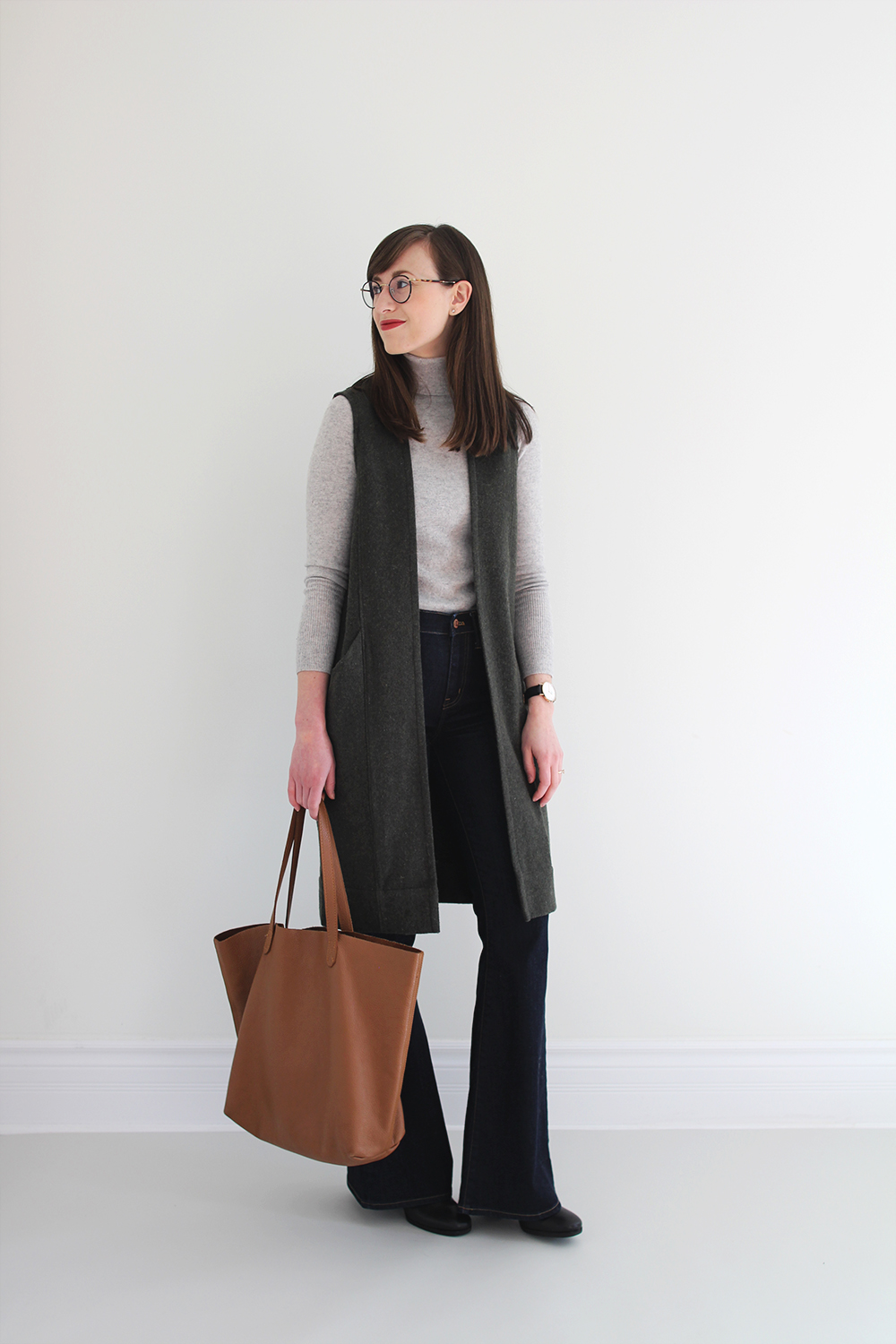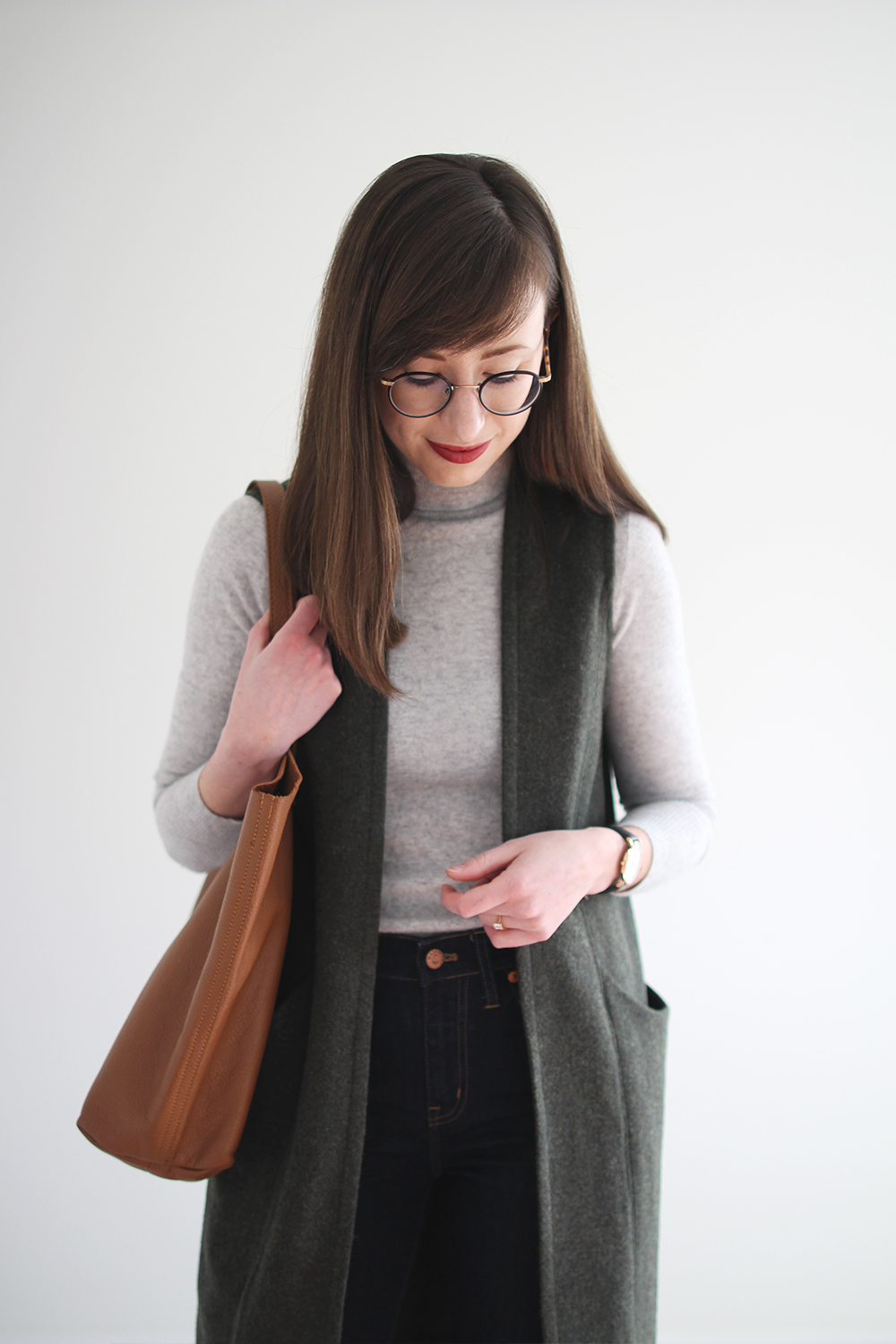 ---
THOUGHTS ON LOOK #2
---
This one feels so cozy and is definitely something I'd wear on an average day. I LOVE this wool duster vest because it's not just for show (the way the first one is), it actually adds some warmth. When it's not cold enough to warrant a big sweater or coat, this vest is the perfect in between layer that keeps me toasty without a ton of bulk or extra sleeves to fuss with.
The heathered green/grey is alllmost a neutral but has just enough saturation to stand out. It looks glorious over my black Kamm pants or my black Florence linen pants but I wanted to create a look that had almost no black involved and except for my boots and watch band, this did the trick! I find I have trouble feeling truly chic or put-together in a look without any black these days but this one feels both of those things and still quite casual at the same time.
That said, if I need to take this one out on a cold day, I'd add my black cocoon coat, a pair of dark grey gloves and my ivory knit beanie!
---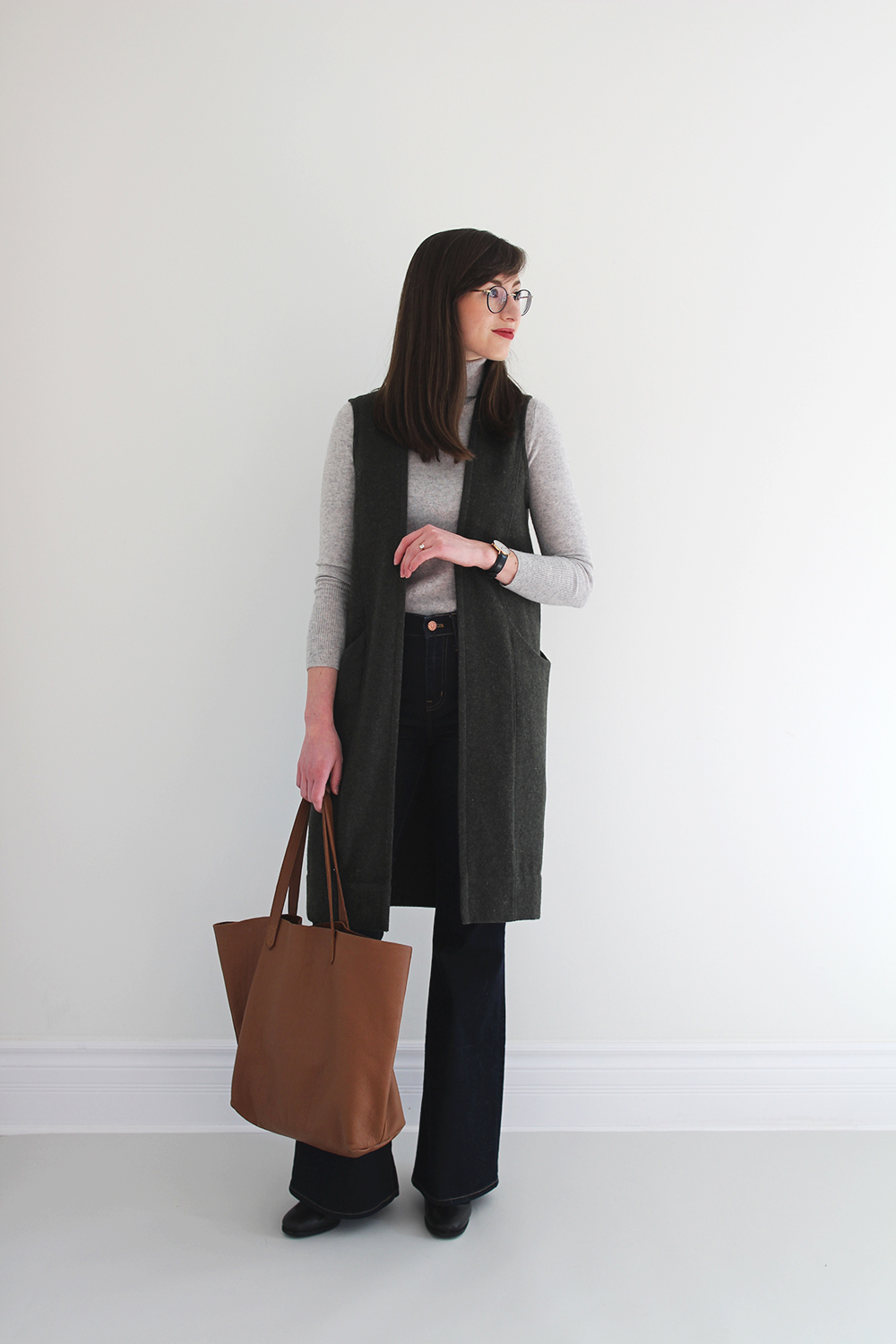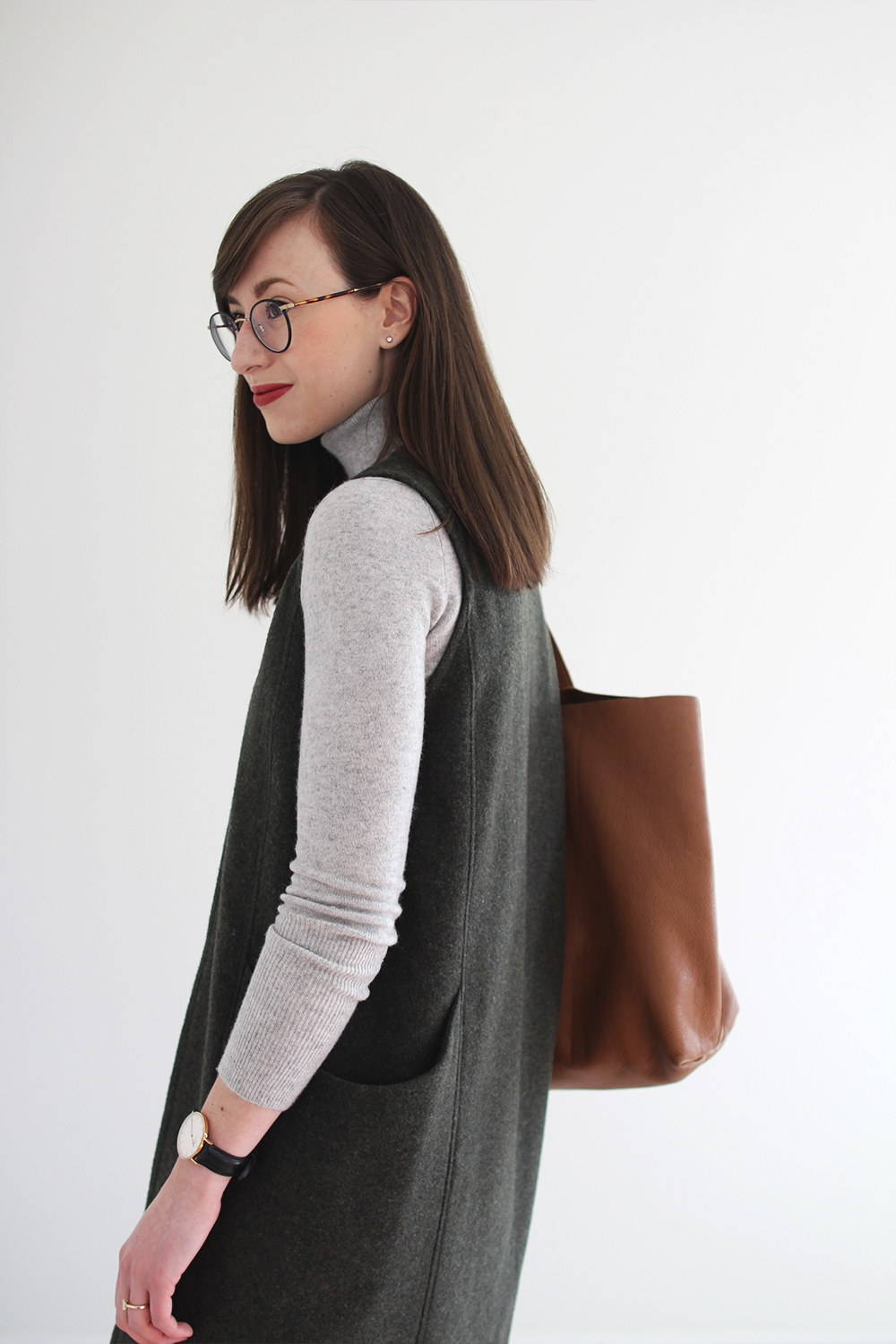 ---
STYLE + FIT DETAILS
---
1 | HEATHERED | There is something so comforting about heather greys and greens and this combination is hitting a sweet spot. I think it's working really well because the sweater is a light grey and the vest is a dark, muted green so there's some nice contrast happening and the colours are highly compatible.
Try pairing contrasting heather greys together in your next look! It will feel ever so cozy-chic!
2 | EARTH TONES | For some reason this look was just begging for a big block of caramel and I knew this tote bag was the perfect accessory for the job. I think it actually helps bring out the green tones in the vest because it's such a nice complimentary colour. If the tote was black the green may not have been as apparent.
I love earth tones all year round and actually think forest greens and rich ambers are great for Spring as well as Fall. Don't be afraid to wear your favourite colours any time of year!
3 | FLARED FEELINGS | I hadn't worn these flares in a loooong time so I wanted to try them out for this look to see if I was still into them. Truth be told, my black pair (shown below) is my favourite, but I'm not ready to give these up just yet. I just wish they were a little longer but otherwise they're still a good fallback option. If they don't get a lot of use this Spring/Summer I might consider culling my collection down to just the black ones.
Before you let go of an item you haven't worn for a while, try wearing it again in a look you haven't worn before. You may find they have a renewed purpose or you might decide they're not worth hanging onto. 
---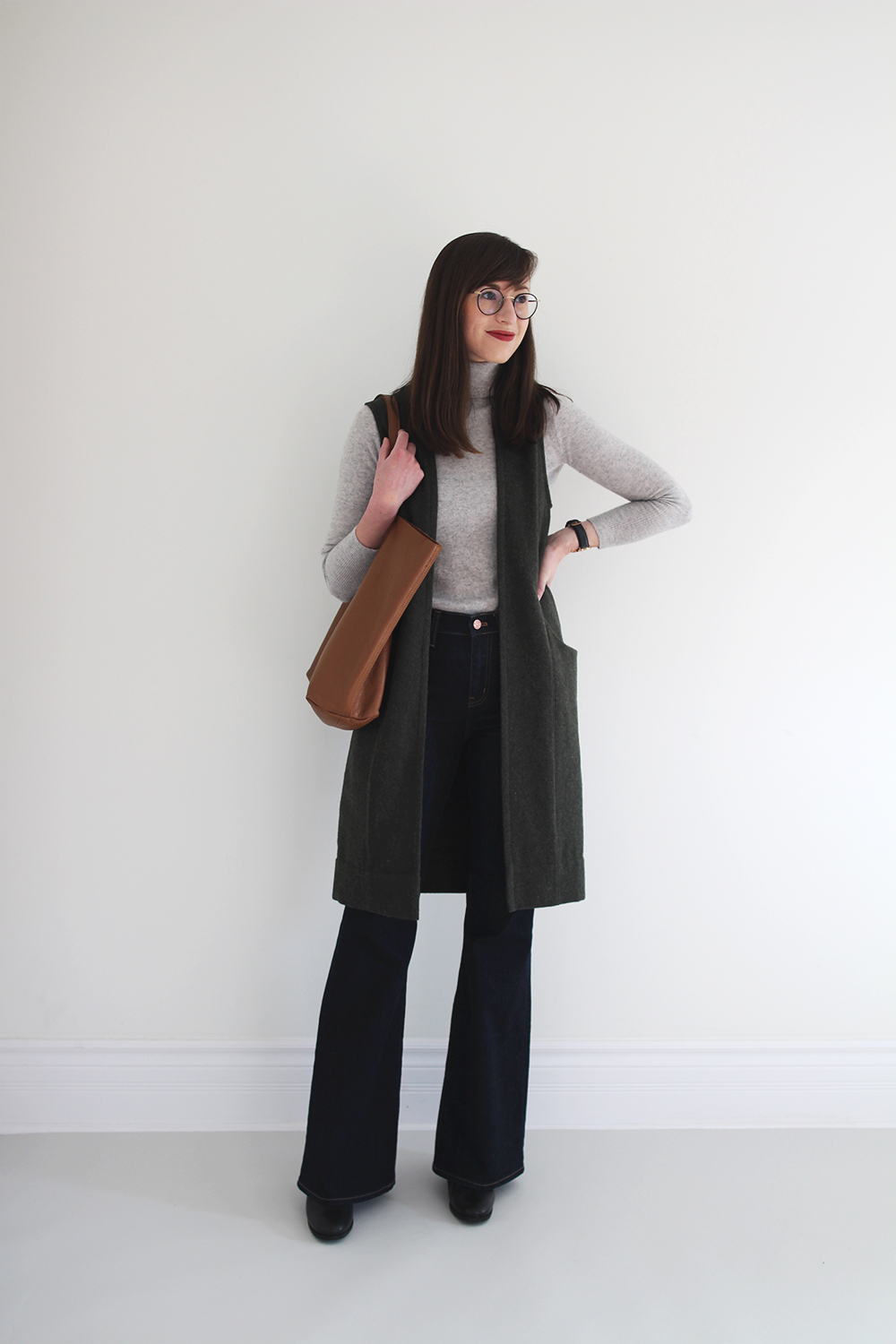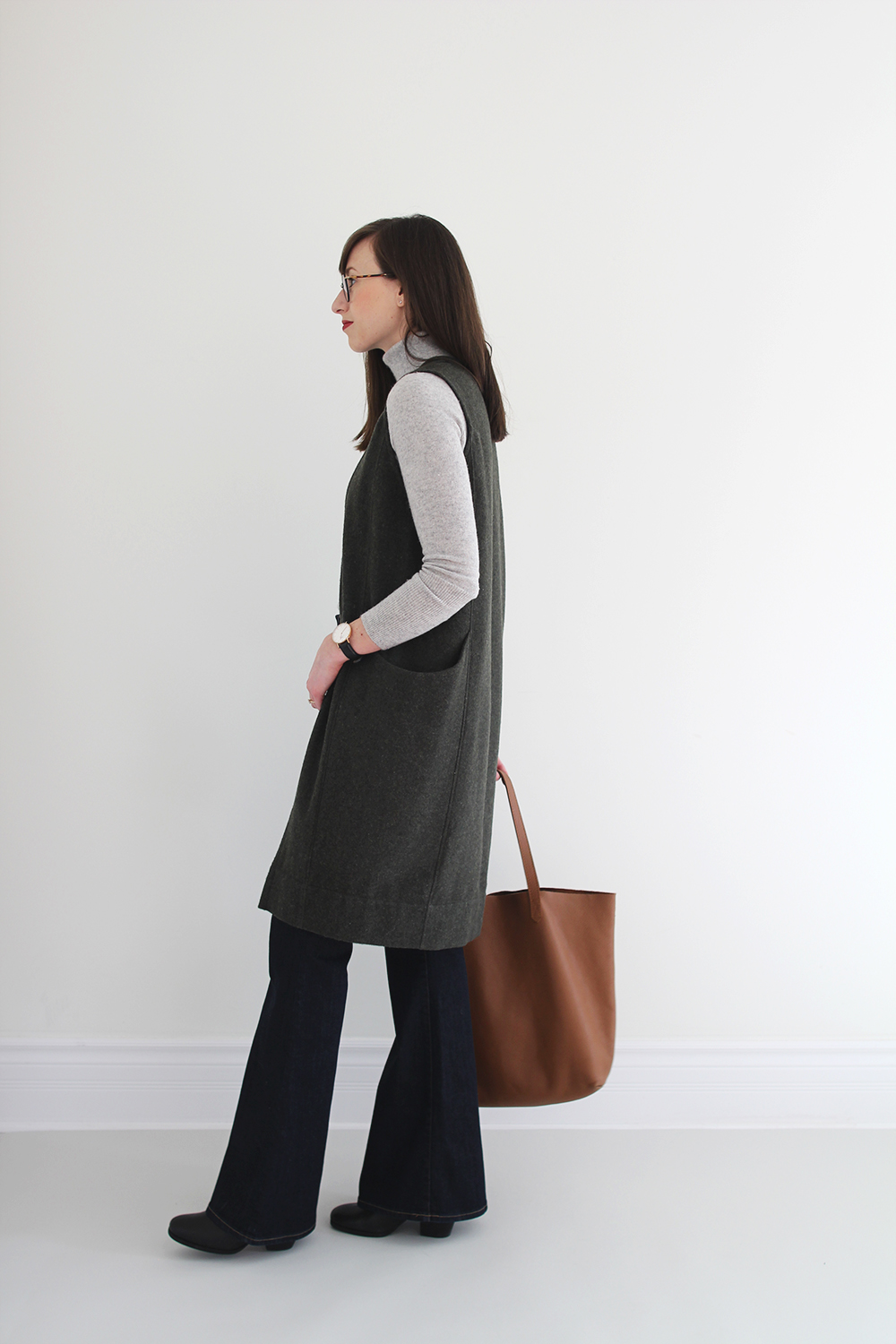 ---
LOOK 2 | Wool Duster Vest by Elizabeth Suzann (Size OS-) (n/a linked to similar in Navy) | Grey Turtleneck old (Linked to similar) |Flares by Madewell (n/a linked to similar made in USA) | Watch c/o Daniel Wellington | Classic Tote by Cuyana | Boots by Rachel Comey | Glasses by Garrett Leight
---
LOOK 3
---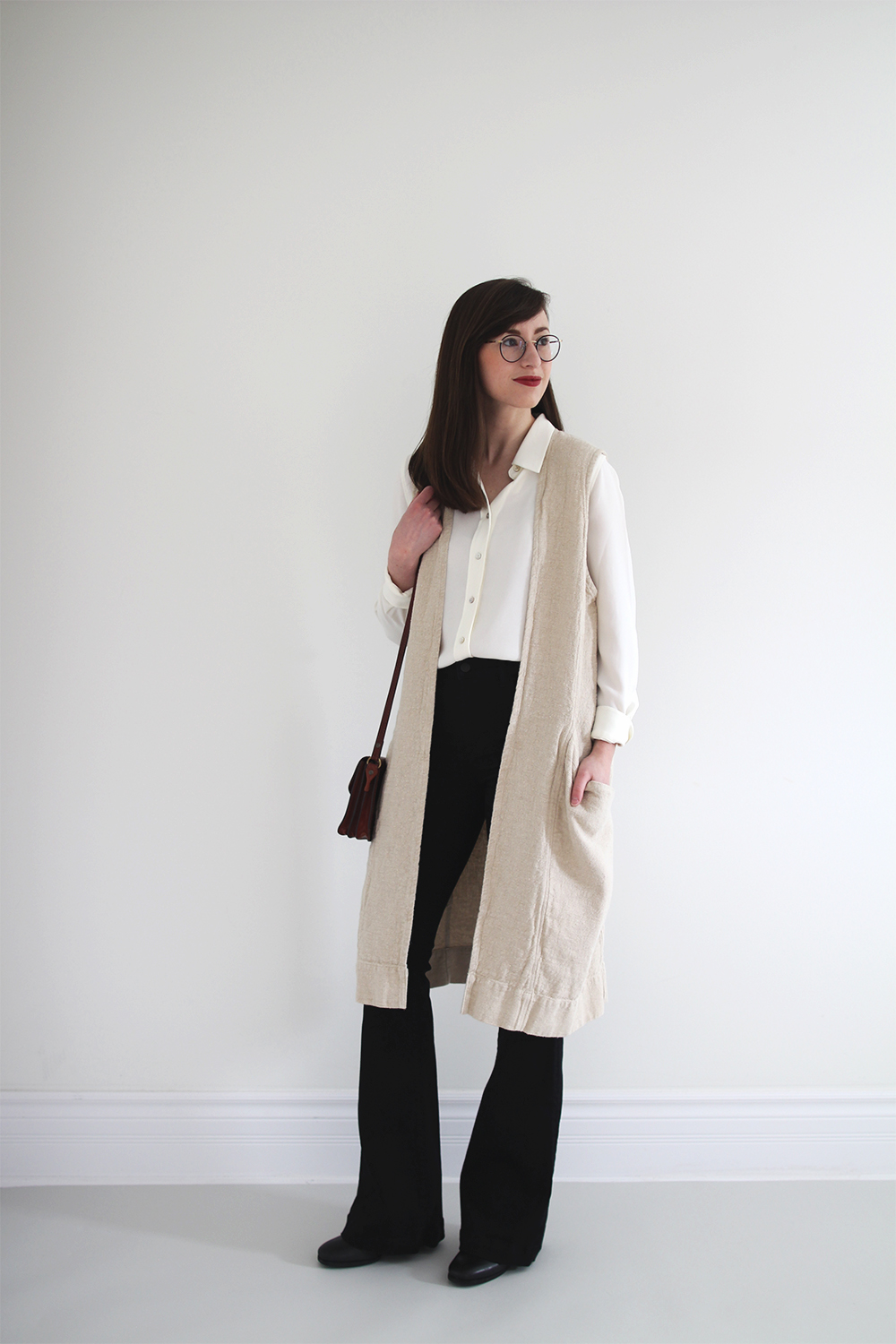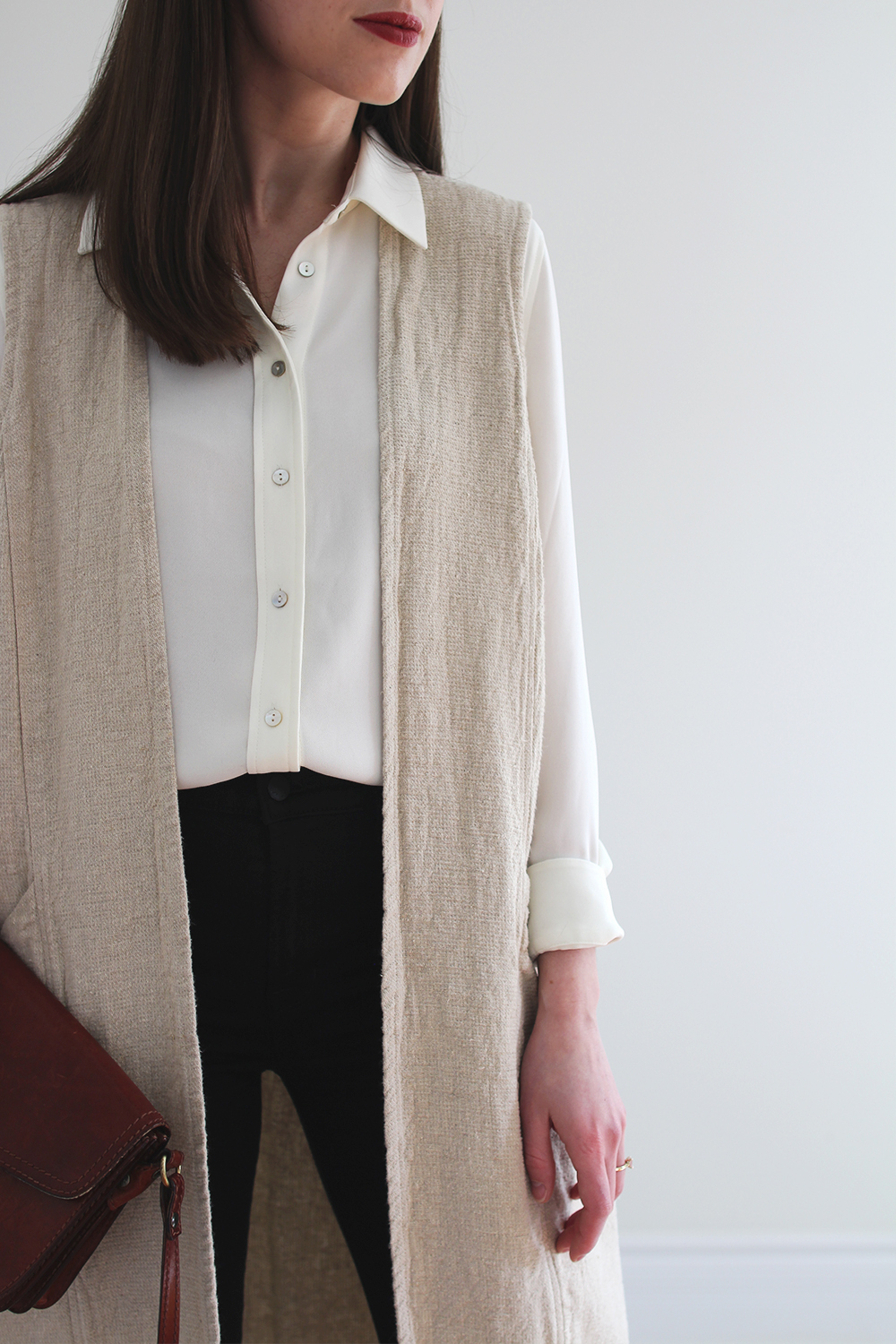 ---
THOUGHTS ON LOOK #3
---
This colour and texture palette has my whole heart and it really gets me every time. Similar to what I loved about this recent look, I love how the creamy white of my base button-down both contrasts and pairs perfectly with the nubbly, natural texture of the flax linen. My black jeans offer true contrast but instead of being jarring the large block of dark colour grounds the look nicely and keeps the palette elegant and timeless.
Honestly, I wanted to leave this top untucked so it would be different from the other two looks but once I tried it tucked in there was no turning back. In fact, I think the 'tuck-in' is a key element that makes this silhouette work in general, for reasons mentioned in the Look 1 Style + Fit Details above. It accentuates the high mid-line, elongating the leg and creating a flattering proportion that balances the heaviness of a long vest.
Personally, this is my favourite execution of this particular formula but I'll definitely be wearing all three again before the month is up!
---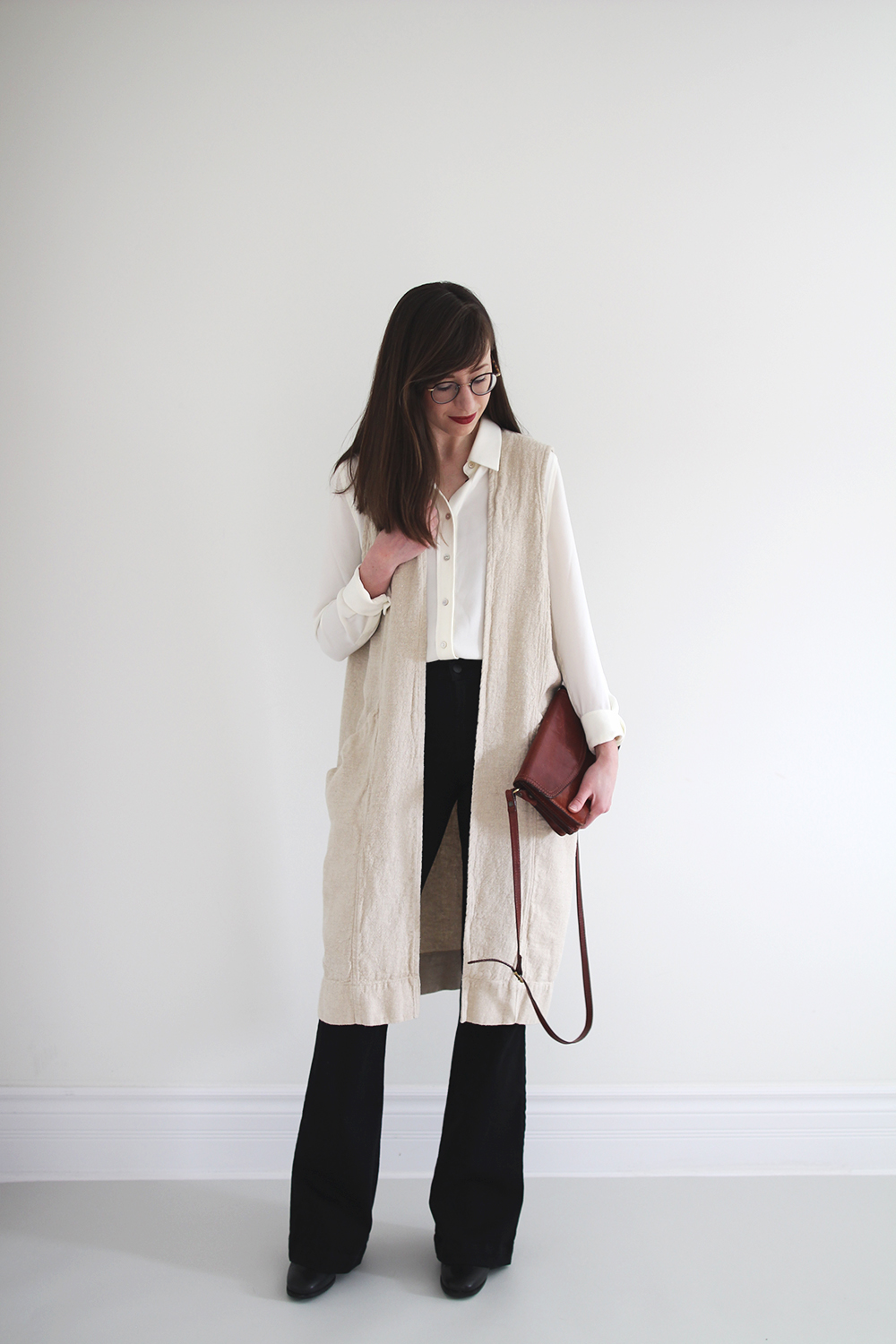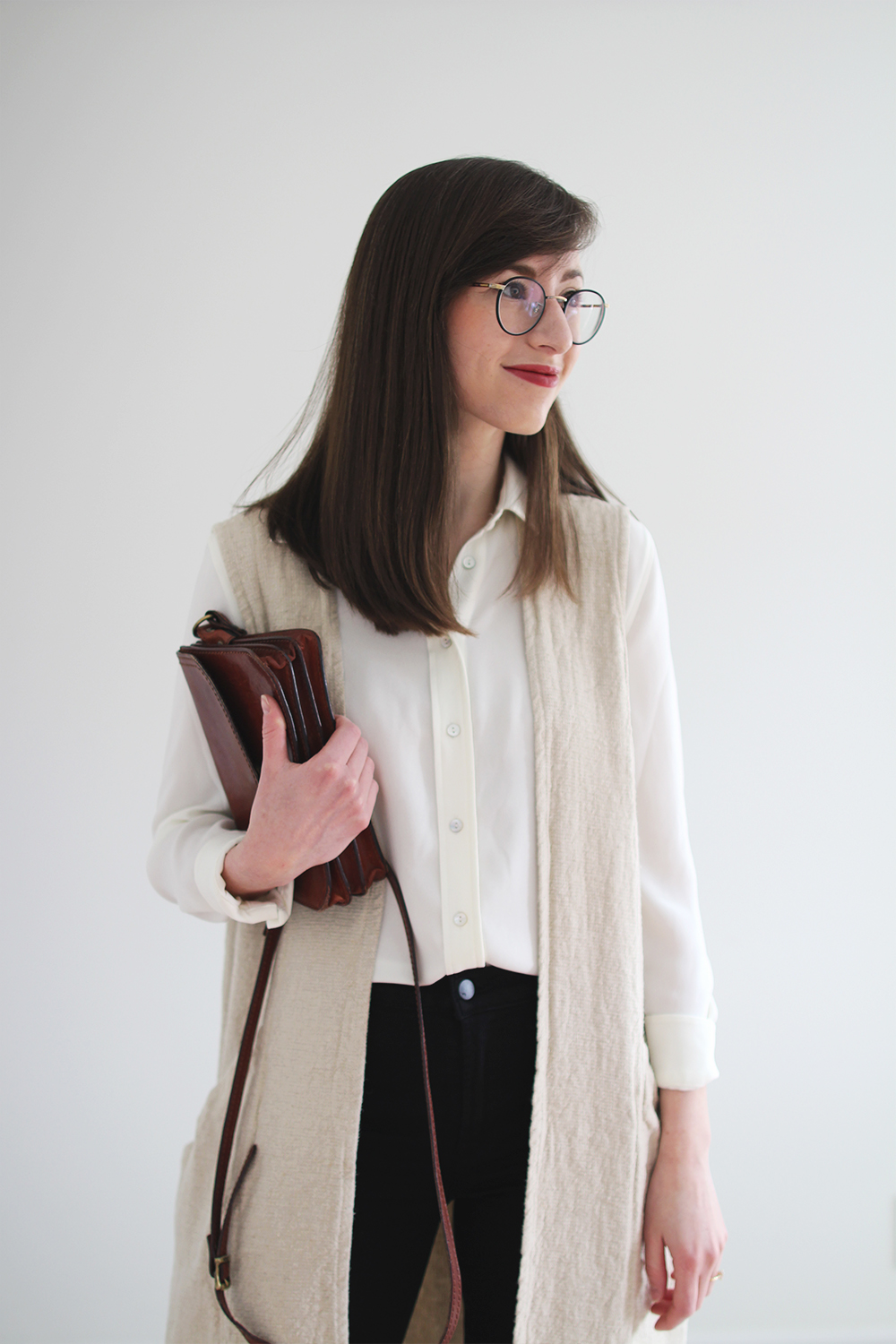 ---
STYLE + FIT DETAILS
---
1 | POPS OF RED | I LOVE the simple neutral palette happening here but I'm glad I opted for a rich red lip colour and my oxblood cross-body bag. The two small hits of red inject the look with some warmth and steer it away from feeling too much like an obviously black and white outfit.
 When in doubt oxblood always pairs beautifully with creamy light neutrals and black. It'll never let you down! 
2 | TEXTURE CONTRAST | I've mentioned this approach before (here) but it's becoming one of my go to ways to create interest and dimension in an otherwise monochromatic look. I pair two items in the same colour range in two very different textures to create a visual contrast. This smooth creamy shirt is a stark contrast to the rough, nubbly, woven texture of the vest so the two pieces contrast effortlessly. Works every time!
Try pairing two pieces in the same colour range but that have different textures. It's a simple way to create interest, continuity and depth all at the same time! 
3 | UNDONE + CUFFED | I wasn't sure if the button down would work with this vest but I was determined to try it out and actually love the combination of the two. To dress-down the shirt I left the two top buttons undone and rolled the cuffs up so the sleeve hits an inch above the wrist. This little trick is just enough to make the shirt feel less formal and more in keeping with the vibe of the linen duster.
Next time you're pairing two pieces that might not seem like an obvious match, try styling one up or down slightly to suit to the other.
---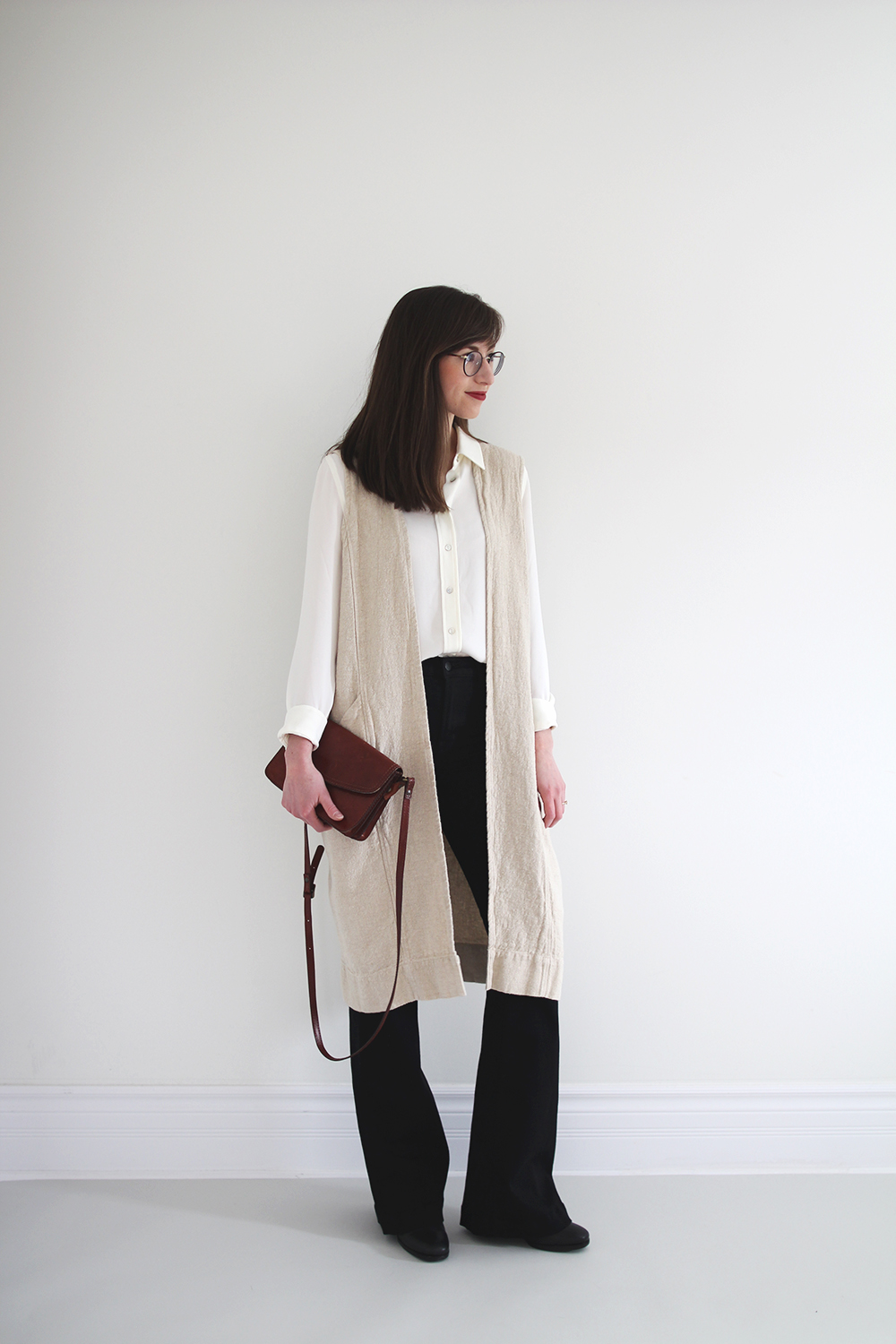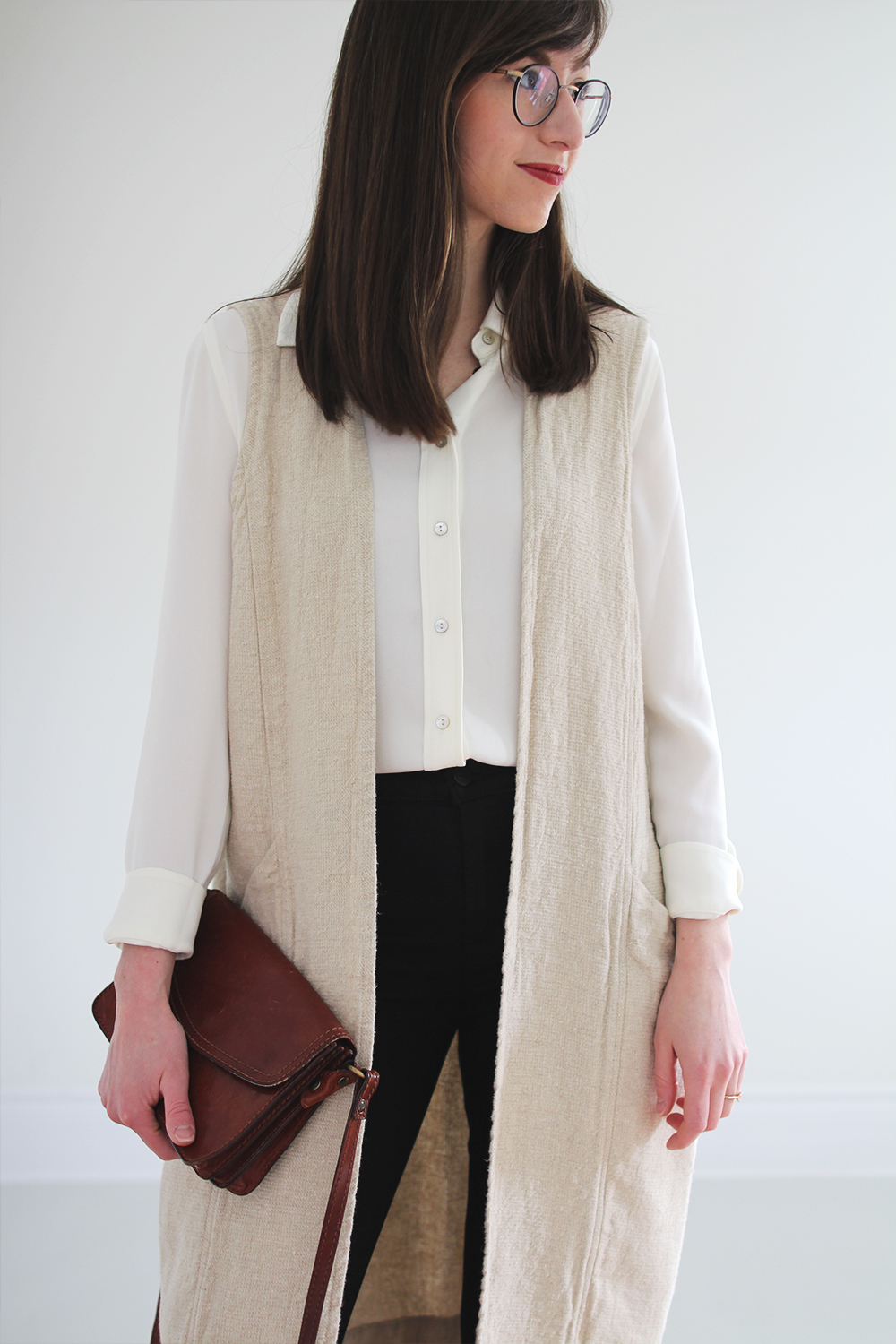 ---
LOOK 3 | Linen Duster Vest n/a Elizabeth Suzann (Size OS) | Linked to very similar at 60% off | Similar light vest options here and here (both imported) | White Button Down c/o Brass (wearing S) | Flares JBrand (black n/a linked to dark wash and these are a dream!) | Bag Vintage (linked to similar) | Boots by Rachel Comey | Glasses by Garrett Leight
---
I love putting together these posts because it forces me to get creative with my favourite items and it never fails to help me realize a few new looks that I might have never tried. 
---
So tell me:
Would you give this formula a try?
Which look is your favourite?
What pieces are you reaching for most these days?
---
See something you liked? You can shop it and support Style Bee by using the affiliate links provided. This post is not sponsored but when you shop via the links above I may make a small commission from a sale. Thanks for your support!