As much as I believe in responsible shopping, conscious consumerism and being thoughtful about personal style, I still really enjoy a new season and all the dreaming and outfit scheming that comes along with it. I just try to keep it a bit more realistic than I used to. I also love sharing wish list posts because they work on two levels. On one hand they allow me to dream a bit and play around with ideas instead of always sticking to the confines of what's already in front of me but on the other hand they force me to plan and get my thoughts organized so I stay on track. Win, win!
Before writing this post I went back and took a look at my wish lists from Winter 2015,  Spring 2016 and Fall 2016. I was shocked and delighted by how many of those items are now heroes in my wardrobe. Seeing how they've translated into my everyday life totally reaffirmed that wish lists are working for me. This also reinforced the fact that a little forethought can lead to much more efficiency and usefulness, especially when it comes to something as malleable as our closets.
So today we're digging in to all things Wish List, such as:
How to create a useful Wish List. 
5 questions to ask before you buy something.
My Spring 2017 Wish List + the 6 items on it.
Download the FREE Printable Wish List.
---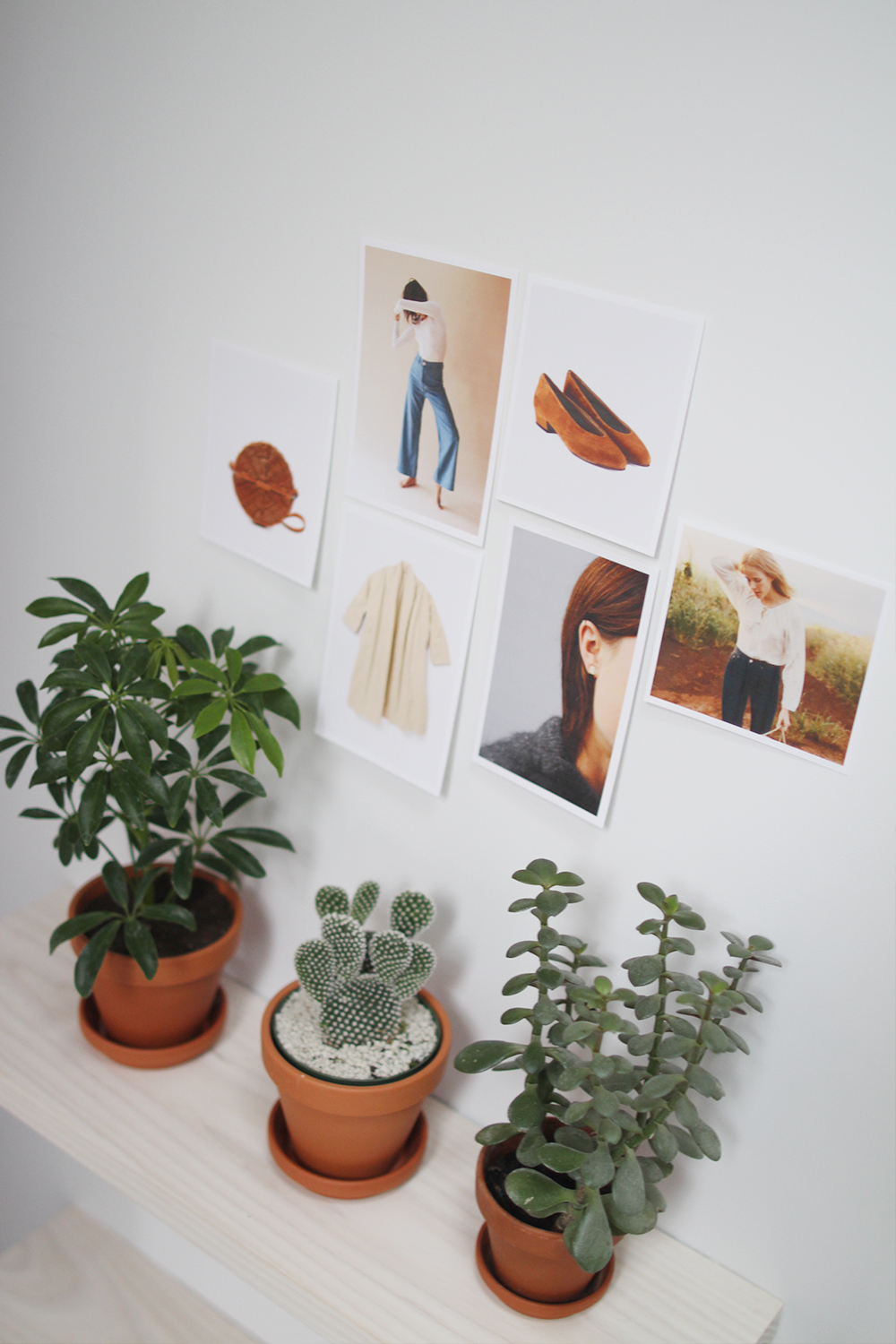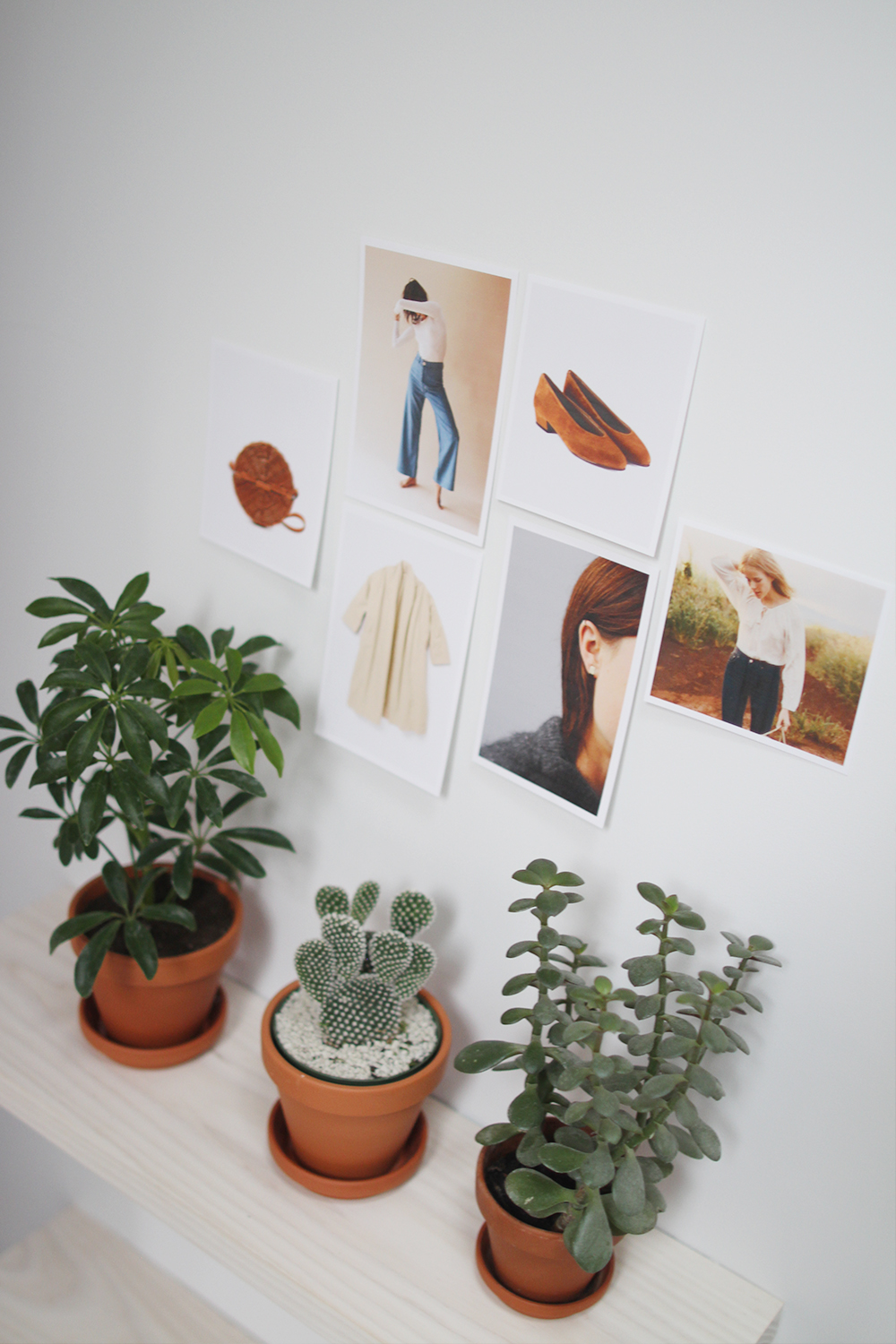 ---
HOW TO CREATE A USEFUL WISH LIST
---
Before you create your wish list consider Defining Your Personal Style or identifying some Shopping Triggers if you're not already familiar with either of those. You may also want to take a moment to Prep Your Spring Closet too. This will be a much better place to start than simply listing all the things you think you want or need. In fact, not knowing what you need or having a clear sense of what your style is can be a major catalyst for impulse shopping and overspending. Take my word for it!
Then once you're ready, start by thinking about the next 3 months and ask yourself: 
What is the weather going to be?
What activities will I be doing most?
What is my budget?
What do I keep wishing I had already?
What was I missing this time last year?
Keep your list to 10 items or less, which sounds easier than it is. You can certainly start with many more but once you've got everything listed, start eliminating items by using the 5 questions below. Try to whittle it down to 10 or less.
If you change your mind, that's cool! Nothing is set in stone and you can switch things up any time.
Don't settle! This is a wish list right? So don't sell your dreams short by under cutting what you really want. If it means you can only put 3 expensive things on the list that's better than putting 6 things that aren't what you 100% love.
Put the list away and forget about it for a few days. Next time you review it ask yourself if anything fell off your radar when you weren't thinking about it. That's a good sign that perhaps an item might not be as high a priority as you thought.
Run the numbers. If you were to actually buy everything on the list, what would that set you back? I always find this step to be a bit of a wake-up call, which isn't a bad thing.
Keep it handy. This is more important than it seems. If you keep it handy, on your phone or in your bag, you can refer to it when you're tempted to impulse shop or if something else catches your eye. Compare what you're tempted to get with what you really want. This quick comparison is usually all I need to remind myself to wait and save for the item that I know is worth it.
---
---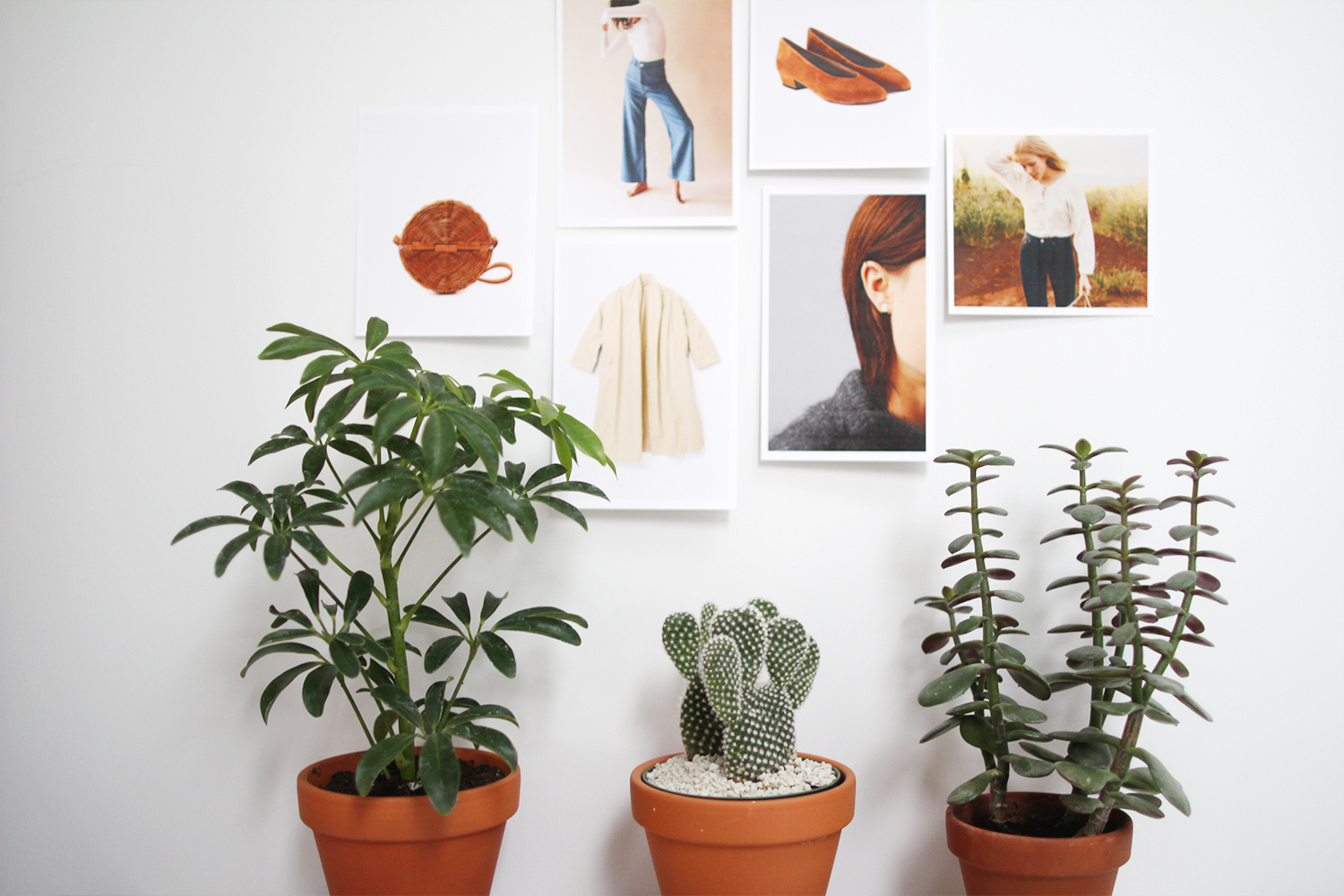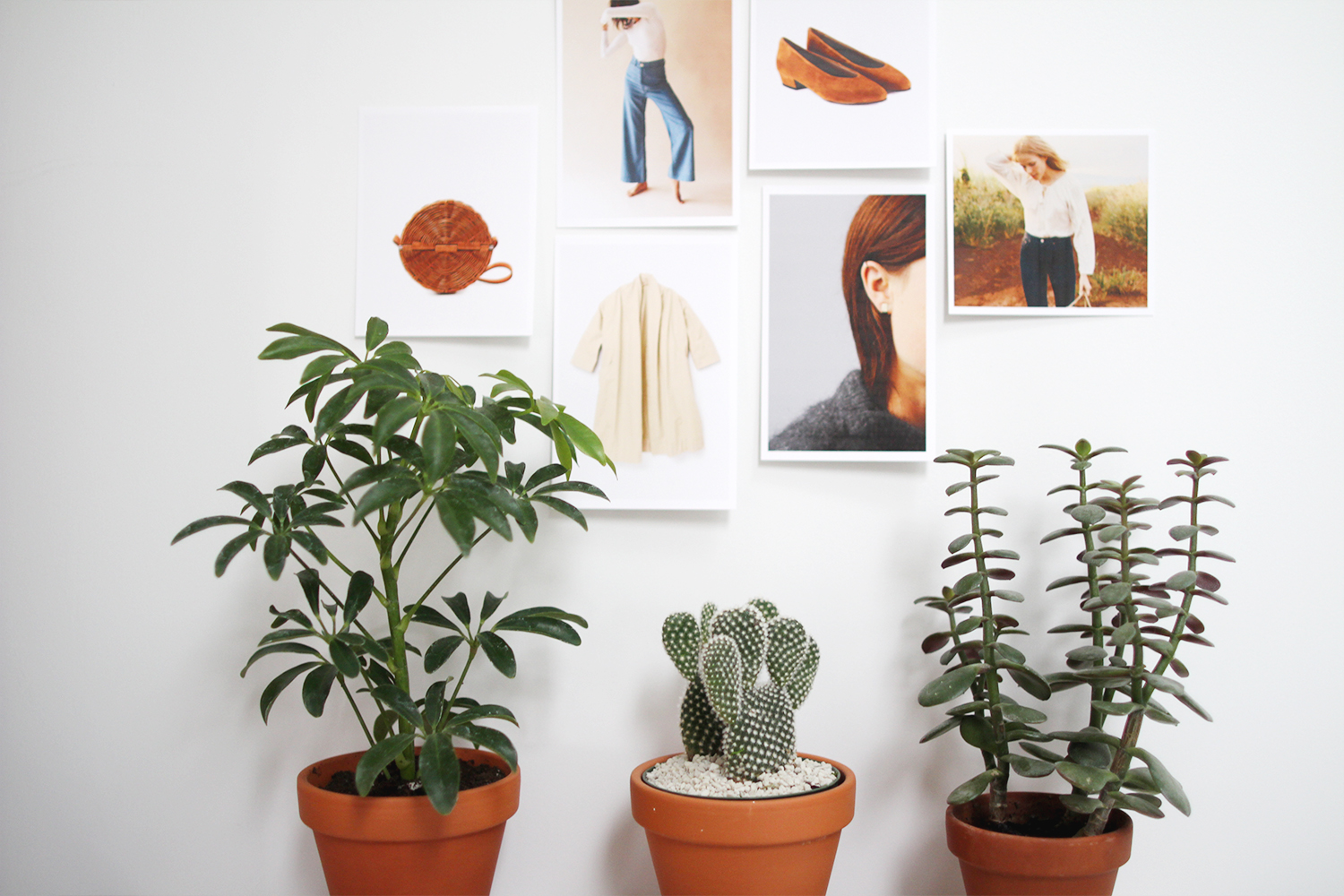 ---
5 QUESTIONS TO ASK BEFORE YOU BUY SOMETHING
---
So you've found something you really like. The fabric is good, the fit is great and it's been made well (and hopefully responsibly). Yay! But before you pull the trigger take a moment to ask yourself the following:
1 | Does this fit my personal style? Start by defining your style and distilling it into a few words. Do the words you chose apply perfectly to this piece? If yes, that's a good sign. If not, then it's probably just an impulse and not something you'll wear a lot. I've found this the most effective, on-the-fly, way to assess whether or not something will work for me. My definition is: Clean Considered Versatile 
2 | Can I afford it? Like, really, is it within my budget or am I stretching my finances? This one can be a downer but it's so critical to feel good about a new purchase. Too many times I've gone over budget and felt pangs of buyer's remorse.
3 | Do I have anything else like this? If no, that's a good start. If yes, is it something you wear more than twice a week and could use an alternate of? I'm all for buying multiples of something you wear all the time, whether it's a different colour option or a new fabric for a warmer season, but make sure you're not drawn to something just because it's like a piece you already have. Each item in your closet should play a relatively unique role.
4 | Can I think of three outfits I'd wear this with? If yes, great! As long as the outfits consist of things you currently own. If no, then it's probably a pass unless it's for a very special occasion.
5 | Can I take care of this? Too many times I've ignored the 'Dry Clean Only' care tags and figured, no big deal, to find after a couple wears (or less), it's in the bottom of a bag waiting to be dropped off to the dry cleaner, where it will likely remain for at least a week or two. With the exception of wool or cashmere sweaters I try to stick to things I can launder myself.
If you're 5 for 5 then I'd say go for it! If you're under 5 I'd say hold out for something better.
---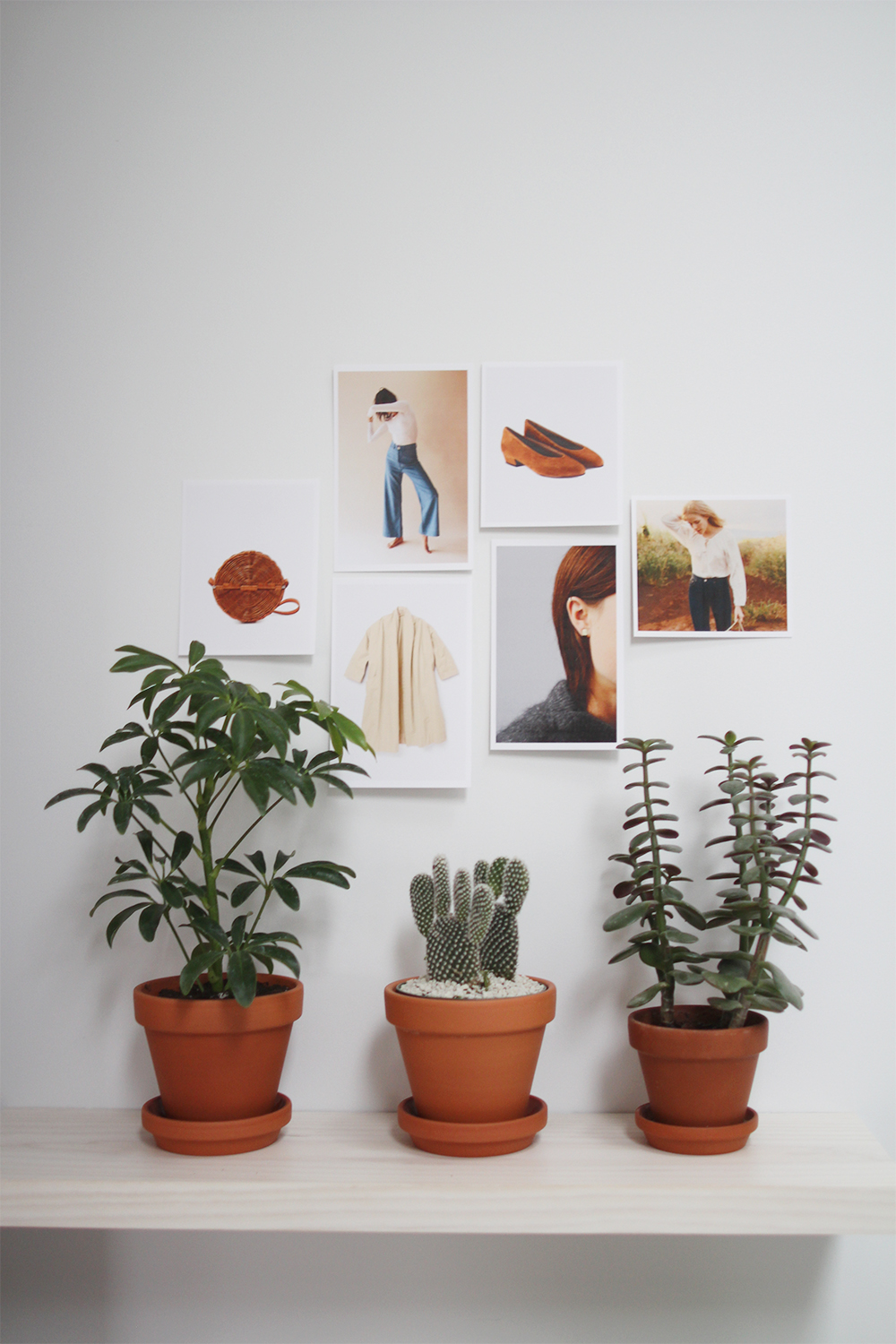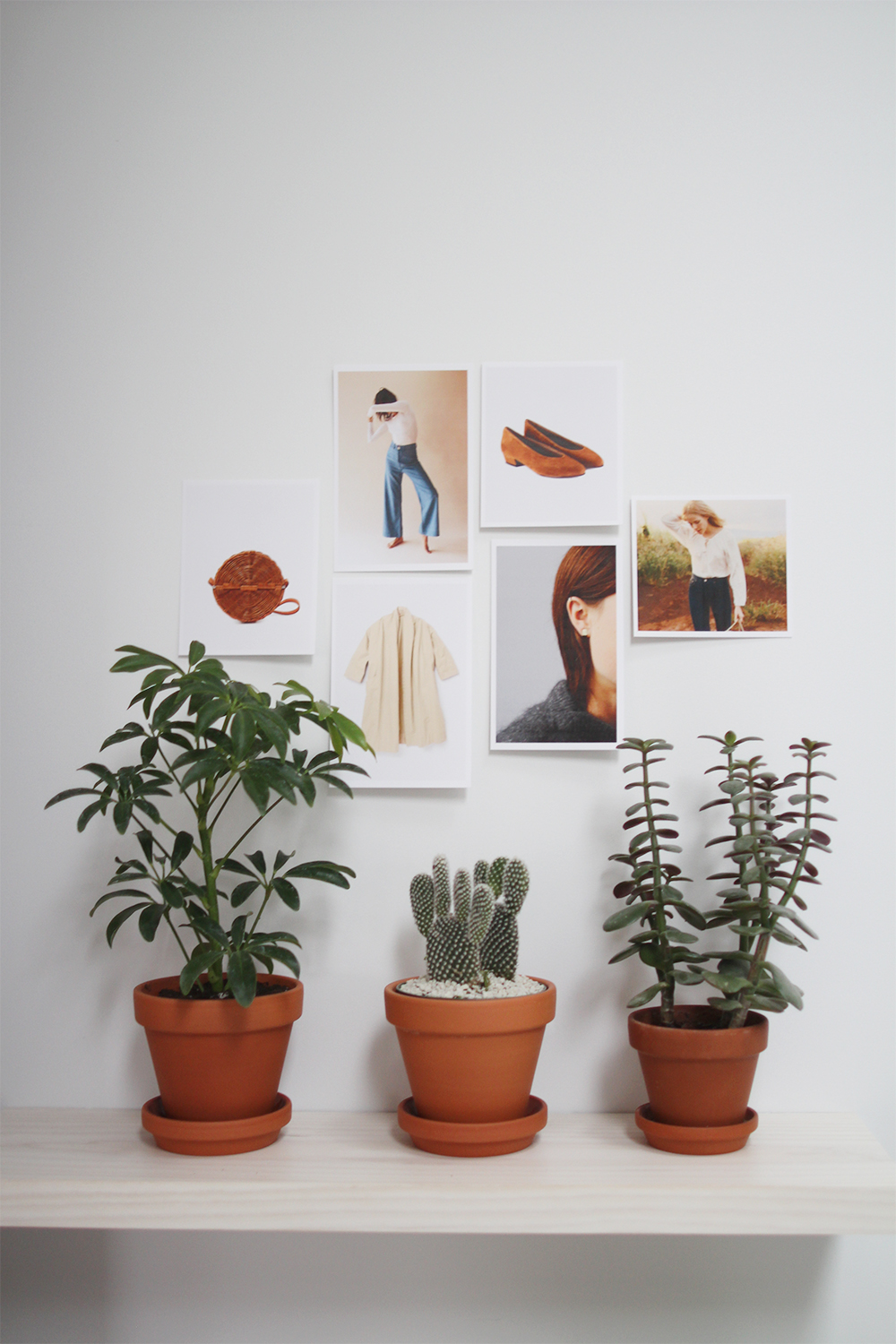 ---
MY 2017 SPRING WISH LIST
---
These are a few of the things I kept in mind when planning for Spring and building my wish list.
MAIN GOAL | One of the main goals I have for this Spring season is to wear the pieces I already have and love even more. I'm feeling very fortunate to be in the place I'm at with my style and closet but it's taken literally years of consideration and editing to get to this point.
PERSONAL STYLE GROOVE | I'm also finally in a really good groove with my personal style these days (or at least I think so anyway). I know what works for me (and what doesn't) and I'm really starting to embrace some tranquility and contentment in my style. By this I mean I don't feel the need to try new things or different styles as much as I used to. I'd much rather wear a look that feels 100% 'me' over something that's on trend.
NO MORE BLACK | I've also implemented a hiatus on adding anymore black to my closet. It's still my fave but I'm ready to lighten up and soften the palette for Spring! I might even try pink!
SHORT LIST | My Spring wish list is only 6 items long and while I doubt I'll manage to bring them all home I know each one would be well worn and appreciated within my existing closet. I've also focused on true Spring pieces that I can wear in the next 3 months. We'll get to the dresses and shorts next season since Summer in Ontario is another story all together!
Full disclosure: I've already done a bit of Spring shopping but aside from a couple of items most things didn't work out and a few were for my Loungewear capsule (update coming March 20th!). Just so ya know!
---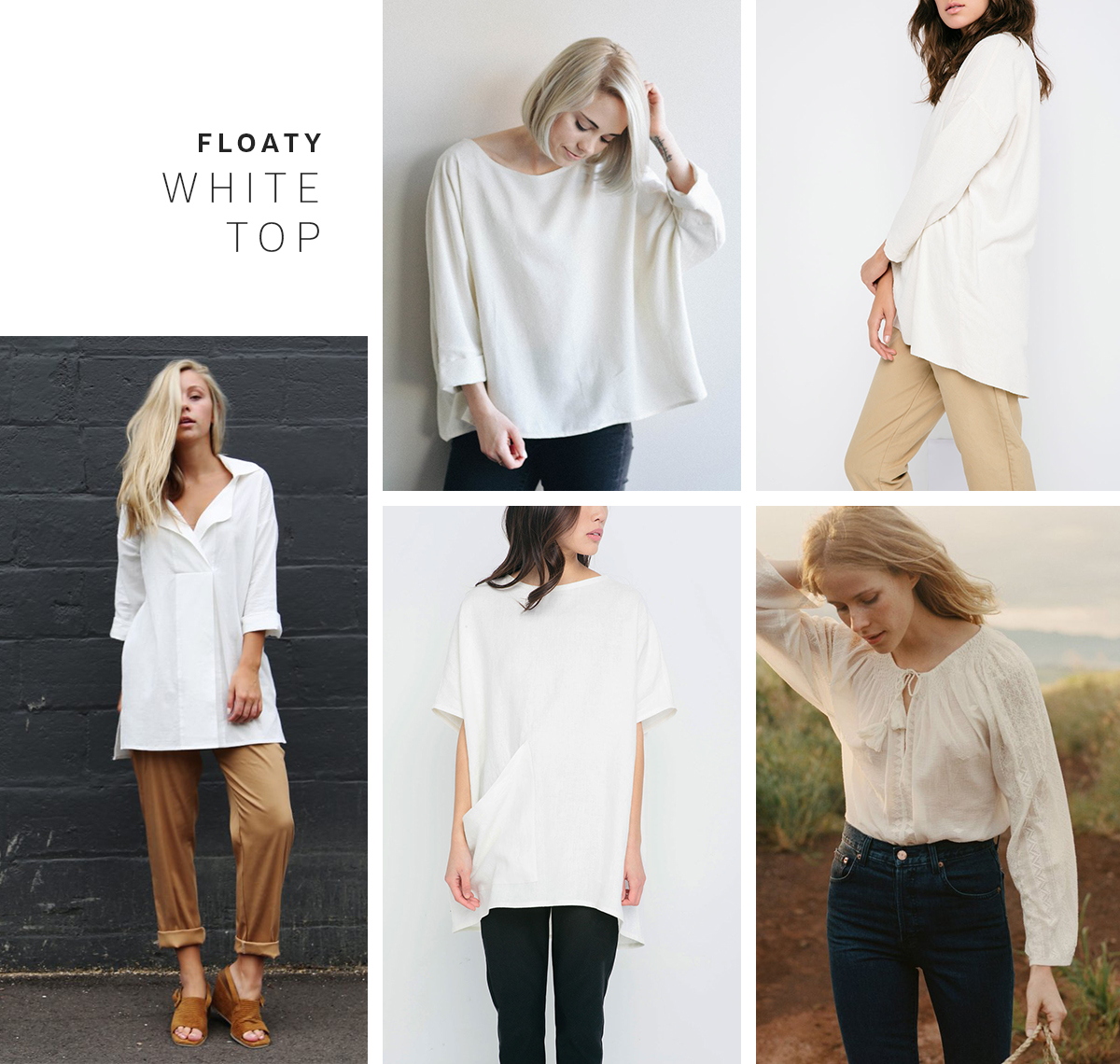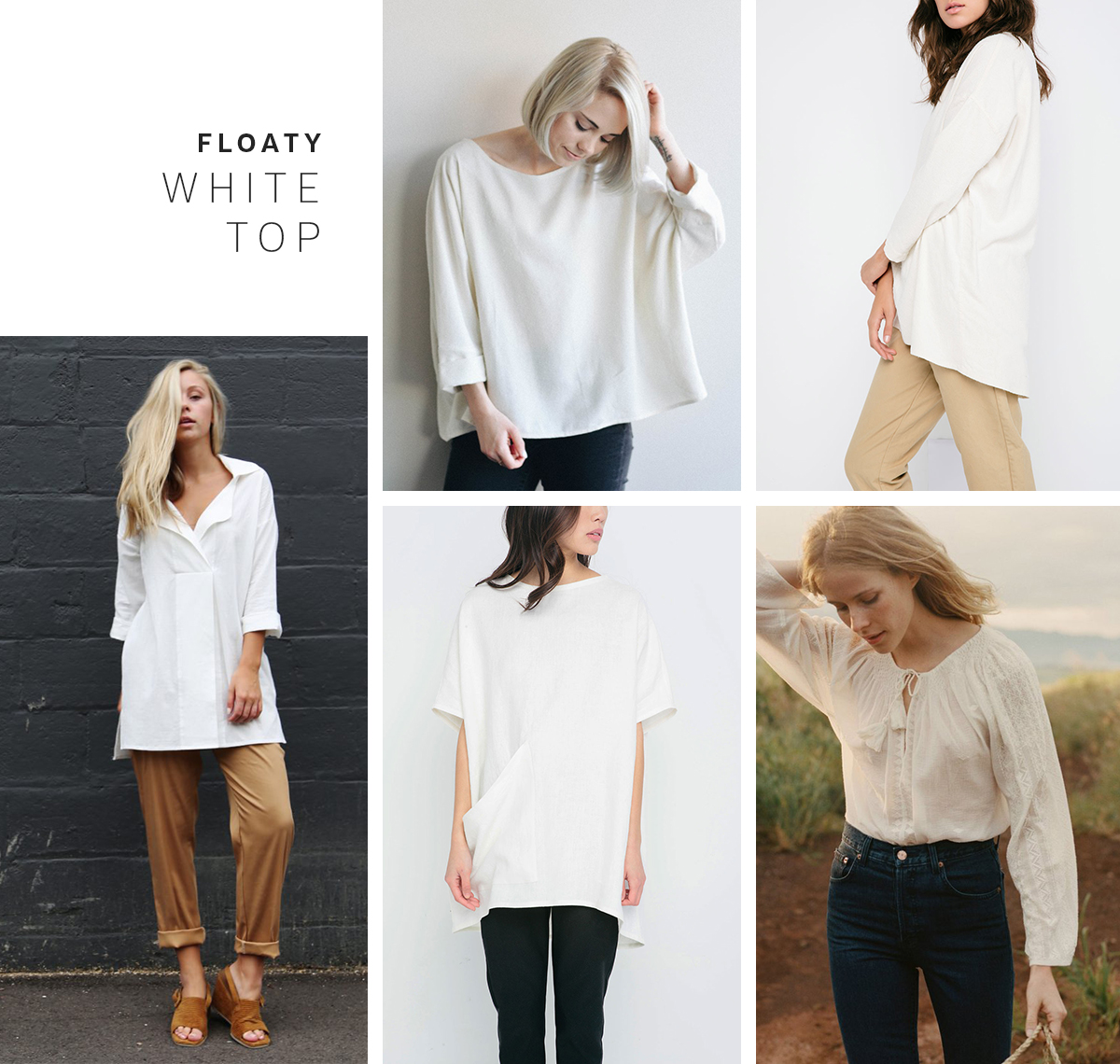 ---
1 | FLOATY WHITE TOP
After wearing mostly black and grey for months I'm really craving some soft, cloudy, feminine tones. I haven't landed on whether a tunic length or a shorter length is what I'm most drawn to but I know a floaty, simple, off white or ivory top would fill a considerable gap in my Spring closet. The tunic length would be perfect to toss on over black skinnies or jeans and the shorter, tuckable option would be perfect in either my Kamm or Florence pants. I might have to find a reason for both! The main 'must-have' for this piece is sleeves!
T-TOP | I have this top in Black and LOVE it. I was going to add another top as part of the colour kit campaign last Fall but I honestly couldn't decide on a colour so I held off and now it's become clear that Natural is my favourite after all. $188 USD
HARPER TUNIC | I was really wishing I'd bought Harper Sweater all winter but after the latest staff campaign blog post I suddenly noticed how this Harper Tunic could be a great Spring piece too. It looks so soft and yet still polished enough to wear to a casual meeting or lunch date. $195 USD
OVERLAP TUNIC | This is probably my favourite pieces from the HDH SS17 Core Collection, but I must say overall it was my favourite collection they've put out in a long time. I've allllmost ordered this tunic a few times now but something keeps stopping me. Maybe it's that the Olive colour is really the way to go! $215 USD
HARPER TUNIC | Ah, the Harper Tunic, another forever classic by ES. I've had this beauty in my cart more than a few times. It might end up on my Summer wishlist since the short sleeves and linen are perhaps a little too light for Spring here.
MYSTIC TOP | Hello bohemian dreams. This top is seriously so lovely it's silly. Again though, it might be too ethereal for Spring and it's pushing the limits of my budget. $225 USD
LLOYD (not shown) | I also love the cut of this cropped t-shirt by LLOYD! Their whole Spring line is lovely. | $110 CAD | Made in Vancouver.
---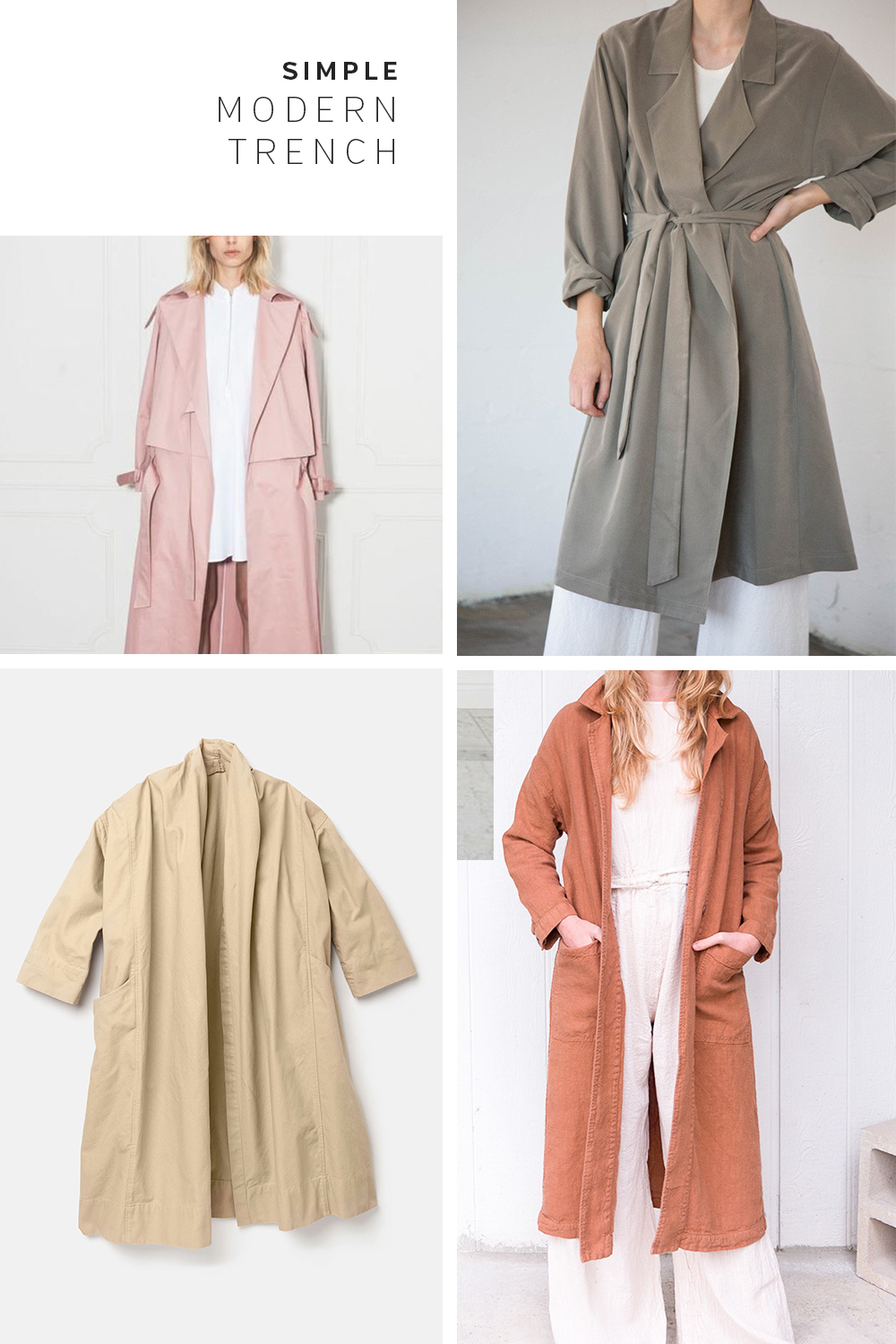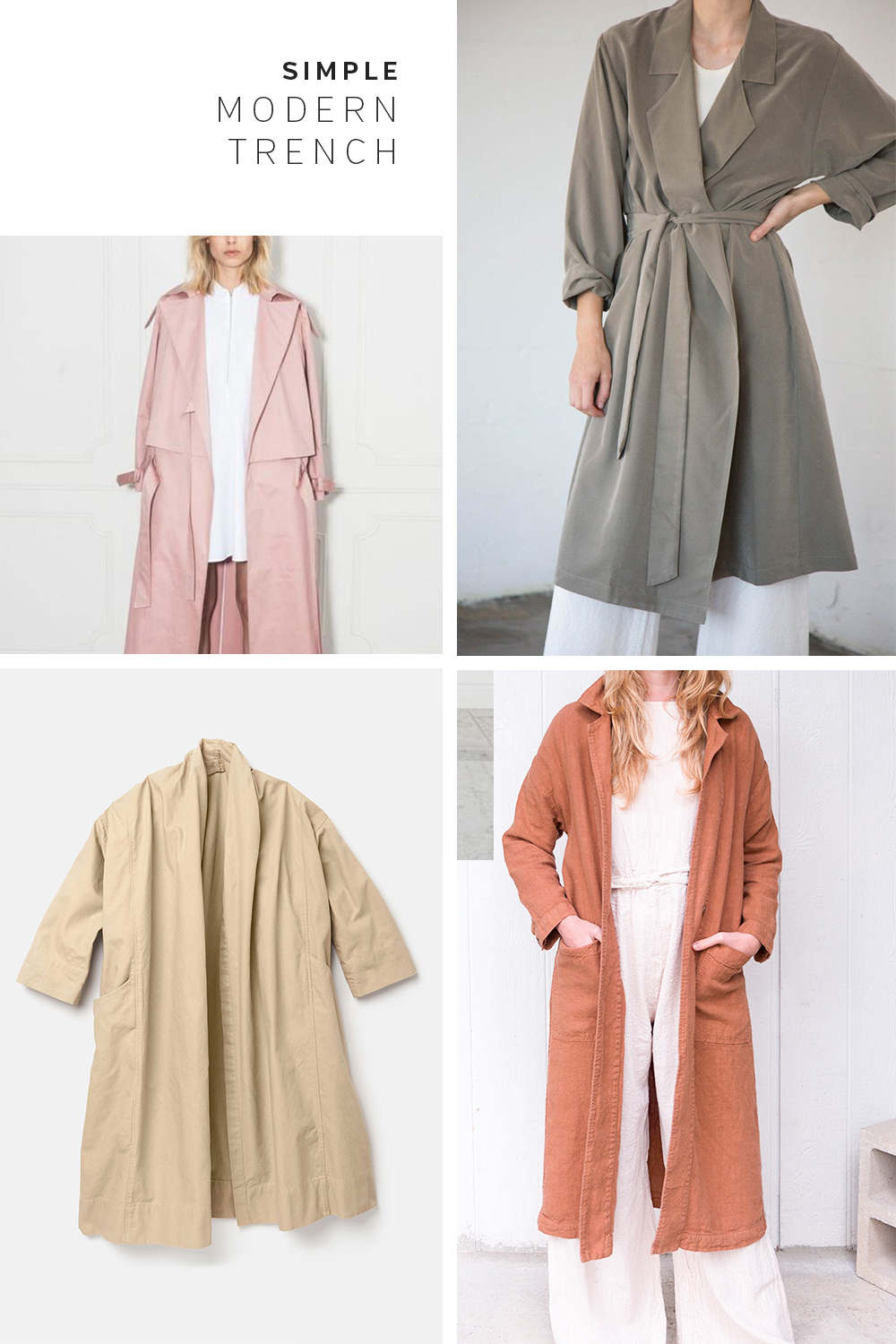 ---
2 | SIMPLE MODERN TRENCH
This item has been on my wishlist for ages, in fact, it was on my Spring Wish List last year! So that persistence alone tells me it's probably a piece I'll get a lot of use out of.
I love my classic trench, it's even going to be on the blog Friday, but after several years of use it's been feeling a little bit preppier than my true style. I've tried taking belts off and wearing it open but it still reads a little bit more conventional than what I'm going for these days. I don't think I'll let it go any time soon but I would like to see how much it gets worn once I have an option that feels 100% in line with my current style.
PINK + OVERSIZE | This one is epic and if I was way ballzier I'd consider something in a sleek cut and a bold colour. (Source Unknown)
JESSE KAMM | I've coveted this one for ages now but it's expensive and I worry that the modal won't be warm enough for our windy spring weather and that it might wrinkle more than I'd like. That colour and cut is so perfect though! | $635 | Made in USA
ELIZABETH SUZANN | This beauty has been on my radar since the Cold Weather collection launched. I adore it! I hope she does this style in a wool next winter! | $365 USD | Made in Nashville
ESBY | The gorgeous clay colour of this one really caught my eye and it looked amazing on when I caught it in the ESBY stories at Capsule in NY. I love the long length and the fact it has a single button to keep it shut. | $368 USD | Made in the USA
---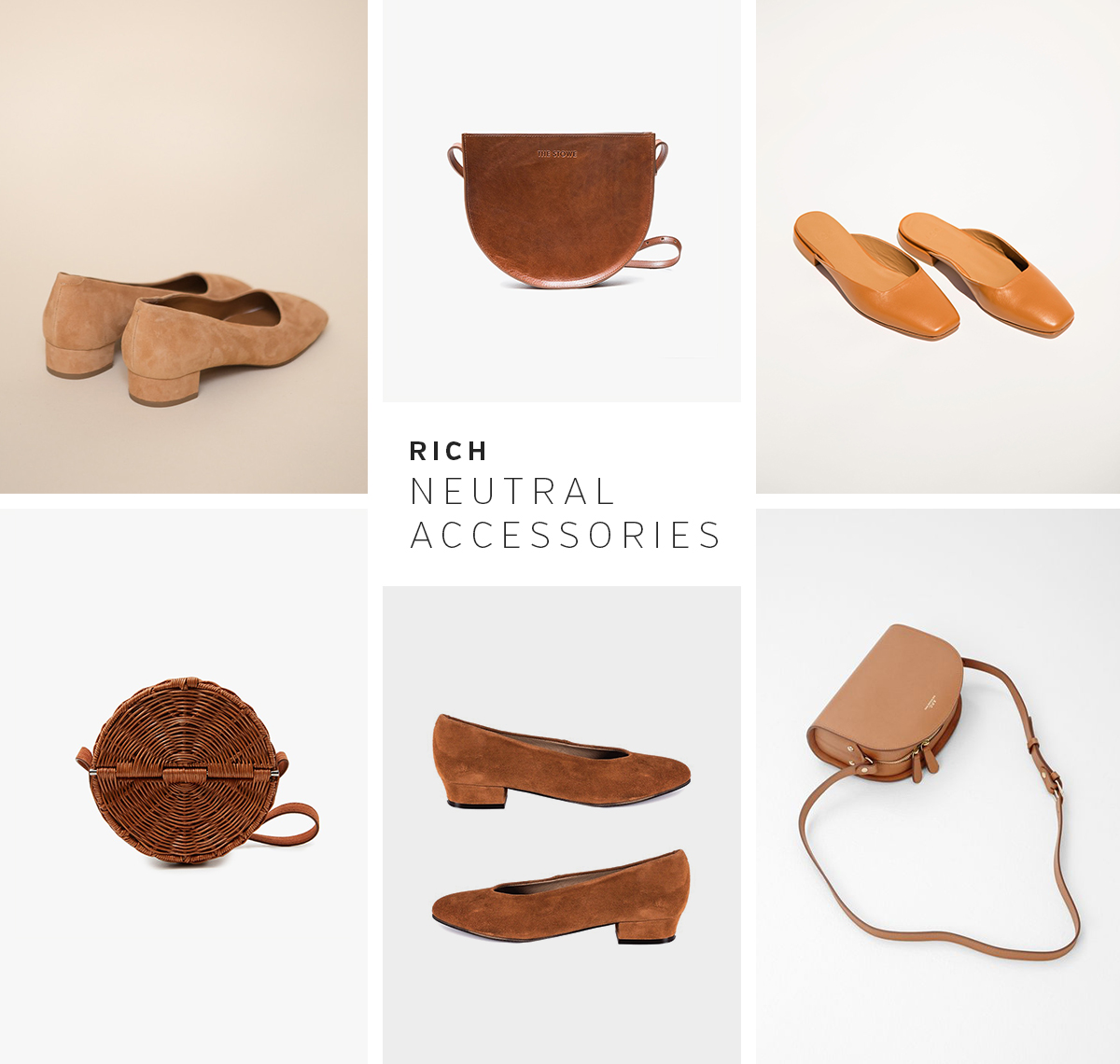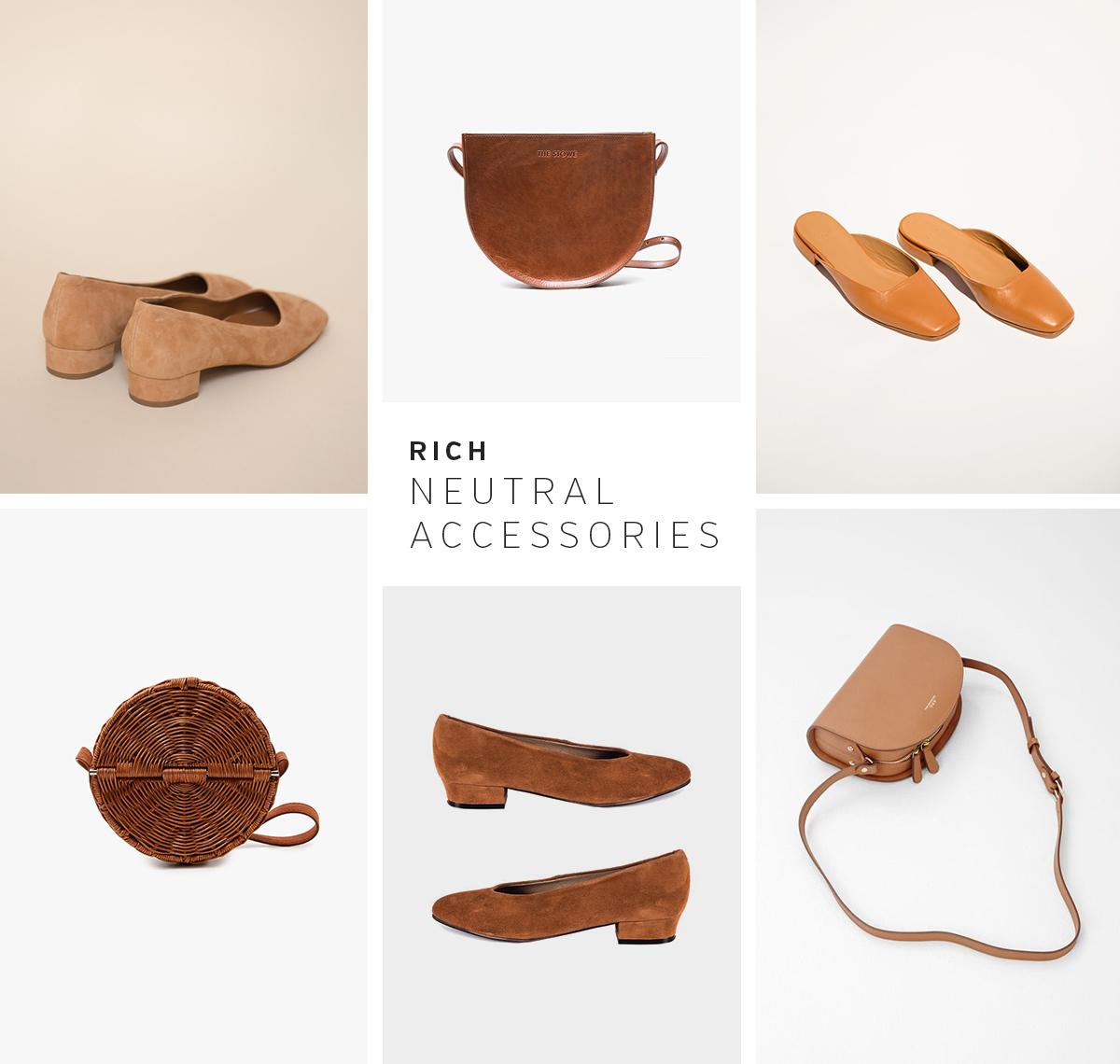 ---
RICH NEUTRAL ACCESSORIES
3 | SHOES
I've been dreaming of a pair of cognac or tan flats for a long time now. I have a couple of menswear inspired flats which I love but I've been feeling a need for something a bit more refined and feminine. Something I can pair with my Georgia Midi or 19th Ave Dress for a more lady-like look. Luckily this spring yielded a few great options.
BY Far (Top left) | These beauties were the first to catch my eye earlier this season after I saw ByFar shoes popping up on all my favourite style muses. They also make a seriously dreamy ankle boot which I may have already penciled onto my Fall wish list. | $287 USD | Consciously made in Bulgaria using deadstock leathers. More about the brand here.
LOQ  (Top Right) | This brand is another one with a major cult following it seems. I love the easy look and functionality of a slide but ultimately I was hoping for something to hide my rarely pedicured heels for the time being. Also, how are we feeling about square toes coming back? I'm kind of into it! | $325 USD | Made in Spain
L'Intervalle (bottom middle) | This Montreal based shoe brand has intrigued me for a few seasons now but it wasn't until I saw them in person that I was convinced (a friend has them in black). They are seriously so beautiful and well made it's incredible! I'll confess I took the leap and ordered them knowing they were handmade in Spain and little else but I hope to learn more soon. | $138 CAD | Made in Spain. More about the brand here.
Martiniano (not shown) | I also looked into the Martiniano Glove shoe which is apparently insanely comfortable but they're not really in the budget and I'm not sure if they're right for me. | $456 USD *many colours on sale | Made in Italy
---
4 | BAG
I don't buy new bags very often but I know a brown cross-body bag in a statement shape would go a long way in my collection. I love my oxblood vintage cross body (seen here + 1000 other times on the blog) but it's quite small and my current wallet has a tough time squeezing in there with anything else. Once I'm ready to upgrade, I'll be choosing something with a more unique shape. These three are on my radar (especially the first one!) but I think I might wait until Summer or Fall to add another bag.
The Stowe Eloise (top) | I have this very same bag in black and it's easily my favourite. The shape is stunning and the size is just right, plus it's very comfortable to wear as a cross body or on the shoulder. The leather is amazingly durable and the craftsmanship is next level. Definitely check out The Stowe if you haven't! | $300 USD on sale | Made Responsibly in Canada
Rachel Comey (bottom left) | Well it doesn't get much cuter than this little circular wicker beauty. Leave it to Rachel Comey to combine a bizarre material with a crazy shape to make the perfect Spring bag! Not sure that this one would truly solve my space requirements but it's a beaut! | $472 USD | Made in the Philippines | How responsibly I can't say but Rachel Comey has a great reputation for sound production practices and very high quality products. Many wicker goods are produced in the Philippines due to the availability of raw materials and expertise.
A.P.C. (bottom right) | When I was in Soho NYC a couple years ago we stopped into the A.P.C. store and I will admit I was seriously struck by their insanely gorgeous bags and shoes. The half moon bag in particular is a true timeless classic and a gorgeous shape. In person it's a work of art! | $455 USD *linked to an available colour | Made in Portugal
---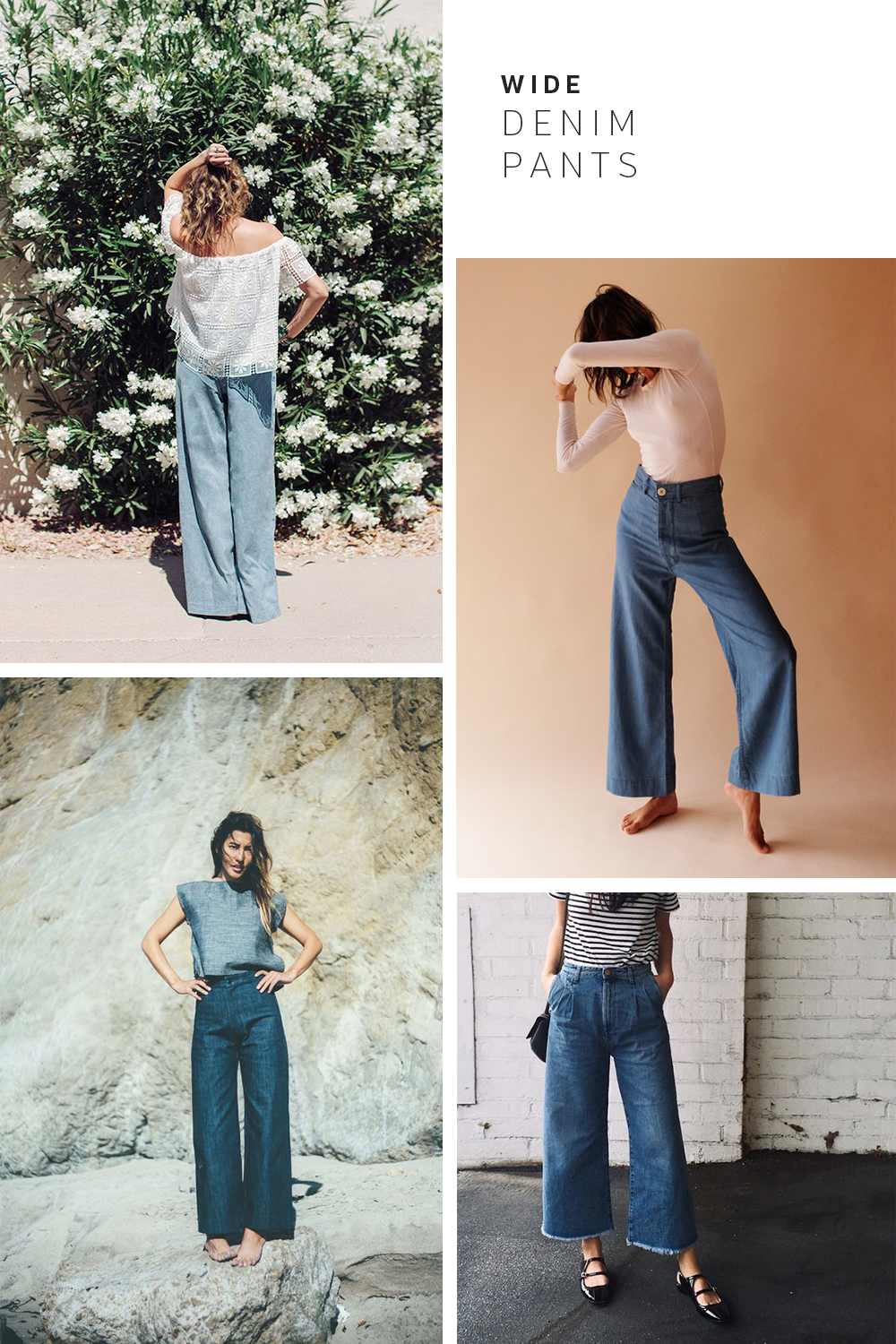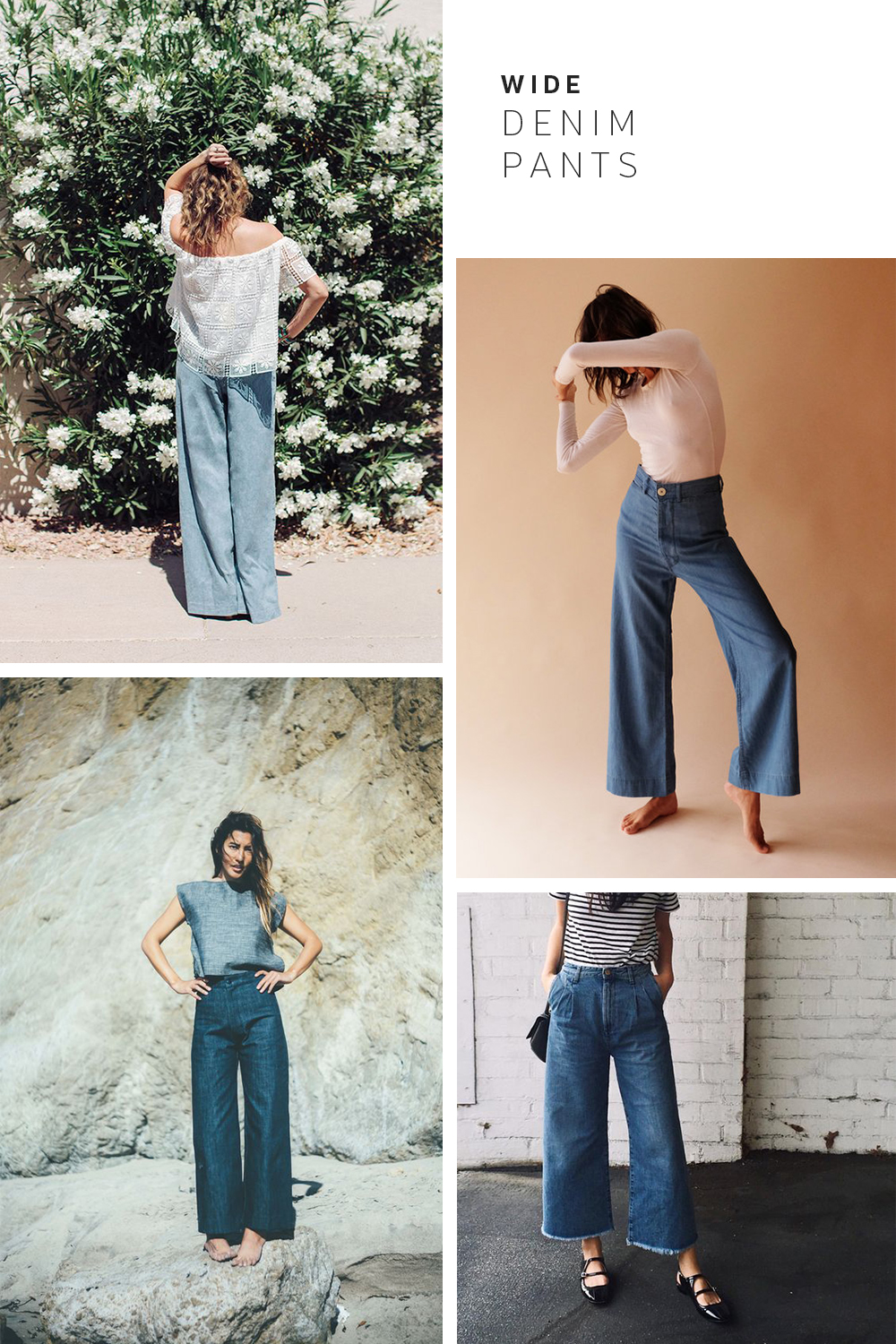 ---
5 | WIDE DENIM PANTS
I'll admit it, I'm addicted. I've just never felt the way I feel in wide leg pants before and I dare say this is going to be a forever style for me. For some reason I feel slim, elegant and confident when I'm in either my Kamm Pants or my Florence Pants. It's something about the bold but classic shape that's unexpected but feminine and flattering all at once.
I know they're not for everyone and a lot of people think they're wack but to me they're the cat's pajamas and I can't seem to get enough. So with that, I'm on the hunt for a perfect pair of denim wide leg pants to add to my collection.
TOP LEFT + BOTTOM RIGHT (via Pinterest) | BOTTOM LEFT (OZMA)
KAMM CHAMBRAY PANTS | When I saw that Jesse Kamm was wearing a chambray version of her quintessential Kamm Pants on vacation I nearly cried (not really but I squealed) and I've been anticipating their launch ever since. They're exactly what I was dreaming of. I especially love that they're a slightly more relaxed %100 Fine Cotton Chambray (instead of sturdy cotton canvas) so they'll be more forgiving through the Summer months too. Thinking these might need to be my 30th birthday gift to myself but right now they're more of a wish than a list item! | $395 USD | Made in California
---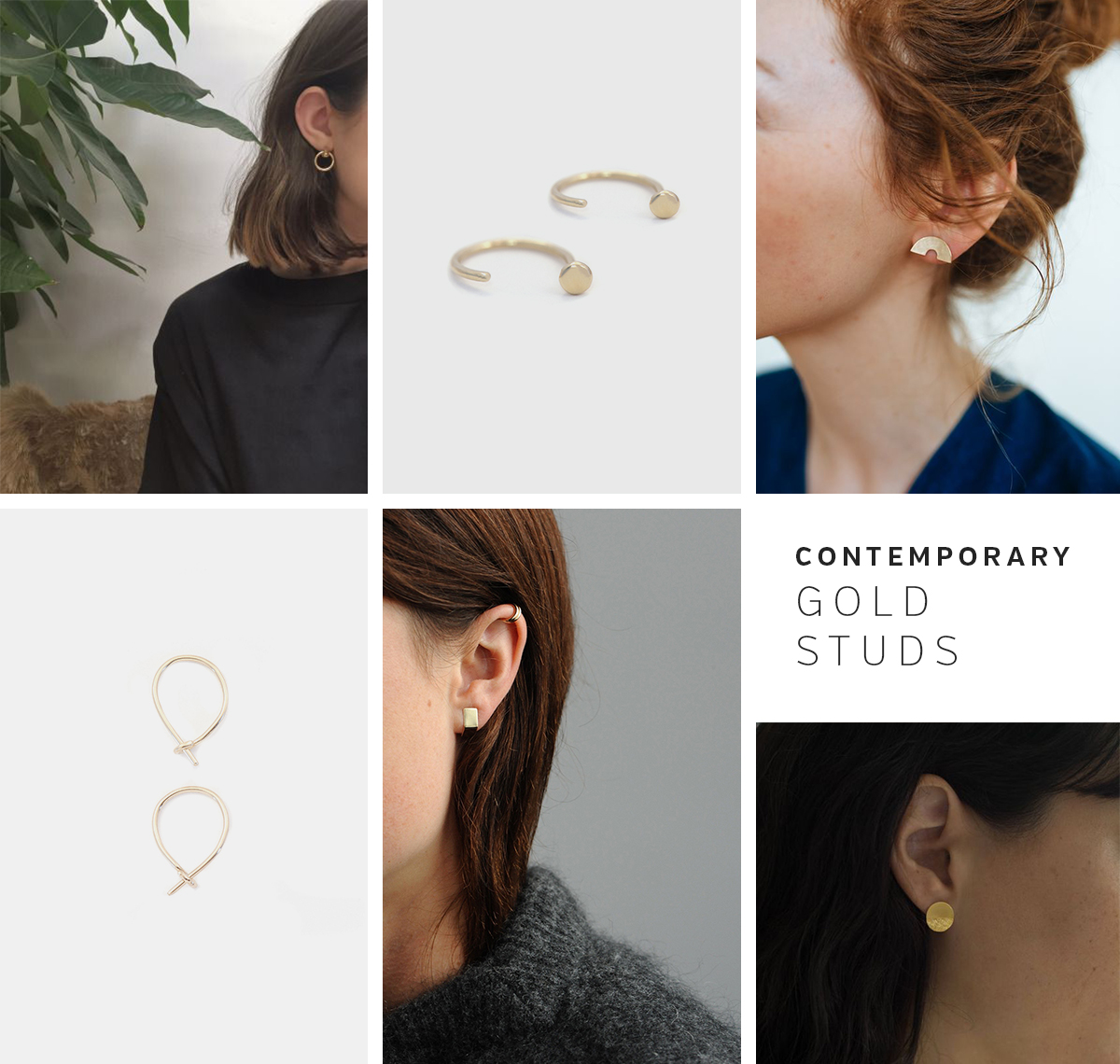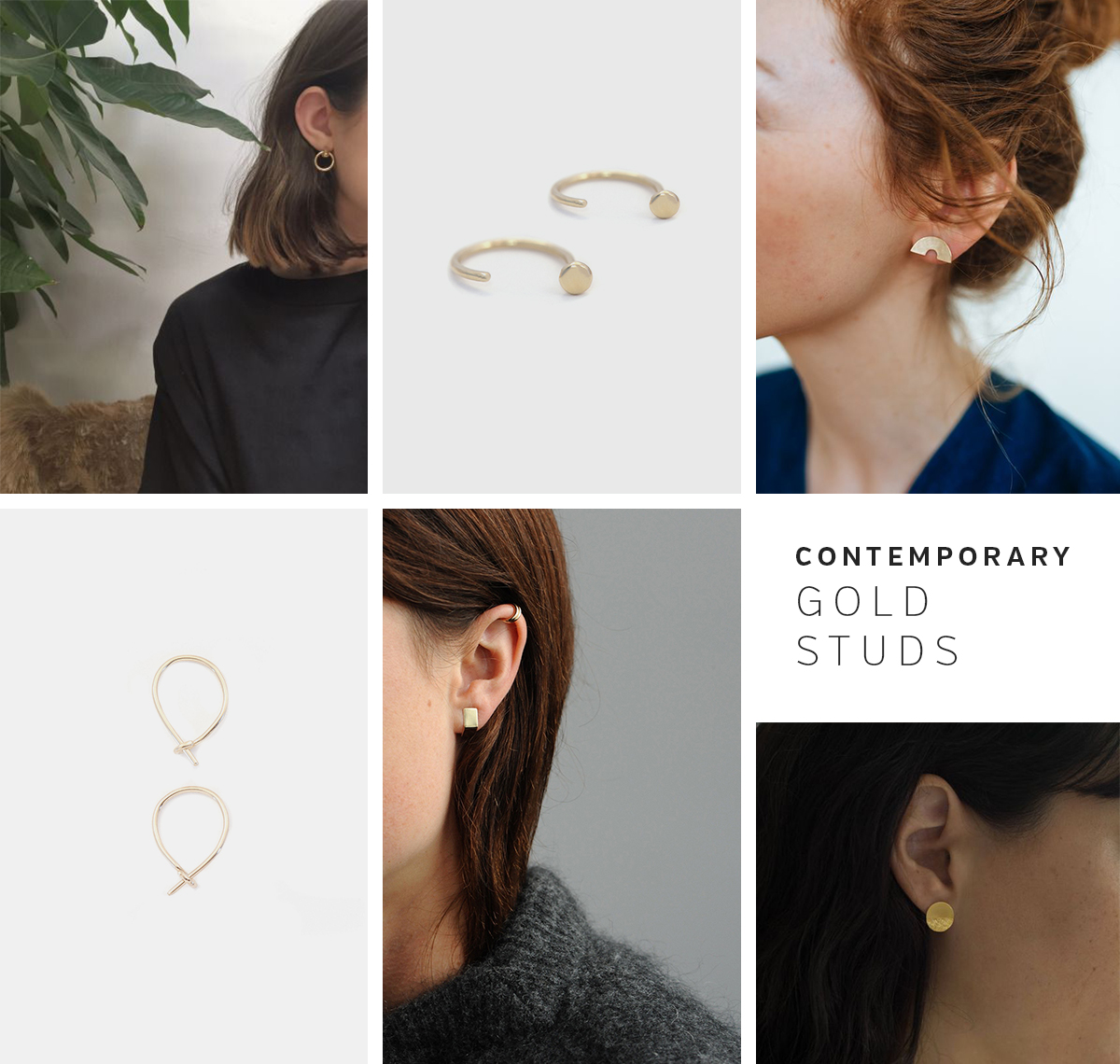 ---
6 | CONTEMPORARY GOLD STUDS
I've been loving the statement earring trend we're seeing lately but being a girl who wears glasses 98% of the time I know they're not the wisest investment. Too many accessories is not my jam. Instead I'm thinking I'd love a pair of gold studs that are a little more bold and contemporary in shape but still timeless and not too big. Luckily, there are lots of great options that fit the bill!
ATTIC | The ladies that created my engagement ring are geniuses when it comes to updated takes on classic forms. Three of the options above are by them and I know I'll find the perfect simple studs I can wear non-stop for the season (and years to come). If you haven't scoped ATTIC out yet, definitely do! | TOP CENTER (faves!)| LOWER LEFT | LOWER MIDDLE | All made in Canada using recycled gold.
TOP LEFT | TOP RIGHT | LOWER RIGHT *Images via Pinterest
---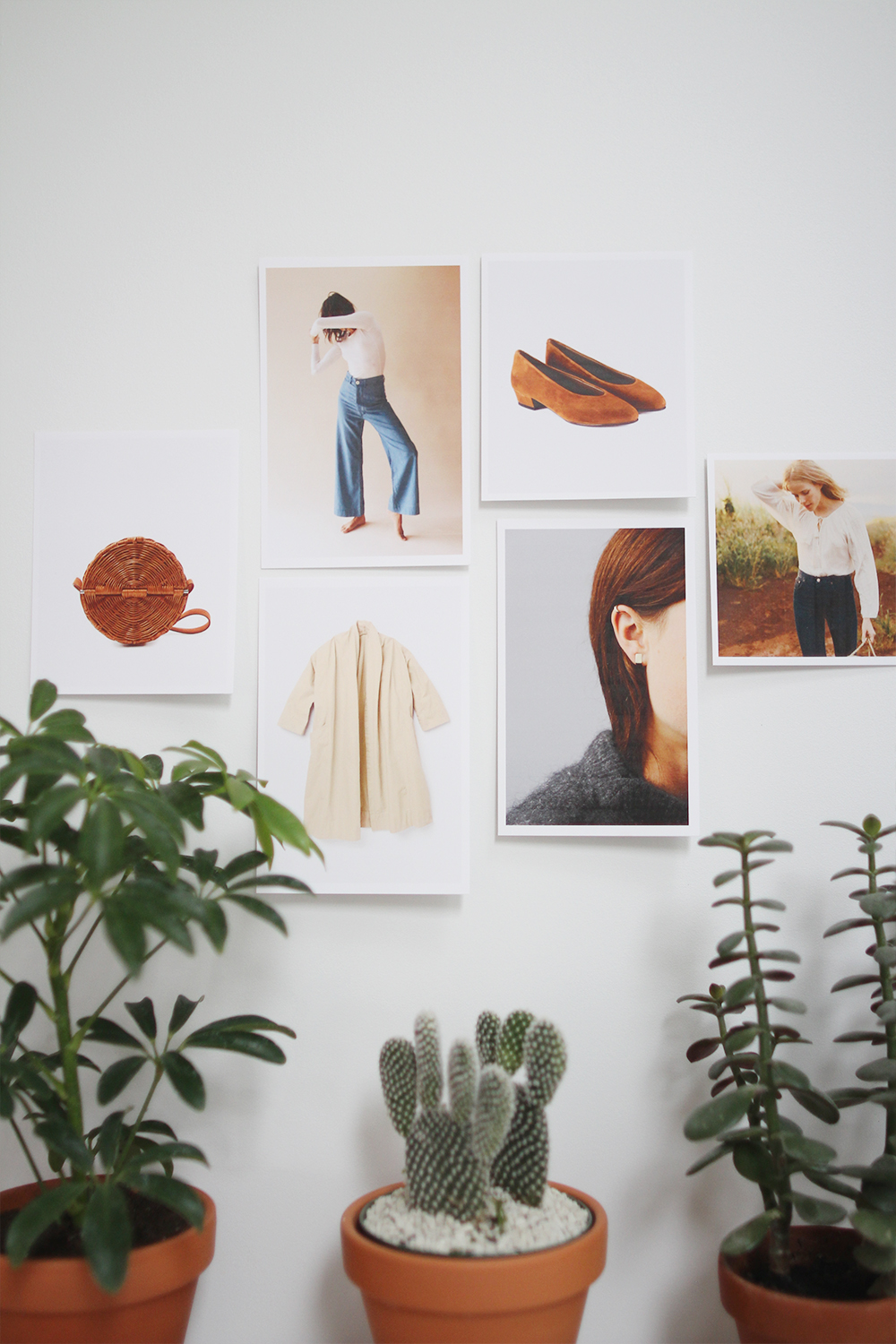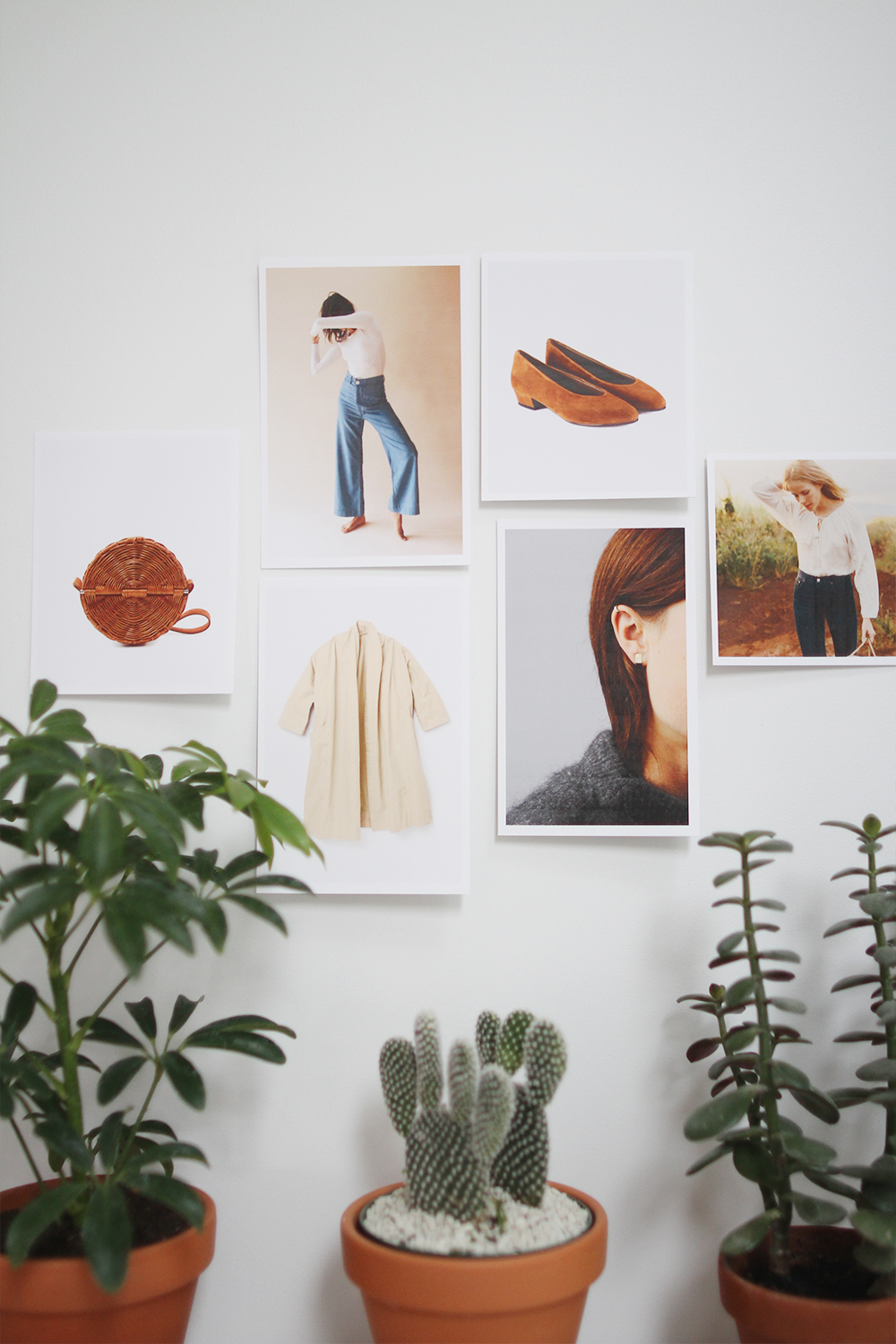 ---
So there you have my Spring Wish List in all it's glory! If I'm cautious I can still come in on budget but I'm taking a deep breath and waiting to see what Elizabeth Suzann has in store before I get ahead of myself!
---
---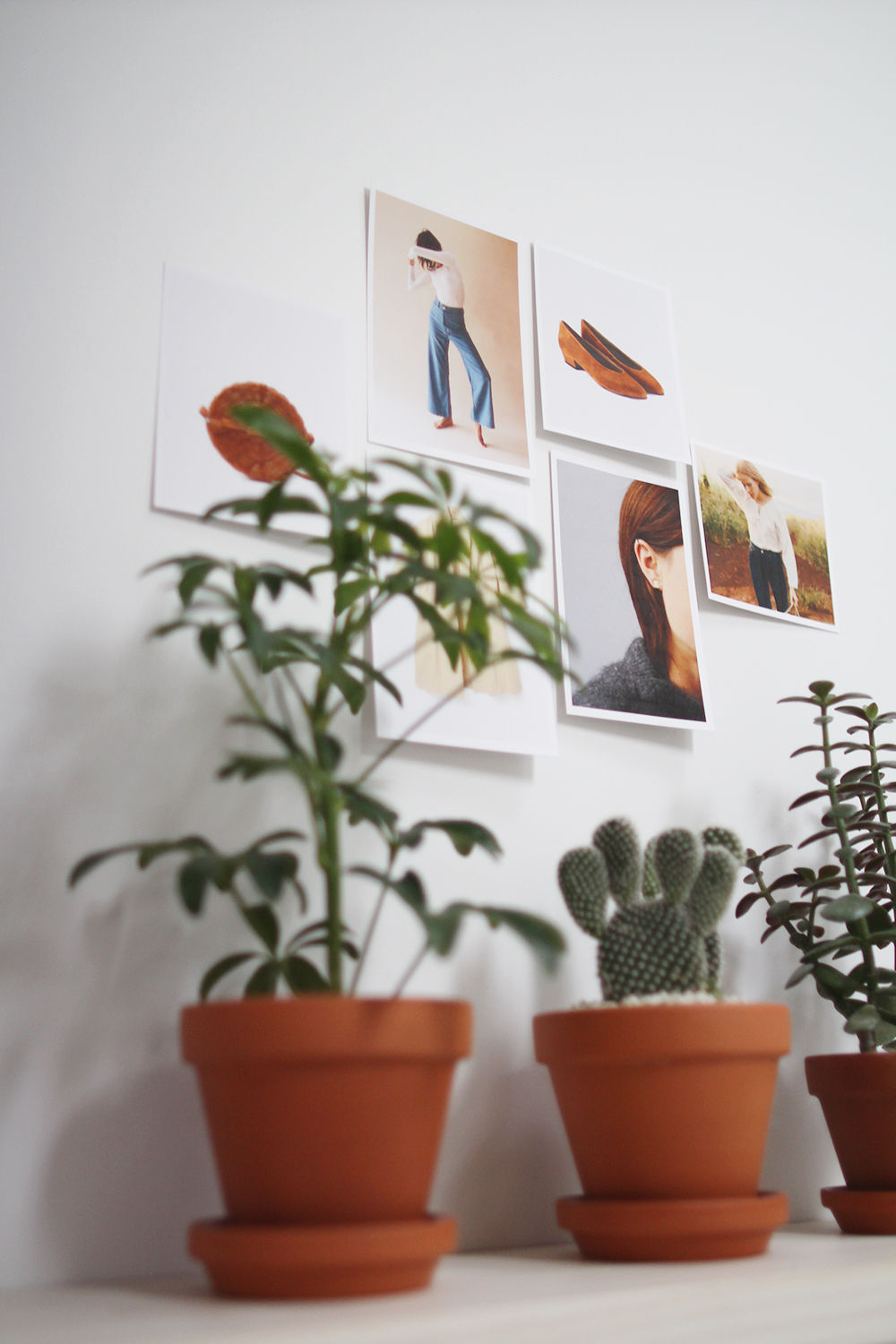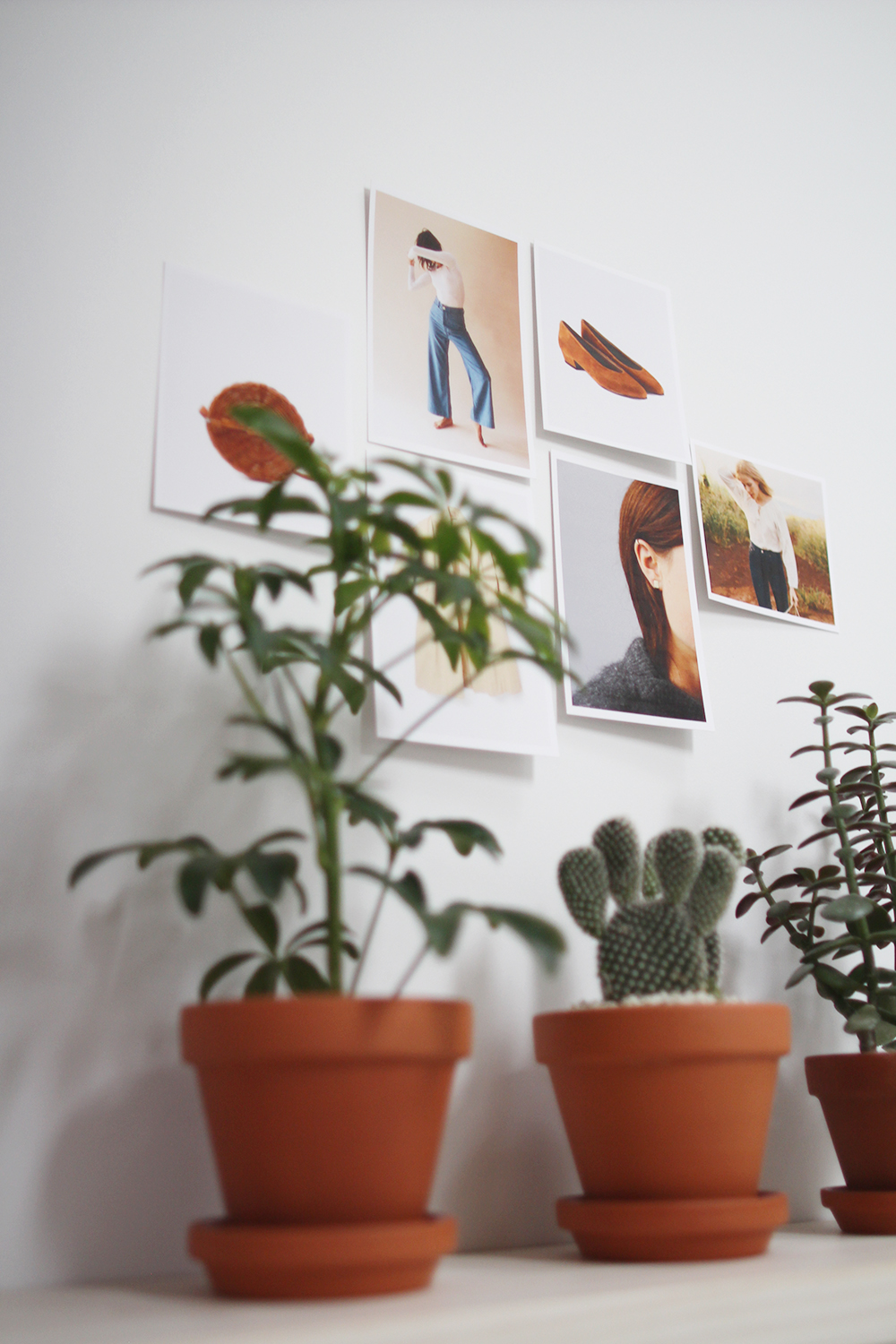 ---
So tell me:
What's your approach to shopping and deciding what to add?
Are you a slow and steady shopper or do you get it done in one go?
Do you use a wish list?
If so, I'd love to know what's on yours! 
---
This post is not sponsored but when you shop via some of the links above I may make a small commission from a sale. Thanks for supporting the brands that support Style Bee!
---